The Alabama Crimson Tide had the No. 1 overall and run defense in Pro Football Focus grades in 2015, and they were far ahead of the next-closest defensive units. Alabama's defense in 2016 returns the highest-graded returning defensive end (Jonathan Allen), the fourth-highest overall returning inside linebacker (Reuben Foster) and the second-highest returning overall outside linebacker (Ryan Anderson).
In reviewing our PFF grades and the game tape, I began to discover a pattern of several factors that make Alabama's run defense so dominant.
Here are four reasons why, plus a look at the best way for opposing offenses to try and attack the Crimson Tide defense:
1. Alabama's front seven likes to have its cake and eat it, too
Alabama is one of the last defenses in college football that utilizes a true "two-gap" philosophy in its front seven. This means that each down lineman is responsible for the running lanes on both sides of his blocks. This is extremely rare, as most defenders are asked to build a wall and not allow the ball to run in front of their block, while relying on others to clean up the play.
A great example of what differentiates Alabama in this regard is what its defensive line and linebackers do against downhill runs like lead and power plays. This allows their great athletes, when coached up with proper technique, to become excellent run-stoppers and improve their stocks for the NFL.
Watch the defensive end and inside linebacker on the play side of the play below:

2. Alabama defenders are great at defeating blocks
Alabama defenders, especially in the front seven, are the best in college football at defeating blocks. They use a "wipe" technique, which means getting their hands inside of blockers to create separation and then throwing them to the side after finding the ball-carrier, then going to make the tackle.
The Crimson Tide's defensive players are the nation's best at diagnosing the blocking scheme and reacting to make a tackle. Take a look at the example below: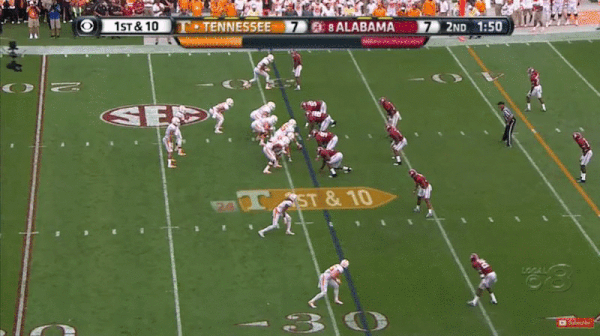 3. Alabama's inside linebackers have a lot of responsibility in run defense
Alabama's inside linebackers have long left a legacy in college football. C.J. Mosley, Dont'a Hightower and Rolando McClain were all first-round NFL draft picks playing inside linebacker in the Tide's 3-4, two-gap defense. The scheme puts pressure on the inside linebackers to make tackles, from between the guards to sideline-to-sideline, and allows the linebackers to improve their run defensive skill set and gain experience like no other linebackers in college football.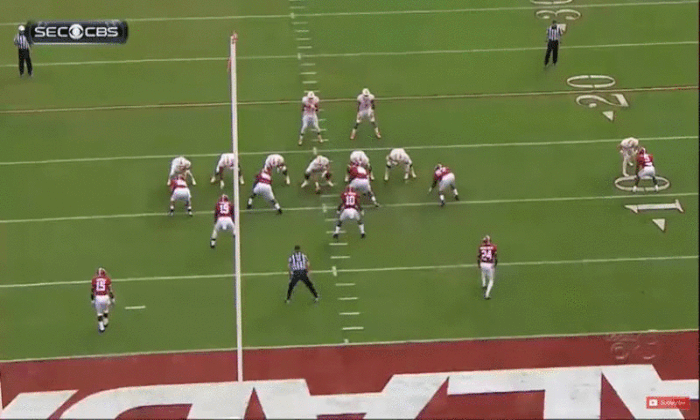 4. Alabama's safeties play a key role in run defense
If a ball-carrier does manage to get past the front seven of Alabama's defense, chances are that secondary support is coming for the Tide. Guys like Mark Barron, Ha-Ha Clinton-Dix and Landon Collins have been stars in Saban's run defense for their ability to close run alleys.
Alabama's safeties like to read the opponent's offensive tackles for whether a play is going to be a run or a pass. If they get a "high-hat read," meaning a pass set, they will bail into coverage. But if they get a run look, with the tackles staying low out of their stance and engaging defensive linemen in run blocks, the safeties move quickly to be aggressive run defenders.

What is the best path to success against Alabama's run defense?
Trying to spot weaknesses in Alabama's run defense is no easy task. But while analyzing film, one simple mistake I found some college offenses fall into is leaving Alabama players unblocked. While these errors may not be as costly against some defensive teams, Alabama's discipline and talent on defense simply do not allow for flawed blocking schemes or missed blocking assignments that leave defenders near the line of scrimmage unblocked.
The run plays I viewed that had the most success against Alabama's run defense usually involved some sort of option or misdirection that caused Alabama's defenders to be slow in reaction and not rely on their preparation and talent to diagnose plays quickly. Option or misdirection plays that involve the ball on the perimeter is also usually a much better bet than power run plays into the interior of the defense.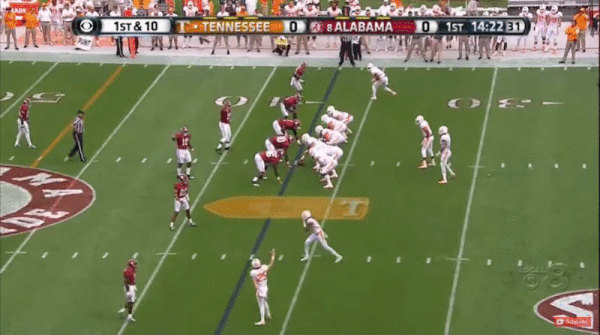 However, the best way to run the ball against Alabama's run defense may be to have success throwing the ball first. Alabama's secondary presses often, and its aggressive run defense can lead to opportunities for offenses in the passing game. Teams that have spread Alabama out and been successful passing the ball have been able to successfully mix in running the ball at times, as well.
Bottom line: The 'process' just works
Alabama's success in run defense is not a magic scheme or package, but rather a team defensive effort that involves the preparation of identifying schemes, along with precision technique mixed with speed and strength.
Alabama's defenders make tackles when they appear to be blocked, and from angles that they simply "shouldn't" — or at least from angles that no other college defense makes tackles. I can't help but think it is the "process" that head coach Nick Saban preaches about, in terms of getting each player to buy in to performing his job to the best of his ability, within a never-ending evolution of getting better and better.