Bailey Zappe is living a dream in 2021. With the Conference USA title game on the horizon, the Western Kentucky senior quarterback leads the country in passing touchdowns (52), passing yards (4,941) and yards per game (414). With a title game and a bowl game yet to play, Zappe is close to breaking two of college football's most impressive records: Joe Burrow's 60 touchdown passes and B.J. Symons' 5,833 passing yards.
And yet, it's just his first year of FBS football.
"Not many people down in the Victoria (Texas) area where I'm from get to go play at the Division I level," Zappe told PFF. "I'd say both the NFL and college were a dream for me. I grew up watching football. My team was USC, so when I was young, I was watching Reggie Bush, Matt Leinart and those guys. I would say it was a dream."
Click here for more PFF tools:
Rankings & Projections | WR/CB Matchup Chart | NFL & NCAA Betting Dashboards | NFL Player Props tool | NFL & NCAA Power Rankings
---
Before leading the nation's top passing offense this season, Zappe came from humble beginnings as an afterthought in the recruiting world. He has a profile in 24/7's recruiting database, but there's not much detail. Zappe started for three seasons at FCS Houston Baptist before transferring to Western Kentucky for one shot at operating an FBS offense and adding to his NFL draft stock. 
So how did the 6-foot-1, 220-pound redshirt senior transform from a lightly recruited FCS player to an NFL draft prospect?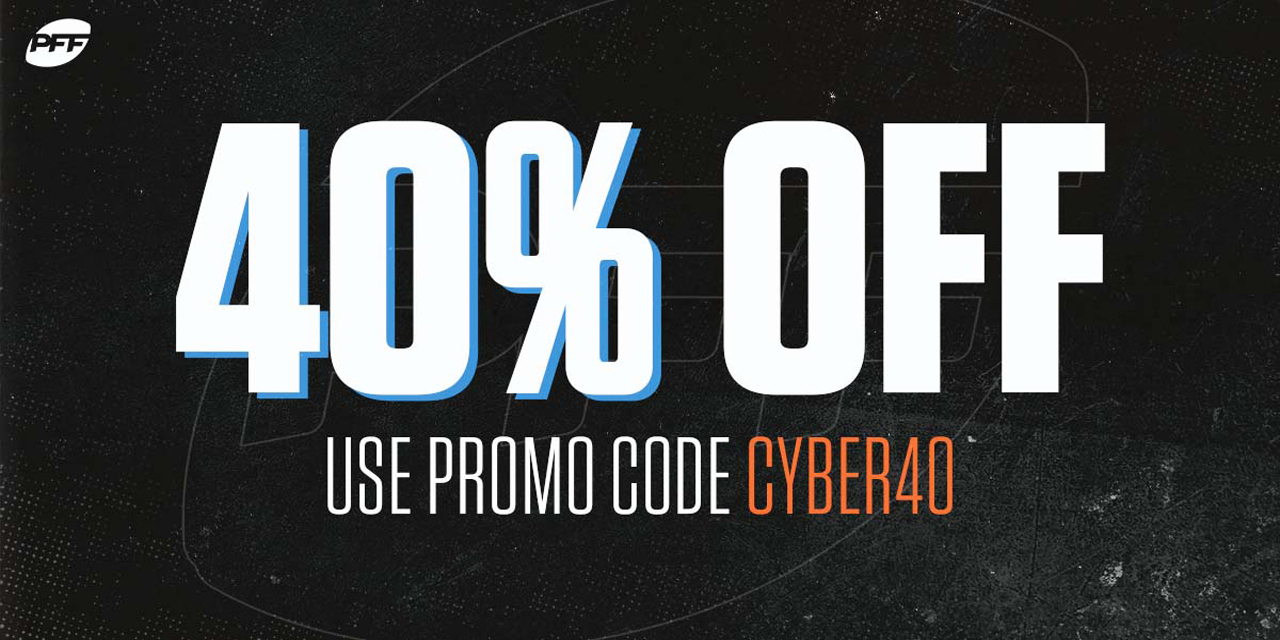 From HBU to WKU
You hear about guys who were three- and two-star recruits. Zappe didn't even have one. He was not ranked. On the player profile that still lives online, there's no crystal ball prediction of where he would play. Like Zappe said, not many football players from Victoria, Texas make it far. In fact, only one school even bothered to take a chance on him: Houston Baptist University. 
"My class was kind of some of the first guys from Victoria to make that move to play Division I football," Zappe said. "HBU was my only offer. I got that, I believe, in December or early January a month before national signing day. So, it was kind of a quick process like, 'OK, we're offering you.' 'Okay, I commit.' So it was kind of a fast process there."
The process of Zappe becoming the team's starting quarterback was similarly speedy. He played in 10 games during his redshirt freshman season, starting nine. But he learned very quickly that high school ball and college ball are quite different, even at the FCS level.
Zappe is having a career year in almost every passing category, but his rushing stats don't compare to his first season at HBU — and that was not by design.
"It wasn't because I wanted to run around, it was because I had to," Zappe said with a laugh. "It was more of like, 'Set, go.' I catch the ball, one read, 'OK, I gotta go. Somebody's coming for me.' And then now here, as y'all know, we have the best pass protection O-Line in the nation. So I sit back there as comfortable as I am anywhere. I mean, it's awesome.
"That's kind of the reason why I don't run around nearly as much, and a lot of the reason is I really don't have to. They block their tails off — everybody knows they're the best in the nation. This is the best unit I've ever been a part of and then we've got four running backs that can tote the pill, as well. It's really made my job a lot easier coming here, for sure."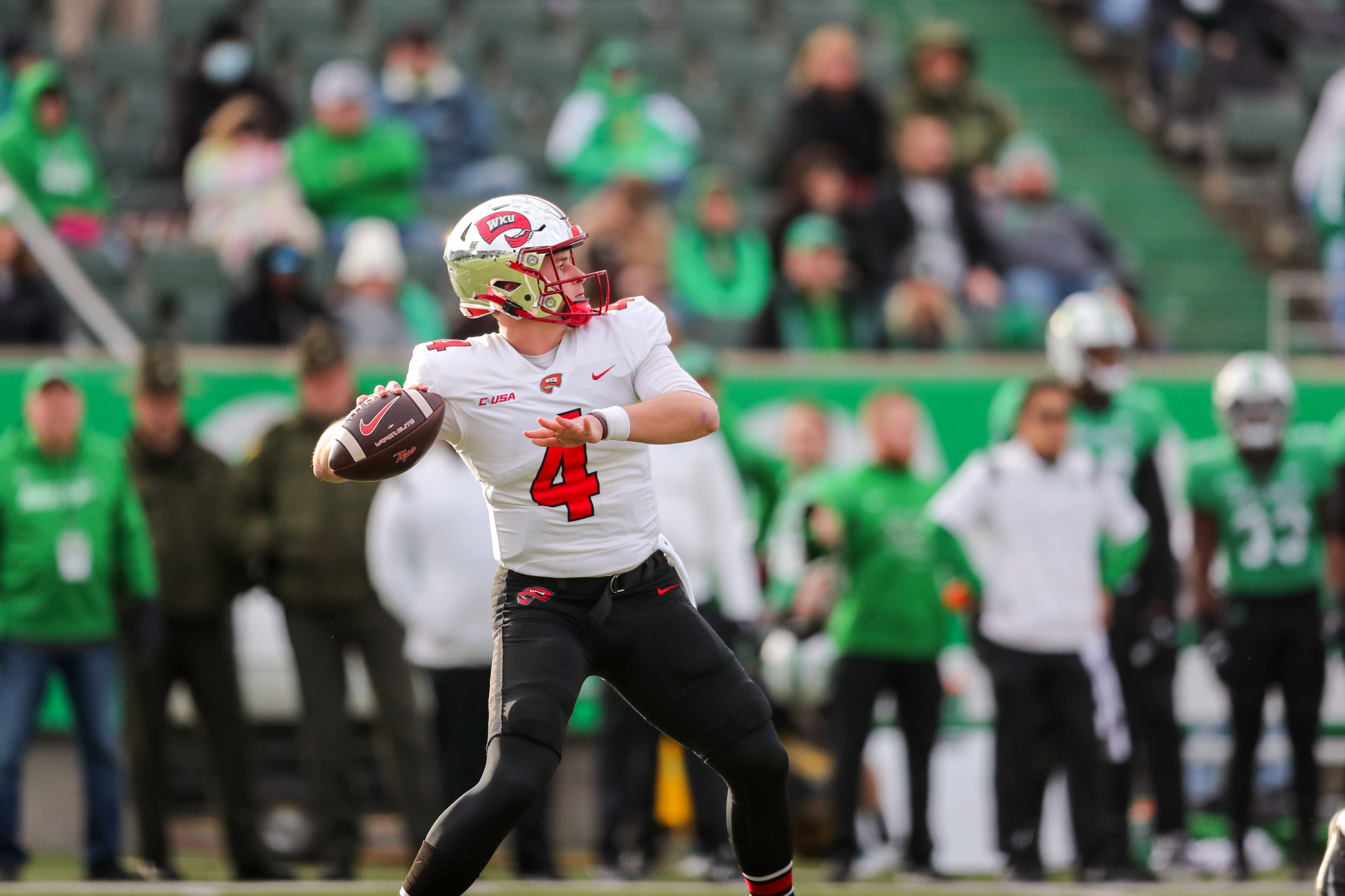 Zappe isn't just a homer regarding the success of his current offensive line. As a unit, their 667 pass-blocking reps are the second-most of any team in the FBS, and their 92.3 pass-blocking grade as a team is the best in the country.
It did take some time for Zappe to find his sweet spot behind WKU's offensive line. After running for his life during his redshirt freshman year at HBU, Zappe began to settle in as a passer in the offense of offensive coordinator Zach Kittley. Zappe passed for over 3,500 yards and 35 touchdowns as a sophomore, and in the shortened COVID season he threw 15 touchdowns and just one interception with over 1,800 passing yards in just four games.
| | | | | | |
| --- | --- | --- | --- | --- | --- |
| Year | School | Games | Completions/Attempts | Yards | TD/INT |
| 2021 | Western Kentucky | 12 | 406/584 | 4,941 | 52/9 |
| 2020 | Houston Baptist | 4 | 142/218 | 1,829 | 15/1 |
Click here to view Bailey Zappe's career in PFF Premium Stats…
That production brought with it a decision: stay another year at HBU, make a jump to another school in the transfer portal or take a chance at going pro.
"After that year, I was eligible to go to the draft, so at first I had to make that decision. Do I wanna take a chance? Do I want to declare or do I want to stay another year and kind of see what happens?" Zappe said. "That was honestly an easy decision. I wanted to stay another year in college. I wanted to see what my last year of college was like, how it went."
Zappe was going to have to learn a new offense either way, as coach Kittley was moving on to Western Kentucky.
"I wanted to move up a level and go somewhere with higher competition and a better opportunity to put myself in position to go to the next level," Zappe said. "So, I went into the transfer portal. I think it was like 8:30 that next morning, the first person calling me was coach Kittley. He said 'I just wanted to be the first one to offer you.'
"I had Tennessee and Texas Tech offer me. I had some other schools slide in the DMs asking me what's my interest and stuff like that, but WKU was always my No. 1, being able to come here and play under coach Kittley for one more year."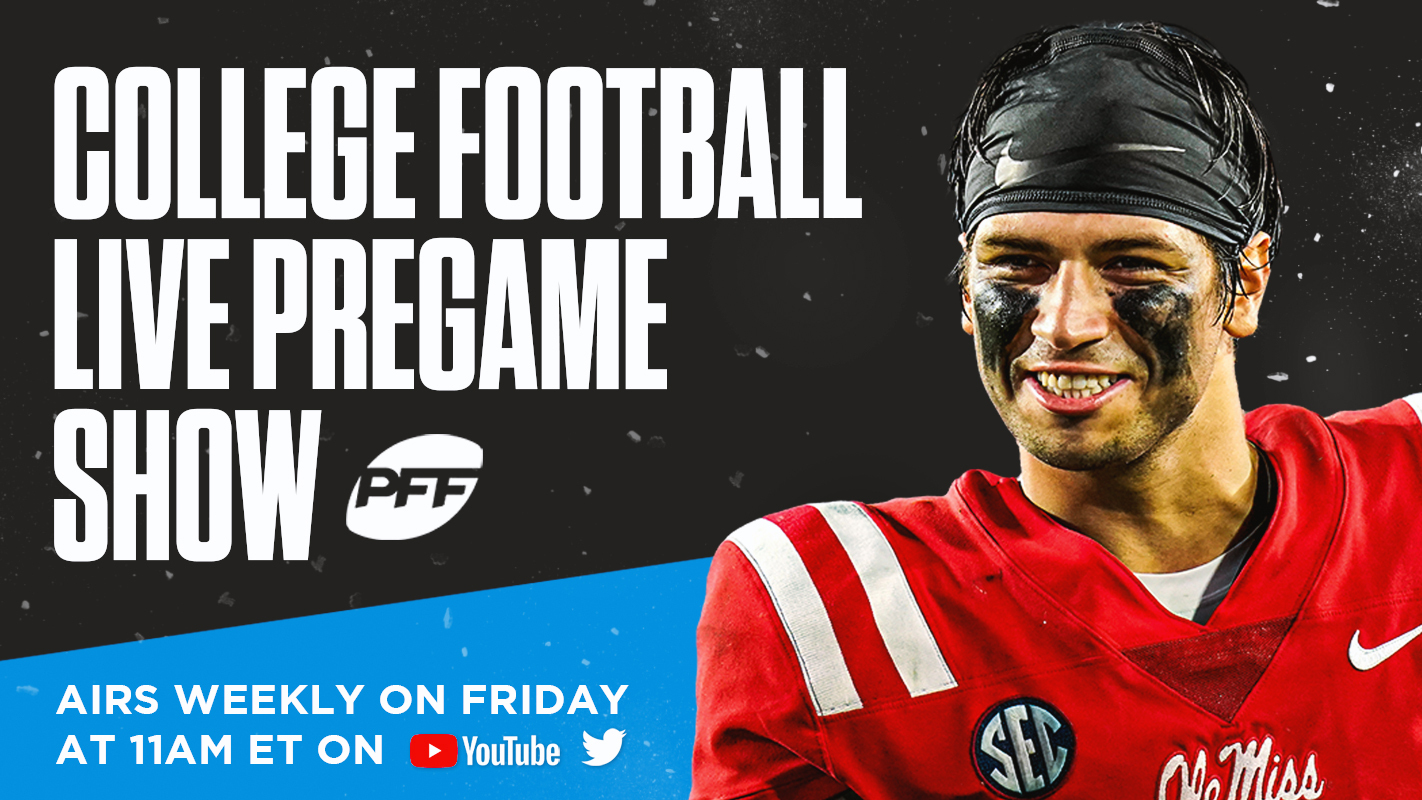 Familiar Faces at WKU
So why Kittley? Why would Zappe put all his chips in a basket that he'd already experienced at the FCS level? Zappe doesn't hesitate to answer the question:
"Honestly, just the scheme and the way he calls plays, getting guys open, making it easy on me to get our playmakers the ball and let them do their job," Zappe said. "The connection that we've been able to build over the last four years, still to this day, I spend most of my day hanging out with coach Kittley, picking his brain on this week's opponent, kinda seeing what his thoughts are going into the game, what he's looking at, what he's seeing. Just trying to gain the knowledge of this week's opponent."
Zappe wasn't the only Houston Baptist Husky to earn a shot at the next collegiate level: Wide receivers Jerreth Sterns, Josh Sterns and Ben Ratzlaff came over with Zappe from HBU as well.
"All the guys that came here with me, we were all kind of deciding," Zappe said. "Already knowing the offense, kinda being another coach on the field for these guys, speeding up the process of teaching the guys that were already here the offense that we're bringing in.
"It's the step I wanted to take. Playing in the Conference USA is a step up from the FCS level and there's great competition here with guys we played at Marshall, UTSA and then our non-conference games against Indiana, Michigan State. We had the opportunity to go play some big time teams and kind of put ourselves in position to be seen by NFL scouts like that. It's been the best decision of my life and it's worked out in our favor, for sure."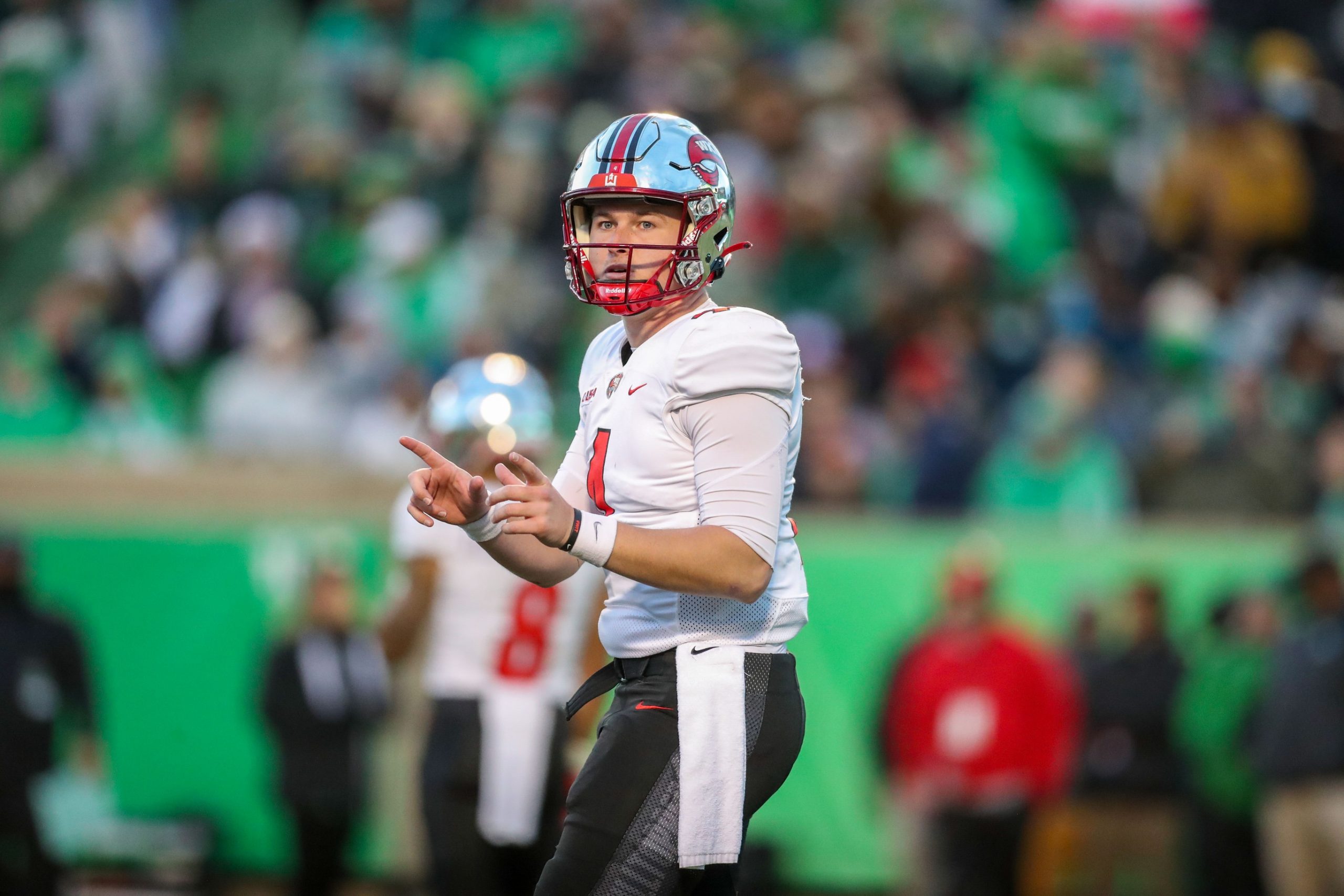 Zappe is the signal-caller for the second-best scoring offense in the nation (43.3 points per game) behind only Ohio State (45.5 PPG). He's having a career year in terms of pass attempts, completions, passing yards, passing touchdowns, completion percentage and quarterback rating. Zappe become a notable 2022 NFL Draft name and has accepted an invitation to the Senior Bowl in early January.
He says coach Kittley even got him a Ferrari — figuratively, of course.
"[Coach Kittley] hands me the keys to the Ferrari — he calls his offense the Ferrari — and he hands me the keys before every game," Zappe said. "He has this little joke that he says. He's like, 'Look, you got the keys to the Ferrari. Just don't wreck it.' It's kind of a thing where we're out on the field no matter what down or distance it is, I have the full range of the offense to check in or out of any play that I want. That's kinda what makes it work."
Zappe has kept the mistakes to a minimum while operating such a high-powered offense: His 52-to-9 TD-to-INT ratio is the best in the country. Keeping the interceptions below double digits while throwing the second-most passes in the country this season is extremely impressive. 
| | | | | | | |
| --- | --- | --- | --- | --- | --- | --- |
| Year | School | Games | Yards per attempt | aDOT | Big-time throw % | |
| 2021 | Western Kentucky | 12 | 8.5 | 8.2 | 5.8 | 3.4 |
| 2020 | Houston Baptist | 4 | 8.4 | 8.8 | 4.3 | 3.2 |
Still, Zappe isn't completely satisfied.
"Well, to be honest with you, I'm still mad at myself for throwing nine [interceptions]," Zappe said. "I wish I was back down at like three or four."
So has the offense been so efficient on so much volume?
"I think a large part of it is offseason stuff, getting down here with the guys, doing extra work, working on my accuracy. Putting the ball where it's really my receiver or nobody. Trying to make it easy for the receiver to make the catch, and especially this year I've got some dudes around me. They make it a lot easier for me for sure. The 50/50 balls, I think here it's 75/25 for us. I've got guys around here that make it easy for me. I think that's why we're able to keep the turnovers down.
"Like I said before, nine is too many for me. I'm going to continue to work on these next few games and try to keep it at nine and not throw any more."
A Conference Title and Draft Status on the Line
Zappe and this current group of WKU offensive players have two games left. One is for a conference championship against UTSA. The other is for a bowl victory. It's two more chances to show the world this group of players and coaches at WKU is special — two shots to potentially put Zappe's name atop two of college football's most prestigious passing records. 
What Zappe has done this season deserves a spotlight. But when you ask Zappe what it's like to have the light shone on his passing accolades, the more he reflects it to those around him.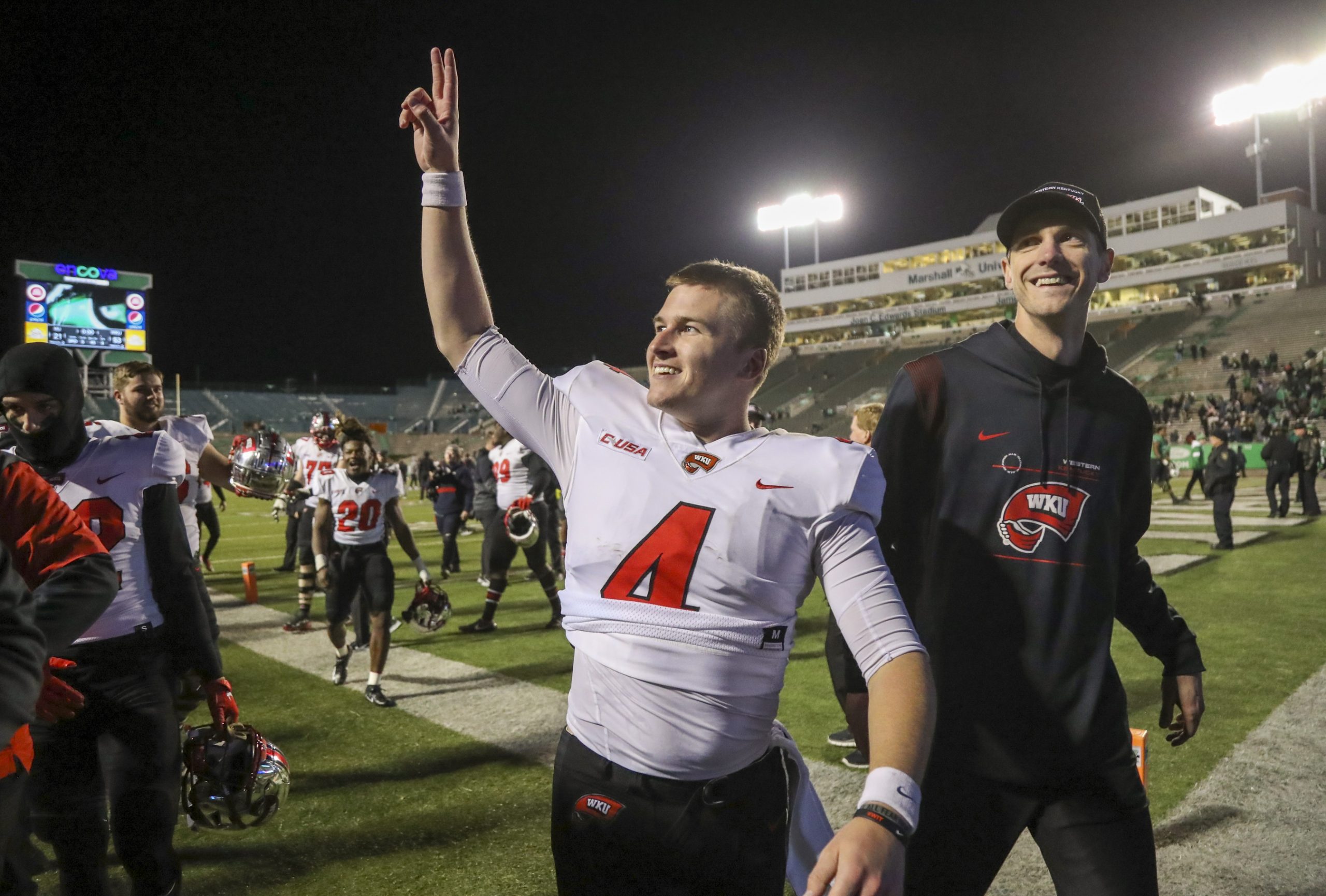 "I ain't hear just because it's me," Zappe said. "I ain't here without the o-line, without the other guys around me. I'm not in this position without those guys. That's the first thing that comes to my mind.
"I'm blessed, to be honest with you. I'm blessed to have that front-five that I have, the best unit in the nation. I'm blessed to have the receivers that I do, the running backs that I have, the coaches that I have. I'm not here without those guys. Every day from here till I leave here I'm going to tell them thank you, to be honest with you. I'm going to tell them thank you for turning my career from what I was doing my freshman year to now.
"It's been a surreal moment, just to kind of look back and see the improvement that not only I've made but the improvement that me, Coach Kittley, Jerreth [Sterns] and all of us have made over the years. To see it all come to fruition is awesome to see. Like I said, I'm blessed to have the guys that I have here — none of this stuff happens without those guys."