A few years ago, nobody would have believed that we would see Indiana beat Penn State, Rutgers beat Michigan State and Purdue beat Iowa all on the same night in 2020, but here we are! The Big Ten's season debut lived up to expectations — and then some.
Now that the first run of our analysis is finalized and available in PFF's CFB Premium Stats+, we get to fill you in on everything you might have missed while providing further analysis on yesterday's games. Here we present to you the PFF Team of the Week, big takeaways and player awards from Week 8 of the 2020 college football season.
PFF TEAM OF THE WEEK
Offense
QB: Graham Mertz, Wisconsin
RB: Javonte Williams, North Carolina
RB: Drake Anderson, Northwestern
WR: Marvin Mims, Oklahoma
WR: Demario Douglas, Liberty
WR: Kawaan Baker, South Alabama
TE: Michael Mayer, Notre Dame
LT: Brady Christensen, BYU
LG: Colby Ragland, UAB
C: Cole Bentley, Louisville
RG: Jordan Meredith, Western Kentucky
RT: Dylan Parham, Memphis
Defense

DI: Chidozie Nwankwo, Houston
DI: Elijah Chatman, SMU
EDGE: Jayson Oweh, Penn State
EDGE: Drew Beesley, Michigan State
LB: Zaven Collins, Tulsa
LB: Jon Rhattigan, Army
CB: Nick McCloud, Notre Dame
CB: Ifeatu Melifonwu, Syracuse
S: Bralen Trahan, Louisiana
S: Trevon Moehrig, TCU
FLEX D: Jeremiah Owusu-Koramoah, Notre Dame
3 BIG TAKEAWAYS
1. An Ohio State vs. Wisconsin Big Ten Championship is seemingly guaranteed
To no one's surprise, the Ohio State offense looked pretty dang good on Saturday against  Nebraska, whose defense didn't look all that bad.
Led by quarterback Justin Fields, the Buckeyes produced positive expected points added (EPA) on 76.5% of their pass plays — in other words, they were successful on over three-quarters of their dropbacks. Not only is that the best of Week 8, but that is also the best mark that an Ohio State offense has reached in a single game in the PFF College era (since 2014). 
Fields did get lucky on one throw late in the second quarter when he had a turnover-worthy pass that was dropped by safety Marquel Dismuke, but outside of that, he played almost perfect football. He had just one incomplete pass on the day — on a 50-yard throw to Chris Olave — but it was still a catchable ball. Even with that turnover-worthy throw, Fields still finished the day with an elite passing grade above 90.0, tying for the second-best of his career.
The Buckeyes were seen as a lock to win the Big Ten East entering the year, and their season opener confirmed it.
Meanwhile, the Big Ten West has always been the lesser of the two divisions, but it's perhaps the weakest it's ever been. The only two teams with a real shot at winning the division entering the season were the Minnesota Golden Gophers and Wisconsin Badgers, but one week into the year, that race has pretty much ended.
Minnesota had one of the top passing offenses in the country in 2019. It looked like it would field another formidable offense in 2020 with quarterback Tanner Morgan and wide receiver Rashad Bateman returning. But they looked far from formidable against Michigan on Saturday night. In fact, it was their least efficient passing offense since their 5-7 season in 2017.
Morgan had easily the worst game of his collegiate career — he finished the night recording a sub-30.0 passing grade and had nearly as many turnover-worthy plays (four) than completions over 10 yards downfield (five). There was no doubt some big fluky plays in there helped Michigan, but this loss is solely on Morgan and the offense. 
It's looking like Wisconsin won't have much competition for the West division, and even if they did, they'd still be the favorites given how great they looked on both sides of the ball against Illinois on Friday night.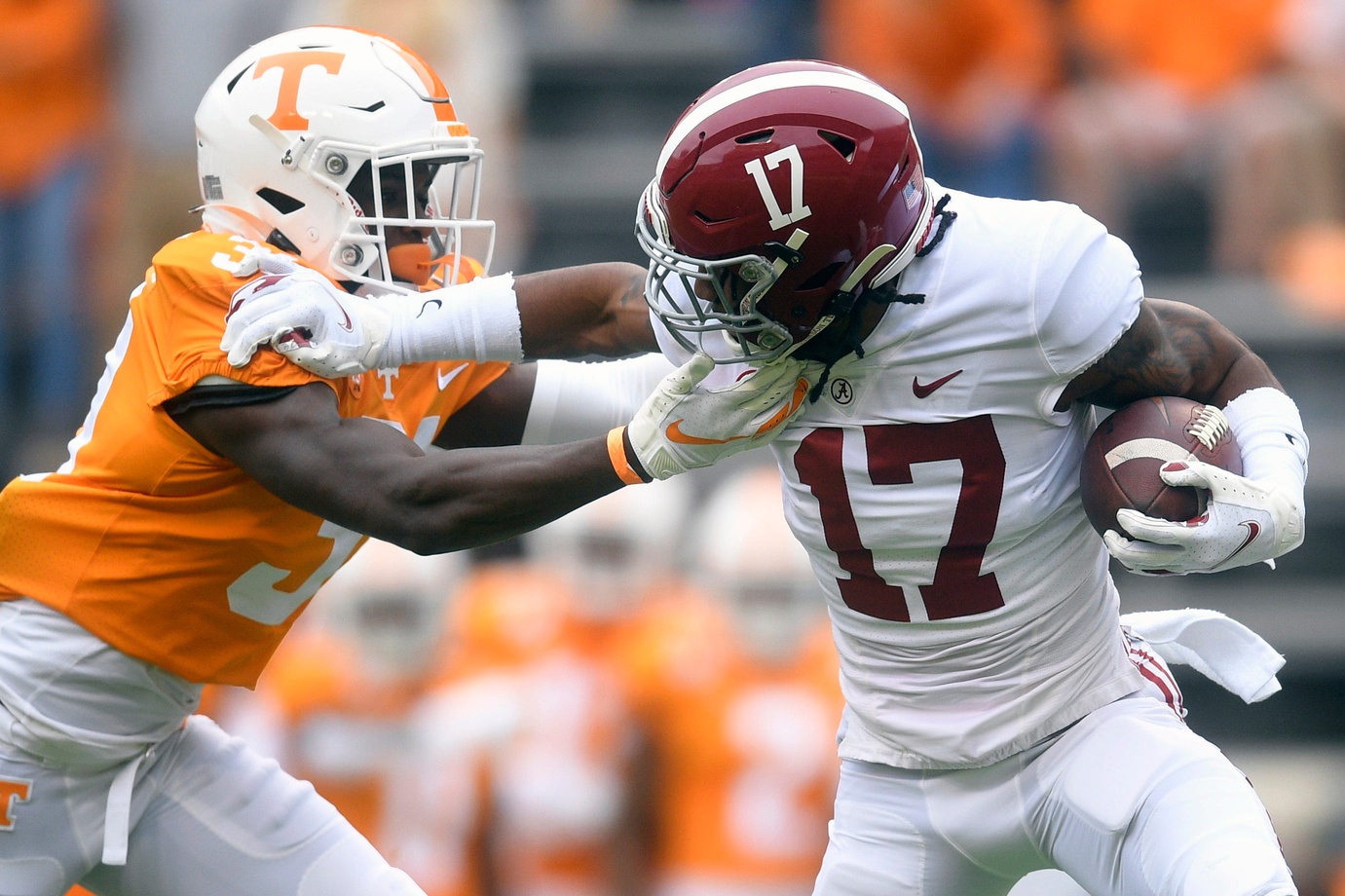 2. Jaylen Waddle's season-ending injury is terrible news, but Alabama still has one of the most potent offenses in the country
One of the worst things imaginable happened on Saturday in the Alabama-Tennessee game — star wide receiver Jaylen Waddle, who was playing like one of the best players at his position in 2020, suffered a season-ending ankle injury on the opening kickoff.
He was a key cog in Alabama's explosive offense and a true nightmare to defend with his game-wrecking speed. Until his injury, Waddle had generated 4.68 yards per route run for the Crimson Tide, third in the FBS. 
Having Waddle out on the field makes Alabama better than they are without him, but that's not to say they still can't be one of the best offenses in the country — they more than proved that in yesterday's game.
Even with that abrupt loss, Alabama still generated positive EPA on over 63% of their pass plays for the game. That was the fourth-best of the week behind only Ohio State, LSU and Oklahoma. Quarterback Mac Jones was once again pinpoint accurate and essentially played mistake-free ball. He did have a couple of turnover-worthy plays against Tennessee, but those were just about the only mishaps he had for the game. Jones still managed to rank 15th this week in negatively graded throw rate and maintained his No. 1 ranking in that metric for the season. As long as Jones sustains this type of play, this Alabama team still has a shot at taking down Ohio State or Clemson down the road. 
Oh, and let's not forget he still has two of the SEC's top-10 highest-graded wide receivers at his disposal, DeVonta Smith and John Metchie III, as well as one of the top receiving backs in college football, Najee Harris. 
3. Hello BYU, you have some company for that final College Football Playoff spot, and it's another non-Power Five team
BYU did exactly what they needed to do against Texas State last night to keep their CFP hopes alive, as they blew out the Bobcats 52-14. Quarterback Zach Wilson had yet another stellar night and led the Cougars to the second-most efficient offense of the week when on the field. He once again made numerous beautiful throws downfield that got the draft community all excited, including this 60-plus-yard throw that he made look routine:
ZACH WILSON ARE YOU KIDDING

— PFF College (@PFF_College) October 25, 2020
It's quite apparent that an undefeated record for BYU may not be enough for them to earn the final CFP spot, given how weak their schedule is. They simply have to dismantle a majority of their opponents they face. And even if they do that, BYU may still be on the outside looking in at a different non-Power Five team in that final spot. That team is the Cincinnati Bearcats, who just shut down SMU and one of the top passing attacks in the Group of Five on Saturday in a 42-13 victory.
Entering the week, the Mustangs had generated the sixth-most EPA per pass play in the entire FBS at 0.4 and had earned a mark above 0.22 in all of their five games played — Cincinnati held SMU to -0.22 EPA per pass in Week 8, ranking 74th of the 94 offenses of Week 8. The Bearcats' menacing defensive front also shut down the ground game, with only one explosive rush of 10 or more yards allowed.
The Cincinnati offense did its part thanks to their rushing attack, as they busted off seven runs of 15 or more yards on the night, four of which resulted in a touchdown (three were by quarterback Desmond Ridder).
Cincinnati has three big tests this year with SMU, Memphis and UCF, and they handled that first one with ease. If they do the same against Memphis and UCF, it'd be hard for the committee to make a reasonable argument that BYU deserves the final CFP spot more than they do.
OTHER NOTES/OBSERVATIONS
OFFENSIVE PLAYER OF THE WEEK
Mertz had one of the three best single-game passing grades ever recorded by a Wisconsin quarterback on Friday against Illinois. That statement is obviously impressive in itself, but if you throw in the fact it was his first career start, as well as the fact that he put up a 100% adjusted completion percentage, it's almost unbelievable. 
Mertz, a highly-coveted four-star and top-100 recruit in the 2019 class, was thrust into the starting role in the wake of the season-ending injury to Jack Coan. And it's safe to say that he exceeded expectations. The Fighting Illini's pass coverage may have been pretty poor, but Mertz displayed arm talent you dream of having at the quarterback position:
Wisconsin QB Graham Mertz threw a catchable ball on 100% of his throws last night. For perspective, he's the only QB to do that in a single game in 2020 (min 20 att, @PFF_College).

I think the freshman might be pretty good. pic.twitter.com/l1RAF4ZDdh

— Anthony Treash (@PFF_Anthony) October 24, 2020
(Note: Justin Fields accomplished the same thing against Nebraska on Saturday, so both he and Mertz are the only QBs in 2020 to throw 100% catchable balls in a single game.)
On throws of 10 or more yards downfield, Mertz went 6-for-6 for 148 yards and three touchdowns. It may have only been one game, but the young Wisconsin quarterback looks like a special talent.
DEFENSIVE PLAYER OF THE WEEK
Collins has one of college football's most underrated off-ball linebackers since stepping foot on the field as a redshirt freshman in 2018, but the college football world has got to have him on their radar now after his career night against USF. Collins played a near-flawless game in every single facet and earned a PFF grade north of 93.0. He had a couple of defensive stops against the run, and then he forced a turnover with a strip-sack fumble when the Bulls were mere yards away from the end zone to make it a one-score game at halftime. Collins did allow a 10-yard catch for a first down in coverage, but he made up for it with a pick-six:
.@ESPN For your consideration.

Please accept this #SCTop10 submission from @ZavenCollins! ????????

— Tulsa Football (@TulsaFootball) October 24, 2020
Collins now has a 2020 season grade that is six grading points higher than any other off-ball linebacker in the FBS; he is the only player at his position with a grade above 75.0 in run-defense, as a pass-rusher, in coverage and as a tackler. 
TRUE FRESHMAN OF THE WEEK
Mims had made a few big plays throughout his first four games as an Oklahoma Sooner, but none of those four games were nearly as dominant as his outing against TCU on Saturday. The freshman hauled in four passes for 132 yards and a couple of touchdowns en route to the highest PFF grade at his position. Both of those scores came on deep targets over 20 yards downfield, making him the only Power Five wide receiver of the week with multiple deep receiving touchdowns. It helps when you have a quarterback with elite arm talent, but he did his part in that quarterback-receiver connection as he caught both of those contested targets.
Spencer Rattler and Marvin Mims making it look easy out there ???? pic.twitter.com/bS7GqiYBjC

— SportsCenter (@SportsCenter) October 24, 2020
After this one, Mims is a top-three-graded wide receiver in the FBS and on pace to challenge Jaylen Waddle and Rondale Moore for the best true freshman season we have recorded at the position in the PFF College era.
OFFENSIVE LINE OF THE WEEK
Marshall's offensive line entered their Week 8 contest against FAU as an easy top-five unit in all of college football, and that's not going to change this week. They were the highest-graded offensive line of the week and kept quarterback Grant Wells clean for most of the game — they didn't allow a sack or a hit and gave up just two hurries. Surprisingly, both of those pressures stemmed from right guard Cain Madden, who entered the week as the highest-graded guard in the FBS on true pass sets at 94.2. Left tackle Josh Ball and right tackle Will Ulmer were the two top dogs on the line and helped bring their season-long PFF grade ranks to top 15 marks in the FBS.
SECRET SUPERSTAR OF THE WEEK
Brooks did nothing as a receiver in their 55-14 win over Kansas — he ran just 14 routes and didn't garner a single target. But he meant as much as anyone on this Kansas State team in this blowout for the damage he did as a punt returner. Brooks returned four punts against the Jayhawks and converted all four into a gain of 40 or more yards, with two being a touchdown.
Since we began collecting college special teams data in 2016, the most 40-yard punt returns recorded in a single game was just two. The Wildcats offense didn't have a single play in the game that produced a larger gain than any four returns from Brooks. Special teams rarely gets any love, but we have to give credit when credit is due here with Brooks having a historic day.
PLAY OF THE WEEK
There were quite a few amazing plays in Week 8. From Florida State quarterback Jordan Travis dribbling the ball off the ground after fumbling and taking it in for a score to Ohio State wide receiver Jaxon Smith-Njigba with a catch of the year candidate, there were several in the running for PFF's Play of the Week. The one to ultimately take home the honor was none other than Indiana quarterback Michael Penix Jr.'s game-winning two-point conversion in overtime to give the Hoosiers their first win over a top-10 opponent in over three decades:
MICHAEL PENIX JR CALLS GAME

INDIANA GOES FOR 2 IN OT????

— PFF College (@PFF_College) October 24, 2020
AN EARLY LOOK AHEAD TO WEEK 9…
The undefeated Cincinnati Bearcats will jump a spot or two from their current No. 9 ranking in the AP Top 25 after their 29-point victory over SMU and face their second big test of 2020 when they take on the Memphis Tigers.
Like SMU, the backbone of Memphis' success has been the passing offense. Following their 41-29 win over Temple yesterday, the rank eighth among FBS teams with multiple games played in EPA per pass play. However, it doesn't seem likely that it will remain, given the Bearcats' track record this season. If Cincinnati handles Memphis like they did SMU, get ready to start hearing the CFP chatter heat up.
While this game no longer carries as much weight as it once did, Ohio State versus Penn State is still set up to be a great one, specifically because of that Nittany Lion defense against the Buckeye offense.
Pitt edge rushers Jayson Oweh and Shaka Toney had themselves a field day on Saturday, despite the loss. Oweh was a prime breakout candidate entering the year, and he has already begun that campaign with a bang as he finished Week 8 as the highest-graded player at his position. Toney has been a key cog on this line ever since he stepped foot on the field as a redshirt freshman in 2017, and last night had one of his most productive games yet. He won on over 41% of his pass-rush reps — the best of Week 8 and highest in a single game by a Power Five edge rusher in 2020 by nearly five percentage points.