After a full slate of games on Saturday, we at PFF and our team of over 500 analysts have dissected and graded every player on every snap of every game to bring you the most detailed and valid set of picks you can find anywhere.
The Week 8 Eckrich Pac 12 Team of the Week powered by PFF saw some impressive performances and, of course, the strength of opponent also factored into the overall selections as did the PFF player grades.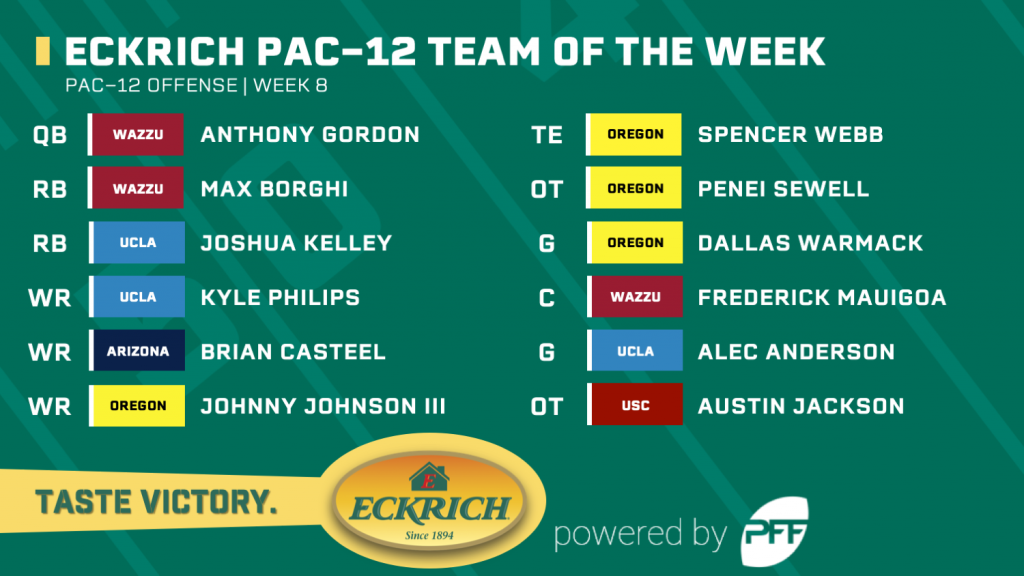 Quarterback
Anthony Gordon, Washington State
Washington State dominated Colorado in their Week 8 bout, a bout that saw Anthony Gordon have one of his best games this season. Gordon threw for a conference-leading 369 yards, three big-time throws and four touchdowns to just one interception on the night.
Second-Team QB: Justin Herbert, Oregon
Running back
Max Borghi, Washington State
Although Gordon and the Cougars' passing attack was outstanding, it does not overshadow the performance Borghi was able to put on the Buffaloes defense. He carried the rock 12 times for 105 yards and one touchdown. He gained four first downs as well as 6.33 yards after contact per attempt, best in the PAC-12. On top of his play on the ground, Borghi was stellar through in the receiving game, hauling in all nine of his targets for 57 yards and another score.
Second-Team RB: Salvon Ahmed, Washington
Joshua Kelley, UCLA
Kelley ran all over the Stanford defense, aiding his Bruins to a 34-16 victory in Palo Alto. He ran the ball 18 times for 176 yards, which not only topped the conference but was the eighth-most in the nation.
Second-Team RB: Zack Moss, Utah
Wide receiver
Kyle Philips, UCLA
Much like Kelley and the running attack, Philips dominated the Cardinals' defense, posting a top-five receiving grade among all Pac 12 receivers. Out of the 14 balls thrown his way, Philips caught 10 for 100 yards and two scores. Another six of his receptions picked up first downs, and he had a passer rating of 131.0 when targeted.
Second-Team WR: Jaylon Reed, Oregon
Brian Casteel, Arizona
Arizona suffered their third straight loss Saturday night, this time losing 41-14 against USC. The defeat was no fault of Casteel's, though, who had an impressive outing, catching five of his six targets for 105 yards and two touchdowns, including a 56-yard bomb in the fourth quarter that gave the Wildcats their first points of the evening.
Second-Team WR: Brandon Arconado, Washington State
 Johnny Johnson III, Oregon
The Oregon passing game torched the Washington secondary, and Johnson was a key reason why. Of his six targets, he brought five in for 90 yards, gaining a first down on each.
Second-Team WR: Tyler Vaughns, USC
Tight end
Spencer Webb, Oregon
The Ducks lost tight end Jacob Breeland to a season-ending knee injury, thrusting Webb into a starting role. He needed just two receptions to make an impact, gaining 31 yards and nabbing a touchdown for a 140.3 passer rating when targeted, leading to the second-best receiving grade among tight ends in the conference.
Second-Team TE: Hunter Bryant, Washington
Offensive tackle
Penei Sewell, Oregon
Leading the country with a 91.0 pass-blocking grade, Sewell didn't allow a single pressure on his 39 snaps in pass protection, giving his quarterback ample time and reassurance from his blind side to make enough plays to get the win over Washington.
Second-Team OT: Henry Bazakas, Cal
Offensive guard
Dallas Warmack, Oregon
Similar to his teammate, Warmack did not concede a pressure all game, boasting a top-10 pass-blocking grade and second-highest run-blocking grade among all guards in the conference, showing ability both in pass protection and in the run game.
Second-Team OG: Alijah Vera-Tucker, USC
Center
Frederick Mauigoa, Washington State
Mauigoa was solid upfront for the Cougars, forfeiting just two pressures on a staggering 57 reps in pass protection and posting the second-best run-blocking grade at the position, showcasing his versatility on the offensive line.
Second-Team C: Drew Dalman, Stanford
Offensive guard
Alec Anderson, UCLA
The Bruins offensive line did not play well against the Cardinals defensive front, allowing 14 total pressures on 42 pass-blocking snaps, but Anderson held his own giving up just one pressure. He also had top marks in both pass protection and run blocking, posting grades of 73.8 and 67.3, respectively, in each facet.
Second-Team OG: Onesimus Clarke, Oregon State
Offensive tackle
 Austin Jackson, USC
The Trojans pulled off the upset against the Arizona Wildcats in dominating fashion. The offensive line play was stellar, conceding just three pressures on 34 pass-blocking reps, zero of which came from Jackson at his left tackle position. He also boasts the fourth-best run-blocking grade among tackles, creating running lanes on the left side of the field for the offense.
Second-Team OT: Jake Curhan, Cal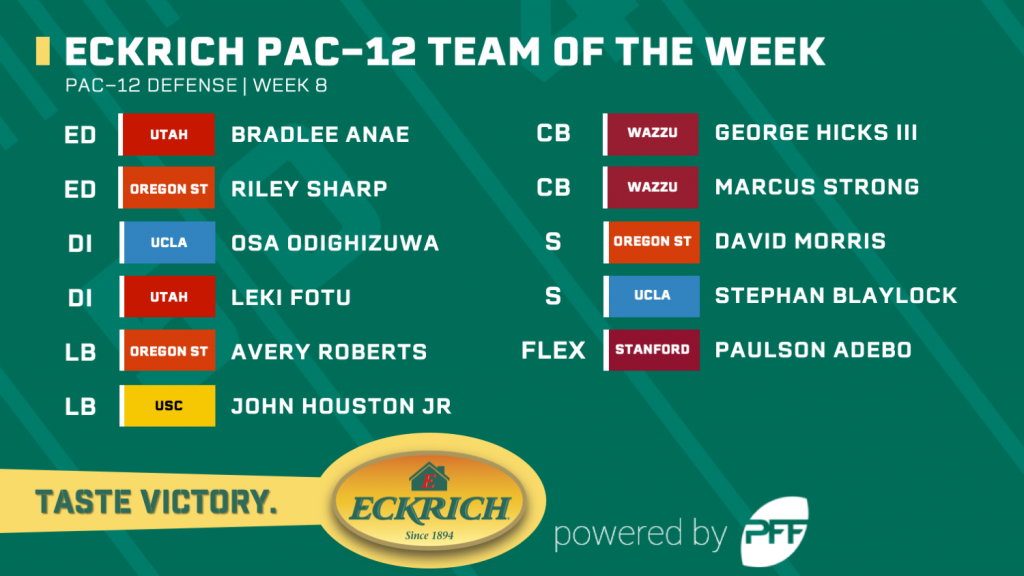 EDGE DEFENDER
Bradlee Anae, Utah
Utah completely shut down an Arizona State offense that was red hot off a 38-point explosion over Washington State. Anae tormented the Sun Devils quarterback, generating four total pressures off the edge—three of which were sacks—showcasing his ability to finish once he gets to the QB. His performance awarded him the conference's best pass-rush grade, in addition to the nation's eighth-best grade among edge defenders.
Second-Team Edge: Jermayne Lole, Arizona State
EDGE DEFENDER
Riley Sharp, Oregon State
Oregon State was able to come out of their game against Cal with a 21-17 victory, despite their offense sputtering. The defense was on the field much more than they were used to and needed to compensate for the offense, which they did. Off the edge, Sharp was all over the field, forcing five pressures on 36 pass-rush snaps and four defensive stops in the run game.
Second-Team Edge: Tristan Brock, Washington State
DEFENSIVE INTERIOR
Osa Odighizuwa, UCLA
UCLA's performance on Thursday is not lost on us, as Odighizuwa finished the contest with nine total pressures to lead all defensive players in Week 8. He finished the night with two sacks and two hits, with five more hurries and two stops in run defense.
Second-Team DI: D.J. Davidson
DEFENSIVE INTERIOR
Leki Fotu, Utah
Fotu was a wrecking ball in the interior for the Utes, nabbing three total pressures and four defensive stops against Arizona State. His run-defense grade of 84.3 was fourth-best in the entire conference, no matter the position.
Second-Team DI: Zeandae Johnson, Cal
LINEBACKER
Avery Roberts, Oregon State
The PAC 12's highest-graded linebacker of the week, Roberts caused headaches for the Bears offense. He had four pressures on just nine pass-rush snaps, eight tackles with one miss and five defensive stops against the run.
Second-Team LB: Leni Toailoa, UCLA
LINEBACKER
John Houston Jr., USC
Houston played a role in the Trojans' defensive route of the Wildcats, picking up two total pressures and six defensive stops. He was also tight in coverage, allowing two receptions but giving up zero total receiving yards.
Second-Team LB: Tony Fields II, Arizona
CORNERBACK
George Hicks III, Washington State
Washington State allowed 10 total points, none of which came through the air, as the passing game was lockdown by the Cougars' secondary. Hicks was targeted twice on 15 snaps in coverage, forfeiting zero receptions and snatching an interception on an in route for a passer rating of 0.0 when targeted.
Second-Team CB: Lorenzo Burns, Arizona
CORNERBACK
Marcus Strong, Washington State
To no one's surprise, we see yet another Washington State cornerback on the list. He saw four balls thrown into his coverage, conceding three receptions for a mere 25 yards. Strong, just like his teammate, stole possession by way of an interception and also nabbed three defensive stops, proving to he is not strictly a coverage player.
Second-Team CB: Jace Whittaker, Arizona
SAFETY
David Morris, Oregon State
The Oregon State pass defense was excellent against Cal and their second-string quarterback Devon Modster. From his safety position, Morris had the nation's sixth-best overall grade and eighth-highest coverage grade in week 8. He grabbed a defensive stop, one forced fumble and allowed just one reception for 11 yards on the night.
Second-Team S: Julian Blackmon, Utah
SAFETY
Stephan Blaylock, UCLA
Blaylock had nine solo tackles and three defensive stops in the Bruins' win over Stanford Thursday night. He also posted the conference's third-highest tackling grade among all positions on the defensive side of the ball.
Second-Team S: Derrion Rakestraw, Colorado
FLEX
Paulson Adebo, Stanford
The Cardinals may have been defeated by the Bruins, but Adebo was lockdown in the secondary. On 43 snaps in coverage, he was targeted just once by UCLA quarterback Dorian Thompson-Robinson, allowing zero receptions or yards as he intercepted the pass, effectively creating one of the only highlights for the Cardinals' defense.
Second-Team Flex: Jaylon Johnson, Utah