The college football season is back in full force, and with a full slate of games on Saturday, we at PFF and our team of over 500 analysts has dissected and graded every player on every snap of every game to bring you the most detailed and valid set of picks you can find anywhere.
The Week 7 Eckrich Pac-12 Team of the Week powered by PFF saw some impressive performances and, of course, the strength of opponent also factored into the overall selections as did the PFF player grades.

Quarterback
Jayden Daniels, Arizona State
The true freshman led the Sun Devils to a tight victory over the Washington State Cougars, using both his arm and legs to do so. Daniels completed 26 of his 36 pass attempts for 363 yards and three touchdowns, which was tied for most in the conference. He also ran the ball five times for 41 yards and a touchdown, proving he is more than capable outside the pocket.
Second Team: Justin Herbert, Oregon
Running backs
Cj Verdell, Oregon
Oregon rose victorious in their matchup against Colorado in dominating fashion. Verdell played a vital role, rushing 14 times for a conference-leading 171 yards, 99 of which came after contact. He took four of his carries for over 10 yards, avoiding two tackles and picking four first downs along the way.
Second Team: Sean McGrew, Washington
Eno Benjamin, Arizona State
While Daniels, Aiyuk and the passing game torched the Washington State secondary, Benjamin was quietly running over the rest of the defense. He carried the rock 19 times for 137 yards, which was second only to Verdell in the Pac-12. His five avoided tackles and six first downs gained both tied for the best in the conference, showcasing his vision with the ball in his hands.
Second Team: Salvon Ahmed, Washington
Wide receivers
Brandon Aiyuk, Arizona State
Aiyuk showed off his speed against Washington State on more than on occasion, ripping off seven catches for 196 yards and three scores. He gained 116 yards after the catch to lead the nation, averaging 16.6 yards after the catch per reception.
Second Team: Amon-Ra St. Brown, USC
Easop Winston Jr., Washington State
The Cougars may have been defeated, but it was to no fault of Winston Jr. Winston had a nation-leading 18 balls thrown his way, hauling 14 for 118 yards and one touchdown. Another seven of his receptions moved the chains as he continues to be Gordon's favorite target in key situations.
Second Team: Samson Nacua, Utah
Demari Simpkins, Utah
Utah needed just 18 pass attempts to knockoff Oregon State, but Simpkins made most of his opportunities. He caught all four of his targets for 97 yards, four first downs and a perfect passer rating when targeted. His receiving grade not only led the conference but ranked third among all receivers in the nation.
Second Team: Puka Nacua, Washington
Tight end
Jacob Breeland, Oregon
For the second week in a row, Breeland graces the list as the Pac-12's best tight end. Herbert's favorite playmaker nabbed three of his targets, gaining 53 yards and a score on the night. He was also able to pick up two first downs on his way to a near-perfect passer rating of 156.3.
Second Team: Brant Kuithe, Utah
Offensive tackle
Penei Sewell, Oregon
Making a case for the nation's best tackle, Sewell put forth a dominant effort on Friday night against Colorado. He finished with elite grades in pass protection, run-blocking and overall, as he continually moved the Buffaloes from their spot and didn't allow a single pressure all night.
Second Team: Abraham Lucas, Washington State
Offensive guard
Shane Lemieux, Oregon
The Ducks have the best offensive line in football, and Lemieux joins his teammate — Sewell — here for the second time this season. Lemieux allowed just two QB hurries up the middle while dominating in the run game for CJ Verdell & Co.
Second Team: Dohnovan West, Arizona State
Center
Cohl Cabral, Arizona State
Cabral was a key part of the Arizona State offense in both the pass and run games. He did not allow a single pressure on 46 reps in pass protection and created running lanes for Benjamin, posting the conference's best run-blocking grade among centers.
Second Team: Matteo Mele, Washington
Offensive guard
Dallas Warmack, Oregon
To no one's surprise, we see another Oregon offensive lineman on the list. Warmack has yet to allow a sack or hit on Justin Herbert; he earned a top-10 grade in both pass-blocking and run-blocking, doing as he pleased with the Colorado defensive front.
Second Team: Alex Losoya, Arizona State
Offensive tackle
Calvin Throckmorton, Oregon
Throckmorton was an anchor on the offensive line full of anchors, allowing just one pressure on 36 pass-blocking snaps. He was also stout in the run game, finishing the contest with the second-best run-blocking grade in the conference, just behind Sewell.
Second Team: Trey Adams, Washington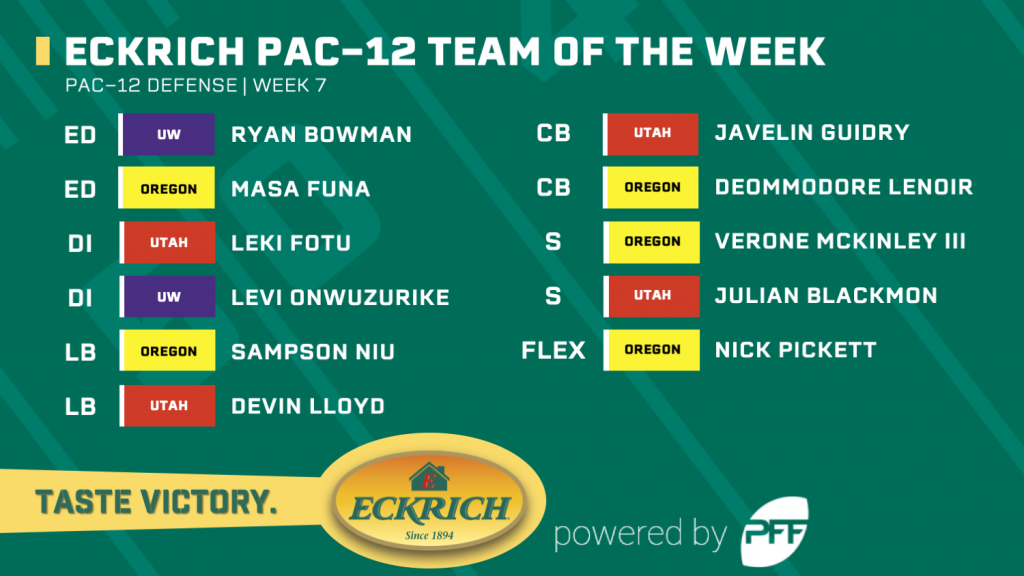 Edge defenders
Ryan Bowman, Washington
Bowman was all over the field for the Huskies' defense Saturday night, forcing two pressures, two defensive stops and snatching an athletic interception in the fourth quarter, effectively ending any chance of a comeback rally for Arizona.
Second Team: Mika Tafua, Utah
Masa Funa, Oregon
Funa tormented the Colorado offense off the edge, generating two pressures on a mere seven pass-rush snaps, and he was also solid in run defense, causing four defensive stops. He was also solid in coverage, allowing one reception on two targets for 11 yards and a passer rating of 66.7 when targeted.
Second Team: Drake Jackson, USC
Interior defensive linemen
Leki Fotu, Utah
The Utah defense allowed a paltry 48 yards rushing to the Beavers, and Fotu was a key reason why. He required multiple double teams in the running game, forcing two defensive stops and posting the conference's second-best run-defense grade.
Second Team: John Penisini, Utah
Levi Onwuzurike, Washington
Onwuzurike was a force to be reckoned with in the interior, causing two total pressures on 13 pass-rush snaps. He also nabbed a defensive stop in the run game, which helped lead to the third-highest overall grade from interior defensive players in the Pac-12.
Second Team: Benning Potoa'e, Washington
Linebackers
Sampson Niu, Oregon
Allowing a measly three total points, Oregon's defense shut down the Buffaloes in every facet of their offense. From his linebacker position, Niu had a top-five tackling grade in the conference, gaining six tackles, missing zero, grabbing two defensive stops and one pressure in the bout.
Second Team: Colin Schooler, Arizona
Devin Lloyd, Utah
One of many Utes on the list, Lloyd was impactful in every way. He recorded one pressure, one defensive stop, a passer rating of 54.2 when targeted and snatched an interception in a truly impressive performance.
Second Team: Jahad Woods, Washington State
Cornerbacks
Javelin Guidry, Utah
The cornerback with the highest overall and coverage grades, Guidry was astounding against the vaunted Oregon State passing attack. He was targeted six times in coverage, conceding five receptions for 33 yards, breaking up two passes and allowing a passer rating of 89.6.
Second Team: Trent Mcduffie, Washington
Deommodore Lenoir, Oregon
The Ducks' secondary had arguably their best game of the season against the Buffaloes, allowing just 131 passing yards and nabbing four interceptions. Although Lenoir did not have an interception himself, he was still fantastic in coverage, giving up only one reception of four targets for nine yards and a passer rating of 39.6, the equivalent of spiking the ball straight into the ground.
Second Team: Thomas Graham Jr., Oregon
Safeties
Veron Mckinley III, Oregon
McKinley boasts the highest coverage grade among all defenders in the Pac-12, utterly dominating the Colorado offense. He saw four balls thrown into his coverage, allowing one for 16 yards, but he made up for it by having one pass breakup and stealing possession twice with two of the team's four interceptions.
Second Team: Jalen Moore, Oregon State
Julian Blackmon, Utah
Blackmon did not give up any big plays in 37 coverage snaps. In fact, he allowed just one yard on one reception all night and picked up three defensive stops, showcasing he is not just a coverage safety and is willing to make plays in the run game.
Second Team: Myles Bryant, Washington
FLEX D
Nick Pickett, Oregon
Pickett played only 25 coverage snaps, but despite the limited playing time, he certainly made an impact. He did not allow a single reception into his coverage and picked off the last of Steven Montez's four interceptions on Friday evening.
Second Team: Jack Jones, Arizona State