Paths to the College Football Playoff are starting to take shape now that we are inching closer to the halfway point of the 2021 season. Alabama and Georgia are virtual locks to secure a spot in the four-team playoff but after that, things get interesting.
And as always, I am going to share how I see things stacking up.
---
Click here for more PFF tools:
Rankings & Projections | WR/CB Matchup Chart | NFL & NCAA Betting Dashboards | NFL Player Props tool | NFL & NCAA Power Rankings
---
Below is how I'd order the top 25 teams after Week 5. Please note that this top 25 is not the same as PFF's Power Rankings.
Related content for you: Highest-graded players at every position through Week 5 of the 2021 college football season via Seth Galina
1. ALABAMA CRIMSON TIDE (Record: 5-0, ATS: 3-2, Rank Change: -)
Alabama's defense dominated Ole Miss' potent offense, holding Ole Miss to the fewest yards per play of the Lane Kiffin era (4.6). On offense, quarterback Bryce Young struggled under pressure at times, but he was great from a clean pocket, going 18-of-19 for 204 yards and two scores. There are some pieces of Young's game that need some refinement — like holding onto the ball too long and taking risks under pressure — but that's to be expected from someone two years removed from high school who is in his first year starting. He's playing well beyond his years with an 89.7 passing grade through Week 5. As long as that level of play is sustained, Bama should enter the SEC title game with a perfect record.
2. GEORGIA BULLDOGS (Record: 5-0, ATS: 4-1, Rank Change: -)
Georgia's defense once again shocked the opposing offense, as the Dawgs pressured Arkansas on nearly half of its dropbacks and sacked the quarterback six times. Georgia finished as one of the Power Five's five highest-graded defenses for Week 5, something it has done in four of its five games this season. On offense, Georgia needed nothing in the passing game to hang 37 points on Arkansas, as quarterback Stetson Bennett only completed seven passes for 72 yards. The quarterback position is easily Georgia's biggest question mark, but with how rare the defensive unit is, it may not matter in the end.
3. OKLAHOMA SOONERS (Record: 5-0, ATS: 2-3, Rank Change: -)
It wasn't a beatdown, but Oklahoma did handle Kansas State on the road to maintain its perfect record. Quarterback Spencer Rattler was no different than the first four weeks: automatic at the short and intermediate levels of the field but couldn't find anything deep. On throws of 19 yards or less downfield, Rattler completed 21-of-22 for 238 yards and two touchdowns. On deep shots of 20-plus yards, Rattler didn't complete either of his attempts while one turned into an interception. He now owns a 34.2 passing grade on deep throws and a 93.7 passing grade on non-deep ones this season. The latter is on pace to be the second-best in the PFF College era, but Oklahoma needs the former back to his 2020 standards in order to contend.
4. CINCINNATI BEARCATS (Record: 4-0, ATS: 3-1, Rank Change: +1)
Cincinnati accomplished the first big steps on its way to the College Football Playoff. It now has a 4-0 record to start the year, which includes a win over Notre Dame in South Bend last weekend. The defensive unit did its part by limiting the Irish to only 4.6 yards per play (102nd in the FBS), and quarterback Desmond Ridder continued to make the right decisions while tossing some impressive dimes. He has only one turnover-worthy play for the season while recording multiple big-time throws in each start. Ridder's only issue is inconsistent accuracy. He had some uncatchable balls against Notre Dame, which has been a common issue throughout his career. Ridder ranks inside the top 10 in accurate pass rate beyond the line of scrimmage but also 61st of 107 FBS quarterbacks in uncatchable pass rate on the same throws. That speaks volumes about the volatile nature of his accuracy. If he can reel in the uncatchable passes while sustaining everything else, the Bearcats should remain undefeated until the postseason.
5. IOWA HAWKEYES (Record: 5-0, ATS: 4-1, Rank Change: +1)
Iowa traveled to Maryland in what was a strength-versus-strength battle.
The Hawkeyes' pass defense and the Terps' passing offense were on impressive hot streaks entering Week 5 and were going to see their biggest test to date. But, in the end, there was one notable winner, as Iowa picked off quarterback Taulia Tagovailoa five times en route to a 51-17 victory. It was a banner day for everyone in the secondary and a continuation outside corner duo Matt Hankins and Riley Moss' success. Hankins didn't allow a single catch while Moss didn't allow a first down while also recording an interception. The two now rank first and second, respectively, among Power-Five corners in outside coverage grade.
6. OHIO STATE BUCKEYES (Record: 4-1, ATS: 2-3, Rank Change: +5)
Buckeyes quarterback CJ Stroud finally had a performance that Ohio State should feel great about. He didn't make any bad decisions and the accuracy problem that plagued his first three games was not present. Stroud didn't record a single turnover-worthy play and only threw one quarterback-fault incompletion en route to a 91.3 passing grade. For reference, Stroud had five turnover-worthy plays and 13 quarterback-fault incompletions in the previous two games. He'll need to have this kind of outing a few more times before convincing the world that he is better than the passer we saw to start the year, though.
7. MICHIGAN WOLVERINES (Record: 5-0, ATS: -, Rank Change: +7)
Expectations weren't particularly high for Michigan at the start of the season, but the Wolverines have surpassed them and then some after five weeks.
The Wolverines are now 5-0 after thrashing the Wisconsin Badgers in a game that made Harbaugh's squad look like a force to be reckoned with. With the combination of defensive coordinator Mike MacDonald's play design and Michigan's talent on that side of the ball, the defense pressured Wisconsin on 66.7% of its pass plays. The run defense was also well-disciplined across the board, evidenced by the fact it allowed only 3.1 yards per carry. That unit — anchored by PFF College's reigning Defensive Player of the Week Aidan Hutchinson — can get this team pretty far.
Penn State's defense is as good as advertised, specifically against the pass. The Nittany Lions rank third in the Power Five in team-coverage grade behind Georgia and Iowa, and they also have one of the top pass-rushers in the country in edge defender Arnold Ebiketie. They should be able to put the clamps on a middling Iowa passing offense that ranks 51st in the Power Five in yards per attempt this season in their big showdown this weekend. The question is, can the offense do its part? Regression came knocking as expected for Penn State quarterback Sean Clifford in Week 5 against Indiana. He looked more like his old self, earning a 55.5 passing grade for the game. That can't happen against the Hawkeyes.
9. OLE MISS REBELS (Record: 3-1, ATS: 3-1, Rank Change: -2)
As disastrous as Saturday went for Ole Miss, we mustn't forget about the level of success quarterback Matt Corral and head coach Lane Kiffin had leading up to that. These two have led Ole Miss to top-three rankings in explosive pass play rate and yards per attempt among Power Five programs since 2020. The offense was moving when Corral operated from a clean pocket on Saturday, but the Bama pass-rush got to the quarterback quickly and often to rain on Ole Miss' parade.
Just like every other week in 2021, Coastal's offense had no issue defeating UL-Monroe. Quarterback Grayson McCall went a perfect 13-of-13 for 212 yards and two touchdowns, paving the way for a 94.3 passing grade. He's now the second-highest-graded passer in the FBS this season, and at his disposal, he has college football's highest-graded wide receiver — Jaivon Heiligh — and tight end — Isaiah Likely. Coastal Carolina's next game will be on Thursday night against Arkansas State, who ranks 121st in the FBS in team defense grade.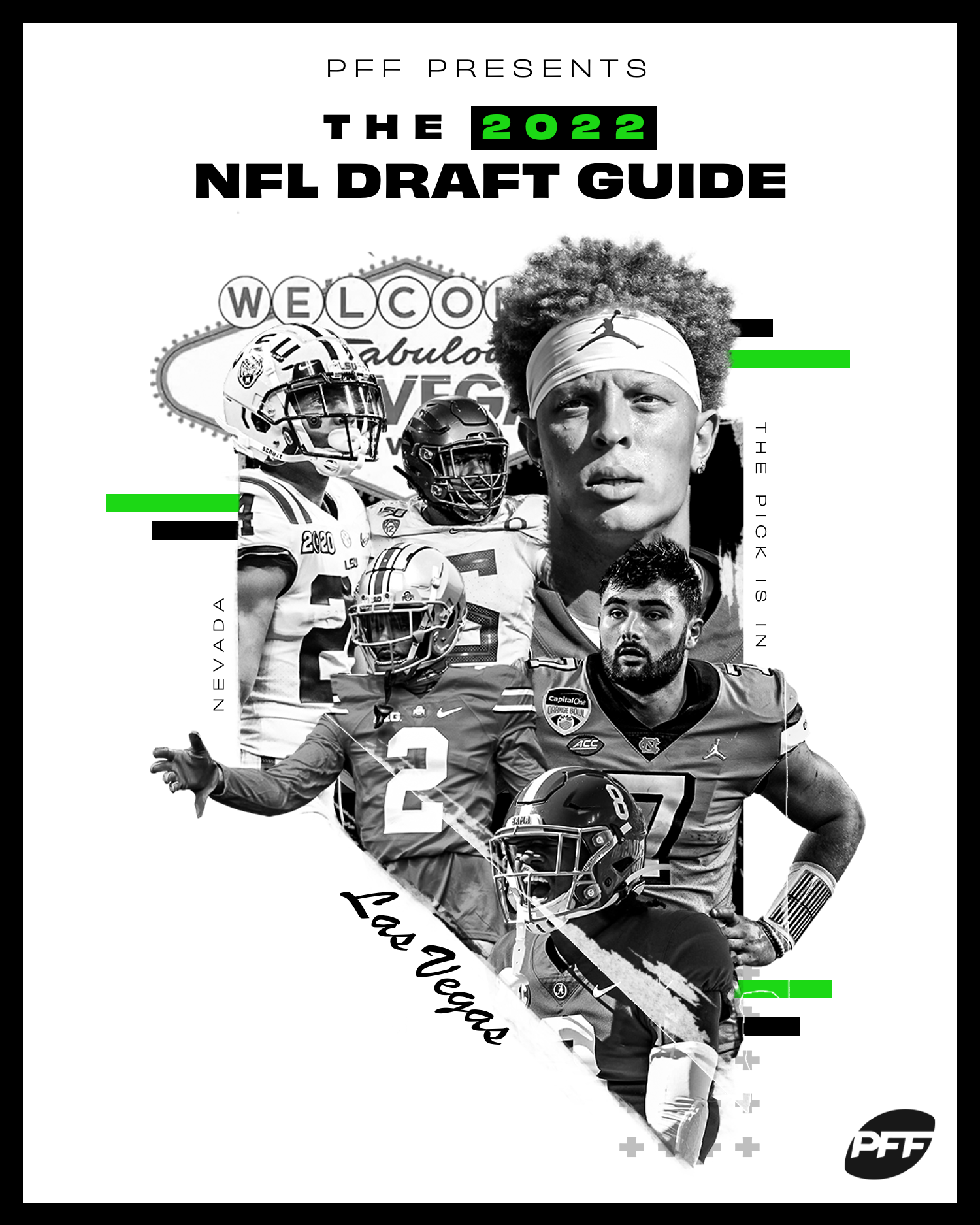 11. OREGON DUCKS (Record: 4-1, ATS: 1-4, Rank Change: -7)
Oregon's shaky quarterback situation came back to haunt the Ducks in their upset loss. The Ducks offense, by design, helped make up for Anthony Brown's deficiencies against Ohio State but not this time. Brown earned a 42.8 PFF grade against Stanford, completing only two of 10 attempts on 10-plus yard throws while throwing a bad interception that set up a Cardinal score. Oregon running its lowest rate of play-action passes and RPOs in a single game this season could explain part of this, as that's where this offense's bread was buttered.
12. ARKANSAS RAZORBACKS (Record: 4-1, ATS: 4-1, Rank Change: -4)
Arkansas allowing only 72 passing yards and three total first downs through the air to Georgia but still getting blown out 37-0 is almost hard to believe. The Dawgs completely avoided the Razorbacks' greatest strength — the coverage unit — and pounded the rock all night long for five yards per carry across 55 attempts. The real reason Georgia won was the defensive unit. The group of physically gifted monsters sacked KJ Jefferson and Malik Hornsby six times and allowed only one reception over 10 yards downfield. Seven of Arkansas' first nine drives were three-and-outs.
13. TEXAS LONGHORNS (Record: 4-1, ATS: 4-1, Rank Change: +3)
Texas quarterback Casey Thompson played poorly against TCU. He earned a 42.3 passing grade for the game, anchored by four turnover-worthy plays. The Longhorns got by the Horned Frogs unscathed, but Thompson's decision-making needs to improve if the Longhorns are going to have a shot at knocking off Oklahoma in Week 6. He can produce at an elite level, as evidenced by his 92.9 PFF grade in Week 4, but that doesn't make this performance any less concerning heading into Texas' biggest game of the year. Running back Bijan Robinson helped make up for the quarterback deficiencies by shedding 15 tackles on 24 attempts and producing six explosive runs (10-plus yards).
14. MICHIGAN STATE SPARTANS (Record: 5-0, ATS: 3-1-1, Rank Change: +1)
The Spartans came out and made a statement early in their matchup last weekend against Western Kentucky with a punt return for a touchdown within the first couple of minutes. The offense followed that up with 35 more first-half points. Quarterback Payton Thorne was ultra-efficient in the first half, completing 11-of-14 for 229 yards and a score in addition to earning an 88.2 passing grade. Running back Kenneth Walker III, meanwhile, produced three explosive runs inside of Western Kentucky territory and converted three of his four runs inside the 10-yard line into a touchdown. Michigan State's offense has been quite a surprise in 2021.
Wake Forest did a good job keeping Louisville quarterback Malik Cunningham in check as a runner, but it was on the receiving end of his highest-graded game of the year as a passer, which is a testament to both him and the Demon Deacons' gameplan. At the end of the day though, Wake Forest quarterback Sam Hartman's aggressiveness paid off and led the Demon Deacons to victory. Hartman threw 23 passes over 10 yards downfield and completed 12 for 259 yards and two scores. A lot of these plays came under pressure — an area where Hartman has always struggled.
Hartman airs it out for Morin on the 42-yard score! ????@sam_hartman10 | @WakeFB | #ACCFootballpic.twitter.com/oeuPnGaNbj

— ACC Football (@ACCFootball) October 2, 2021
16. KENTUCKY WILDCATS (Record: 5-0, ATS: 4-1, Rank Change: +7)
Kentucky may have earned the upset win in Lexington over Florida, but the passing attack is far from the reason why. Quarterback Will Levis' struggles continued, as he finished with a 34.7 passing grade across 22 dropbacks while not completing a single pass thrown over seven yards downfield. A 41-yard touchdown off a screen to Wan'Dale Robinson and a blocked field goal returned for a touchdown were the two key plays in the Wildcats' victory.
17. BYU COUGARS (Record: 5-0, ATS: 3-2, Rank Change: +3)
Baylor Romney held down the fort for the injured Jaren Hall at quarterback by earning a 77.7 PFF grade, but the real MVP of the offense last week was running back Tyler Allgeier. He had a performance reminiscent of his entire 2020 campaign, as he busted off four breakaway runs (15-plus yards) en route to an 88.7 rushing grade. Allgeier bouncing back to form would be massive for the Cougars offense.
As expected, Notre Dame's pass-protection and quarterback room's inability to perform under pressure cost it the game against Cincinnati. Jack Coan, Drew Pyne and Tyler Buchner combined for 14 dropbacks under pressure, where they combined for only two completions and six passing yards while throwing two picks and taking two sacks. Those interceptions proved costly.
19. SMU MUSTANGS (Record: 5-0, ATS: 3-1-1, Rank Change: +4)
SMU landed a gem from the transfer portal this past offseason with quarterback Tanner Mordecai, who began his career as an Oklahoma Sooner. Mordecai is one of the few passers to begin his 2021 campaign producing at an elite level. He has earned a 91.2 passing grade through five weeks of play, which ranks third in the FBS.
20. FLORIDA GATORS (Record: 3-2, ATS: 2-3, Rank Change: -11)
While the Gators caught a bad break on the blocked field goal score, the offense left a lot to be desired against Kentucky. Quarterback Emory Jones couldn't push the ball downfield for a good chunk of the game, and the receiving unit couldn't create much after the catch due to being limited to stick concepts while underneath plays were snuffed out. Jones started to complete some passes downfield in the fourth quarter, but an interception down the seam ruined that. The Gators have a higher ceiling than it showed against Kentucky, but the inconsistency could be what bites it in the end.
21. NC STATE WOLFPACK (Record: 4-1, ATS: 3-2, Rank Change: -)
NC State has been top-25 worthy on both sides of the ball. The offense isn't much of a surprise, but its defense undoubtedly is. A year removed from ranking 82nd in the FBS in team-defense grade, the Wolfpack are sixth out of the 130 programs in that metric through Week 5 of the 2021 season. On offense, quarterback Devin Leary is sustaining the success he had in 2020 before going down with a season-ending injury. Since last year, Leary ranks first in the Power Five in big-time throw rate and ninth in turnover-worthy play rate.
DEVIN.LEARY.PERIOD. ????@PackFootball QB @DevinLeary1 with the long shot down field! pic.twitter.com/kMf5zRbWcg

— ACC Football (@ACCFootball) October 2, 2021
22. OKLAHOMA STATE COWBOYS (Record: 5-0, ATS: 3-2, Rank Change: +3)
Oklahoma State has overcome a sluggish start and is now on a three-game win streak against the spread. Its defense has been the backbone of its success as of late. In their last three games, the Pokes rank sixth in the Power Five in team-defense grade. Their run defense, in particular, has been strong, as they are second among Power-Five teams in explosive run play rate allowed for the year (7.5%).
23. AUBURN TIGERS (Record: 4-1, ATS: 3-2, Rank Change: NR)
Auburn quarterback Bo Nix and his gamer mentality snuck away with a win over LSU despite being down for most of the game. Nix broke the pocket and tried to make a play outside the structure of the offense all night against the Tigers. Oftentimes, it resulted in nothing, but he did have one big-time touchdown throw on a fourth down, which was deemed PFF's Game-Changing Moment of the Week. With Nix's reliance on such plays, expect volatility from the Auburn offense, as those dropbacks have a wider range of outcomes. The defense, however, can be relied on to perform at a high level, as Auburn ranks third in the FBS in team-defense grade heading into Week 5.
24. PITTSBURGH PANTHERS (Record: 4-1, ATS: 4-1, Rank Change: NR)
Pitt's offense has been humming this season thanks to quarterback Kenny Pickett. He has earned a passing grade above 75.0 in each of his five starts, paving the way to an FBS-leading 92.7 mark for the season. The Panthers are top three among Power-Five offenses in explosive pass play rate and yards per attempt with Pickett at the helm. Now the question is, can Pickett and Co. replicate that success against a tougher schedule? They are 112th in the FBS in strength of schedule to date and jump up to 42nd when looking at their remaining strength of schedule.
Arizona State is running a more conservative passing offense in 2021, and it's having positive ramifications on the offense as a whole. Jayden Daniels' average depth of target declined from 11.2 to 7.1 year-over-year, and his passing grade jumped nearly 20 grading points to 81.7. Daniels has a high rate of yards coming after the catch (61.4%), but he's not missing throws downfield. He's taking good care of the ball and now Arizona State ranks fourth in yards per pass attempt in the Power Five.