If you thought last week's college slate was loaded, wait until you see this week.
There are four top-25 matchups, including a top-five showdown between Penn State and Iowa in addition to several others that have upset potential.
---
Click here for more PFF tools:
Rankings & Projections | WR/CB Matchup Chart | NFL & NCAA Betting Dashboards | NFL Player Props tool | NFL & NCAA Power Rankings
---
Below, you'll find the college football Week 6 schedule, game lines, a guide to PFF Greenline betting picks and a game preview for the most notable matchups. Please note that the lines are courtesy of our friends over at DraftKings Sportsbook and are subject to change up until kickoff.
Related content for you: Highest-graded players at every position through Week 5 of the 2021 college football season via Seth Galina
Saturday, Oct. 9 | 12:00 PM EST | ABC
Spread: Oklahoma -3.5 (-105)
Total: 63.5
Moneyline: Oklahoma -165, Texas +145
Believe it or not, quarterback Spencer Rattler has been one of the top-performing quarterbacks in the country. He is one of eight FBS quarterbacks with a passing grade above 90.0 heading into Week 6 despite Oklahoma not blowing the doors off the opposition and lacking the explosiveness it had in previous seasons under Lincoln Riley. The reason why is because of how great Rattler is at throwing to the short and intermediate levels of the field. He's hardly missing on those passes.
Highest-graded FBS QBs on non-deep (19 yards or less) throws in 2021
| | |
| --- | --- |
| Player/Team | Passing Grade |
| 1. Spencer Rattler, Oklahoma | 93.7 |
| 2. Grayson McCall, Coastal Carolina | 91.3 |
| 3. Bryce Young, Alabama | 91.2 |
Deep passing is his biggest problem. Rattler has a 34.2 deep passing grade this season — over 60 grading points less than in 2020. Is that going to get Oklahoma over the hump and put them in the same tier as Alabama and Georgia? Nope. There've been a variety of reasons for Rattler's deep passing decline, including the way they are defended, the playcalling and the Rattler himself. If Rattler can't get his deep ball back to form, Oklahoma will have more closer-than-expected games, including against Texas.
Despite inconsistent quarterback play, the Longhorns are on pace to average their most yards per play during the PFF College era (6.8). Head coach Steve Sarkisian brought elements of last year's Alabama offense, which has had positive ramifications. If Texas wants to upset Oklahoma, they need Casey Thompson's to avoid the poor decisions he had in Week 5. Thompson threw three interceptable balls against TCU — two of which were dropped.
Click here for PFF Greenline's cover probabilities for side, total and moneyline.
Saturday, Oct. 9 | 12:00 PM EST | FOX
Spread: Ohio State -21 (-110)
Total: 70.5
Moneyline: Ohio State -1375, Maryland +800
Maryland will be looking for a bounce-back performance after last week's meltdown against the vaunted Iowa Hawkeyes defense. Quarterback Taulia Tagovailoa entered that game as the highest-graded quarterback in the country, as he didn't record a single turnover-worthy play prior to that game. He left with a poor 51.7 passing grade for the night, buoyed by four turnover-worthy plays. Maryland also endured another loss outside of the game, as its highest-graded receiver, Dontay Demus Jr., suffered a season-ending injury.
Ohio State is in the opposite boat. Instead of looking for a bounce-back, the Buckeyes — specifically quarterback CJ Stroud — are looking to sustain the improved play from last week. Stroud finished with his highest-graded game against Rutgers. The bad decisions and inaccurate passes that plagued the first few games were nowhere to be found.
CJ Stroud by week in 2021
| | | |
| --- | --- | --- |
| Week | Turnover-Worthy Plays | QB-Fault Incompletions |
| Week 1 at Minnesota | 0 | 7 |
| Week 2 vs. Oregon | 2 | 8 |
| Week 3 vs. Tulsa | 3 | 5 |
| Week 5 at Rutgers | 0 | 1 |
Quicker and shorter throws were incorporated in the offense, and Stroud's mechanics were surprisingly cleaner than the first few weeks. He'll need to replicate that performance he had to prove he's a better quarterback than he was at the beginning of the season, though. This game against Maryland is his opportunity to do just that.
Click here for PFF Greenline's cover probabilities for side, total and moneyline.
Saturday, Oct. 9 | 12:00 PM EST | ESPN
Spread: Ole Miss -6 (-110)
Total: 67
Moneyline: Ole Miss -240, Arkansas +195
Both Arkansas and Ole Miss are coming off disappointing blowout losses to two of the best teams in college football, Georgia and Alabama. The storyline for this game isn't these teams avenging their losses from this past Saturday, it's Ole Miss quarterback Matt Corral proving he can shred an Arkansas defense that chewed him up for six interceptions in 2020.
Corral earned a 34.2 PFF grade against the Razorbacks, who caused Corral to toss them Christmas present picks with their three-safety, eight-man zone defense that is built to minimize passing lanes. That is his lowest-graded performance of the last two seasons by over 30 grading points. Outside of that game, Corral has been one of the most consistent quarterbacks in the country. He has earned a passing grade above 75.0 in 10 of his 14 starts since 2020 — the second-highest rate among active quarterbacks.
Click here for PFF Greenline's cover probabilities for side, total and moneyline.
Saturday, Oct. 9 | 3:30 PM EST | CBS
Spread: Georgia -14.5 (-110)
Total: 46.5
Moneyline: Georgia -675, Auburn +475
It's common knowledge at this point that Georgia is physically different than the rest of college football on the defensive side of the ball. The Dawgs have athletes oozing out of every position group and are manhandling the opposition this season. They have allowed 3.1 yards per play this season — the fewest among Power-Five defenses by a full yard.
Yards per play allowed among Power Five defenses in 2021
| | |
| --- | --- |
| Team | Yards Per Play Allowed |
| 1. Georgia Bulldogs | 3.1 |
| 2. Iowa State Cyclones | 4.1 |
| 2. Clemson Tigers | 4.1 |
| Power Five Avg. | 5.2 |
Georgia's pressure rate outside of garbage time is the fourth-highest in the Power Five this season. The Dawgs are first among that group in sack rate (14%) and have hardly allowed the opposing quarterback to leak out from a collapsing pocket and create a big play.
That's where Auburn quarterback Bo Nix tries to find his success in big games. Nix is a notorious gamer who abandons the pocket in favor of trying to create a big play outside of the offense's structure. Sometimes, it works out for him but other times, it doesn't. Last week against LSU, it did. Nix ended up with 15 undesigned outside of the pocket dropbacks against the Tigers and earned an 88.2 passing grade on such plays — one of which was a game-changing fourth-down touchdown. But remember, those plays are unstable and are going to be hard to execute against this Georgia defense. It could get ugly offensively for the Tigers if Nix's gamer mentality rears its head.
Click here for PFF Greenline's cover probabilities for side, total and moneyline.
Saturday, Oct. 9 | 4:00 PM EST | FOX
Spread: Iowa -2.5 (-110)
Total: 41.5
Moneyline: Iowa -130, Penn State +110
Iowa's defense has locked up every offense it has faced this season. Defensive coordinator Phil Parker's zone defense is full of instinctive players who have caused quarterback confusion and subsequent turnovers. Outside corners Matt Hankins and Riley Moss, in particular, have anchored the group. Those two have combined for as many interceptions as first downs allowed (six) and have led Iowa to the highest outside coverage grade in the Power Five by a wide margin.
Highest Outside Coverage Grade in the Power Five
| | |
| --- | --- |
| Team | Outside Coverage Grade |
| 1. Iowa Hawkeyes | 91.5 |
| 2. Washington Huskies | 83.9 |
| 3. Auburn Tigers | 83.6 |
Those two and the rest of the Hawkeyes' defensive unit will make life difficult on Penn State quarterback Sean Clifford, who is starting to show signs of regression after a good start to 2021. Clifford earned a 53.4 passing grade against Indiana last weekend, showing his true limitations against a decent defense. This Iowa defense is more than decent, as it's one of the best in the country.
Click here for PFF Greenline's cover probabilities for side, total and moneyline.
Saturday, Oct. 9 | 7:30 PM EST | ABC
Spread: Michigan -3 (-115)
Total: 52.5
Moneyline: Michigan -160, Nebraska +140
Michigan has been a surprise team this season that could cause even more chaos in a Big Ten that's crowded at the top. The defensive unit, led by new coordinator Mike Macdonald, has been the driving force to success. The Wolverines have one of the five highest-graded defenses in the Power Five. There's plenty to like, including the growth of the outside corners, Daxton Hill covering the slot at a high level and Brad Hawkins making plays at deep safety, but Michigan's greatest strength is Aidan Hutchinson, who is a game-wrecker on the edge. He has been a force on a weekly basis in 2021, earning a single-game PFF grade above 73.0 in each of his five starts en route to a 91.5 overall mark that ranks second in the Power Five.
Every Monday when I review the tape, #Michigan DE Aidan Hutchinson has a handful of plays where he makes the left tackle look awfully silly.

This week is no different… pic.twitter.com/QATslFZcwl

— Dane Brugler (@dpbrugler) October 4, 2021
Michigan has a potent blitz package courtesy of Macdonald, who came from the Baltimore Ravens, but the Wolverines have been excellent at generating pressure without sending extra men. They rank fourth in the Power Five in pressure rate on non-blitzed dropbacks (43.6%). And this week, Michigan will match up against the lowest-graded team in the Power Five when it comes to pass protection.
Cornhuskers quarterback Adrian Martinez offers value with his legs and can turn a pressured dropback into a positive gain on a scramble, but he hasn't performed well overall on such instances. His pressured passing grade sits at just 47.2 for the season.
Click here for PFF Greenline's cover probabilities for side, total and moneyline.
Saturday, Oct. 9 | 7:30 PM EST | ACC Network
Spread: Notre Dame -1 (-110)
Total: 47
Moneyline: Notre Dame -115, Virginia Tech -105
Notre Dame's issues protecting the passer was a key reason why it lost at home last week to Cincinnati. Jack Coan, Drew Pyne and Tyler Buchner combined for 14 dropbacks, two completions and six passing yards under pressure while throwing two interceptions and taking two sacks. Those interceptions proved costly, especially the first one from Coan, which came in the red zone on the opening drive. Now, his starting spot is in jeopardy.
Next week will be a tough environment for the Irish to win in, as they travel to Blacksburg to take on Virginia Tech. The good news is that the Hokies pass-rush isn't as strong as the ones Notre Dame has faced lately. Virginia Tech's defensive line ranks 42nd among the 65 Power-Five defenses in pass-rush grade. The team is hovering at the FBS average in pressure rate generated, which is well below Purdue, Wisconsin and Cincinnati — Notre Dame's last three opponents — who all rank inside the top 25.
Click here for PFF Greenline's cover probabilities for side, total and moneyline.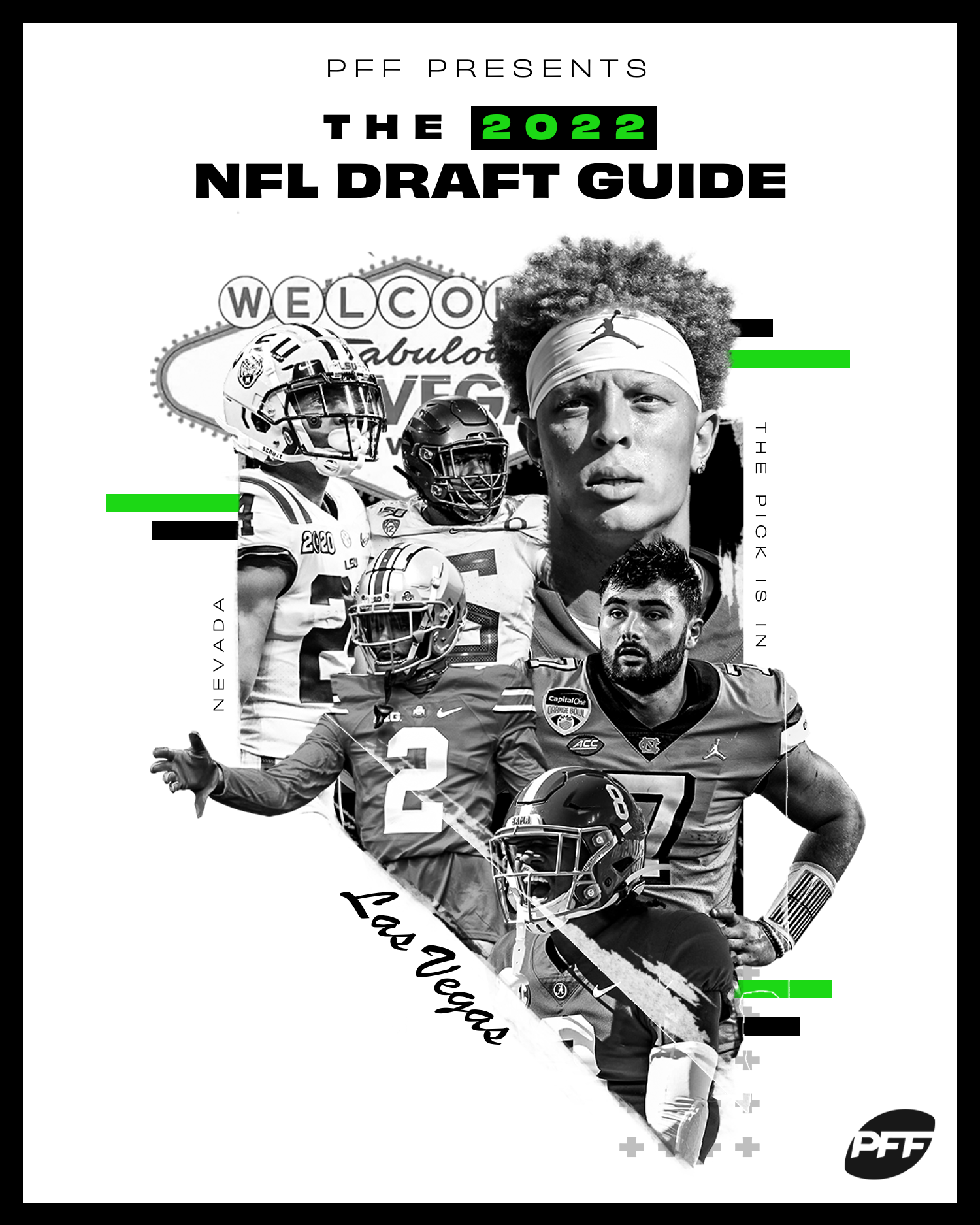 Saturday, Oct. 9 | 7:30 PM EST | SEC Network
Spread: Kentucky -3 (-115)
Total: 51
Moneyline: Kentucky -155, LSU +135
Kentucky may have pulled off a major upset in Lexington Saturday night by taking down the Florida Gators, but the Wildcats have serious question marks at quarterback. Will Levis has been the third-lowest-graded passer in the Power Five over the last three weeks, and Kentucky ranks 58th in the Power Five in yards per pass in that span as a result.
The same can be said about LSU's quarterback situation with Max Johnson, who has earned a 53.6 passing grade against Power-Five defenses, featuring eight turnover-worthy plays to one big-time throw.
Both quarterbacks could have a tough time effectively moving the ball given the struggles mentioned above as well as the fact that these two coverage units rank 11th and 12th respectively among Power-Five programs in coverage grade. The big mismatch that could give Kentucky an edge is its running game versus LSU's rush defense. Running back Chris Rodriguez Jr. has led the Wildcats to a top-five successful run rate in the Power Five this year, and they will get an LSU defense that ranks 55th in the Power Five in explosive run rate allowed.
Click here for PFF Greenline's cover probabilities for side, total and moneyline.
Saturday, Oct. 9 | 8:00 PM EST | CBS
Spread: Alabama -17.5 (-105)
Total: 51.5
Moneyline: Alabama -900, Texas A&M +600
Alabama quarterback Bryce Young is starting to find his footing. He has earned an 89.7 passing grade through his first five starts and is starting to operate at a high level. Young is averaging 9.1 yards per attempt from a clean pocket and owns a 92.7 passing grade on such dropbacks, which is tied for second in the FBS. Young is also showing off his ability to survive when the play starts to break down, posting the third-best passing grade in the country when holding the ball over three seconds after the snap. He'll sometimes hold onto the ball too long and take some risks that he shouldn't, but all things considered, there's little to complain about with the true sophomore's performance so far this season.
And that's bad news for the Aggies, who are coming off an upset loss against Mississippi State. They are going to have a difficult time matching the Crimson Tide's offensive firepower. A&M ranks second-to-last in the SEC, ahead of only Vanderbilt, in both explosive pass play rate and yards per attempt. Perhaps the most concerning aspect of this matchup for the Aggies is how quarterback Zach Calzada fares under pressure. He owns a 29.7 pressured passing grade this season — the third-worst in the FBS.
Click here for PFF Greenline's cover probabilities for side, total and moneyline.