No single position in all of sports carries as much weight in determining team success as the quarterback position in football.
It's rare to see a team lacking a viable signal-caller take home a conference championship, let alone earn a spot in the College Football Playoff. Unless the defense is performing at unprecedented levels — the Georgia Bulldogs, for example — a reliable signal-caller is required in order to win some hardware at the end of the season.
This, of course, begs the question: Which programs are in the best and worst shape at the quarterback position as we approach the halfway point of the 2021 college football season? Thanks to PFF College's advanced database, we have all the tools needed to answer that question.
Below, you will find every single FBS starting quarterback situation ranked from 1 to 130 heading into Week 6. Please note that these rankings have nothing to do with these quarterbacks' NFL potential, nor are they predicting future growth. Several factors went into these rankings, including the full-career grading profiles that can be found in PFF's CFB Premium Stats+.
Click here for more PFF tools:
Rankings & Projections | WR/CB Matchup Chart | NFL & NCAA Betting Dashboards | NFL Player Props tool | NFL & NCAA Power Rankings
---
TIER 1: THE ELITE
This tier means a little bit less than in past years, as there isn't a Joe Burrow or Justin Fields tossing the rock on Saturdays. However, the quarterbacks below are college football's blue-chip passers.
Willis is the most dangerous quarterback in college football. The Liberty quarterback owns an FBS-leading 94.1 PFF grade through the first five weeks of play and stresses defenses in a way very few can with his big arm through the air and athleticism on the ground. Willis' 13.3% big-time throw rate is over four percentage points higher than any FBS quarterback, and his 21 runs of 10-plus yards lead everyone in the country, regardless of position.
Say what you will about Rattler's inability to throw the deep ball in 2021, but he's still producing like an elite passer. His 93.7 passing grade on non-deep throws is over two grading points better than any other college quarterback and on pace to be the second-best of the entire PFF College era (since 2014). From a talent perspective, Rattler has as high of a ceiling as anyone in college football. If he can get his deep ball back to 2020 levels — when he earned a 98.1 passing grade on such throws (at 34.2 for this season) — Oklahoma will be contending, and Rattler will have a shot at dethroning Willis for the top spot.
Corral's attempt at knocking off Alabama in Week 5 was derailed by an insurmountable amount of pressure. He was under duress on 50% of his dropbacks and ended up with a 63.8 PFF grade for the game. Make no mistake, though — he's still amongst the elite quarterbacks in the country. Corral still hasn't recorded a single turnover-worthy play in 2021, making him the only FBS quarterback with over 100 dropbacks to accomplish such a feat. When free from pressure, Corral is executing this Lane Kiffin offense with excellent timing while continuously delivering accurate balls to all levels of the field.
McCall won over America's hearts in 2020 when he established himself as one of the rare triple-option quarterbacks who can shred defenses downfield. The threat of the run mixed with McCall's deadly accuracy downfield stressed the opposition and led to big plays. This year has been no different. McCall has a 91.8 passing grade in five starts. On 10-plus yard throws, in particular, he is top three in both grade and adjusted completion percentage.
Young has found his footing and is starting to operate within the structure of Alabama's offense at a high level. Young has earned a 93.8 passing grade when in rhythm this year — the second-best mark in the country. He also has shown off his ability to survive when the play starts to break down, recording the third-best passing grade in the country on dropbacks where he holds the ball over three seconds after the snap. He'll sometimes hold onto the ball too long and take some risks he shouldn't, but all things considered, there's little to complain about with the true sophomore's performance so far this season.
Howell is in a less-than-ideal situation at North Carolina this season. While he has made some mistakes — like holding onto the ball too long, faltering under pressure and taking sacks — the separation the receiving unit is getting downfield is far less than in 2020. Howell has still earned a solid 82.2 PFF grade this season and is tied for second in yards per attempt from a clean pocket in the Power Five (10.2). He's proven to be an elite passer throughout the duration of his college career.
TIER 2: PROVIDES A NOTICEABLY HIGHER LEVEL OF PLAY
Some quarterbacks in this tier are more experienced and have proven capable of performing at a high level in their careers, while others might be rawer and have just flashed the ability. At the end of the day, they all have shown a higher level of play compared to their counterparts.
Strong has executed Nevada's Air Raid attack at a high level over the past two years. He ranks top 10 among active FBS quarterbacks since 2020 in several categories, including turnover-worthy play rate, accurate pass rate, deep passing yards and PFF passing grade. He has one of the biggest arms in the country, exemplified by his five completions of 50-plus air yards over the past two seasons. Only two other active FBS quarterbacks have completed more than one such pass, and they each did so only twice (Matt Corral and Sam Howell).
Armstrong is a rare breed of quarterback. His mechanics are shaky, but put him on the football field, and he looks like one of the top quarterbacks in the country. Armstrong has an elite passing grade above 80.0 in five of his past eight starts dating back to last season and has totaled 28 big-time throws in that span.
King is currently nursing a shoulder injury that has put a pause on his 2021 season. There is no clarification on his long-term status, so we'll continue to list him in the quarterback rankings. Week 1 may not have gone as he hoped, but King performed admirably in his next two outings against Appalachian State and Michigan State, recording an 87.5 PFF grade in those starts. That was reminiscent of the dual-threat's 2020 season when he posted a 10th-ranked 90.6 PFF grade among FBS signal-callers.
After three years of riding the pine at Oklahoma, Mordecai finally got his shot at a starting job in 2021 with SMU. He owns a 91.2 passing grade in his five starts, the third-best mark in the FBS this year. Mordecai is good at getting through his progressions and making the right decision, which is apparent from his strong rankings in negatively and positively graded throw rates this season (12th and fifth in the FBS, respectively).
Tagovailoa entered last week's game against the vaunted Iowa pass defense as the highest-graded quarterback in the country. He didn't have a single turnover-worthy play to his name. But the outing changed that, and he earned a poor 51.7 passing grade for the night, buoyed by four turnover-worthy plays. Iowa's zone defense caused Tagovailoa to hold onto the ball, subsequently disrupting the timing of the Terps' offense. He was still effective on quick throws against Iowa, and his 92.0 passing grade this season on passes faster than 2.5 seconds ranks second-best in the FBS this season. For Tagovailoa to continue to climb up this list, he has to get better at not forcing throws on long-developing plays.
Pickett has been dealing in 2021. He is currently the highest-graded quarterback in the country (92.6) and is making few mistakes while hitting a far higher rate of downfield throws. Pickett ranks first in the FBS in negatively graded throw rate and owns a 95.7 passing grade on throws of 10-plus yards downfield, the latter being over 17 grading points higher than his 2020 mark. There's reason to believe regression is coming for Pickett, considering the Panthers have played the 15th-easiest schedule in the country to date, but even against subpar competition, he looks far better than his old self.
Haener has risen up the ranks thanks in large part to his deep ball. With his arm talent, ball placement and touch, Haener ranks second among all active FBS quarterbacks in deep passing grade since 2020. His six turnover-worthy plays in last week's upset loss to Hawaii marked an uncharacteristic performance but showed he has room for improvement with his field vision.
Western Kentucky landed the best passer available at the FCS level as a transfer this past offseason in Zappe. He put up monstrous numbers at Houston Baptist and is now doing the same for the Hilltoppers thanks to his deep ball. Zappe's 97.5 deep passing grade is the highest in the FBS. He has completed 17-of-23 such throws for 608 yards and six touchdowns.
Ridder is still missing on throws here and there, but he has shown immense growth through the first portion of the 2021 season. He's making smart decisions, taking good care of the football, producing on the ground with his athleticism and — most importantly — featuring a much improved deep ball. Ridder has connected on 11 of his 19 throws over 20 yards downfield for 436 yards and four touchdowns. He had only 467 deep passing yards on 45 attempts in 2020.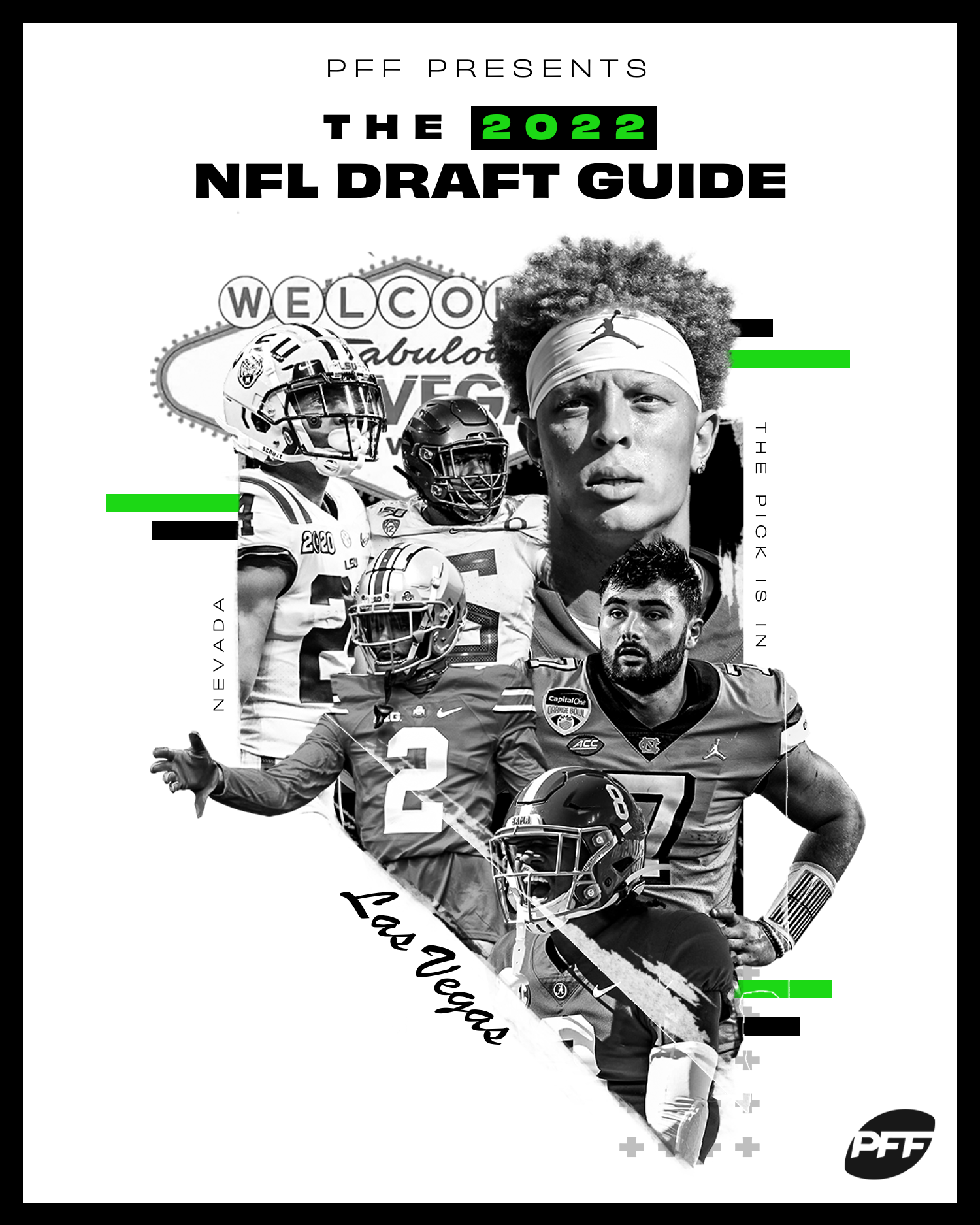 Wake Forest is in the thick of the ACC title race, and Hartman is a key reason why. He is playing clean football this season with a 1.1% turnover-worthy play rate, tying for the fifth-best in the FBS. Hartman has the sixth-best passing grade in the Power Five among active quarterbacks since 2020 when disregarding all the RPOs and play-action dropbacks Wake Forest likes to incorporate.
Stroud proved he could lead the quarterback-friendly Ohio State offense. However, a plethora of inaccurate passes and bad decisions kept outings against Minnesota and Tulsa close and played a part in the Buckeyes losing to Oregon. Stroud did earn an 81.3 passing grade in those games, but he also tossed five turnover-worthy plays and 20 quarterback-fault incompletions.
Against Rutgers this in Week 5, Stroud had few negatives to speak of. He didn't record a turnover-worthy play and threw only one quarterback-fault incompletion. Ohio State incorporated quicker, shorter throws, and Stroud's mechanics were cleaner than they had been in the first few weeks. He'll need to replicate his Rutgers performance to prove he's better than what he's shown to start the year, though. Stroud has little margin for error and could slide in the coming weeks.
Leary wins in the vertical passing game. Over the past two years, he has earned the sixth-best grade in the FBS on vertical throws. And Leary will deliver a dime on such concepts multiple times a game. He has recorded multiple big-time throws in each start dating back to last season and leads the Power Five in big-time throw rate over that span (9.2%).
Slovis has been one of the most disappointing performers in the country this season. Instead of taking an expected next step forward in 2021 after a couple of quality years as an underclassman, he has shown no signs of growth, even regressing some.
Now, some of this is because of USC's offense. The scheme doesn't create open receivers down the field very often. Slovis isn't being put in favorable positions or getting help from play-action passes. Opposing defenses know the Trojans' run game isn't a threat and aren't loading the box against them. USC has subsequently seen a high rate of drop eight coverage.
Slovis is still one of the most accurate quarterbacks in the country, performing well when clean inside the structure of the offense (87.2 passing grade on such plays in 2021) and can maneuver the pocket exceptionally well. Still, he sometimes fires late into smaller windows downfield, especially when under pressure (33.5 pressured passing grade in 2021).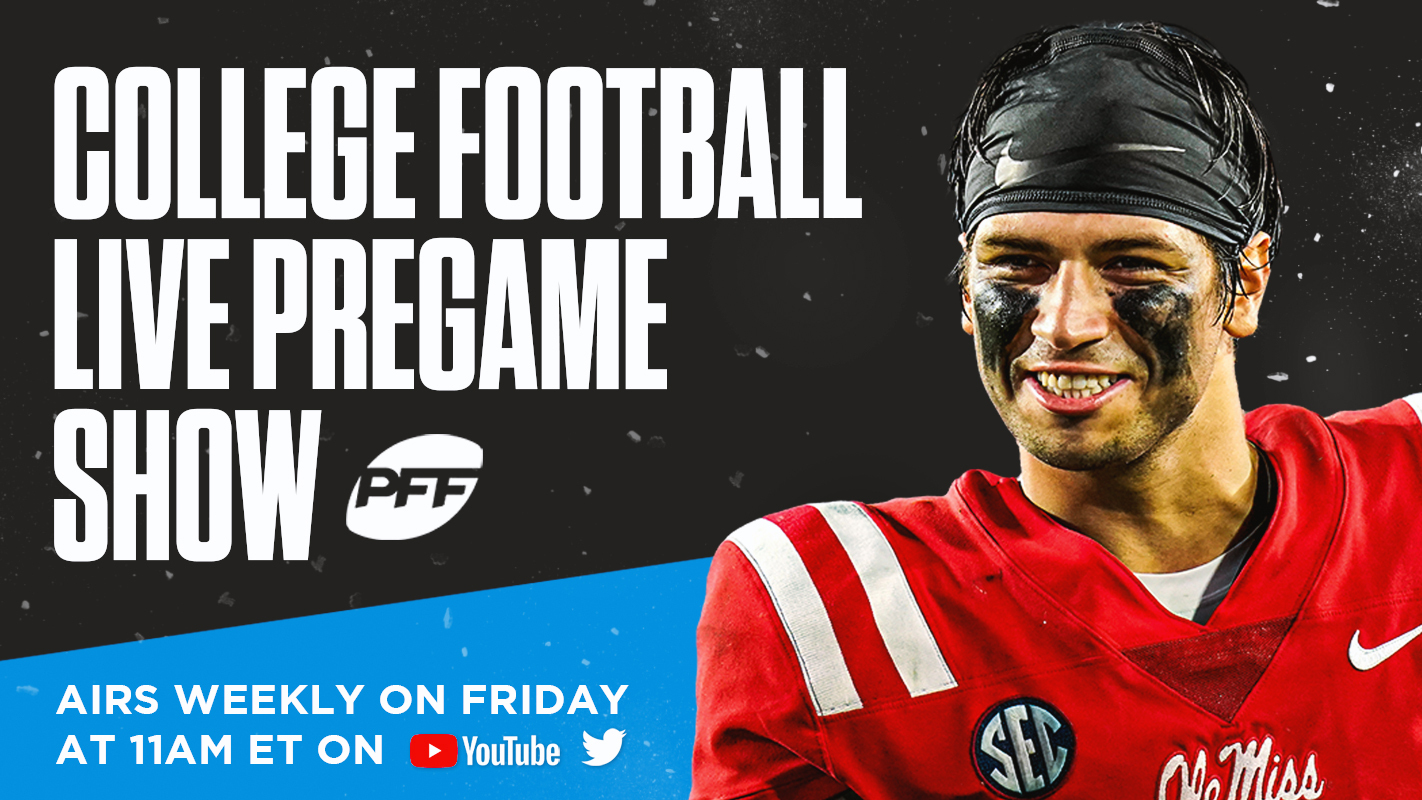 TIER 3: THE GOOD, NOT GREAT
The passers in Tier 3 come in various forms and have a wide range of ceilings. Some are more inexperienced but have the potential to jump to Tier 2, while others are more scheme-dependent or limited in some fashion but have executed their offenses at a quality level.
Cunningham lands here at No. 20 because of the danger he poses in the ground game. He has picked up 14 explosive gains of 10 or more yards and broken 18 tackles on 62 attempts — 45 of which were designed and 17 were scrambles. His 88.6 rushing grade is second to only Malik Willis at the quarterback position among FBS quarterbacks.
Cunningham can also get the job done through the air, as evidenced by his 74.6 passing grade in 2021, but just know he's a bit limited in that regard. He has only three big-time throws in five games, which forms one of the lowest big-time throw rates in the country.
If anyone is making the leap from Tier 3 to one of the top two tiers, it's Tanner McKee, as he has the potential to rank among the very best passers in college football. Remember, these rankings have nothing to do with potential, only what they've done up to this point, which is why he is here at No. 21.
McKee can flat-out spin it. He can layer the ball over linebackers and hit anticipatory throws better than most with his experience level. He has earned a 90.2 passing grade on throws where he leads the receiver across the field, which is the eighth-best in the FBS. The next step in jumping up a tier is improving his vertical passing.
Rogers is in the conversation for the most improved quarterback in college football this season.
The Bulldogs quarterback didn't surpass a 76.0 passing grade in a single one of his nine appearances as a freshman last year but has done so in each of his five starts in 2021. And while there isn't a lot on his plate in this Air Rad attack, given his average depth of target of 5.3 yards, he is still hitting the underneath throws with pinpoint accuracy, not giving the defense an opportunity to make a play on the ball and effectively hitting downfield throws when given the opportunity. Rogers has a big-time throw ratio of 13:2 this season, which is much improved from the 11:15 ratio he recorded in 2020.
There's still a lot of unknown inside the Georgia quarterback room. Both J.T. Daniels and Stetson Bennett have played a good amount this year because of Daniels' injury woes, but neither quarterback has had to do any heavy lifting so far.
They've benefitted from the lowest pressure rate among Power Five offenses and a multitude of open throws. Nearly three-quarters of their combined completions have been to a receiver with multiple steps of separation — most of which came against UAB, South Carolina and Vandy. They've completed only 13 passes to a tight or closing window and have tossed five picks on those plays, too. Against the two stout defenses they've faced — Clemson and Arkansas — it was clear the game plan was to let the defense and run game win them the game.
These two can take advantage of the good situations they are presented with. Now, they just need to do that when the scenario isn't so ideal against formidable opponents.
The Wildcats like to sprinkle in deep shots off of a play-action fake, and Thompson has hit them consistently. He owns a 92.1 passing grade on play-action dropbacks since the start of 2019.
Bazelak is not going to go out and carry the team, but he's not going to lose them the game either. The Tigers quarterback has earned 75.6 and 78.1 PFF grades the last two years. What's most encouraging about his play in 2021 is how well he has fared in the true dropback passing game. He owns an 89.5 passing grade when taking out screens, RPOs and play-action passes this season — the eighth-best in the FBS.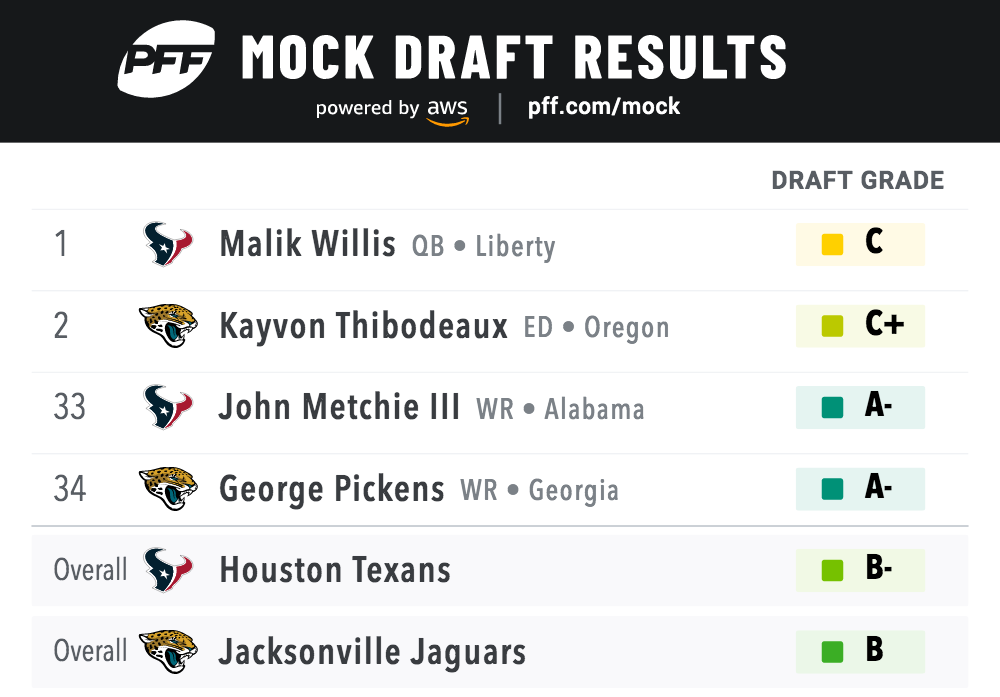 Jones has been as dangerous as expected as a runner this season, ranking fourth among FBS quarterbacks in broken tackles and explosive runs of 10-plus yards. However, he has fallen short of "breakout" expectations thanks to his performance as a passer.
The Florida passer now owns an 81.1 PFF grade over the last four weeks. Dan Mullen has started to give Jones easier concepts to hit accurately, such as a lot of stick and underneath routes, and the quarterback now ranks ninth in the FBS in accurate pass rate beyond the line of scrimmage over the last four weeks.
Jones is making the right decisions in the passing game, but the reason that he lands here in Tier 3 is how consistently late he is on throws that aren't those stick and underneath concepts, which can give the defense an opportunity to make a play on the ball.
After an abysmal Week 1 against Texas A&M, Crum has bounced back to form and has looked like the passer we expected to see for the Golden Flashes. He has earned a 91.1 PFF grade in the last four games, and he adds value in the ground game whether it be a designed carry or a scramble.
Crum is somewhat aided by a Kent State offense that has yet to put a lot on his plate. He has used play-action on 52.6% of his dropbacks over the last three years and has earned a 92.4 passing grade on such plays. Without play-action, Crum's passing grade drops over 20 grading points.
Romey has done a good job of holding down the fort with Jaren Hall out due to injury, earning an 83.7 passing grade. Still, Hall offers a bit more when on the field. He has been fantastic on the ground as expected, converting 10 of his 21 runs into a gain of 10 or more yards. His footwork in the passing game needs some refinement, but he's played well inside the pocket where he has earned a 74.4 grade for the season.
Thompson has been close to perfect when throwing to the short and intermediate levels of the field, earning an 83.3 passing grade on throws of up to 19 yards this season.
Thompson has also posted only one quarterback-fault incompletion on 60 such attempts, forming the lowest rate in the Power Five. The problem with Thompson is his deep passing. He has to get better at understanding leverage downfield and when he should or shouldn't take the shot.
There isn't a more unique quarterback in college football than Brock Purdy. He has steadily declined throughout his collegiate career, sporting single-season passing grades of 88.0, 82.2 and 74.2 in his first three years on campus. This year, Purdy currently stands at an 84.2 mark, but that's largely buoyed by the three poor defenses he has faced in Northern Iowa, UNLV and Kansas. He earned a sub-60.0 passing grade against Iowa and Baylor.
The cyclones signal-caller has been notorious for excellent timing and anticipation when playing in the structure of the offense but turns into a gunslinger who tries to make superhero plays when knocked off rhythm.
Bachmeier hasn't disappointed when things are going as planned. When operating in a clean pocket, Bachmeier ranks 11th in the FBS in passing grade and has posted an 87.2% adjusted completion percentage and 9.4 yards per attempt.
Oklahoma State's offense has done a good job of creating more open throws downfield, and Sanders has done a fantastic job hitting them. He owns a 90.9 passing grade on throws of 10-plus yards downfield in 2021 — well above 2019 and 2020 levels when he posted marks of 67.7 and 79.3 on such throws.
Given what we have seen from him historically, his shaky underneath accuracy and the small sample of improvement against the lackluster competition, it would not be a complete shock to see Sanders regress a bit in the coming weeks.
Arizona State has done a good job of managing Daniels' workload this year, and his grade has jumped from the 62.2 he earned in 2020 to 81.7. His average depth of target has dropped from 11.2 yards to 7.0 this season, as the team is emphasizing the underneath passing game and taking away downfield throws, an area of weakness in 2019 and 2020.
Michigan's passing offense still remains an unknown through five games this season. McNamara is coming off his first game of the year in which he completed more than 10 passes, which is because the Wolverines haven't needed him to throw the ball much.
The positive with McNamara is his quick and smart decision-making. He hasn't recorded a turnover-worthy play on 84 dropbacks and is getting the ball out at one of the five quickest averages in the Power Five — 2.43 seconds. This has helped him not take a sack on 23 dropbacks and average 10.7 yards per attempt versus the blitz. The big question mark is his ability to accurately hit throws into smaller windows down the football field.
If McNamara slips up when Michigan asks him to put the team on his back and win the game with his arm, JJ McCarthy is a promising freshman five-star who delivered a big-time throw on a deep ball against Wisconsin.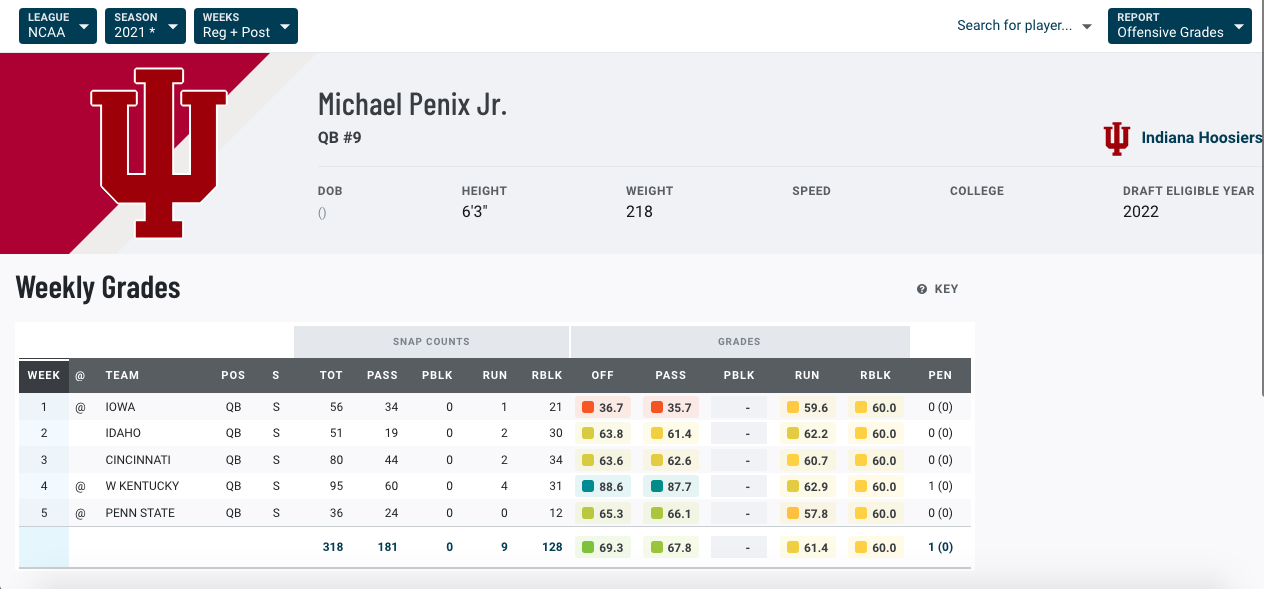 There hasn't been a bigger disappointment this season than Penix and the Indiana Hoosiers' offense. He has struggled to overcome pass-protection woes and looks far from his normal self after returning from his third-straight season-ending injury. He's struggling to throw the ball with touch and is rifling inaccurate passes on a consistent basis. Penix has been better over the past four games after his Week 1 meltdown against Iowa, recording a 77.2 passing grade over that stretch. Still, it's not at the level we saw from him in 2019 and 2020 when he earned an 85.4 passing grade and had the seventh-best big-time throw to turnover-worthy play differential in the Power Five (34-to-12).
Notre Dame's offense is why the team is already out of the College Football Playoff conversation. The underperforming offensive line and lack of separators at wide receiver play a huge part in that, but Coan crumbling under pressure has also hindered the unit's output. Coan can lead an efficient dink-and-dunk passing offense with his underneath accuracy. After all, the team did rank top five in the Power Five in EPA generated per pass on non-deep throws entering Week 5. But his inconsistent deep ball and inability to withstand the heat of the pass rush make this offense only good — not great. Including all throws, Notre Dame fell to 42nd in the Power Five in EPA generated per pass.
Both Buchner and Pyne offer more upside because of their athletic ability. Buchner — a true freshman who was a top-100 recruit in the class — has been effective on the ground with 7.1 yards per attempt on 14 rushes this season. Pyne has gotten no work in the designed run game, but he proved capable of moving outside of the pocket on the limited dropbacks he took against Cincinnati.
Nolan — the No. 1-rated JUCO quarterback in the 2020 class — has been a pleasant surprise for the Beavers this season. He took over the quarterback spot in the midst of their Week 1 loss to Purdue and has held it ever since, performing at an impressively high level with a 90.6 passing grade in five games. Nolan stays composed when passing in a collapsing pocket and has some fantastic anticipatory throws on tape.
The big knock on him is how panicky he can get when his first read isn't there. That's what happened last week against Washington when he took 22 dropbacks and completed only seven passes for 48 yards. If Nolan can revert back to the form we saw up until that point and be better when his first option isn't there, he's going to skyrocket up this list.
Petras is among the most improved passers in the country. He was one of the most inaccurate quarterbacks in college football last season. This year, Petras has made significant strides in that department. He has improved his 33.3% accurate pass rate on 10-plus-yard throws in 2020 to 51.2% in 2021.
Along with that, his big-time throw rate has tripled year over year. Petras is still going to miss a few throws a game, but he has made a rare improvement in that department. The next step is putting more on his plate so Iowa can improve its explosive pass play rate from its No. 45 ranking among Power Five teams right now.
Purdue enters its bye week with a quarterback controversy between Plummer and O'Connell. Plummer began the season as the starter before losing the job to O'Connell. Plummer offers more upside from an accuracy perspective (top five among Power Five quarterbacks in uncatchable pass rate) and takes good care of the football, but he isn't going to lead an explosive downfield passing attack.
O'Connell can do the latter, but he's not overly accurate and is going to put the ball in harm's way (five big-time throws and five turnover-worthy plays in his last start). Regardless of who is under center, Purdue has a good play-action system in place that opens up throws, allowing either of these signal-callers to post above-average efficiency marks.
Hooker lands here due in large part to his running ability. His 23 broken tackles and 5.95 yards after contact per rush both lead the Power Five. Hooker is a limited passer, but there are reasons to be optimistic about him. Head coach Josh Heupel's offense is full of simplistic reads, and Hooker is making the right decisions when passing in rhythm. He owns an 85.3 passing grade in rhythm over the past three games, with zero turnover-worthy plays.
Wells was a volatile performer in his debut starting campaign in 2020 as a redshirt freshman, posting multiple passing grades above 90.0 but also multiple passing grades below 60.0. This season, Wells has been a more consistent passer, earning PFF grades ranging from the high-60s to the high-70s in each of his five starts. He has the arm talent and possesses a good deep ball. He's been peppering defenses down the seam, in particular, going 8-of-12 for 258 yards and a score on such throws, with five of those passes being big-time throws (most in the country).
Shough started the first four games of the year for Tech before suffering an injury that will keep him out for extended time. Colombi, who started four games for the Red Raiders in 2020 after transferring from Utah State, took over for Shough and has looked notably sharp in his two outings. Heboasts a 91.2 passing grade this season, with six big-time throws and zero turnover-worthy plays. If he can sustain that level of play, he's going to climb up this list.
Bohanon really could not be in a better position. He saw only 42 dropbacks across his first three years on campus before taking on the starting job in 2021 for a new offense that protects the quarterback better than any in college football. Baylor is providing Bohanon with a play-action usage rate of over 40%, and the team has done a good job at getting the ball out quickly on non-play action dropbacks. Those two reasons have been key in Bohanon earning a 92.1 passing grade from a clean pocket this year. When the pass rush does get home — which really happened only against Oklahoma State — his passing grade falls to 28.4.
Tune was incredibly consistent in 2020, but that's far from the case this season. He's making more head-scratching decisions, with eight turnover-worthy plays across 151 dropbacks. In 2020, he had just 10 over 324 dropbacks. He has still earned a passing grade above 77.0 in three of his five starts this season, largely thanks to his plus accuracy. Tune recorded an 84.7 PFF grade last year, and Houston needs him to get back to that form.
---
TIER 4: THE AVERAGE
These college quarterbacks rank right in the middle of their peers. Some of them have hardly shown an ability to produce at a quality level and are consistently average. And then there are others who have flashed stellar play but then negated it with several poor performances.
45. BEN BRYANT, EASTERN MICHIGAN EAGLES
46. CHRIS REYNOLDS, CHARLOTTE 49ERS
47. DAVIS BRIN, TULSA GOLDEN HURRICANE
48. NICK STARKEL/NICK NASH, SAN JOSE STATE SPARTANS
49. JAYDEN DE LAURA, WASHINGTON STATE COUGARS
50. CHASE BRICE, APP STATE MOUNTAINEERS
51. MAX DUGGAN, TCU HORNED FROGS
52. KALEB ELEBY, WESTERN MICHIGAN BRONCOS
53. PAYTON THORNE, MICHIGAN STATE SPARTANS
54. LEVI LEWIS, LOUISIANA RAGIN' CAJUNS
55. TYLER JOHNSTON III/DYLAN HOPKINS, UAB BLAZERS
56. JARRET DOEGE, WEST VIRGINIA MOUNTAINEERS
57. GUNNAR HOLMBERG, DUKE BLUE DEVILS
58. CHEVAN CORDEIRO, HAWAII RAINBOW WARRIORS*
59. ADRIAN MARTINEZ, NEBRASKA CORNHUSKERS
60. BO NIX, AUBURN TIGERS
61. SEAN CLIFFORD, PENN STATE NITTANY LIONS
62. LOGAN BONNER, UTAH STATE AGGIES
63. BRAXTON BURMEISTER, VIRGINIA TECH HOKIES
64. CHRISTIAN ANDERSON/TYHIER TYLER/JEMEL JONES, ARMY BLACK KNIGHTS
65. AUSTIN KENDALL, LOUISIANA TECH BULLDOGS
66. JEFF SIMS, GEORGIA TECH YELLOW JACKETS
67. DJ IRONS, AKRON ZIPS
68. HAAZIQ DANIELS, AIR FORCE FALCONS
69. CHASE GARBERS, CAL GOLDEN BEARS
70. MICHAEL PRATT, TULANE GREEN WAVE
71. TANNER MORGAN, MINNESOTA GOLDEN GOPHERS
72. FRANK HARRIS, UTSA ROADRUNNERS
73. JORDAN TRAVIS/MCKENZIE MILTON, FLORIDA STATE SEMINOLES
74. TAYLOR POWELL, TROY TROJANS
---
TIER 5: NEEDS TO IMPROVE
The quarterbacks in this group likely aren't leading explosive offenses in 2021. There is some long-term hope for teams with fresh new starters, but short-term confidence remains low for these quarterback situations. Similar to the tier above, they aren't going to be responsible for their teams having immense success without help from elite supporting casts on both sides of the ball.
75. JAKE CONSTANTINE/LUKE MCCAFFREY, RICE OWLS
76. N'KOSI PERRY, FAU OWLS
77. WILL LEVIS, KENTUCKY WILDCATS
78. DORIAN THOMPSON-ROBINSON, UCLA BRUINS
79. DENNIS GROSEL, BOSTON COLLEGE EAGLES
80. CHASE CUNNINGHAM, MIDDLE TENNESSEE BLUE RAIDERS
81. DANIEL RICHARDSON/JACOB SIRMON, CENTRAL MICHIGAN CHIPPEWAS
82. MAX JOHNSON, LSU TIGERS
83. TODD CENTEIO, COLORADO STATE RAMS
84. KJ JEFFERSON, ARKANSAS RAZORBACKS
85. JAKE BENTLEY, SOUTHERN ALABAMA JAGUARS
86. KURTIS ROURKE, OHIO BOBCATS
87. SETH HENIGAN, MEMPHIS TIGERS
88. BRETT GABBERT, MIAMI REDHAWKS
89. DYLAN MORRIS, WASHINGTON HUSKIES
90. TERRY WILSON, NEW MEXICO LOBOS
91. MAX BORTENSCHLAGER, FIU PANTHERS
92. JAMES BLACKMAN, ARK STATE RED WOLVES
93. ANTHONY BROWN, OREGON DUCKS
94. D.J. UIAGALELEI, CLEMSON TIGERS
95. GARRETT SHRADER, SYRACUSE ORANGE
96. HOLTON AHLERS, EAST CAROLINA PIRATES
97. DARRIEL MACK, OLD DOMINION MONARCHS
98. DREW PLITT, BALL STATE CARDINALS
99. ROCKY LOMBARDI, MICHIGAN STATE SPARTANS
100. KYLE VANTREASE, BUFFALO BULLS
101. GAVIN HARDISON, UTEP MINERS
102. CAM RISING, UTAH UTES
103. MIKEY KEENE, UCF KNIGHTS
104. CARTER BRADLEY, TOLEDO ROCKETS
105. AUSTIN AUNE/JACE RUDER, NORTH TEXAS MEAN GREEN
106. LUKE DOTY, SOUTH CAROLINA GAMECOCKS
---
TIER 6: NEEDS SIGNIFICANT IMPROVEMENT
These quarterbacks have consistently produced at a poor level.
107. BRADY MCBRIDE, TEXAS STATE BOBCATS
108. MATT MCDONALD, BOWLING GREEN FALCONS
109. ZACH CALZADA, TEXAS A&M AGGIES
110. BRENDON LEWIS, COLORADO BUFFALOES
111. JASON BEAN, KANSAS JAYHAWKS
112. BRANDON PETERS, ILLINOIS FIGHTING ILLINI
113. NOAH VEDRAL, RUTGERS SCARLET KNIGHTS
114. SEAN CHAMBERS, WYOMING COWBOYS
115. KEN SEALS, VANDERBILT COMMODORES
116. CHANDLER ROGERS, UL-MONROE WARHAWKS
117. TIMMY MCCLAIN, USF BULLS
118. RYAN HILINSKI, NORTHWESTERN WILDCATS
119. GRAHAM MERTZ, WISCONSIN BADGERS
120. BRADY OLSON, UMASS MINUTEMEN
121. CAMERON FRIEL/DOUG BRUMFIELD/JUSTIN ROGERS/TATE MARTELL, UNLV RUNNIN' REBELS
122. JONAH JOHNSON, NEW MEXICO STATE AGGIES
123. D'WAN MATHIS, TEMPLE OWLS
124. LUCAS JOHNSON, SAN DIEGO STATE AZTECS
125. DARREN GRAINGER/CORNELIUS BROWN IV, GEORGIA STATE PANTHERS
126. JORDAN MCCLOUD, ARIZONA WILDCATS
127. XAVIER ARLINE/TAI LAVATAI/MASSAI MAYNOR, NAVY MIDSHIPMEN
128. JUSTIN TOMLIN/CAM RANSOM, GEORGIA SOUTHERN EAGLES
129. TY KEYES/JAKE LANGE/TREY LOWE III, SOUTHERN MISS GOLDEN EAGLES
130. TYLER PHOMMACHANH/STEVEN KRAJEWSKI/JACK ZERGIOTIS, UCONN HUSKIES