The Week 5 ACC Eckrich Team of the Week powered by PFF saw some impressive performances and, of course, the strength of opponent also factored into the overall selections as did the PFF player grades.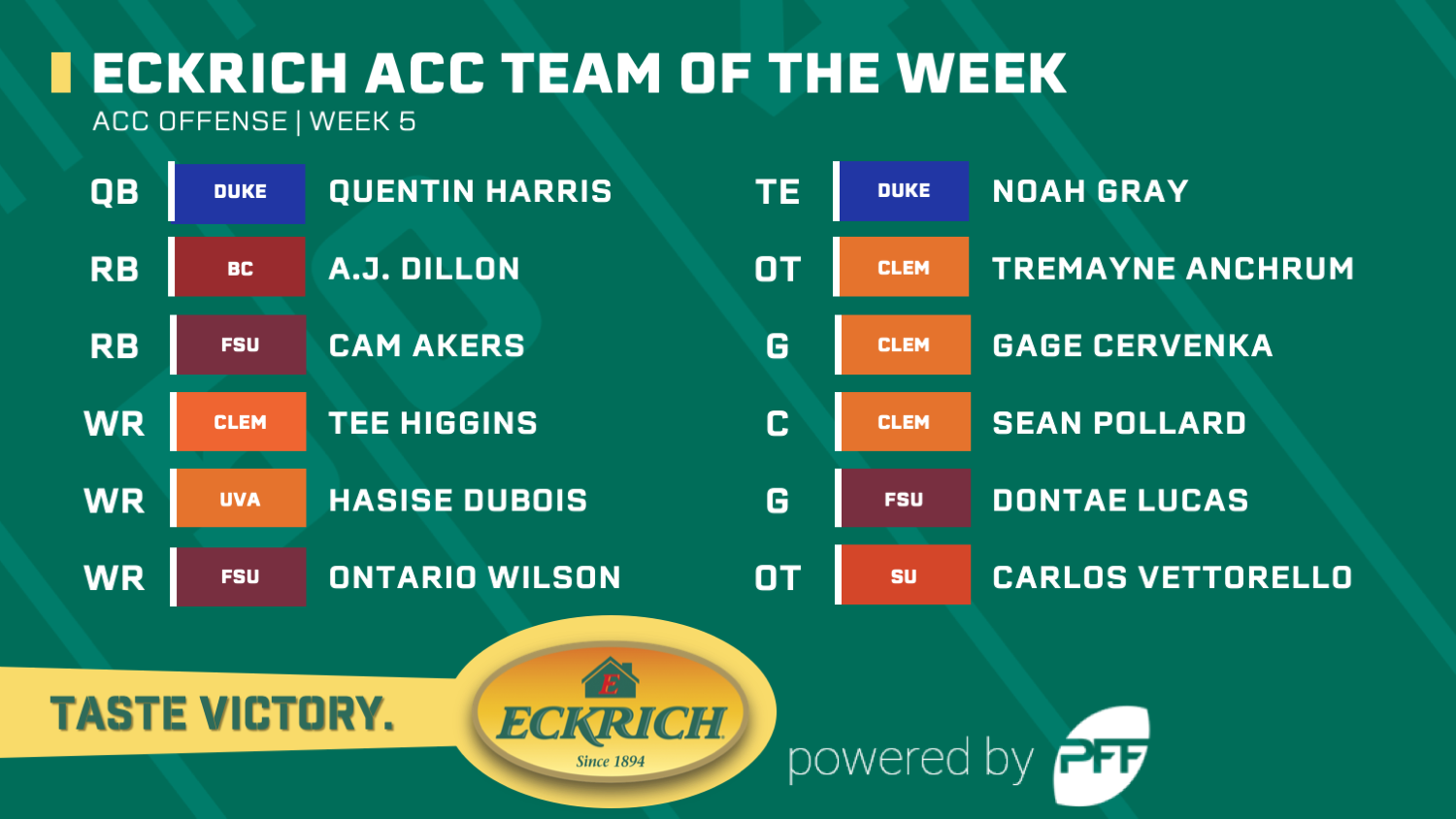 Quarterback
Quentin Harris, Duke
Harris finished with just 163 yards through the air but two passing touchdowns and 100 yards on the ground. He had 13 combined conversions through the air while his 67 rushing yards on designed carries paved the way for another score and four more first-down attempts. He was efficient and kept the Duke offense moving when it mattered most for the big win in Blacksburg.
Second-Team QB: Alex Hornibrook, FSU
Running Back
AJ Dillon, Boston College
Dillon ran for over 100 yards, in a surprise to no one, as the Eagles almost got the upset win over Wake Forest. Dillon broke off 104 of his 159 yards on the ground after contact and forced a league-high 10 missed tackles.
Second-Team RB: Todd Sibley Jr., Pittsburgh
Running Back
Cam Akers, FSU
Akers is the workhorse for the Seminoles but with Hornibrook at quarterback, only need 17 carries to reach 82 yards on the ground and a score. He broke six tackles and gained 78 of his 82 yards after contact.
Second-Team RB: Travis Etienne, Clemson
Wide Receiver
Tee Higgins, Clemson
Emerging as the top talent on their offense this season, Higgins as surpassed everyone for top-graded Clemson Tiger this season. With performances like his last one, he's likely not to relinquish that top spot anytime soon. He turned six catches into 129 yards and a touchdown while the other five catches moved the sticks for a first down.
Second-Team WR: Taj Harris, Syracuse
Wide Receiver
Hasise Dubois, Virginia
Perhaps the catch of the evening, Dubois is no stranger to #BigTimeCatch moments this year. He finished the game against Notre Dame with nine receptions for 143 yards and a score while seven other receptions moved the chains for a first down. He and Joe Reed were certainly not to blame for the team's loss.
Second-Team WR: Tamorrion Terry, FSU
Wide Receiver
Ontario Wilson, FSU
Seeing a bevy of snaps for the first time this year, Wilson made the most of his four targets, hauling all four in for 91 yards and a score. The other three catches moved the chains and forced two missed tackles in the process. He saw a perfect 158.3 passer rating when targeted.
Second-Team WR: Taysir Mack, Pittsburgh
Tight End
Noah Gray, Duke
Gray finished Duke's trouncing of Virginia Tech with six receptions for 50 yards and two scores as he was dominant at finding the open lanes across their defense. He also had one of the conference's top run-blocking grades at the position to boot.
Second-Team TE: Cary Angeline, NC State
Offensive Tackle
Tremayne Anchrum, Clemson
Anchrum kept a clean sheet in pass protection, not allowing a pressure on his 35 pass-blocking snaps for the Tigers. He also had the conference's top run-blocking grade among tackles in an all-around dominant performance.
Second-Team OT: Charlie Heck, North Carolina
Offensive Guard
Gage Cervenka, Clemson
Like his fellow lineman, Cervenka also kept a clean sheet in pass protection and had a top-five run-blocking grade as the entire right side of the Clemson offensive line was physically dominant.
Second-Team OG: Bryce Hargrove, Pittsburgh
Center
Sean Pollard, Clemson
Pollard allowed two pressures in the passing game but had an extremely efficient game paving the way for the run. He had the conference's second-highest run-blocking grade among all centers.
Second-Team C: Olusegun Oluwatimi, Virginia
Offensive Guard
Dontae Lucas, FSU
It's not often to highlight a Florida State lineman over the past few years it seems but Lucas had a strong game across the board. Even with a sack allowed to his credit, Lucas didn't allow another pressure on his 33 other pass-blocking reps and had a top-10 pass-blocking grade and top-five run-blocking grade among all guards.
Second-Team OG: John Phillips, Boston College
Offensive Tackle
Carlos Vettorello, Syracuse
The Orange got a big game from Vettorello, who finished the contest with just two pressures allowed and a top-five ranked run-blocking grade among qualifying tackles.
Second-Team OT: Tyler Vrabel, Boston College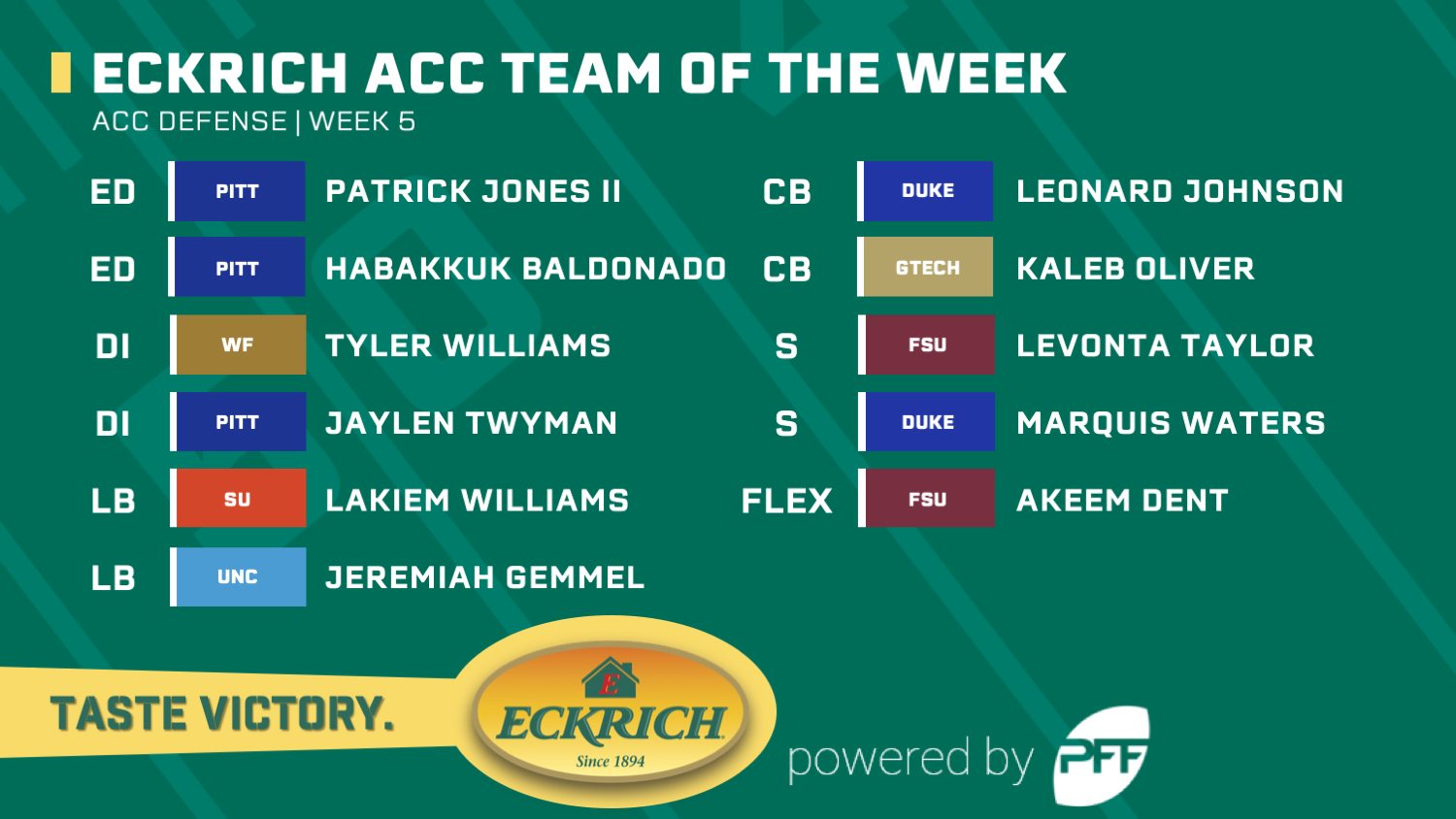 Edge Defender
Patrick Jones II, Pittsburgh
Jones led all conference edge defenders in total pressures by recording 10 of his own that including a sack, a QB hit and eight additional hurries. He won the vasty majority of his pass-rushing snaps, taking full advantage of the Delaware offensive line.
Second-Team Edge: Larrell Murchison, NC State
Edge Defender
Habukkuk Baldonado, Pittsburgh
Baldonado rushed the passer just 18 times but came away with six total pressures and two sacks. He chipped in with an additional run stop on one of his eight snaps against the run, showing just how dominant he was.
Second-Team Edge: Xavier Thomas, Clemson
Defensive Interior
Tyler Williams, Wake Forest
Williams recorded just a lone pressure on the quarterback on his 15 pass-rushing snaps but his 27 snaps against the run were phenomenal. He finished with four solo tackles, all of which went down as a defensive stop and he did so without missing a single tackle attempt.
Second-Team DI: Edgar Cerenord, Duke
Defensive Interior
Jaylen Twyman, Pittsburgh
Twyman is just another Pitt defender that feasted on the lesser competition that was in front of him. He recorded four pressures and had five defensive stops, four of which came against the run.
Second-Team DI: Marvin Wilson, FSU
Linebacker
Lakiem Williams, Syracuse
Williams was all over the field, rushing the passer just four times and recording three pressures; allowing just 10 yards on his 27 snaps in coverage; churning out six tackles without a missed attempt and rounding it all out with three defensive stops.
Second-Team LB: Chazz Surratt, North Carolina
Linebacker
Jeremiah Gemmel, North Carolina
Gemmel was the better of the two UNC linebackers on the afternoon, despite Surratt getting home with seven total pressures. Gemmel was targeted four times as the primary coverage defender against Clemson and allowed just two receptions for negative yardage. He broke up a pass and saw just a 56.3 passer rating into his coverage.
Second-Team LB: Max Richardson, Boston College
Cornerback
Kaleb Oliver, Georgia Tech
The Yellowjackets scored their only two points of the afternoon without their offense on the field as the defense put up a valiant effort despite no offensive firepower. Oliver was targeted four times and allowed just one catch while intercepting one of his own.
Second-Team CB: Tyler Baker-Williams, NC State
Cornerback
Leonard Johnson, Duke
The Blue Devils got a big win in conference play on Friday night against Virginia Tech as Johnson was an integral part. He limited the Hokies to just nine yards in his coverage as he was targeted six times and allowed just one catch. He made an interception of his own as well as another pass breakup, finishing with an elite overall and elite coverage grade in the process.
Second-Team CB: Damar Hamlin, Pittsburgh
Safety
Levonta Taylor, FSU
Taylor flew around the field on his 30 snaps, recording three defensive stops (one against the run) and was stout in coverage. He didn't record an interception but as the primary coverage defender, allowed a long reception of just one yard as he limited the other catch in his coverage to -2 yards.
Second-Team S: Tanner Muse, Clemson
Safety
Marquis Waters, Duke
Waters and Johnson anchored a Duke secondary as the latter came away with three defensive stops and the conference's fourth-highest coverage grade among qualified safeties. Waters didn't miss a tackle in his eight attempts showing solid all-around skills.
Second-Team S: Christian Campbell, Georgia Tech
Flex
Akeem Dent, FSU
Playing just 28 total snaps, Dent was on the field for 26 pass attempts against NC State. He was the primary coverage defender on just one of those attempts but still ended up the afternoon with two pass breakups as he flew all over the field like the aforementioned Taylor.
Second-Team Flex: Damarri Mathis, Pittsburgh