The college football season is back in full force and with a full slate of games on Saturday, we at PFF and our team of over 500 analysts has dissected and graded every player on every snap of every game to bring you the most detailed and valid set of picks you can find anywhere.
The Week 3 Eckrich Team of the Week powered by PFF saw some impressive performances and, of course, the strength of opponent also factored into the overall selections as did the PFF player grades.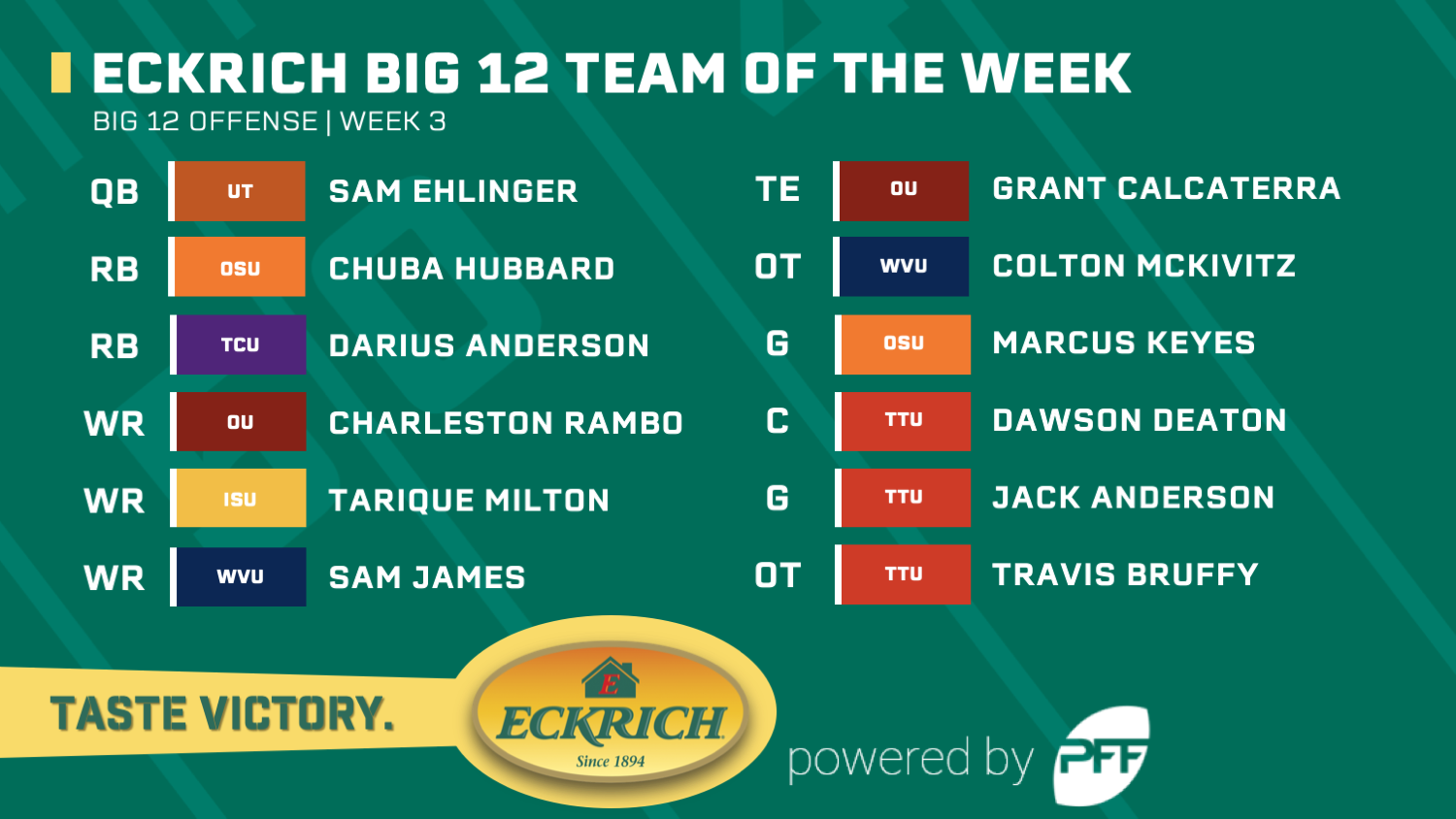 Quarterback
Sam Ehlinger, texas
The Longhorns got back into the win column against Rice and Ehlinger did everything you'd want him to against the lesser competition. He completed 23-of-27 passes for 279 yards and three scores as he had a dominant display of accurate throws to all levels of the field.
Second-Team QB: Jalen Hurts, Oklahoma
Running Back
Chuba Hubbard, Oklahoma State
Hubbard once again led the nation in rushing yards with 256 this week, averaging 8.0 yards per carry. He broke six tackles and gained 153 yards after contact on the weekend for another outstanding performance.
Second-Team RB: Sewo Olonilua, TCU
Running Back
Darius Anderson, TCU
With two touchdowns to his name, Anderson and the Horned Frogs ousted Purdue and Anderson did the majority of the damage himself on the ground. He ripped off 179 total rushing yards including 120 of which came after first contact. He broke eight tackles on the ground to lead the conference as did his five runs of at least 10 or more yards.
Second-Team RB: Keontay Ingram, Texas
Wide Receiver
Sam James, West Virginia
James saw a whopping 15 targets in Week 3, hauling in nine receptions for 155 yards and a score. Six more of those receptions moved the chains for a first down and he forced three missed tackles and 88 yards after the catch as he emphatically scored the game's most impressive touchdown by weaving through the NC State secondary en route to six points.
Second-Team WR: Jake Smith, Texas
Wide Receiver
Charleston Rambo, Oklahoma
Rambo needed just five receptions to gain 116 yards, two scores and 57 yards after the catch. He had a perfect passer rating when targeted and moved the chains on two more receptions as the Sooners routed the Bruins.
Second-Team WR: Tylan Wallace, Oklahoma State
Wide Receiver
Tarique Milton, Iowa State
Tying for the conference-lead in receiving yards, Milton was a bright spot for the Cyclones offense against Iowa, catching all nine targeted passes his way for 155 yards. He scored a touchdown and had five more first-down receptions as he gained 65 of his yards after the catch.
Second-Team WR: T.J. Vasher, Texas Tech
Tight End
Grant CalcaTerra, Oklahoma
Calcaterra and the Sooners offense took the wind out of Bruins sails early as the tight end hauled in just two receptions for 40 yards. He broke two tackles after the catch and had really strong grades in the run game on his 12 snaps in the run game.
Second-Team TE: Charlie Kolar, Iowa State
Offensive Tackle
Colton McKivitz, West Virginia
On 45 snaps in pass protection, McKivitz allowed just a single pressure while his efforts in the run game were nothing short of dominant. On his 27 snaps, he moved defenders off the spot and had impressive downfield blocks, leading the conference in run-blocking grade by a comfortable margin.
Second-Team OT: Lucas Niang, TCU
Offensive Guard
Marcus Keyes, Oklahoma State
The Cowboys got a big-time performance from their left guard as Keyes held the conference's highest run-blocking grade by over 10 grade points and allowing just a single QB pressure on his 31 reps in pass protection.
Second-Team OG: Tyler Mitchell, Kansas State
Center
Dawson Deaton, Texas Tech
In what will be a recurring theme, Deaton was dominant in pass protection, allowing a single QB pressure on his 55 pass-blocking snaps. He also led the conference in run-blocking grade much like Keyes above, by a hefty margin.
Second-Team C: Coy McMillon, TCU
Offensive Guard
Jack Anderson, Texas Tech
Anderson allowed a single QB pressure on his 55 snaps in pass protection and though they didn't get the win, he, Deaton and Bruffy mentioned below were absolutely dominant in the quick-passing attack for the Red Raiders.
Second-Team OG: Madison Akamnonu, Texas Tech
Offensive Tackle
Travis Bruffy, Texas Tech
For the second straight week, we see Bruffy represented here as he allowed just one hurry on his 55 pass-blocking snaps. He has now allowed just three total pressures all season long and has plus grades in the run game in all three games.
Second-Team OT: Bryce Meeker, Iowa State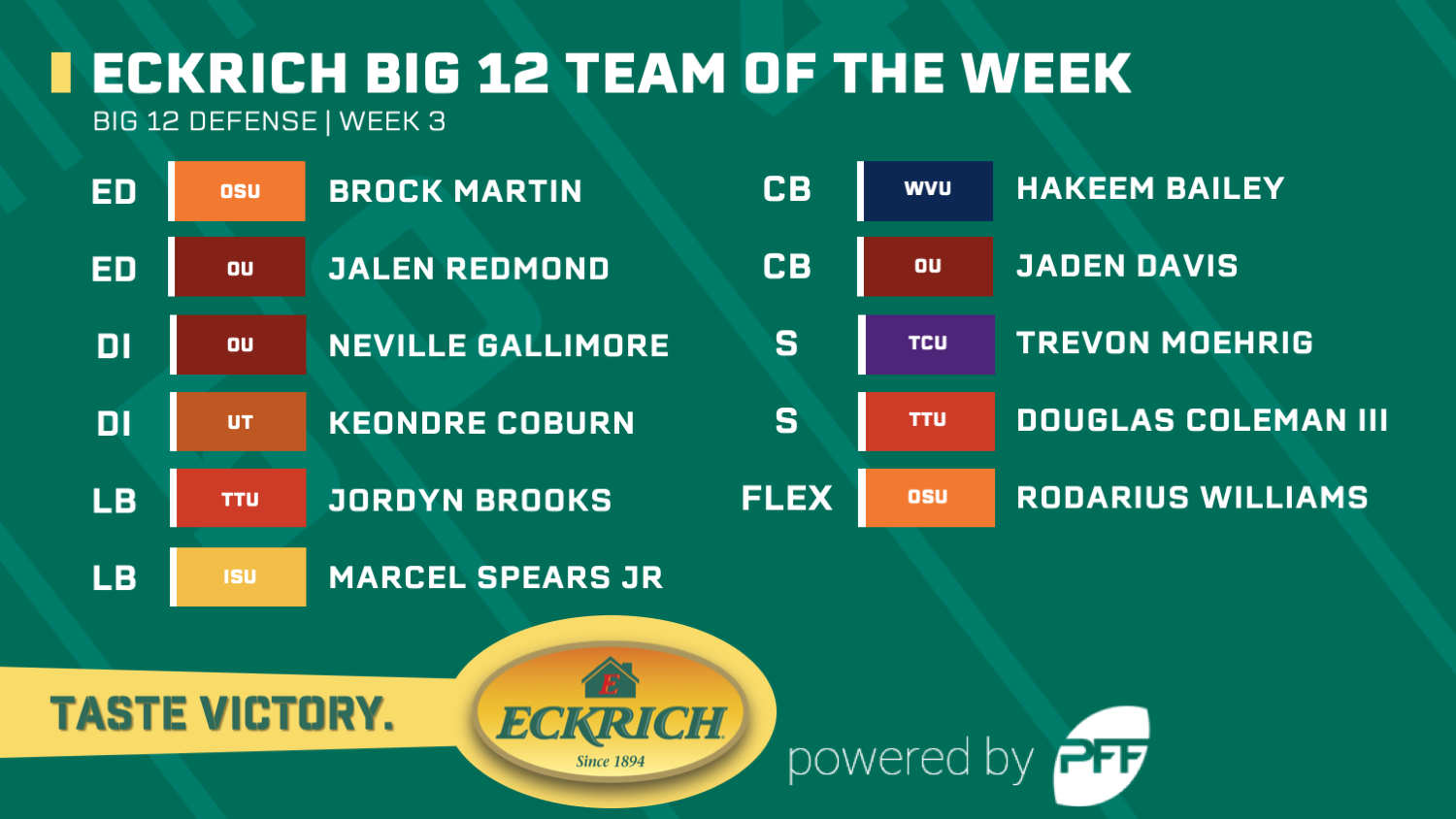 Edge Defender
Brock Martin, Oklahoma State
A tackling machine, Martin dropped into coverage on 14 snaps, played the run on another 34 and rushed the passer on 15 snaps for the Cowboys. He made four defensive stops and eight total tackles without a miss while recording two more QB pressures.
Second-Team Edge: Ochaun Mathis, TCU
Edge Defender
Jalen Redmond, Oklahoma
A strong day on the pass-rush, Redmond recorded four pressures on all of 17 pass-rush attempts while recording two more defensive stops against UCLA. He did all of this without missing a single tackle.
Second-Team Edge: Mike Scott, Oklahoma State
Defensive Interior
Neville Gallimore, Oklahoma
Gallimore and Marquise Overton represent perhaps one of the nation's most fierce interior duos as Gallimore had the dominant game of the two of them against UCLA. He registered four total QB pressures on just 21 pass-rushes and made a defensive stop in the run game to round out the day.
Second-Team DI: Jordan Mittie, Kansas State
Defensive Interior
Keondre Coburn, Texas
Coburn needed just 11 pass-rushes to record four total QB pressures for the Longhorns, including a sack and three more hurries. He made three total defensive stops including two more in the run game in a dominant, albeit short, performance against Rice.
Second-Team DI: Corey Bethley, TCU
Linebacker
Jordyn Brooks, Texas Tech
Brooks is firmly placed on the Big 12 Team of the Week much like Dakota Allen used to find himself more often than not as Brooks recorded 13 total tackles and seven defensive stops against Arizona. They didn't get the win but it wasn't because of Brooks' performance.
Second-Team LB: Juwan Mitchell, Texas
Linebacker
Marcel Spears Jr., Iowa State
Spears made five solo tackles in the game against Iowa, all five of which went for defensive stops and he nabbed a pass breakup on his lone target in coverage. On his seven blitzes, he finished with four QB pressures as he was impressive all over the field.
Second-Team LB: Garret Wallow, TCU
Cornerback
Hakeem Bailey, West Virginia
Locking down receivers in his coverage against NC State, Bailey was targeted seven times and he allowed all of 40 yards while making two pass breakups in the process. He allowed a long reception of just 11 yards and just nine yards after the catch as he made nine solo tackles and four defensive stops.
Second-Team CB: Keith Washington Jr., West Virginia
Cornerback
Jaden Davis, Oklahoma
Davis broke out as potentially a bright and shining spot for the Sooners defense for years to come, Davis saw four passes thrown his way in coverage and he allowed just 17 yards on those attempts. He didn't miss a tackle while making six solo stops on his own.
Second-Team CB: A.J. Green, Oklahoma State
Safety
Trevon Moehrig, TCU
On 34 snaps in coverage, Moehrig made it difficult to complete passes for the Boilermakers, breaking up two passes and intercepting another. He flew all over the field and recorded two total tackles and not allowing a single catch as the primary coverage defender in the process.
Second-Team S: Denzel Goolsby, Kansas State
Safety
Douglas Coleman III, Texas Tech
In a big-time performance that may be marred by the outcome of the game, Coleman made two impressive interceptions and a whopping 13 total tackles in the game against Arizona and Khalil Tate.
Second-Team S: Vernon Scott, TCU
Flex
Rodarius Williams, Oklahoma State
Williams had plus grades across the board and on 41 snaps in coverage, he allowed just one reception for all of six yards. He saw a 56.3 passer rating when targeted and has not allowed a touchdown all season long in his coverage.
Second-Team Flex: Parnell Motley, Oklahoma