None of us were sure this day would ever come, but Power Five football is officially back! Teams from the Big 12 and ACC will take the field for the first time this week, and we at PFF are here to provide you with the information you need to know ahead of those games, as well as a few other non-Power Five matchups.
Here is PFF's preview of the college football Week 2 slate. Please note that any picks/predictions made here are not reflective of PFF Greenline or our expert betting analysts. For this week's college football betting advice, click here!
UAB @ MIAMI (FL.)
Thursday, September 10, 8:00 PM ACCN
It's a shame that this game was scheduled at the same exact time of the NFL's season kickoff between the Houston Texans and Kansas City Chiefs because this matchup between UAB and Miami is college football's game of the week.
We saw UAB take the field last week against Central Arkansas, and it went pretty much as expected — quarterback Tyler Johnson was a roller coaster and the defense looked great. Johnson's volatility once again rose to the forefront, and after leading the FBS in big-time throw rate while posting the FBS-worst turnover-worthy play rate in 2019, it looks like he will be the same way in 2020.
Johnston had an ugly interception but also a nice 30-plus-yard big-time throw that was dropped and negated by penalty. Bryson Lucero got some reps under center as a result of Johnston's up-and-down night and looked pretty sharp. He only took 10 dropbacks but produced a 77.3 passing grade.
On the defensive side of the ball, cornerback Brontae Harris made his return after missing all of 2019 due to injury, and he looked like his 2018 self. He allowed just one of six targets to be caught with a couple of forced incompletions. He and slot corner Dy'jonn Turner won't make it easy for the Hurricanes' passing attack, and neither will edge rusher Jordan Smith. Smith was a force to be reckoned with in 2019 and started the 2020 season with a bang, posting a 91.0 PFF grade while recording nine total pressures.
For the Hurricanes, the biggest storyline to watch is D'Eriq King's debut with the team. The quarterback transferred to The U this offseason after a wild 2019 with Houston. King struggled to move the ball as a passer in Dana Holgorsen's offense, earning a 59.9 passing grade through four games before opting to redshirt. However, we shouldn't forget that he was college football's second-highest-graded quarterback in 2018, behind only eventual No. 1 overall pick Kyler Murray.
King's mobility is up there with some of the best at the position. In 2018, King posted a 75.5 rushing grade (10th among FBS quarterbacks), averaged 4.65 yards after contact per attempt (first) and busted off an explosive run of 10-plus yards on 23.5% of his carries (ninth). In his four games in 2019, King saw 47 carries (35 designed, 12 scrambles) and produced an 86.7 rushing grade (would have ranked second among non-running backs) while also recording an explosive play on 34% of his carries, two percentage points higher than the next-best quarterback with at least 40 carries.
Whether it was a designed carry or a scramble, King was lethal with the ball in his hands and looked like a running back with the way he avoided tackles and created after contact. He can create off-structure exceptionally well and is quite likely to be the best QB Miami has had for a while.
In addition to securing a great transfer quarterback in King, Miami also got a great transfer edge rusher in Quincy Roche. Playing for Temple last year, Roche produced the second-best pass-rush grade at the position. He's one to keep an eye on, as well, especially down the road when he finally faces Power Five tackles.
Treash's prediction: UAB's defense will make this a good game, but D'Eriq King will ultimately be too much to handle. Miami prevails.
Seth's prediction: Miami. I'm super excited to D'Eriq King in his new Hurricane digs and playing in a very cool, RPO-heavy offense with Rhett Lashlee.
For our PFF Greenline game preview that includes win and cover probability, click here.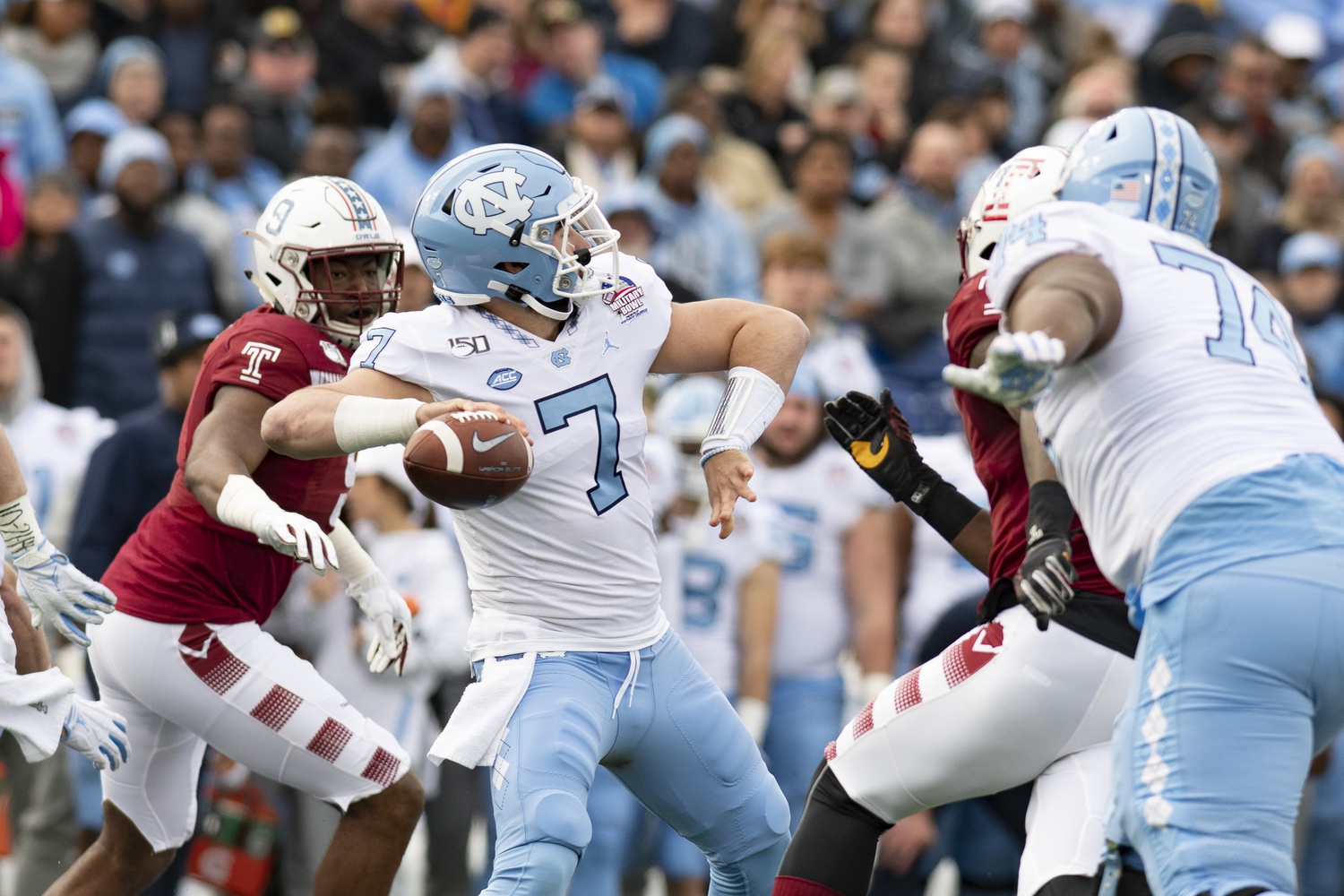 SYRACUSE @ NORTH CAROLINA
Saturday, September 12, 12:00 PM ACCN
The secret is out at this point, but North Carolina has a very, very good offense. A season ago, Sam Howell had the second-most-valuable true freshman season we have ever seen by a Power Five true freshman — his deep ball is among the best in the country, and if you hand him a clean pocket, he will take advantage of it.
Howell's six touchdowns on 40-plus-yard throws led the FBS, and his 15 touchdowns on 30-plus-yard throws were five more than the next-highest player. His biggest flaw was how he handled pressure (he ranked 95th in pressured passing grade), but that's relatively standard for a true freshman quarterback. If Howell shows that's no longer an issue, I think it's realistic that UNC could be a surprise ACC championship contender.
In addition to Howell, UNC has a slew of talented skill position players. Wide receiver duo Dyami Brown and Dazz Newsome are both lethal deep threats, and the running back duo of Javonte Williams and Michael Carter lead one of the best rushing attacks in college football.
Syracuse will need big performances from several players in their secondary in order to hold up against UNC; the problem is that this unit as a whole is really boom or bust. If there were an award for the biggest boom-or-bust player in college football, it'd go to safety Andre Cisco. His click-and-close ability is special, and it has helped him secure 26 plays on the ball since 2018, three more than any other Power Five safety. Still, he's allowed the third-most touchdowns over that span (8).
Cornerback Ifeatu Melifonwu is the Orange's best player. Listed at 6-foot-3, Melifonwu isn't going to lose many one-on-one contested matchups. He forced an incompletion on nine of his 15 contested targets in 2019 and has been the 11th-highest-graded Power Five CB on contested targets over the past two years.
Treash's prediction: Mack Brown ought to be dancing in the locker room after this one — Syracuse won't be able to stop that potent offense.
Seth's prediction: UNC. 'Cuse needs to find a quarterback before I pick them to win any game.
For our PFF Greenline game preview that includes win and cover probability, click here.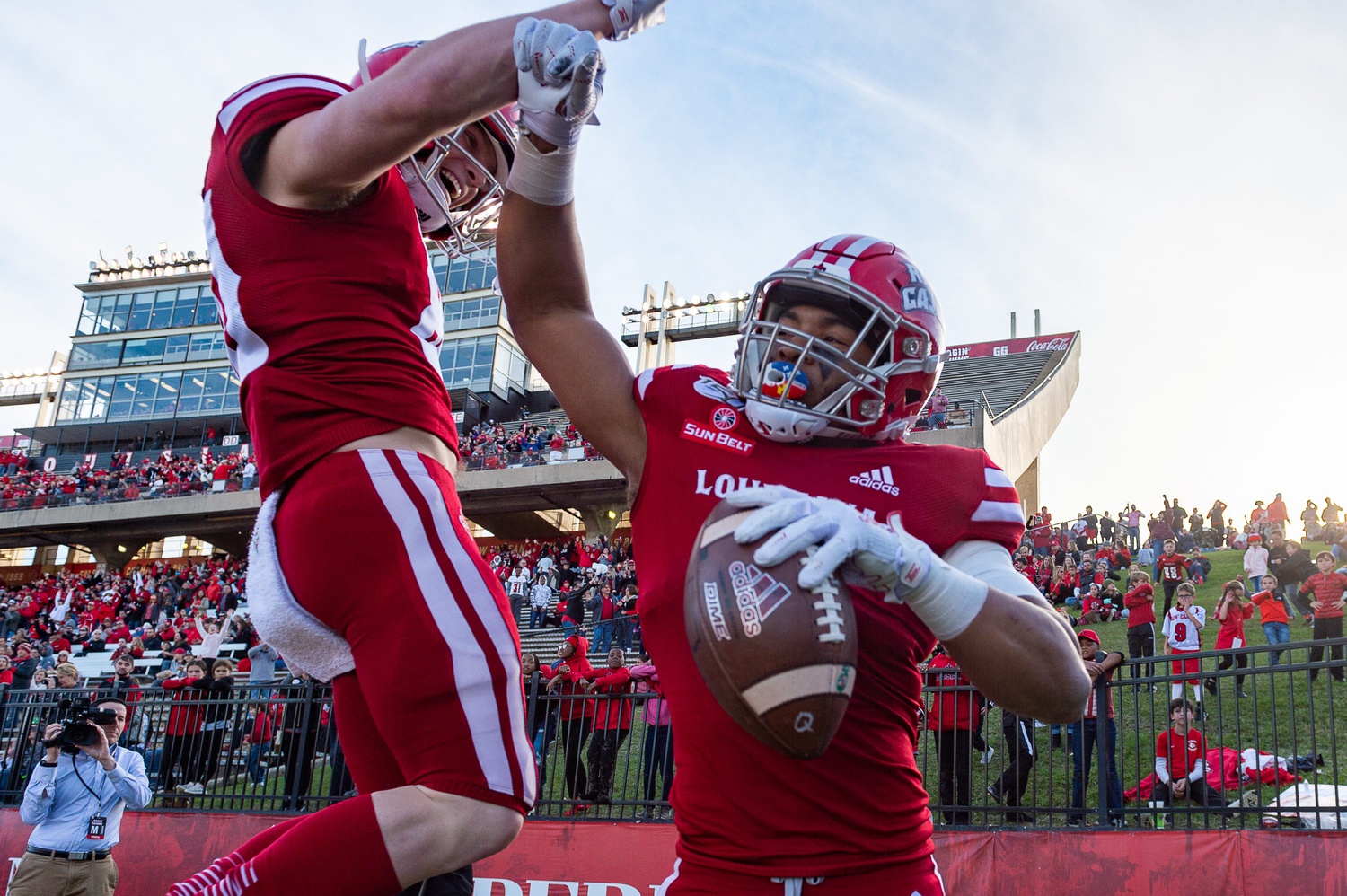 LOUISIANA @ IOWA STATE
Saturday, September 12, 12:00 PM ESPN
No FBS offense produced more EPA per running back carry in 2019 than Louisiana, and they'll have a chance to be at or near the top again in 2020 with the one-two punch of Elijah Mitchell and Trey Ragas and the big men blocking up front. Mitchell was not only the highest-graded Sun Belt back in 2019 but the 11th-highest-graded running back in the FBS.
Quarterback Levi Lewis is also one of the most accurate quarterbacks in the conference. He trailed only Ark State's Layne Hatcher in accurate-pass rate on throws of 10-plus yards in 2019. That should help a receiving unit that is missing its two best receivers from last season in Ja'Marcus Bradley (eligibility exhausted) and Jamal Bell (out for the year due to injury).
Iowa State has one of college football's premier quarterbacks in Brock Purdy, who now has two strong seasons under his belt as an underclassman. His anticipation and passing in rhythm are as good as any in the game, and he has the lowest negatively graded throw rate in the FBS over the last two years. It's the gunslinger play we see from him when he's knocked out of rhythm that has hindered his play thus far, which is something we hope to see him improve on in 2020.
We all like to poke fun at the Big 12 for having weak defenses, but Iowa State's defense really isn't all that bad. Their three-safety defense is a strong one, and it boasts playmakers such as Greg Eisworth and Lawrence White. They also have one of the conference's best off-ball linebackers in Mike Rose, who led all returning players at the position in passing stops last year.
Treash's prediction: As much as I like the Ragin' Cajuns, they are going to take a step back from their 11-3 season in 2019. I just can't see the Brock Purdy-led Cyclones getting upset in their first game.
Seth's prediction: Iowa State.
For our PFF Greenline game preview that includes win and cover probability, click here.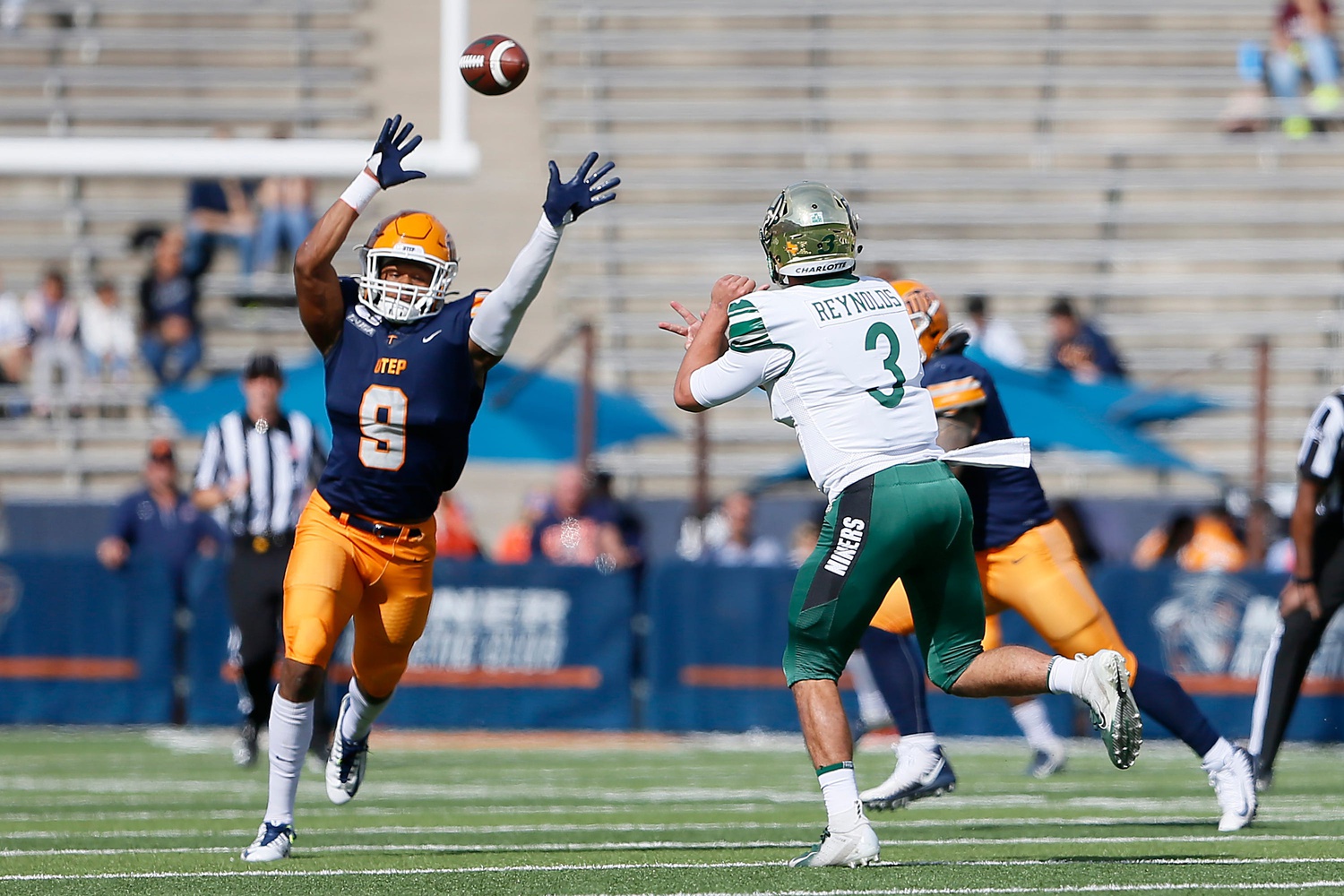 CHARLOTTE @ APP STATE
Saturday, September 12, 12:00 PM ESPN2
Charlotte has a sneaky good offense with the dual-threat quarterback Chris Reynolds and wide receiver Victor Tucker. Last year, Reynolds produced the sixth-most 10-plus-yard carries on the ground at the position (32) while Tucker earned an 84.5 receiving grade that ranked second in the C-USA.
They'll face a tough test against a menacing App State defense that ranks 10th of the 130 schools in our Massey Rankings. The Mountaineers have a lights-out cornerback duo in Shaun Jolly and Shemar Jean-Charles. Jolly may only be 5-foot-9, but he plays a heck of a lot bigger; his 91.7 PFF grade in 2019 tied for the best in college football. Jean-Charles isn't in the same elite tier as Jolly, but he joins him as one of the three best cornerbacks in the Sun Belt. His timing at the catch point is superb, which led to nine pass breakups in 2019, tied for the second-most in the Sun Belt.
Treash's prediction: App State.
Seth's prediction: App State.
For our PFF Greenline game preview that includes win and cover probability, click here.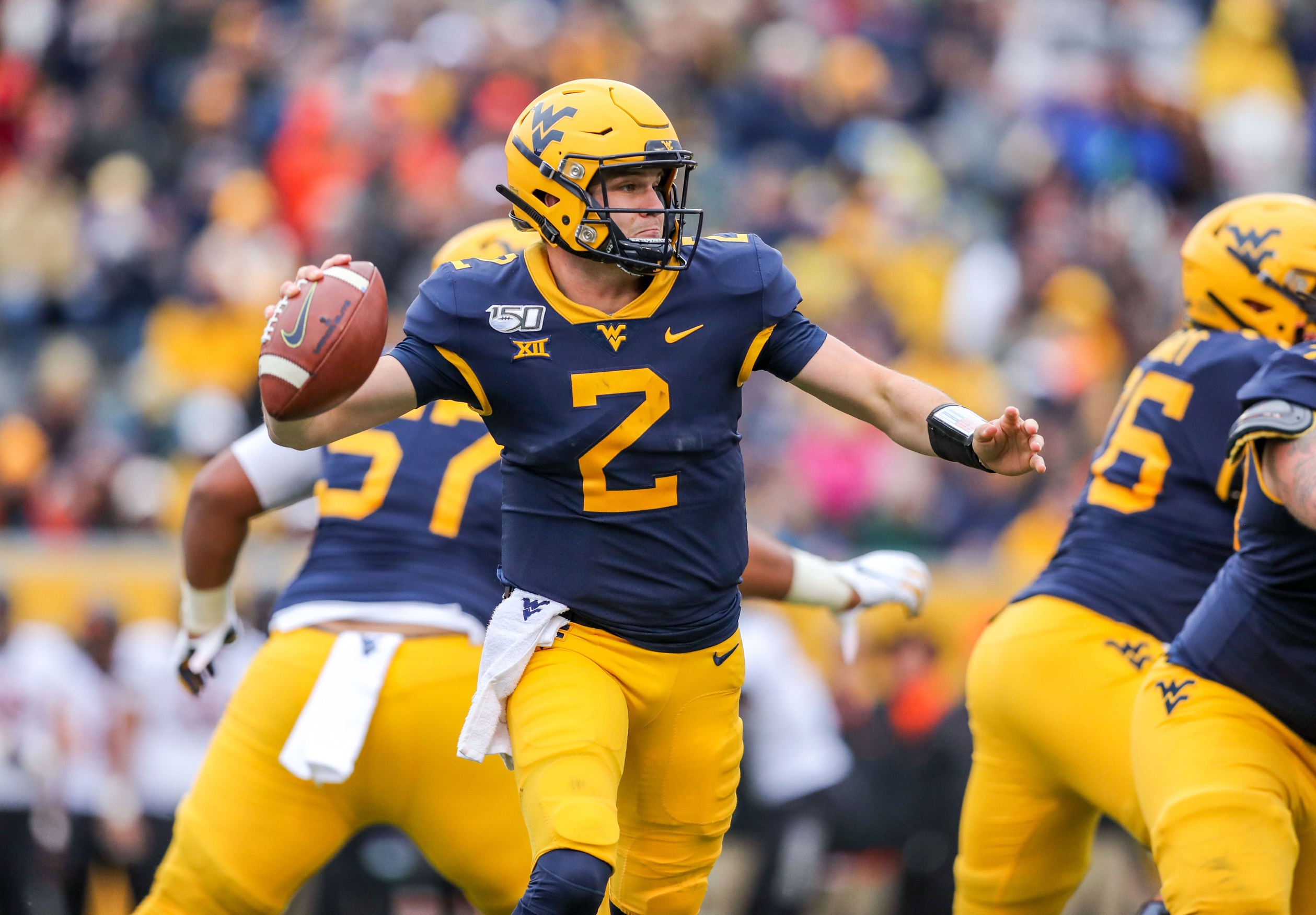 EASTERN KENTUCKY @ WEST VIRGINIA
Saturday, September 12, 12:00 PM FS1
Quarterback Jarret Doege transferred to West Virginia after two years of ordinary play at Bowling Green and immediately looked far better off. Doege's accuracy was significantly better in his four games of action for the Mountaineers. And on top of that, he earned a clean-pocket passing grade that would have ranked 12th in the FBS had he qualified for a rank. There's really not much else to get excited about with this offense, but I do believe Doege will have a breakout year in 2020.
Treash's prediction: This West Virginia team is far from dangerous, but as we saw last week against Marshall, Eastern Kentucky is even further away.
Seth's prediction: WVU. Mountaineer QB Jarrett Doege might be the real deal; I'm excited to see him in his first full season as the starter.
ARK STATE @ KANSAS STATE
Saturday, September 12, 12:00 PM FOX
It wasn't a surprise to see Ark State start Logan Bonner and bring in Hatcher for a few series in their season opener against Memphis. Neither signal-caller had a particularly strong performance, though, as they posted PFF grades of 62.1 and 60.4, respectively.
This rotation is expected to continue for at least a few more games, but we still feel that Hatcher has what it takes to nab the starting job. After Bonner got hurt and Hatcher came in for the Red Wolves in 2019, he went on to lead the team to their most efficient passing offense in the PFF College era in terms of EPA per play. Hatcher also finished the year as the sixth-highest-graded passer in the FBS, at 90.0. Splitting reps does Ark State no good in the long run.
Kansas State went from having one of the worst passing offenses in the conference in 2018 to one of the best in 2019, and that success will extend into 2020. Quarterback Skylar Thompson took a step forward in the favorable scheme, posting the sixth-best big-time throw rate with most of that resulting from deep shots off play action. His receiving unit will be even better in 2020, too, as it has a couple of breakout candidates in Malik Knowles and Phillip Brooks, who both performed well in 2019 despite fighting injuries.
Treash's prediction: I could see Ark State making this a game if they had Hatcher leading the offense on every drive and not just every two drives, but sadly that won't happen — Kansas State.
Seth's prediction: Kansas State.
For our PFF Greenline game preview that includes win and cover probability, click here.
UL-MONROE @ ARMY
Saturday, September 12, 1:30 PM CBSSN
UL-Monroe has one of the stingiest cornerbacks in the country in Corey Straughter. He is coming off a year in which he allowed just a 27.9% catch rate (12/43) and under 25 yards in all but two games. In addition, Straughter combined for 11 pass breakups and interceptions — nearly the same amount of catches he allowed.
It's too bad that his presence on the field matters very little against Army's triple-option offense.
Army ran all over Middle Tennessee in their 42-0 rout over them in Week 1. Freshman Tyrell Robinson was the highlight of the offense, busting off three 10-plus-yard runs and breaking six tackles on nine total carries. Guard Peyton Reeder led the run-blocking unit, which was a common theme from last year. He produced a 75.5 grade in that facet and made very few mistakes.
Treash's prediction: Army.
Seth's prediction: Army.
For our PFF Greenline game preview that includes win and cover probability, click here.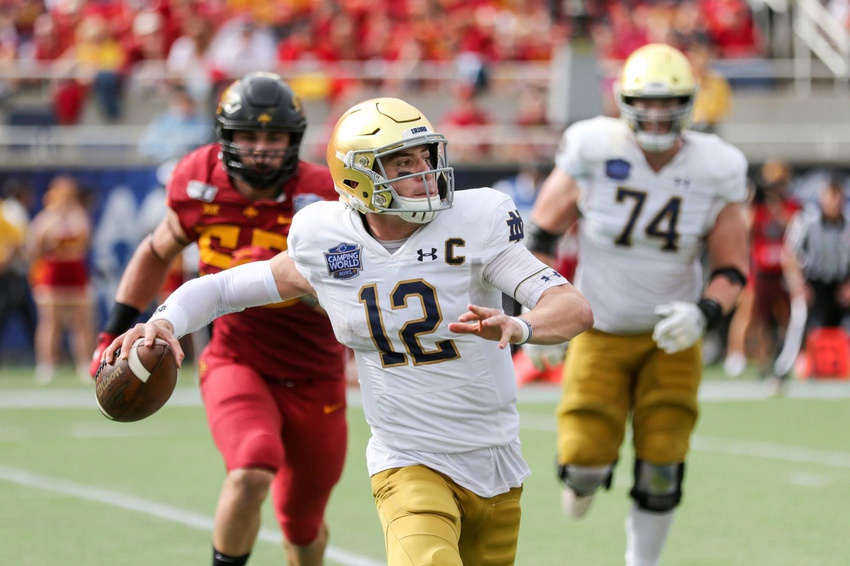 DUKE @ NOTRE DAME
Saturday, September 12, 2:30 PM NBC
This game is perhaps the best game of the Saturday slate, and I say this because of the sheer number of talented players each team has on the defensive side of the ball.
Notre Dame safety Kyle Hamilton is a prime candidate to break out to elite status in 2020. The 6-foot-4 safety allowed only seven catches on 23 targets in coverage while making four interceptions and breaking up another five passes en route to a 1.3 passer rating allowed. And he did that as a true freshman.
Irish rover Jeremiah Owusu-Koramoah is another candidate to take his play to new heights in 2020 after performing well in his first full year on the field in 2019, especially down the stretch. From Week 10 on, Micah Parsons and Isaiah Simmons were the only Power Five linebackers who earned a higher PFF grade. His athleticism and instincts make him a valuable player to the defense in every facet of play.
Duke also has Chris Rumph II — our ACC Defensive Player of the Year — coming off the edge. There isn't a player in college football with a better pass-rush toolbox than the Duke edge defender — it helped him produce a 92.9 pass-rush grade in 2019 along with an FBS-high 30.8% pass-rush win rate. And he accomplished those feats at 225 pounds, which makes it even more impressive.
As for Duke's secondary, it's solid from top to bottom. The unit has very few holes — Michael Carter II, Josh Blackwell, Marquis Waters and Leonard Johnson all produced positive wins above average (WAA) values in 2019 and were key reasons why the defense allowed the fourth-fewest expected points added per pass.
There should be some concern for Notre Dame with how quarterback Ian Book will fare against this stout Duke defense, given his past play against Power Five defenses and the lack of weapons at his disposal.
Ian Book's 2019 season
| | | |
| --- | --- | --- |
| vs. Non-Power Five | | vs. Power Five |
| 92.5 | Passing grade | 67.6 |
| 9 | Big-time throws | 13 |
| 1 | Turnover-worthy plays | 13 |
| 45/65 | Completions/Attempts | 195/338 |
| 905 | Passing yards | 2,130 |
| 15-0 | TD:INT | 19-6 |
We still love his accuracy, and we still have him as a top-20 quarterback, but those game splits are a concern.
Treash's prediction: I think this will be closer than many think, but I'm still going with the Irish.
Seth's prediction: Notre Dame. It's the first ACC game for the Irish, and I'll be looking for Book to find receivers. Duke's Chris Rumph is a must-watch edge defender.
For our PFF Greenline game preview that includes win and cover probability, click here.
GEORGIA TECH @ FLORIDA STATE
Saturday, September 12, 3:30 PM ABC
Georgia Tech ring in at the last spot in our ACC Elo rankings and are likely to struggle on both sides of the ball. They have a decent safety duo in Juanyeh Thomas and Tariq Carpenter, but that's about it. This game is going to be about Florida State and the debut of Mike Norvell.
Florida State's quarterback situation is still a big question mark with James Blackman, but perhaps a better offensive line and offensive scheme will serve him better.
Blackman will have a couple of big-time playmakers at his disposal in Tamorrion Terry and Keyshawn Helton. With his size and speed, Terry is not an easy guy to bring down; he's a threat to house it on any given play, evidenced by his FBS-leading six 60-plus-yard TDs last year. Helton is looking for a bounce-back year after a severe season-ending knee injury last season. He is a game-wrecker after the catch, and he averaged 10 yards after the catch per reception in his two years at FSU. Helton has excellent balance, too, and has already broken nine tackles on 28 catches.
The best of Florida State comes on the defensive side of the ball, starting with the beefcakes they have up front in Marvin Wilson, Robert Cooper, Cory Durden and Joshua Kaindoh. Wilson, in particular, has been one of the most productive interior defensive linemen in college football. He is coming off back-to-back years in which he earned a PFF grade above 90.0.
The secondary is led by Asante Samuel Jr. What Samuel lacks in size, he makes up for with his quicks. He's in hip pockets all game long — since 2018, 62% of his targets in coverage have had no separation, the best rate in the ACC. In the same span, his 24.8% forced incompletion rate easily leads all ACC cornerbacks who were set to return.
Treash's prediction: Florida State.
Seth's prediction: FSU. Hopefully we can see some strides for Tech as they still unwrap their spread offense in a post-flexbone world.
For our PFF Greenline game preview that includes win and cover probability, click here.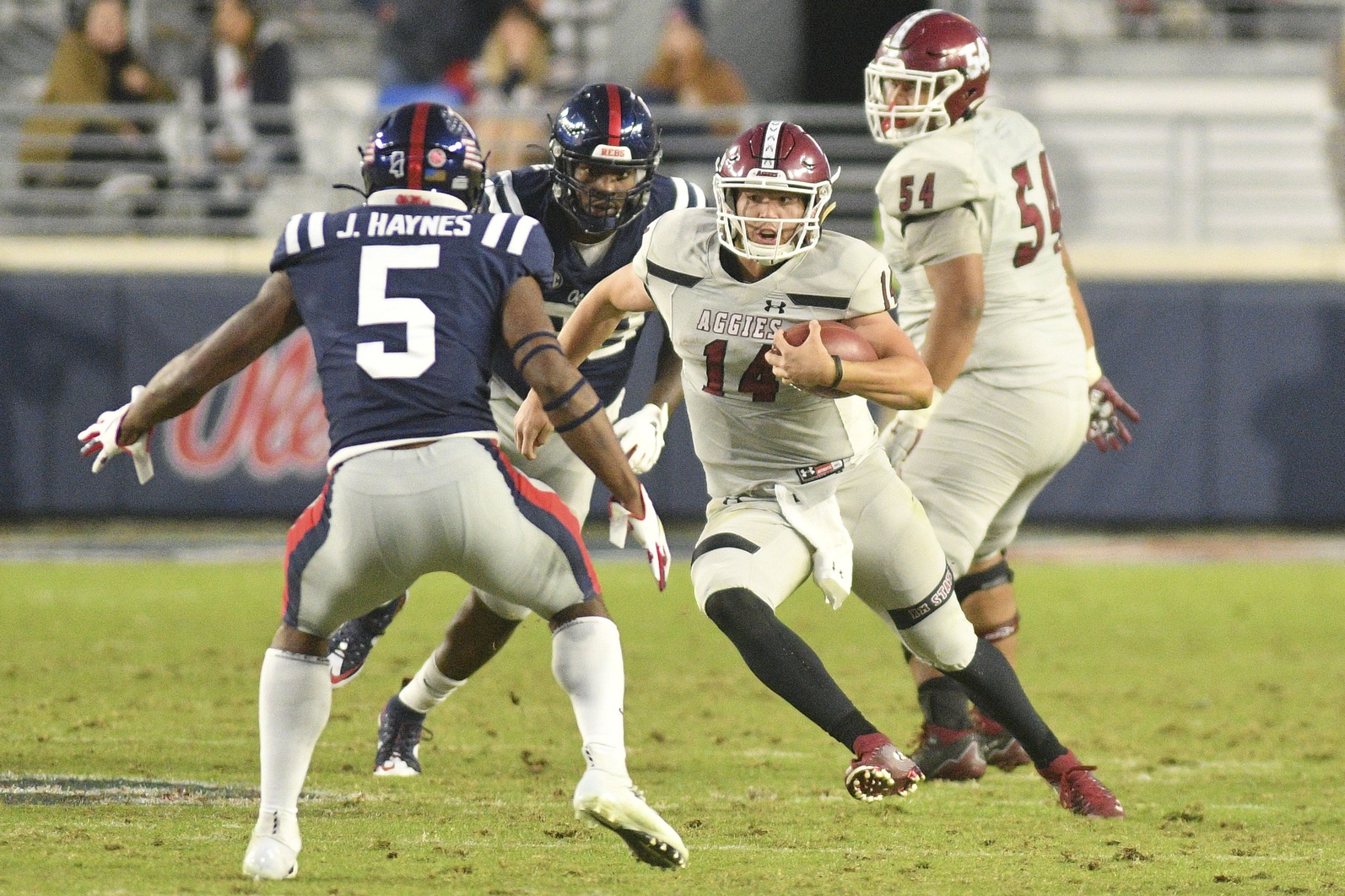 UTSA @ TEXAS STATE
Saturday, September 12, 3:30 PM ESPN2
As I write this, it's still up in the air as to who will be starting under center for UTSA, but the best option is Josh Adkins. Here's what I wrote on Adkins when I ranked all 130 FBS quarterbacks:
"UTSA got a decent transfer in Adkins, who comes over from New Mexico State. While playing for the Aggies in 2019, Adkins performed really well against non-Power Five foes. The SEC defenses of Alabama and Ole Miss ate him up for poor game grades of 40.5 and 46.5, respectively, but there was really only one other bad game in his season. Adkins produced a 79.5 passing grade against non-Power Five defenses."
The situation he's going to at UTSA isn't much better than what he had at New Mexico State, but at least he has a decent wide receiver in Zakhari Franklin, who is a good route-runner and a dynamic weapon. He broke seven tackles on 12 underneath-route catches last year, averaging 11.8 yards after the catch per reception.
Texas State really doesn't have a menacing defense, either. Their coverage unit gave up 0.200 EPA per pass play in 2019, and the outside corners are a bit of a concern. Texas State actually had the lowest-graded outside corners of Week 1.
Treash's prediction: Neither team is really spectacular — both rank in the bottom 11 of our Elo rankings. I'm rolling with the upset here and picking UTSA.
Seth's prediction: UTSA.
For our PFF Greenline game preview that includes win and cover probability, click here.
CAMPBELL @ GEORGIA SOUTHERN
Saturday, September 12, 3:30 PM ESPNU
If you are really jonesing to watch this game over others, there are two players from Georgia Southern who you must keep an eye on — edge rusher Raymond Johnson III and interior defensive lineman C.J. Wright.
Johnson has continuously developed as a pass-rusher over the past two years and is in the running for the best edge defender in the Sun Belt in 2020. He improved his pass-rush grade from 76.7 to 86.8 last year and earned an 89.9 from Week 8 on (eighth in the FBS).
You won't see Wright make too many plays as a pass-rusher, but you will see the nose tackle routinely stuff the run in 2020. He plays almost exclusively heads-up nose and produced a 90.7 run-defense grade at that alignment in 2019.
Treash's prediction: Georgia Southern.
Seth's prediction: Georgia Southern.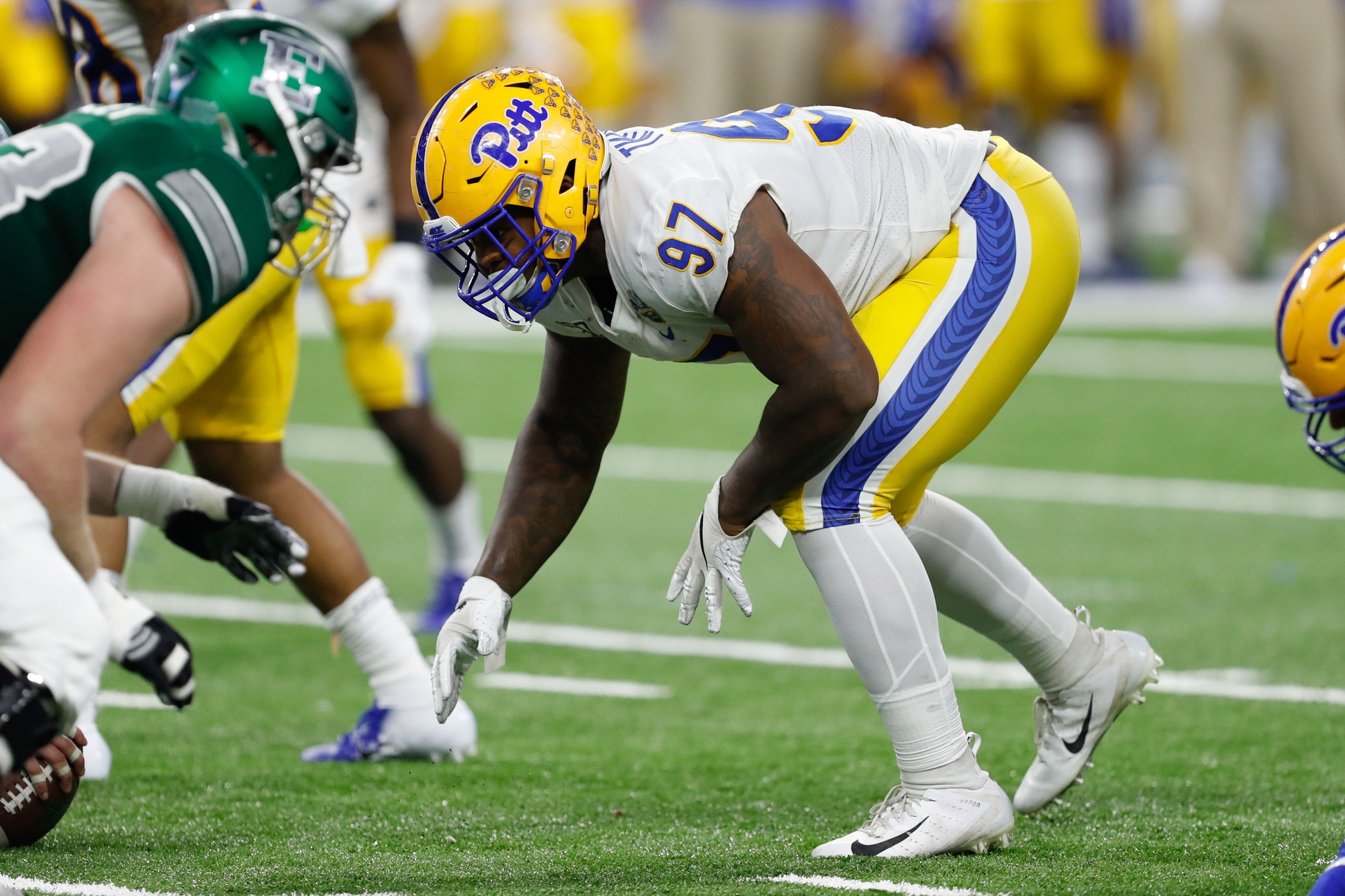 AUSTIN PEAY @ PITT
Saturday, September 12, 4:00 PM ACCN
Jaylen Twyman may have opted out of the 2020 season and declared for the draft, but Pitt still has a loaded defensive front that is going to eat Austin Peay's offensive line alive.
Edge rusher Patrick Jones II leads the unit after producing the second-most pressures in the Power Five last season, with 62. The Panthers also return edge defender Rashad Weaver after he missed all of 2019 due to injury (83.1 PFF grade in 2018) and interior defensive lineman Keyshon Camp, who too looks to bounce-back after a 2019 injury.
Camp has had the breakout tag placed on him for two years now. He shined in 2017, posting a 74.2 PFF grade on 277 snaps, before leading the FBS in pressure rate (19.6%) for a short time in an injury-affected 2018 campaign. He dominated in Week 1 of the 2019 season, generating six pressures on 16 pass-rush snaps, but he then suffered another season-ending injury.
Austin Peay's offensive line allowed pressure on 46% of their pass plays against Central Arkansas in Week 0. For perspective, that's nearly seven percentage points higher than any other team thus far in 2020 (minus the triple-option teams with low samples). And to that, I say Godspeed to the Austin Peay offensive line as they face Pitt this weekend.
Treash's prediction: Pitt.
Seth's prediction: Pitt. Find linemen to protect Kenny Pickett, please!
MISSOURI STATE @ OKLAHOMA
Saturday, September 12, 7:00 PM
I think I speak for everyone in the college football world by saying that I cannot wait to see Spencer Rattler lead this Oklahoma offense. In the five years since Lincoln Riley came to Oklahoma, the Sooners' starting quarterback has ranked second, first, first, first and second in PFF grade among FBS quarterbacks. It's the most quarterback-friendly system in the country, and now they have the No. 1 quarterback recruit of the 2019 class leading the way. He's likely to create many big plays with the deep speed of his WR1 Charleston Rambo, who had a passer rating when targeted of 140.5 in 2019, 10th in the Power Five.
Alongside him are two wide receivers I recommend keeping an eye on — Theo Howard and Theo Wease. Howard comes from UCLA after missing 2019 due to injury. In the season prior, though, Howard produced a 72.3 receiving grade and displayed some of the best hands in the country. He didn't drop a single target all year long and had the third-most catchable targets without a drop in the FBS (51). Wease turned four of his 13 targets into a gain of 15-plus yards as a true freshman, and much like former Sooner CeeDee Lamb, he dazzles with the ball in his hands and even broke seven tackles on eight catches last year.
Treash's prediction: I would expect many, many explosive plays from this Sooner offense, and they should lead to a huge victory. This will be a good warmup and introduction to Rattler's college career.
Seth's prediction: Oklahoma.
CITADEL @ USF
Saturday, September 12, 7:00 PM ESPN+
I have some concerns with USF's offense when they start facing FBS defenses, but their secondary is a loaded one.
The unit is led by cornerback K.J. Sails, who emerged with the Bulls after struggling at UNC. He posted an 82.1 coverage grade this past year, ranking third in the conference. Safety Nick Roberts is another difference-maker like Sails. You can count on Roberts being a playmaker in coverage wherever he is on the field — single-high, split-field or in the slot. He's combined for 12 pass breakups and interceptions since 2018, and he blew up plays underneath from the slot in 2019. His seven stops from slot were the fifth-most in the AAC last year.
The wild card of the unit is cornerback Mike Hampton. The Bulls desperately need Hampton to get back to his 2018 form; he constantly attacked the catch point that year, generating a 31.8% forced incompletion rate that ranked fifth in the FBS. He looked like a completely different player in 2019, though, and he saw that percentage drop over 20 percentage points.
Treash's prediction: USF.
Seth's prediction: USF.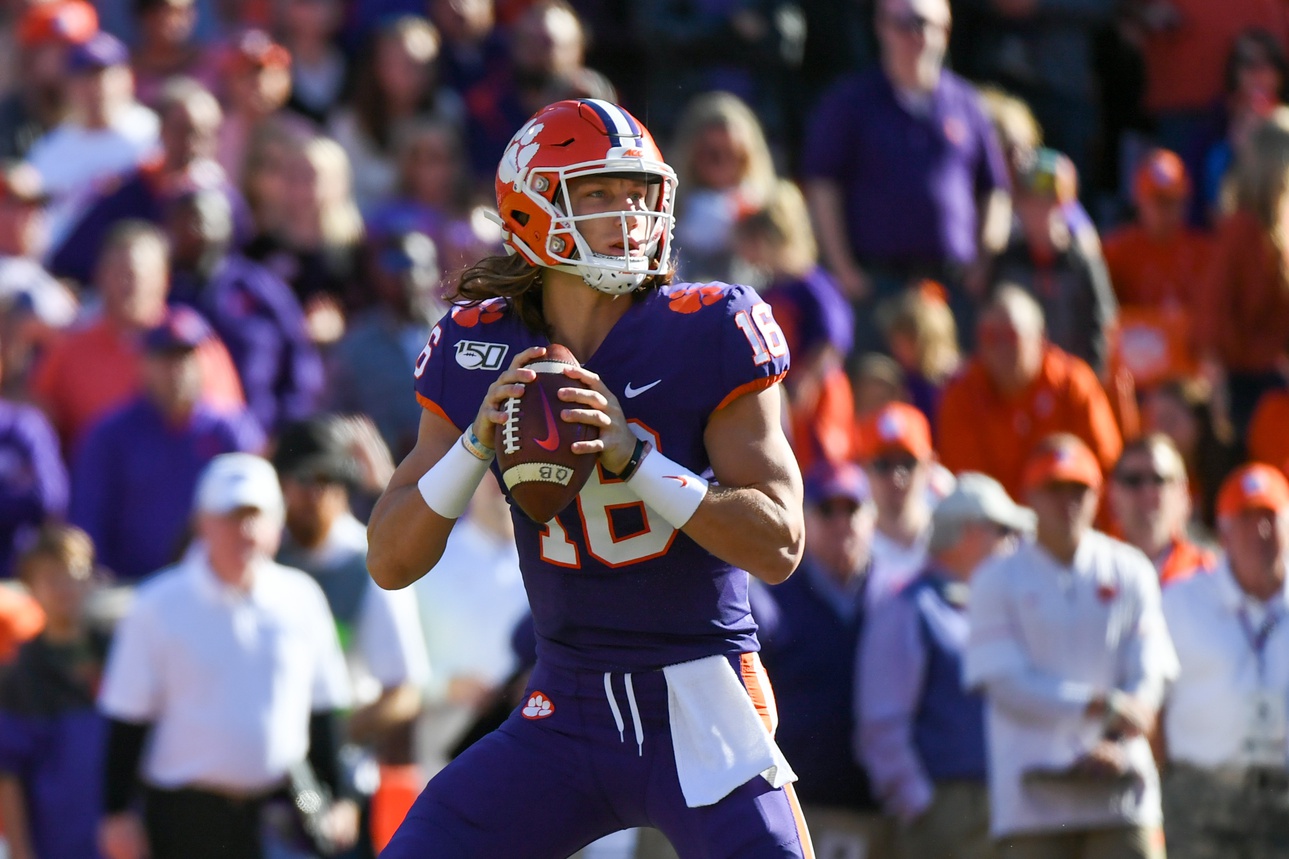 CLEMSON @ WAKE FOREST
Saturday, September 12, 7:30 PM ABC
Clemson has the best quarterback and running back in college football, and it's really no debate at this point. Trevor Lawrence has been the second-most-valuable quarterback in college football since 2018 behind only Joe Burrow (and remember, he was an underclassman in that span), and Travis Etienne has been the most valuable non-quarterback in that same span.
The player I would keep an eye on other than those two for Clemson is wide receiver Joe Ngata, who looks every bit like the next star receiver to come out of Clemson. He pairs his 6-foot-3 frame with a huge catch radius and great body control — he can climb the ladder on anyone. Ngata proved he could get off press as a true freshman in 2019, generating a raw PFF grade on such reps that would've ranked in the top 10 in the FBS had he qualified. With Tee Higgins onto the NFL and Justyn Ross out due to injury, Ngata becomes the new WR1.
As for Wake Forest, their star is edge rusher Carlos Basham Jr. The 6-foot-5, 275-pound Basham earned a 90.6 pass-rush grade in 2019 and had multiple games with double-digit pressures in ACC play. He's a pocket-collapser in its purest form.
Treash's prediction: Clemson.
Seth's prediction: Clemson. I'm expecting a huge season from Trevor, but last year's opener vs. GT didn't go as planned. Here's hoping this year is much better.
For our PFF Greenline game preview that includes win and cover probability, click here.
TULANE @ SOUTH ALABAMA
Saturday, September 12, 7:30 PM ESPN2
South Alabama pulled off the upset last week and will look to do the same this week against Tulane. Quarterback Desmond Trotter really tried to push the ball downfield — his average depth of target was 14.4 yards downfield — but the results were a mixed bag. He ended up producing a passing grade of just 59.8. Wide receiver Jalen Tolbert capitalized on poor defensive play overall, posting the best receiving grade of the week at 82.1.
Tulane cornerback Jaylon Monroe will make it difficult for South Alabama to replicate that upset win in Week 2. It's rare to see a 5-foot-9 lockdown cornerback, especially if they play a ton of press, but Monroe is the rarity in this case. He allowed more than 35 receiving yards into his coverage just once in 2019, and his 0.49 yards per cover snap was third in the FBS.
Treash's prediction: Tulane.
Seth's prediction: Tulane.
For our PFF Greenline game preview that includes win and cover probability, click here.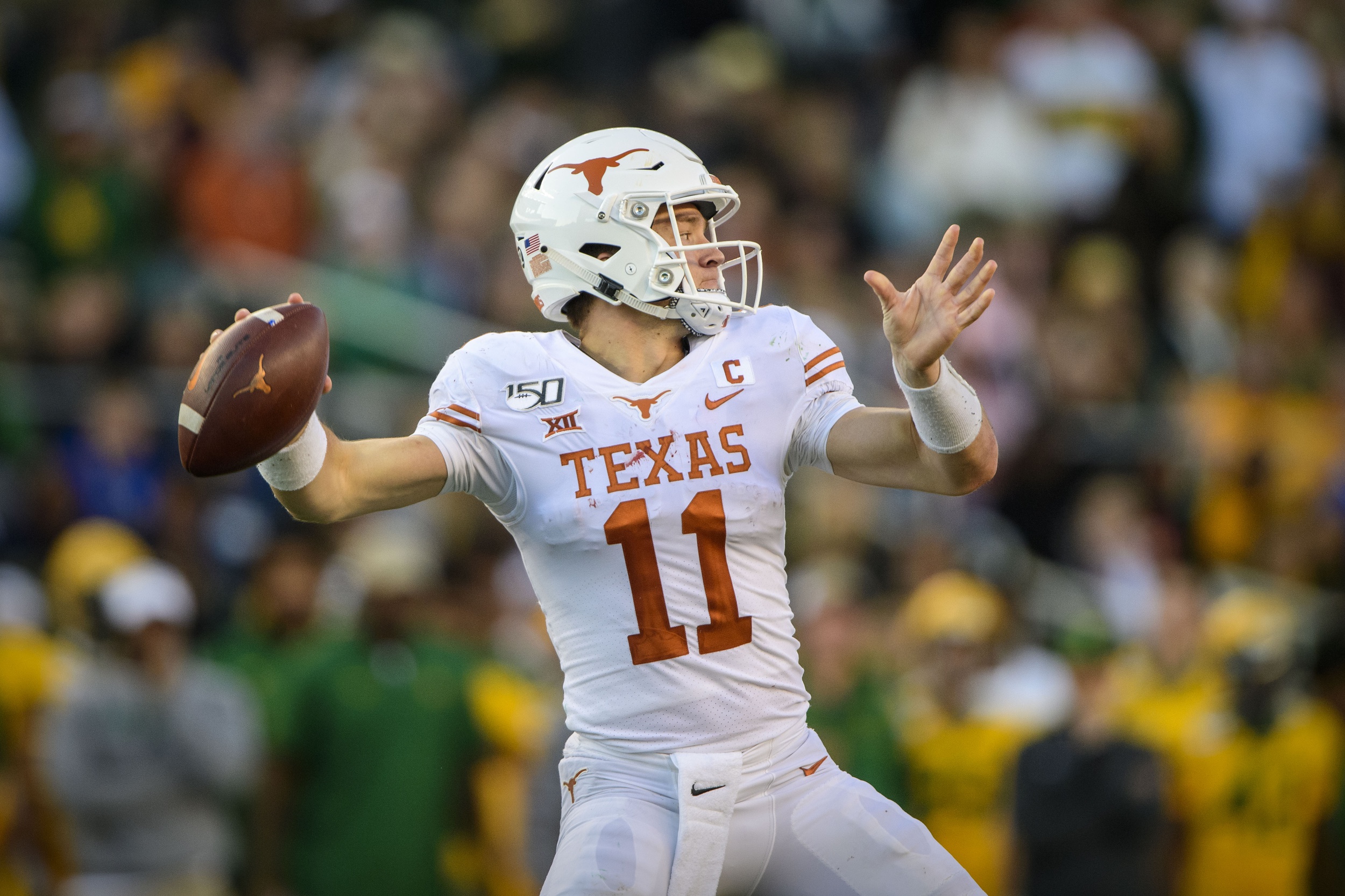 UTEP @ TEXAS
Saturday, September 12, 8:00 PM LONGHORN NETWORK
There's just really not much there on UTEP to get excited about. After all, they do rank in the bottom-10 in both our offensive and defensive Massey rankings.
Texas quarterback Sam Ehlinger put forth a career year in 2019, earning a 90.1 PFF grade, and he will look to use this game as a stepping stone to another great year. He can do damage with his arms and legs, though he can bail on clean pockets a bit too soon. And as my colleague Seth said in the PFF College Magazine, if Ehlinger gets a bit better at going through his progressions, he could perhaps have an even better year in 2020.
This receiving unit has caught my attention the most, however. The Longhorns lost their top two receivers from 2019 in Devin Duvernay and Collin Johnson, and the next men up — Brennan Eagles, Jake Smith and incoming Michigan transfer Tarik Black — haven't given us much reason to believe they can immediately replace that lost production.
On the defense, it's the play of Kenyatta Watson II. He isn't projected to start, but he will most certainly see some reps. Watson was able to take a redshirt last year but saw significant action in his team's Week 14 matchup against Texas Tech. He looked pretty sharp, earning a 79.5 coverage grade and coming away with a pass breakup while allowing just one catch across five targets. He has lights-out athletic testing numbers, too.
Treash's prediction: Texas. And while this will likely be a rout, Longhorn football isn't "back" just yet.
Seth's prediction: Texas. The Sam Ehlinger Heisman campaign begins.
For our PFF Greenline game preview that includes win and cover probability, click here.
WESTERN KENTUCKY @ LOUISVILLE
Saturday, September 12, 8:00 PM ACCN
This matchup between Western Kentucky's defense and Louisville's offense will be a fun one to watch.
The Cardinals have speed for days on offense. With dual-threat quarterback Micale Cunningham and running backs Javian Hawkins and Hassan Hall (who ranked fourth and 10th, respectively, in the ACC in rushing grade in 2019), Louisville's rushing attack will be explosive in 2020. And wide receiver Tutu Atwell, the highest-graded returning FBS wide receiver, will bring explosiveness to the passing offense with his after-the-catch ability. Those four are a big reason why Louisville's offense was the second-most-efficient in the ACC in 2019.
The Hilltoppers' defense has talented pieces at every position. Edge defender Deangelo Malone leads the pass-rush unit and has had three strong years for Western Kentucky thus far. In that span, he has generated an 86.1 pass-rush grade and a 16.8% win rate. They also return Kyle Bailey at off-ball linebacker, who tied for the best coverage grade at the position in 2019 at 90.4. In the secondary, they have a lights-out safety duo in Antwon Kincade (89.1 PFF grade in 2019) and Devon Key (74.9).
Treash's prediction: SPEED KILLS. Louisville.
Seth's prediction: Louisville.
For our PFF Greenline game preview that includes win and cover probability, click here.
HOUSTON BAPTIST @ TEXAS TECH
Saturday, September 12, 8:00 PM ESPN+
The Red Raiders welcome back Alan Bowman and his dependable arm into the starting quarterback role, and he'll have a pretty deep set of reliable wide receivers at his disposal. While no single player has officially broken out, they are all average to slightly above-average options. T.J. Vasher, Dalton Rigdon, Erik Ezukanma and KeSean Carter all produced receiving grades between 67.0 and 70.0 in 2019, and all produced positive WAA values.
Most of our concerns lie in Texas Tech's secondary. Zech McPherson is a quality corner, but it's shaky after that. Adrian Frye is moving back to corner after posting a 28.2 coverage grade at safety in 2019; he had good ball production at the position (nine combined PBU and INTs) but gave up far too many big plays (allowed a 25-plus-yard gain at least once in seven of his games). We got a sneak peek of Damarcus Fields playing as the spur against Texas in Week 14, and that didn't go too well (38.8 coverage grade). This won't be a significant issue against Houston Baptist, but it will once they face a quality offense.
Treash's prediction: Texas Tech.
Seth's prediction: Texas Tech.
COASTAL CAROLINA @ KANSAS
Saturday, September 12, 10:00 PM FS1
Believe it or not, there are some talented skill position players in this matchup.
Coastal Carolina features one of the top receiving tight ends in the Group of Five in Isaiah Likely. He attacks the ball well at the catch point — he caught eight of 14 contested opportunities in 2019 and produced an 88.0 receiving grade on those targets (top five in the FBS). At running back, they have a true dual-threat in CJ Marable, who produced eight receiving plays that resulted in a gain of 15-plus yards and earned an 81.3 rushing grade in 2019.
Meanwhile, Kansas' top back, Pooka Williams Jr., is among the best at the position in all of college football. He possesses absurd lateral agility and explosiveness, which has helped him post the second-most broken tackles per attempt since 2018 (0.34).
Then, at wide receiver, they have a strong duo in Stephon Robinson Jr. and Andrew Parchment. Robinson has the speed to get by defenses with ease — he had five deep touchdowns on which he had a step or more of separation in 2019, the third-most in the FBS. And if Parchment can fix his inconsistent hands (12% drop rate in 2019), he's in line for a monster 2020. He's a fluid route-runner who averaged 2.08 yards per route run in 2019.
At this point, whether those two — and really the program as a whole — take that next step forward in 2020 hinges on QBs Thomas MacVittie and Miles Kendrick.
Treash's prediction: Kansas, and I think many will be surprised by how the offense looks.
Seth's prediction: Kansas.
For our PFF Greenline game preview that includes win and cover probability, click here.