Another one bit the dust in the race for a spot in the College Football Playoff this week, as Northwestern's Cinderella story came to an end with an upset loss to Michigan State while Notre Dame virtually locked up their spot with a big win over North Carolina.
And now that the first run of our analysis is finalized and available in PFF's CFB Premium Stats+, we get to fill you in on everything you might have missed while providing further analysis on this week's games. Here, we present to you the PFF Team of the Week along with our big takeaways and player awards from Week 13 of the 2020 college football season.
Editor's note:  PFF's CFB Premium Stats+ subscribers can view player grades, advanced statistics, positional snap counts and more. Subscribe today for access!
PFF TEAM OF THE WEEK
Offense
QB: Dillon Gabriel, UCF
RB: Jaret Patterson, Buffalo
RB: Bentavious Thompson, UCF
WR: Jonathan Adams Jr., Ark State
WR: Jalen Tolbert, South Alabama
WR: DeVonta Smith, Alabama
TE: Nick Muse, South Carolina
LT: Alaric Jackson, Iowa
LG: Preston Wilson, Oklahoma State
C: Trey Hill, Georgia
RG: Jack Klenk, Buffalo
RT: Teton Saltes, New Mexico
Defense
DI: Kurt Hinish, Notre Dame
DI: Cameron Thomas, San Diego State
EDGE: Nick Heninger, Utah State
EDGE: Kameron Butler, Miami (OH)
LB: Micah McFadden, Indiana
LB: Chad Muma, Wyoming
CB: Darren Hall, San Diego State
CB: Gemon Green, Michigan
S: Tre Sterling, Oklahoma State
S: Quindell Johnson, Memphis
FLEX D: Elijah Molden, Washington
BIG TAKEAWAYS
Move over Alabama, because we have our second virtual CFP lock — the Notre Dame Fighting Irish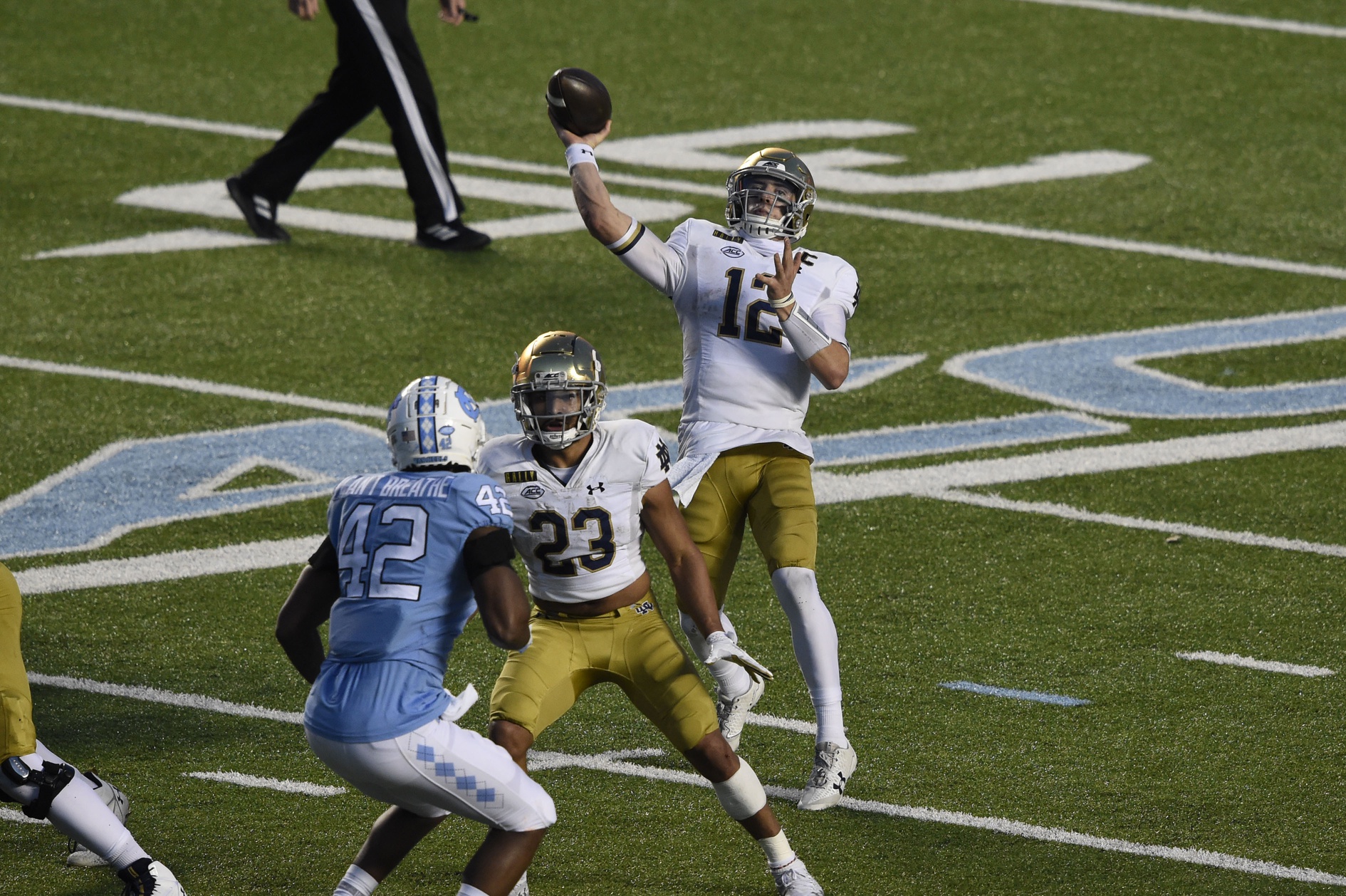 All Notre Dame had to do to secure a spot in the CFP after beating the Trevor Lawrence-less Clemson Tigers a few weeks back was to get to the 2020 ACC Championship Game with an undefeated record. Whether they win or lose in the conference title game, their spot would almost certainly be confirmed with an undefeated record up until that point.
With a win over the Tar Heels on Friday — their final big test of the regular season — they virtually locked that up.
UNC burst out of the gate aggressively. A Sam Howell-to-Dyami Brown 51-yard pass to the Irish 1-yard line set up a score for a 14-7 lead with a few minutes to go in the first quarter, but from there on out, things went south. The playcalling got conservative after a few big-play attempts failed, and the Notre Dame defense took advantage. A common theme of UNC's 2020 season.
From there on out, UNC got outscored 24-3.
All eyes were on Notre Dame quarterback Ian Book to see if he could continue his hot stretch of play. He did just that. Through Week 9 of the 2020 season, Book had only one game in his entire collegiate career in which he earned a passing grade above 80.0 against a Power 5 opponent. Book has since done that three times in the last three games, against Clemson, Boston College and UNC. He went from 76th in passing grade in his first six games (60.3) to seventh in his last three games (91.4).
We may very well see the Irish end Clemson's 2020 National Championship hopes in the ACC Championship Game if this new Book is here to stay.
Texas A&M looked far from a CFP team against a struggling LSU defense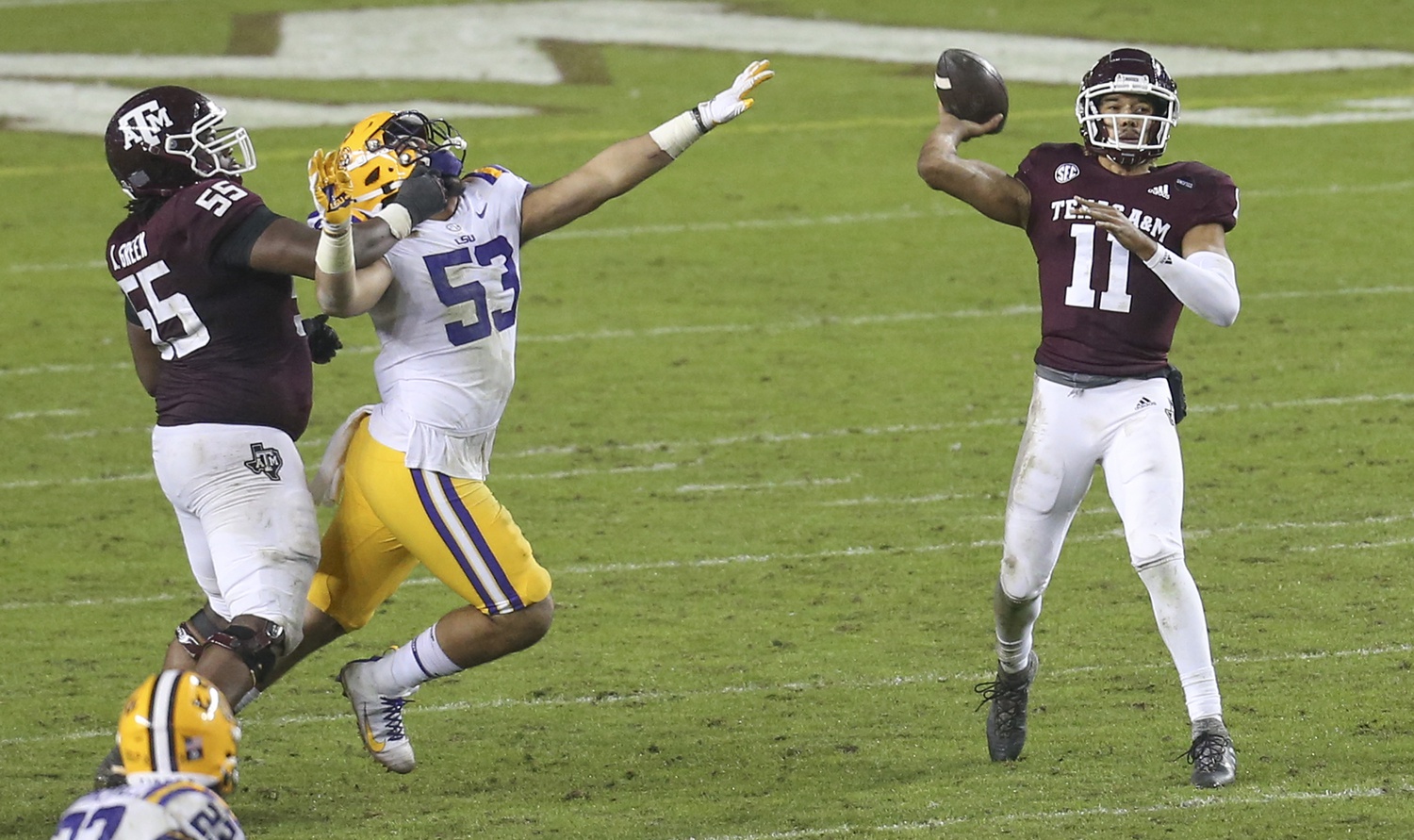 This year, expectations were fairly high for LSU's coverage unit, despite the several key losses from a year ago. And they have fallen well short of expectations.
From busted coverages to getting flat-out beat to poor gameplans, LSU has given up explosive play after explosive play in coverage. Entering Week 13, they had allowed an explosive play of 15 or more yards on 21% of their coverage snaps, the fourth-worst rate in the FBS.
One would expect a CFP candidate like Texas A&M to light this defense up, but alas, that didn't happen at all. Quite frankly, the Aggies' passing offense looked atrocious against this struggling defense. Only UL-Monroe and Bowling Green — two teams that have yet to win a game this year — generated fewer expected points added (EPA) per play in Week 13. The receivers may have dropped a handful of passes, but quarterback Kellen Mond was also dreadfully inaccurate all game long.
Texas A&M looked like a CFP team in Weeks 9 and 10 against Arkansas and South Carolina, primarily because of Mond. The Aggies quarterback earned PFF grades of 94.6 and 84.2 in those two games. But inconsistent outings like we saw on Saturday give us pause on calling the Aggies a team worthy of a spot in the CFP with no SEC Championship Game appearance on their resume. In our eyes, a team like Cincinnati or BYU should be thrown in the playoff over Texas A&M, assuming we get to that conversation.
OTHER NOTES/OBSERVATIONS
OFFENSIVE PLAYER OF THE WEEK
Shocking, I know.
Patterson, who tied the FBS single-game rushing touchdown record (8) and racked up the second-most rushing yards ever in a single game (409), takes home the PFF Offensive Player of the Week Award.
It was truly a stupefying performance from Patterson against Kent State this week. Of his eight scores, four came on a run of 30-plus yards, and that's something we have only seen one other time in the PFF College era (Samaje Perine, 2014 Week 13). In total, Patterson had six runs that resulted in a gain of 30 or more yards, two times that of any other running back in a single game this season. I mean, that's video-game-level stuff.
Patterson and the Buffalo Bulls were one of the last teams to begin their season. Yet, through four games, the back has already put up season-long numbers. Among qualifying running backs since Week 10, Patterson ranks first in rushing grade by a substantial margin (90.2); he's also first in the percentage of runs picking up a first down or touchdown (42.4%), second in yards after contact per attempt (5.0) and first in explosive runs of 10 or more yards (22).
Patterson has not only solidified himself as the best Group of 5 back but one of the best backs in the entire country.
DEFENSIVE PLAYER OF THE WEEK
McFadden came up big for the Hoosiers in every facet of the game in their 27-11 victory over Maryland on Saturday. The off-ball linebacker earned a grade above 73.0 against the run, as a pass-rusher and in coverage, paving the way to the best PFF grade of the week on the defensive side of the ball at 92.8.
McFadden came up with an interception early in the fourth quarter that put the Hoosiers in the Terps' territory, which eventually led to seven points.
First-year defensive coordinator Kane Wommack has built a creative and deceptive defense alongside Tom Allen. Among the many key things he has done to make this IU defense great has been getting McFadden involved in the pass rush. His blitzing ability was the backbone of his success in 2019, and whether it has been a traditional blitz or the "replace" blitzes that are an integral piece to Wommack's defense, that's remained the case in 2020.
McFadden entered Week 13 with an 86.8 pass-rush grade and at least three pass-rush wins in each of his five games played. Against Maryland, McFadden extended that streak with five total wins on 16 pass rushes and raised his season-long pass-rush grade to 87.6, fourth among FBS linebackers.
TRUE FRESHMAN OF THE WEEK
The 2020 four-star recruit who flipped his commitment from LSU to Clemson had hardly seen the field leading up to Week 13. Greene had logged just 22 coverage snaps before this week and didn't show much to get excited about with a 61.2 coverage grade.
With Clemson being without a few key guys in the secondary, Greene was thrust into the starting lineup and excelled. The freshman locked down the slot for the Tigers, with just two catches allowed for 24 yards; he came away with an interception, a forced incompletion and a passing stop en route to an 85.5 coverage grade for the game.
OFFENSIVE LINE OF THE WEEK
As great as Patterson's day was, we must give the big men up front their fair share of the credit. After all, it was them who opened up holes for the running back on his record-breaking day.
This Buffalo offensive line wins PFF Offensive Line of the Week for the second time in their four games played in 2020. Not only did they help out the run game on numerous occasions with their blocking performance, but they kept quarterback Kyle Vantrease as clean as a whistle. The Bulls' offensive line allowed just one pressure combined on 21 pass-block snaps against Kent State on Saturday. For the rushing attack, they put together the fourth-best team run-blocking grade of the week and presented 5.4 yards before contact on average.
Buffalo has a legitimate top-five FBS offensive line, and Saturday's performance was another example of that.
SECRET SUPERSTAR OF THE WEEK
Thanksgiving football was especially tasty this year. It featured just one lone college game between two winless programs: 0-4 New Mexico versus 0-4 Utah State. The Aggies ultimately left with their first win of the season in a 41-27 victory over the Lobos.
Of those 41 points scored, 28 came within the first 10 minutes of the second half after trailing 13-6 at halftime, and seven of those stemmed from a strip-sack fumble by fifth-year senior Nick Heninger. That was actually his second strip-sack fumble of the game, making it the sixth time this season a player has had multiple strip-sacks in a single game. Those two key plays, along with a couple of other pass-rush wins, gave Heninger an astounding 95.1 pass-rush grade. That's the third-best single-game mark we have recorded by an edge rusher in 2020.
PLAY OF THE WEEK
Texas Tech versus Oklahoma State looked like a true Big 12 showdown on paper (i.e., 94 total points scored). The defenses, however, did not get completely smacked through the air like your typical Big 12 showdown.
Each of the two teams allowed a negative EPA per pass play figure, and one of the big reasons why Oklahoma State ultimately came out on top was a game-changing defensive touchdown. Up by four points with Texas Tech in Oklahoma State territory, safety Tre Sterling put game study into action with this interception that resulted in six points for the Pokes.
???? RUN IT BAAAAAAACK! @sterling__trey #GoPokes | #LetsRide

???? @CFBONFOX pic.twitter.com/X8Klq3qCJ3

— OSU Cowboy Football ???????????? (@CowboyFB) November 28, 2020
Sterling read Texas Tech like a book and knew exactly what was coming to him. Even head coach Mike Gundy said it himself after the game.
"He told our coaches on the sideline that if they run that route concept again, he was going to step underneath it and run it for a touchdown." — Oklahoma State head coach Mike Gundy.
That, among other plays made throughout the game, earned Sterling Week 13 PFF Team of the Week honors. It is a prime example of the coverage prowess that the safety carries.
AN EARLY LOOK AHEAD TO WEEK 14…
If Texas A&M's offensive output from Saturday remains the same next week against Auburn, there is a very good chance the Aggies could knock themselves out of the CFP conversation. Auburn is fresh off the Iron Bowl in which they got pan-fried by Alabama's potent passing attack, but outside of that game, they have fielded the fourth-highest-graded coverage unit in the SEC. And while Bo Nix is nothing spectacular, Auburn's offense is going to pose a bigger threat than LSU's did in Week 13. The Tigers still rank fourth in the SEC in per-play efficiency, even after their dumpster-fire outing against the Crimson Tide.
This year has been nothing but chaos, and we could be slapped with even more chaos in the Big Ten next week. If Ohio State is forced to cancel their scheduled game against Michigan State due to Covid-19 — as they did this week against Illinois — they'll no longer be eligible for the Big Ten Championship game. If that occurs, the Big Ten East representative would likely be the Indiana Hoosiers, as they would need to win just one of their final two games against Wisconsin and Purdue. However, IU could be without starting quarterback Michael Penix Jr. against the Badgers next week and possibly beyond. He suffered a lower leg injury against Maryland on Saturday, and the severity of the injury is currently unknown. Either way, the top-25 showdown between Indiana and Wisconsin could carry a lot of weight if the Buckeyes cannot go on Saturday.