Another College Football Playoff (CFP) candidate crumbled this past weekend, as Oklahoma was upset on the road by Baylor. Now, a potential two-loss Alabama team or undefeated Cincinnati team's path to make the four-team playoff has become a bit clearer.
We will soon see how the committee feels about this past week's slate of games, but in the meantime, I can fill you all in on how I view the college football landscape.
---
Click here for more PFF tools:
Rankings & Projections | WR/CB Matchup Chart | NFL & NCAA Betting Dashboards | NFL Player Props tool | NFL & NCAA Power Rankings
---
Below is how I'd order the top-25 teams after Week 11. Please note this top 25 is not the same as PFF's Power Rankings.
Related content for you: Highest-graded players at every position through Week 11 of the 2021 college football season via Seth Galina
1) GEORGIA BULLDOGS (RECORD: 10-0, ATS: 7-3, RANK CHANGE: -)
The Bulldogs got after the quarterback in Week 11 — just as they have in every other game this season. After allowing a touchdown on the opening drive, the Bulldogs shut down the Volunteer offense, applying pressure on quarterback Hendon Hooker (and Joe Milton for the few reps he played) on nearly a third of the team's pass plays, and Tennessee couldn't handle the heat.
Tennessee QBs Under Pressure vs. Georgia
| | |
| --- | --- |
| Dropbacks | 18 |
| Comp/Att | 3/9 |
| Yards | 46 |
| Sacks | 7 |
2) ALABAMA CRIMSON TIDE (RECORD: 9-1, ATS: 6-4, RANK CHANGE: -)
There's little to take away from Alabama's beatdown over New Mexico State. Quarterback Bryce Young posted a 93.9 PFF grade thanks to four big-time throws. This week will be a little bit tougher, as Alabama's offense faces an Arkansas defense that is fresh off an 89.5 graded performance in coverage against LSU in Week 11.
3) OHIO STATE BUCKEYES (RECORD: 9-1, ATS: 5-5, RANK CHANGE: -)
Ohio State provided a near-perfect ecosystem for quarterback C.J. Stroud on Saturday against Purdue: He was pressured on only one dropback, the receiving room caught over 91% of their catchable targets and the playcalling provided him with a lot of quick, schemed throws. The Buckeyes signal-caller got rid of the ball in 2.15 seconds and threw the ball 6.7 yards downfield on average — both of which were season-lows. He was accurate, on time and didn't make any bad decisions, completing 31-of-38 attempts for 361 yards and five touchdowns.
4) CINCINNATI BEARCATS (RECORD: 10-0, ATS: 5-5, RANK CHANGE: +1)
Cincinnati had an up-and-down performance against USF in Week 11. The Bearcats still won by three scores, but the coverage unit let up some plays and committed some penalties, which led to its second-worst performance of the season in terms of EPA per pass allowed. Star cornerback Sauce Gardner was stellar, however, as he allowed zero yards and picked off a pass.
5) MICHIGAN WOLVERINES (RECORD: 9-1, ATS: 8-2, RANK CHANGE: +1)
Pass-rush matters at the Power Five level. With the athletic gifts at the Power Five level paired with how prone college quarterbacks are to mistakes made under pressure, pass rush can explain what happened on a given play just as much as coverage can. And that's what occurred when Michigan beat Penn State on the road.
Sean Clifford Under Pressure vs. Michigan
| | |
| --- | --- |
| Passing Grade | 41.2 |
| Dropbacks | 25 |
| Comp/Att | 5/16 |
| Yards | 62 |
| Sacks | 6 |
| EPA Per Play | -0.64 |
Penn State had the 10th-lowest success rate of any Power Five team in Week 11 due to the impact of the Aidan Hutchinson– and David Ojabo-led pass rush. Quarterback Sean Clifford was under pressure on 51.8% of his dropbacks — the second-highest rate of the week among Power Five teams.
Notre Dame dodged a bullet when Virginia starting quarterback Brennan Armstrong — the seventh-highest-graded quarterback in college football — was ruled out for Week 11. The Fighting Irish had no issue handling backup quarterback Jay Woolfolk, who earned a 58.2 PFF grade for the game. The new and improved Irish offense continued vs. Virginia, generating a 56.5% success rate overall that ranked seventh in the Power Five. Notre Dame's passing offense used play-action on 48% of its pass plays, which led to its most efficient outing through the air for the season.
7) OLE MISS REBELS (RECORD: 8-2, ATS: 7-3, RANK CHANGE: +3)
Ole Miss' passing offense performed adequately against Texas A&M, as evidenced by its 50% successful pass rate in the win. For reference, Texas A&M held Auburn to a 23.4% successful pass rate previously. Nevertheless, Ole Miss' defense deserved the most credit for the victory, as it held A&M to -0.13 EPA per play for the game — Ole Miss' best mark in an SEC game this year. Two fourth-quarter interceptions — including a pick-six — helped clinch the game for Ole Miss.
8) OREGON DUCKS (RECORD: 9-1, ATS: 4-6, RANK CHANGE: +2)
Oregon's ability to throw the rock downfield is going to dictate whether it escapes the regular season and Pac-12 title game unscathed. The Ducks didn't lean on the passing game in their Week 11 win over Washington State, as quarterback Anthony Brown had more rushing attempts than completions. Brown completed only three passes over 10 yards downfield on Saturday — all of which occurred in conjunction with a play-action concept. Helping Brown out with play-action and run-pass options (RPOs) essentially ensures the Ducks can pass well enough to beat Utah in Week 12. Oregon generated positive EPA per pass play with play-action against Wazzu but fell to negative territory without it.
9) OKLAHOMA SOONERS (RECORD: 9-1, ATS: 5-5, RANK CHANGE: -5)
Quarterback Caleb Williams' risky style of play worked against his team in this one. A lot of his success since taking over the QB1 spot comes down to passing up his check-down option to go for the big play downfield. It's a risky way to survive, but it has worked out for him in the past. This week, it didn't. The Sooners QB recorded three turnover-worthy plays under pressure — two of which were picked off by the defense. Overall, he earned a 23.9 passing grade under pressure with just one completion for 12 yards on 11 such dropbacks.
10) OKLAHOMA STATE COWBOYS (RECORD: 9-1, ATS: 8-2, RANK CHANGE: +3)
Oklahoma State's defense continued to shine in Week 11. The coverage unit, in particular, played at a high level, as it held TCU's offense to the second-lowest successful pass rate of any FBS team for the week (20.7%). Quarterback Chandler Morris and the Horned Frogs ranked 12th in the FBS in that metric last week (55.1%) against Baylor.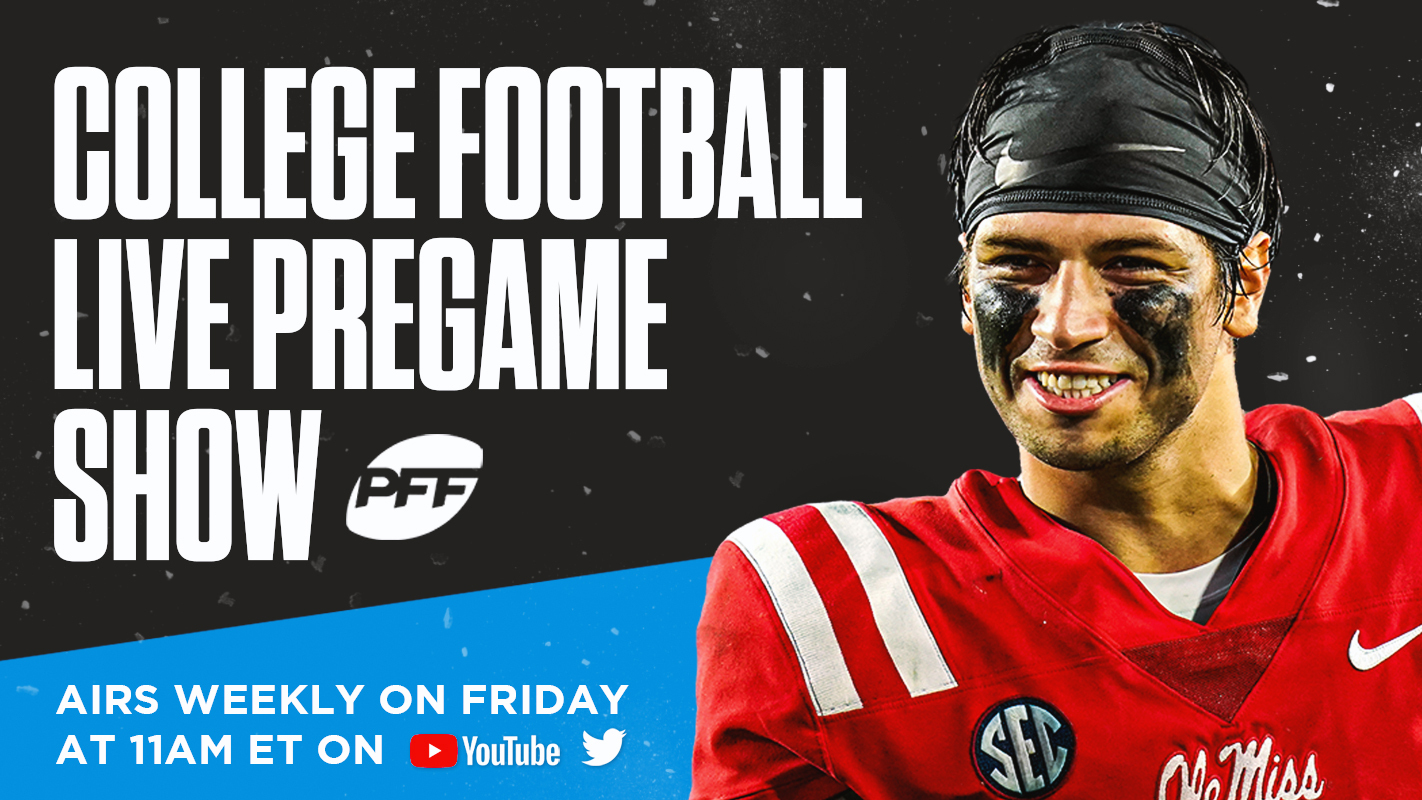 Wake Forest's high-powered offense had its lowest success rate through the air of the season in last week's narrow win over N.C. State. Quarterback Sam Hartman did catch some bad breaks with two non-turnover-worthy plays that ended up as interceptions. He did, at least, keep his streak of 70-plus graded games for the 2021 season, as he has now reached that mark in each of his 10 games this year.
Michigan State offensive coordinator Jay Johnson showed out in Sparty's win over Maryland in Week 11. The play-caller dialed up the offense's fourth flea-flicker touchdown pass of the season and helped quarterback Payton Thorne succeed in the play-action passing game, as thorne completed eight of nine play-action passes for 126 yards and two scores.
13) BAYLOR BEARS (RECORD: 8-2, ATS: 7-3, RANK CHANGE: +6)
Baylor has been more efficient on outside zone runs than 50 Power Five teams have been throwing the ball in 2021. The Bears pivoted to an outside zone offense under Jeff Grimes this season, and the concept has been the backbone of their success all year long. This past week, their defense rose to the occasion and held Oklahoma to negative EPA per pass play for the first time this season.
14) WISCONSIN BADGERS (RECORD: 7-3, ATS: 6-4, RANK CHANGE: +6)
Wisconsin has rattled off six straight wins after a disappointing 1-3 start to the 2021 season. Defensively, nothing has changed, as the Badgers' defense has been one of the best in the country from start to finish. They are second to only the Georgia Bulldogs in the Power Five in team-defense grade this year.
Offensively, a lot has changed…
Wisconsin's Offense in 2021 (w/ Power Five rank)
| | | |
| --- | --- | --- |
| Weeks 1-5 | | Since then |
| -0.30 | EPA Per Play | +0.06 |
| 41.9% | Success Rate | 48% |
| 46.8 | Passing Grade | 76.3 |
| 73.0 | Rushing Grade | 80.1 |
Yes, they did have a tougher slate to open up the year, but they've undergone philosophic changes, and several players have come into their own. After quarterback Graham Mertz earned a PFF grade of 45.1 and 29.7 in his two 40-plus-dropback outings, Wisconsin recognized that they couldn't win with the dropback passing game. So, they've lighted Mertz's load while leaning on emerging true freshman back Braelon Allen.
Since Week 6, Mertz has averaged 17 pass attempts per game and has generated +0.24 EPA per pass play. It's not spectacular quarterback play by any means, but he's no longer a liability.
Allen, a former four-star who reclassified from the 2022 class, only handled 12 carries through Week 5 of his true freshman season. Since then, he's taken 105 and generated +0.17 EPA per rush. For reference, only three running back rooms in the Power Five have generated more EPA per rush this season.
Related content for you: College Football Week 11 Takeaways: Notable grades, advanced stats & more via Anthony Treash
15) TEXAS A&M AGGIES (RECORD: 7-3, ATS: 6-4, RANK CHANGE: -7)
Texas A&M's passing offense could not do anything against Ole Miss on Saturday. It generated -0.34 EPA per pass play — its second-worst mark of the 2021 season. And it really wasn't all quarterback Zach Calzada's fault, as he earned a 90.3 passing grade and tossed five big-time throws for the game. A few of those high-level throws were dropped by a receiver while another drop landed in an Ole Miss defensive back's hands in the fourth quarter. He did throw a brutal pick-six to seal the loss, but before that, he was doing relatively well.
16) HOUSTON COUGARS (RECORD: 9-1, ATS: 6-4, RANK CHANGE: -1)
The Cougars had an all-around strong performance against the depleted Temple Owls in Week 11, covering their 24.5-point spread. Houston's coverage unit took advantage of Temple's lackluster quarterback play by picking off three passes and allowing only four first downs through the air for the game. In all, it allowed -0.73 EPA per pass play, which ranked first among all FBS programs for the week.
17) BYU COUGARS (RECORD: 8-2, ATS: 5-5, RANK CHANGE: -)
As expected, BYU dominated its FCS opponent in Week 10. Quarterback Jaren Hall earned a 90.6 PFF grade before getting taken out with other starters in the Cougars' 59-14 win over Idaho State. Hall now has a 91.9 PFF grade since returning from injury in Week 6 — ranking fourth in the FBS.
18) N.C. STATE WOLFPACK (RECORD: 7-3, ATS: 6-4, RANK CHARGE: -1)
N.C. State tried to match Wake Forest's aggressiveness through the air, but it ultimately fell three points short in a 45-42 shootout. Wolfpack quarterback Devin Leary dropped back to pass more than he ever has in a single game this year (62 times) and paired that with a 10.7-yard average depth of target. He found some success downfield with four big-time throws en route to a 78.0 passing grade, but bad third-down offense led to the team's downfall. N.C. State converted just 26.7% of its third- and fourth-down tries — the eighth-worst in the Power Five for the week.
19) SAN DIEGO STATE AZTECS (RECORD: 9-1, ATS: 5-4-1, RANK CHANGE: NR)
San Diego State barely scraped by a Nevada air raid attack led by quarterback Carson Strong. The Aztecs hit a go-ahead 35-yard field goal with just over a minute left to play to win 23-21. The Aztecs' coverage unit had its worst performance of the season in terms of EPA per pass allowed, but it forced enough passing stops to hold the Wolf Pack to a 27% scoring drive rate, which was half of their season average entering the week.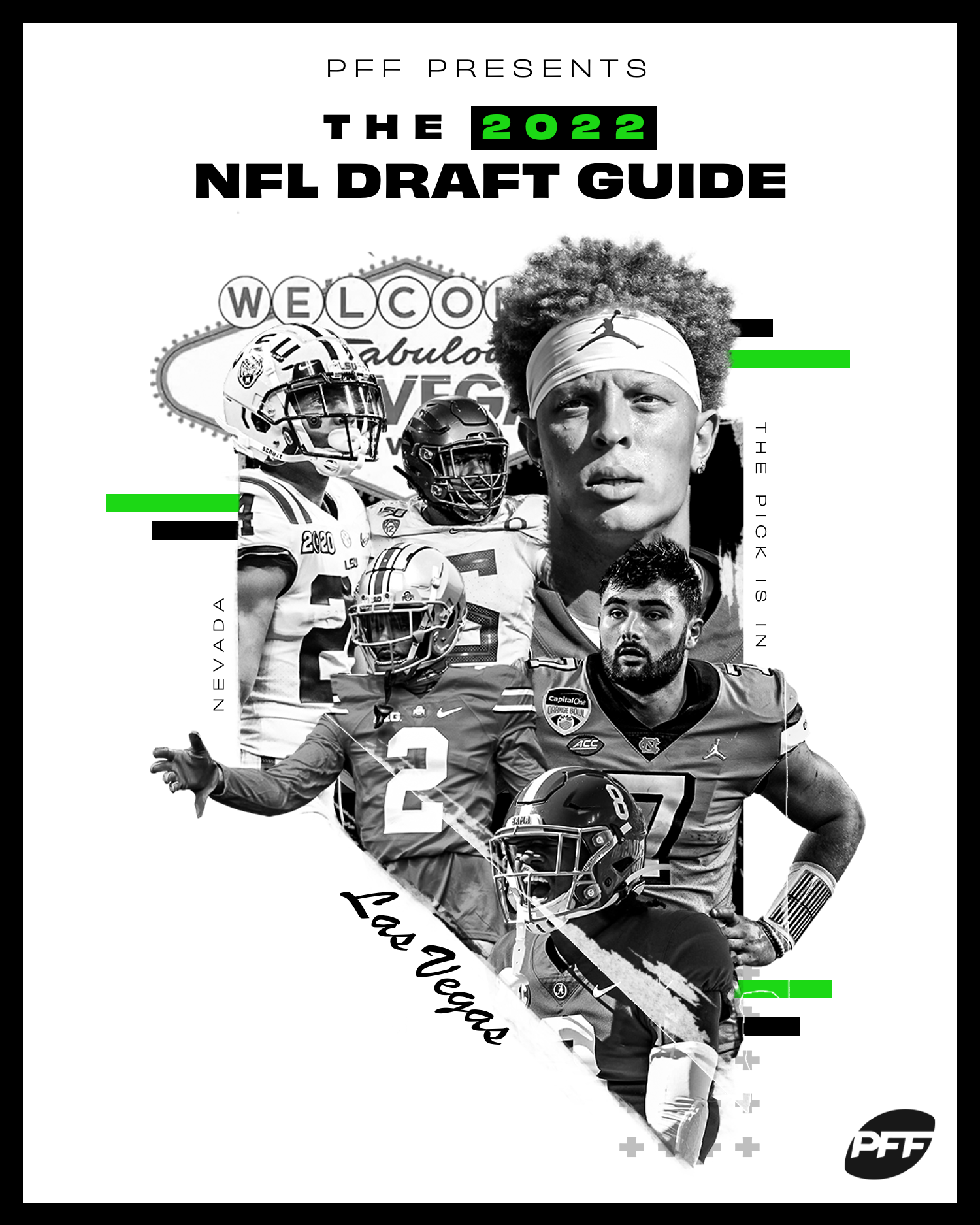 20) PITTSBURGH PANTHERS (RECORD: 8-2, ATS: 8-2, RANK CHANGE: NR)
A common theme of Pittsburgh quarterback Kenny Pickett's 2021 breakout season has been hot starts but slower finishes, and that continued in Week 11 against North Carolina. Pickett earned an 88.9 passing grade and led the Panthers to +0.1 EPA per pass play in the first half. In the second half and in OT, those two metrics fell to 57.4 and -0.31. Still, it was enough to lead the Panthers to a 30-23 victory.
21) SMU MUSTANGS (RECORD: 8-2, ATS: 5-4-1, RANK CHANGE: +4)
The time has come for the game SMU has circled on the calendar since the beginning of the year, as the Mustangs will be on their way to The Queen City to take on the undefeated Cincinnati Bearcats this week. They will need a big day from quarterback Tanner Mordecai against the Bearcats' elite pass coverage to have a fighting chance. Mordecai has recorded his three lowest-graded games of the 2021 season in each of the last three weeks — all three of which were below 68.0 for the game. He does, however, still own an 89.4 PFF grade for his standout play during SMU's 7-0 start. SMU will need that against Cincinnati, but it's not going to be easy.
22) IOWA HAWKEYES (RECORD: 8-2, ATS: 6-4, RANK CHANGE: +1)
Iowa's defense welcomed back outside corner Riley Moss, who missed the previous three games due to injury, this past weekend. Moss performed admirably in his return, allowing only nine yards across 35 coverage snaps in Iowa's win over Minnesota. He and the rest of the secondary should have no issue in Week 12 against an Illinois passing offense that ranks dead last in the Power Five in team passing grade for the 2021 season.
23) UTAH UTES (RECORD: 7-3, ATS: 4-6, RANK CHANGE: NR)
Utah has been on the rise as of late, and first-year starting quarterback Cam Rising's performance is a big reason why. Since Week 6 — his second game starting for Utah — the Utes have the most efficient passing attack in the conference. Rising has earned an 88.1 passing grade in that span with 11 big-time throws to only two turnover-worthy plays. Utah will need that top-tier play from Rising on Saturday against Oregon.
24) UTSA ROADRUNNERS (RECORD: 10-0, ATS: 8-2, RANK CHARGE: -2)
UTSA had its worst game of the year from an offensive perspective against Southern Miss, generating a poor -0.28 EPA per play, which led to a closer-than-anticipated outing against the Golden Eagles. The game entered the fourth quarter tied at 17 despite being that UTSA was 33-point favorites. Thankfully for the Roadrunners, the defense came up with two fumbles late in the fourth that led to a field goal and touchdown with under five minutes to play.
Louisiana has rattled off nine straight wins since its Week 1 loss to Texas. Its ground game has been rolling behind the highest-graded offensive line in the Group of Five. The Ragin' Cajuns have the third-most efficient rushing attack in the Group of Five — behind only Coastal Carolina and Cincinnati.