One candidate for the College Football Playoff (CFP) — Michigan State — bit the dust while Alabama, Oregon, Ohio State and Cincinnati had less than inspiring Week 10 performances. We will soon see how the committee feels about this past week's slate of games, but in the meantime, I can fill you all in on how I view the college football landscape.
---
Click here for more PFF tools:
Rankings & Projections | WR/CB Matchup Chart | NFL & NCAA Betting Dashboards | NFL Player Props tool | NFL & NCAA Power Rankings
---
Below is how I'd order the top-25 teams after Week 10. Please note this top 25 is not the same as PFF's Power Rankings.
Related content for you: Highest-graded players at every position through Week 10 of the 2021 college football season via Seth Galina
1) GEORGIA BULLDOGS (RECORD: 9-0, ATS: 6-3, RANK CHANGE: -)
It was business as usual for the Georgia Bulldogs, as they blew out the Missouri Tigers 43-6. The Bulldogs' defense — which eventually put in young talent that had hardly played in 2021 in replace of key players — held Mizzou to a 29% success rate on offense, ranking fifth among Power Five defenses for the week. On offense, quarterback Stetson Bennett earned a 92.1 passing grade and was nearly flawless from a clean pocket, completing 12-of-16 for 238 and two touchdowns.
2) ALABAMA CRIMSON TIDE (RECORD: 8-1, ATS: 5-4, RANK CHANGE: -)
LSU had Alabama an upset alert when no one thought it was possible. Unfazed by the 28.5-point spread, the Tigers battled to keep it close and even had a shot at taking the lead before losing 20-14. The responsibility again falls on the Alabama pass-protection, as quarterback Bryce Young was pressured on 50% of his dropbacks against LSU. Yes, the Tigers did an excellent job of bringing the heat with well-designed blitzes and simulated pressures, but the Crimson Tide's struggles in pass protection are nothing new and have to be a concern when it comes to game-planning for Georgia.
The Crimson Tide consistently allowed free rushers. Of the 22 pressured dropbacks, 11 were unblocked. Now, Alabama has allowed more unblocked pressure in the 2021 season than any other team in the Power Five. Confusion and missed assignments were common, which falls not only on the offensive line but also on the coaching staff.
3) OHIO STATE BUCKEYES (RECORD: 8-1, ATS: 4-5, RANK CHANGE: -)
The Buckeyes were on an offensive warpath from Weeks 5-8, but they have come back down to Earth over the last two weeks. Yes, they still managed to beat Penn State and Nebraska, but they failed to cover in closer-than-expected outings. Ohio State's Week 10 game against the Cornhuskers was among the Buckeyes' least productive passing games since 2019, as they generated negative expected points added (EPA) per pass and recorded their lowest successful pass rate of the season (47.5%).
Quarterback C.J. Stroud looked more like the player we saw early in the season instead of the one who strung together three elite grades since his Week 5 return from injury. Stroud recorded four turnover-worthy plays against Nebraska. His decision-making was problematic, and he missed several throws downfield.
Stroud has proven capable of high-level play in this system, but when things start to fall apart, his vulnerabilities show and inconsistent play emerge. That's not only worrisome for Ohio State's national title hopes, as it could be problematic against Purdue, Michigan State and Michigan.
4) OKLAHOMA SOONERS (RECORD: 9-0, ATS: 5-4, RANK CHANGE: -)
Only one Power Five true freshman quarterback earned an "elite" single-season grade above 90.0 in the PFF College era: 2021 No. 1 overall pick Trevor Lawrence (90.7). Now, it looks like that list will expand by one at the end of the year, as Sooners' quarterback Caleb Williams owns an unreal 94.8 PFF grade heading into Week 11. Williams has been sensational, showing off his special arm talent and athleticism on the ground while leading Oklahoma to the most efficient offense in college football since taking over in Week 6.
5) CINCINNATI BEARCATS (RECORD: 9-0, ATS: 5-4, RANK CHANGE: -)
Instead of smashing Tulsa by 20-plus points, Cincinnati barely held onto an eight-point victory after falling apart in the fourth quarter.
The Bearcats' offense was right where it needed to be at the start of each half, but the in-game output was horrid. In fact, Cincinnati ended with negative EPA per play for the first time this year. While quarterback Desmond Ridder did fumble late in the fourth quarter, which gave Tulsa the ball at the three-yard line down just eight points with a minute to play, he wasn't solely responsible. He uncorked two big-time throws in the fourth quarter, but both were dropped. Had those been caught, Cincinnati would have been deep in Tulsa territory with a good chance of putting the game on ice.
The Bearcats offense just hasn't been cohesive this year. If the Bearcats want to pass the committee's "eye test," they'll need to fix that starting next week.
6) MICHIGAN WOLVERINES (RECORD: 8-1, ATS: 7-2, RANK CHANGE: +2)
Michigan won handily, as expected, against an Indiana team that has a third-string true freshman at quarterback. The Wolverines held the Hoosiers to 89 passing yards and only five first downs through the air on 30 dropbacks. Michigan generated pressure on 13 of those, and Indiana quarterback Donaven McCulley only completed one pass on such dropbacks.
Notre Dame offensive coordinator Tommy Rees made notable changes during the team's Week 7 bye. He's easing stress on quarterback Jack Coan and the offensive line as a whole with less true dropback passing, and it's having a positive impact.
Coan is limited as a passer, but he is accurate underneath when operating from a clean pocket. The Irish are leveraging that skill, scheming throws and limiting opportunity for opposing defenses to generate pressure:
Notre Dame's Offense in 2021 (w/ Jack Coan on the field)
| | | |
| --- | --- | --- |
| Weeks 1-6 | | Weeks 8-10 |
| 23% | Play-Action % | 40% |
| 11% | RPO % | 25% |
| 9% | Screen % | 20% |
| 10.3 | Avg Depth of Target | 7.4 |
| 30% | Pressure % | 14% |
| -0.04 | EPA Per Pass | +0.26 |
8) TEXAS A&M AGGIES (RECORD: 7-2, ATS: 6-3, RANK CHANGE: +1)
The Aggies leaned on their defense in their 20-3 win over the Auburn Tigers in Week 10. Texas A&M posted the third-highest team-defense grade among Power Five programs for the week. The Aggies held Auburn to the second-lowest EPA per pass mark of any Power Five offense in Week 10 (-0.66).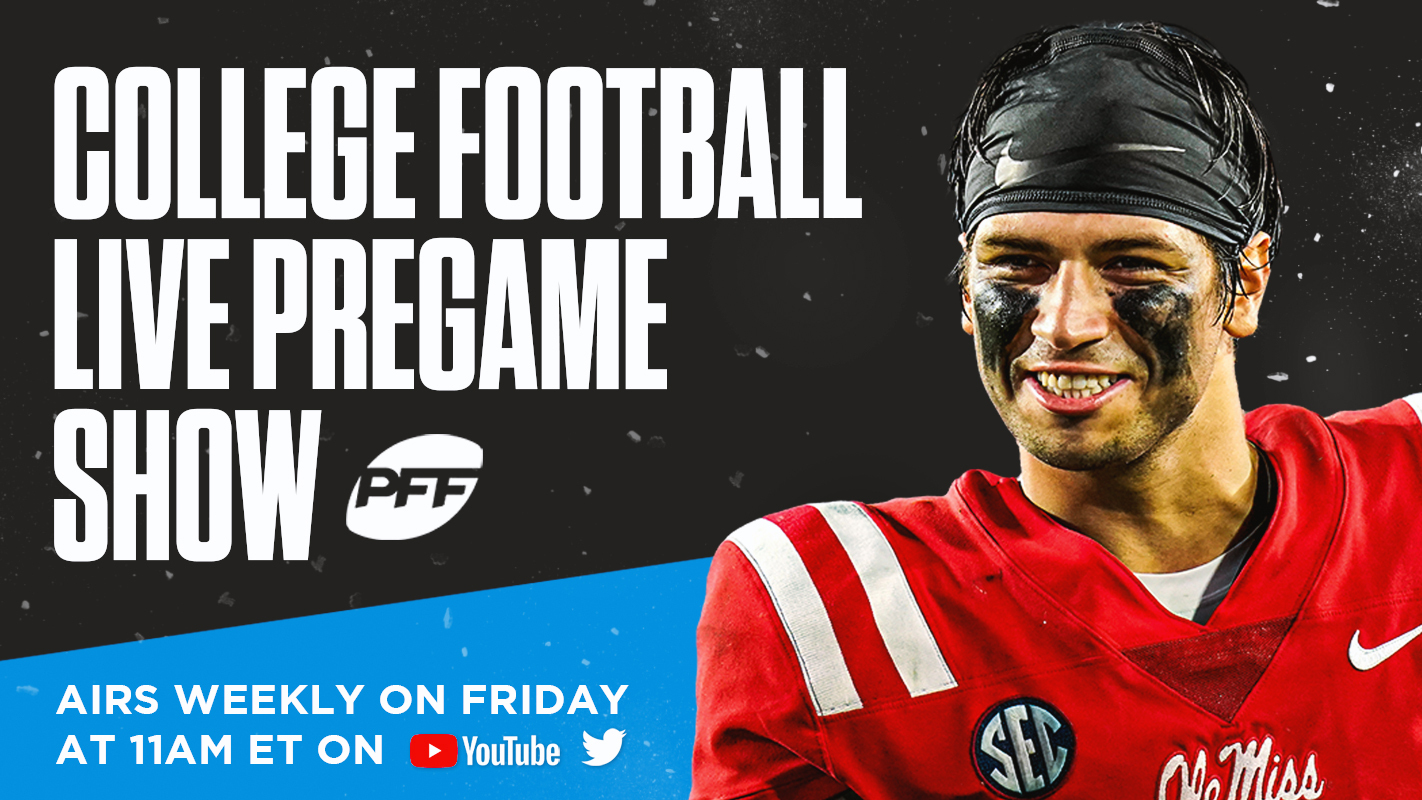 9) OREGON DUCKS (RECORD: 8-1, ATS: 3-6, RANK CHANGE: +1)
Oregon's passing offense struggled as expected against one of the top coverage units in the country — Washington — on a rainy Saturday night, but the Ducks ultimately came out on top thanks to their ground game and an anemic Husky offense. The Ducks busted off 11 explosive runs of 10-plus yards while the Huskies had the sixth-least efficient Power Five offense of Week 10. After that poor offensive performance from Washington, the program decided to part ways with offensive coordinator John Donovan.
10) OLE MISS REBELS (RECORD: 7-2, ATS: 6-3, RANK CHANGE: +3)
Quarterback Matt Corral managed to get by with an injury-plagued receiving corps to led Ole Miss to victory over Liberty on Saturday. Throwing to quarterback-turned-wide receiver John Rhys Plumlee and Western Kentucky transfer Jahcour Pearson for most of the day, Corral earned a 78.1 passing grade and led the Rebels to the second-highest successful pass rate among SEC teams for Week 10 (54.3%).
Demon Deacons quarterback Sam Hartman led an explosive passing offense, with eight completions on 12 attempts over 20 yards downfield for 243 yards and five scores — tied for most deep touchdowns in a single game since 2015.
However, a game that quickly turned into an offensive shootout was turned on its head when North Carolina hung 24 unanswered points on the scoreboard. And a game-breaking Hartman interception helped the Tar Heels roll to the victory. The tough part about the interception is that it came on what was thought to be a free play; however, the penalty didn't get called.
12) MICHIGAN STATE SPARTANS (RECORD: 8-1, ATS: 6-2-1, RANK CHANGE: -5)
Michigan State's defense finished with a 56.1 coverage grade, allowing +0.43 EPA per pass and positive EPA on 54.2% of their targets. All of these figures fell outside of the top 100 among FBS teams in Week 10.
13) OKLAHOMA STATE COWBOYS (RECORD: 8-1, ATS: 7-2, RANK CHANGE: +4)
Oklahoma State's No. 1-ranked defense in the Big 12 showed out against West Virginia. The Mountaineers generated -0.5 EPA per pass and -0.47 EPA per rush, resulting in the third-worst success rate among Power Five teams for Week 10. They'll need that defensive performance to continue in the coming weeks, including next Saturday when they face a recharged TCU passing offense. The Horned Frogs are now led by Oklahoma transfer quarterback Chandler Morris, who earned a 91.1 passing grade in his first career start in Week 10's upset over Baylor.
14) HOUSTON COUGARS (RECORD: 8-1, ATS: 5-4, RANK CHANGE: +1)
Quarterback Clayton Tune went off against South Florida on Saturday, earning a 95.7 PFF grade that featured four big-time throws and zero turnover-worthy plays. Tune completed 13 of his 14 passes over 10 yards downfield for 275 yards and three touchdowns — the one incompletion was a pass breakup. Since Week 4, Tune is one of the five highest-graded passers in college football (91.6). He's heating up at the right time.
15) BYU COUGARS (RECORD: 8-2, ATS: 5-5, RANK CHANGE: +3)
As expected, BYU dominated its FCS opponent this past weekend. Quarterback Jaren Hall earned a 90.6 PFF grade before getting taken out with other starters in the Cougars' 59-14 win over Idaho State. Hall now has a 91.9 PFF grade since returning from injury in Week 6, ranking fourth in the FBS.
16) NC STATE WOLFPACK (RECORD: 7-2, ATS: 6-3, RANK CHARGE: +4)
Another week and another solid performance from NC State quarterback Devin Leary, who earned a 73.6 PFF grade against Florida State. Leary didn't record a single turnover-worthy play (his interception came on a Hail Mary at the end of the half) and averaged 10.8 yards per attempt from a clean pocket. The Wolfpack will need some added juice from Leary in Week 11, as they face one of the most explosive passing offenses in college football — Wake Forest.
17) AUBURN TIGERS (RECORD: 6-3, ATS: 5-4, RANK CHARGE: +5)
Bo Nix couldn't do much of anything against Texas A&M and was ultimately the reason Auburn lost 20-3. He earned a 40.2 passing grade while leading the Tigers to -0.66 EPA per pass and a 23.4% successful pass rate — the latter two figures were among the five worst from an Auburn offense in the PFF College era. Nix panicked under pressure, notching only four completions for 27 yards on 17 pressured dropbacks while taking four sacks and posting two turnover-worthy plays.
Word broke prior to Coastal Carolina's Week 10 contest against Georgia Southern that starting quarterback Grayson McCall — the third-highest-graded passer in college football — is out indefinitely with an upper-body injury. It wasn't an issue in Week 10, but it could be down the road. The passing offense wasn't the same with Bryce Carpenter at QB, as he finished with 84 total yards through the air and a 52.2 passing grade on 23 dropbacks, which was buoyed by two turnover-worthy plays and zero big-time throws.
19) BAYLOR BEARS (RECORD: 7-2, ATS: 6-3, RANK CHANGE: -5)
It was an all-around bad day for the Bears, who endured an upset loss to TCU in Week 10. TCU's QB shredded Baylor's coverage unit, as it surrendered +0.68 EPA per pass, which is more than two times Baylor's previous season-high. The offense, meanwhile, produced its second-lowest success rate of the season.
20) WISCONSIN BADGERS (RECORD: 6-3, ATS: 5-4, RANK CHANGE: NR)
Wisconsin's defense is firmly one of the five best in college football. The Badgers are fresh off posting the highest team defense grade of any Power Five team in Week 10's blowout win over Rutgers.
Typically, the offensive side of the ball is what brings this team down, but that wasn't the case this past week. Wisconsin had, by far, its most efficient passing offense of the season against Rutgers. Quarterback Graham Mertz did make a couple of mistakes, but he made up for it with three big-time throws while completing seven of his nine passes over 10 yards downfield for 148 yards and a touchdown. Mertz ended up with an 88.4 PFF grade for the game — his highest of the year by double-digits.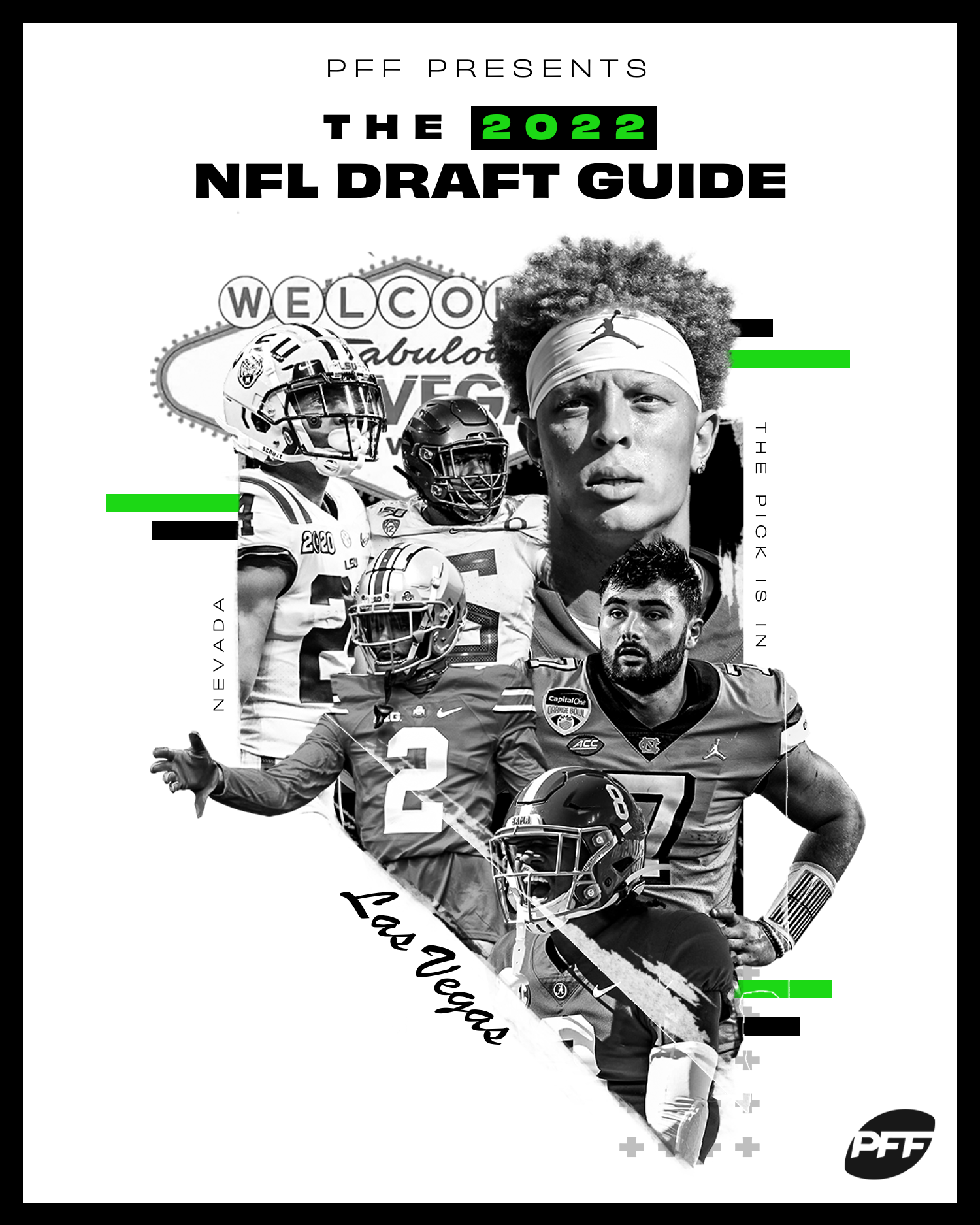 21) PURDUE BOILERMAKERS (RECORD: 6-3, ATS: 5-4, RANK CHANGE: NR)
Purdue's offense rose to the occasion in the upset win over Michigan State. Quarterback Aidan O'Connell took on a major workload, dropping back to pass more than 50 times, but he played clean football and took advantage of the Spartans' shaky coverage unit. O'Connell's 91.8 passing grade is the highest grade ever earned by a Purdue quarterback in the PFF College era.
22) UTSA ROADRUNNERS (RECORD: 9-0, ATS: 8-1, RANK CHARGE: -1)
UTSA quarterback Frank Harris has been on a hot streak recently. He has earned a PFF grade above 84.0 in each of his last four starts, giving him a 93.0 mark collectively over that span. Running back Sincere McCormick is also coming off his highest-graded performance of his season thanks to six explosive runs of 10-plus yards. Only Oklahoma has a more efficient offense in the FBS since Week 6. At this rate, an undefeated season seems likely for the Roadrunners, as they have just Southern Miss, UAB and North Texas remaining.
23) IOWA HAWKEYES (RECORD: 7-2, ATS: 5-4, RANK CHANGE: -)
Iowa got back on the winning path, but it wasn't pretty. The Hawkeyes scraped by Northwestern for a 17-12 win thanks to their defense. With quarterback Spencer Petras nicked up and not playing well, Iowa put in backup Alex Padilla for a few series. While Padilla took care of the ball with zero turnover-worthy plays, Iowa's offense was inefficient. The Hawkeyes generated -0.12 EPA per play against the Wildcats, which was the third-best mark of their 2021 season, but it still ranked 79th of 120 FBS teams for the week.
24) NEVADA WOLF PACK (RECORD: 7-2, ATS: 6-3, RANK CHANGE: +1)
Nevada narrowly got by San Jose State in Week 10. Quarterback Carson Strong posted his worst performance of the season, finishing with a 59.9 passing grade and leading the Wolf Pack to -0.23 EPA per pass play with three turnover-worthy plays. For reference, Strong only produced two turnover-worthy plays in his previous seven starts. Being under pressure on 25 of his 63 dropbacks didn't help matters any, but still, it wasn't a strong day from the Nevada quarterback. Strong still owns a high-quality 86.4 passing grade for the season, and the Wolf Pack will need that kind of performance next week against San Diego State's stout defense.
25) SMU MUSTANGS (RECORD: 7-2, ATS: 4-4-1, RANK CHANGE: -9)
It was an uncharacteristically bad day from a passing perspective for the SMU Mustangs in their road loss to Memphis. SMU produced its least efficient passing offense of the 2021 season, and quarterback Tanner Mordecai earned a middling 65.6 passing grade. SMU is coming off back-to-back losses while Mordecai is coming off his two lowest-graded games of the season. The Mustangs will need a quick bounce-back with a game against Cincinnati quickly approaching on November 20.