Before we look ahead to Week 2 in college football, we at PFF have put together a list of the top true freshman performances from Week 1.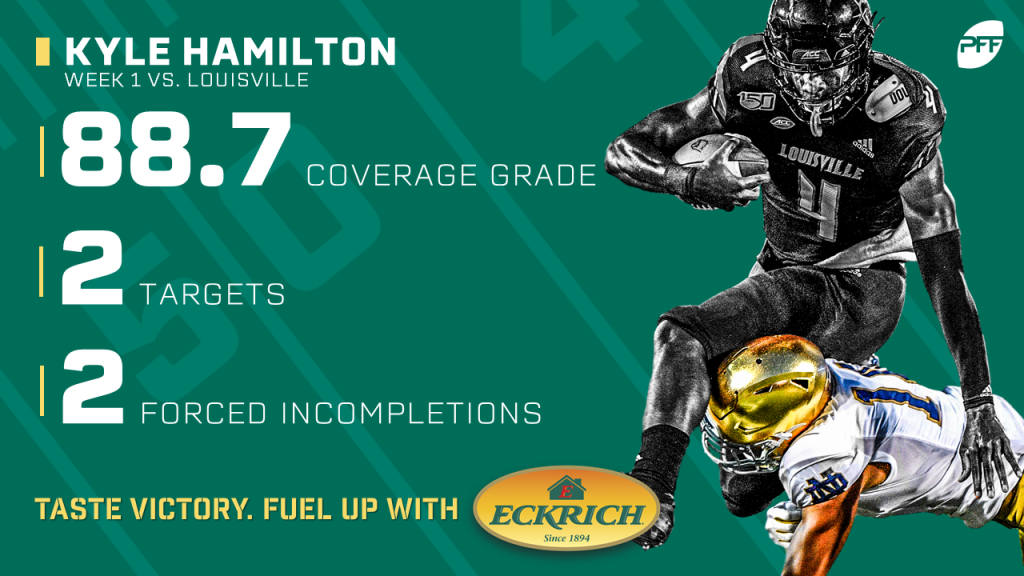 S Kyle Hamilton, Notre Dame
Hamilton showed why he was a top-100 recruit for Notre Dame in their primetime opener in Louisville with a strong showing in coverage. He was only on the field for 13 coverage snaps, but Hamilton forced incompletions on both passes in which he was targeted, raising his coverage grade to 88.7 for the game. Hamilton rounded out the performance with four tackles in what was an impressive beginning to his Notre Dame career.
LB Shane Lee, Alabama
The loss of Dylan Moses prior to the season opener threw a pair of true freshman linebackers into larger roles in their first game action against Duke, and both responded well, especially four-star freshman Shane Lee. He made several nice plays in coverage, including an impressive open field tackle on Duke running back Deon Jackson for minimal gain. For the game, Lee was targeted three times and allowed just two receptions for five yards.
G Kenyon Green, Texas A&M
Though he didn't find his way into the top-10 overall grades by a true freshman for the week, interior offensive linemen generally see lower grades on the PFF grading scale, and Green's mark of 73.4 was impressive enough to deserve a spot on this list. Across 63 total snaps, Green picked up a pass-blocking grade of 79.8 and a run-blocking grade of 72.5. The true freshman allowed just one quarterback hit in 31 pass-blocking snaps. It may have only been against Texas State, but it was an impressive debut for Green.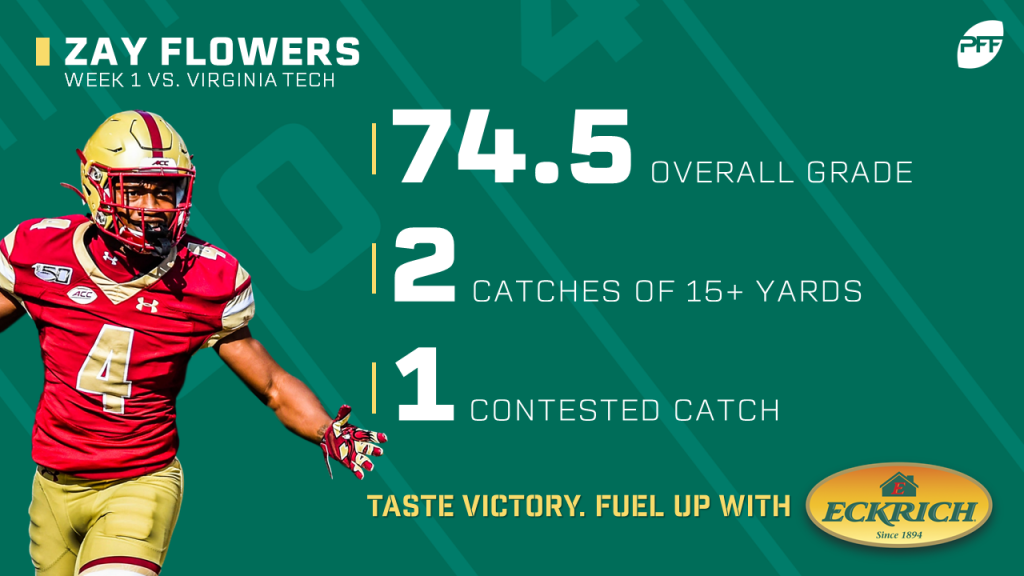 WR Zay Flowers, Boston College
Flowers only ran 14 routes in the game, but the true freshman turned in two huge plays in the passing game, converting both of his targets into receptions for 91 yards and a touchdown. The first of those catches came on a nice, contested grab on his way to the endzone, and the second was of the easier variety downfield due to busted coverage. Flowers had a perfect 158.3 passer rating when targeted in the game.
S Kerry Martin Jr., West Virginia
Martin didn't see extensive playing time, playing just 25 defensive snaps, but the freshman made the most of his time on the field with a 79.5 overall grade. He was targeted twice as the primary coverage defender and allowed just one reception for two yards. Martin also recorded two tackles for the game, one of which was a coverage stop.
S Dell Pettus, Troy
Pettus was tested deep in coverage multiple times from his safety position, seeing an average depth of 27.3 yards on the three targets thrown his way (one of which was nullified by a penalty). Those three targets resulted in a 30-yard touchdown alongside two forced incompletions. Ultimately, the positives outweighed the negatives in the small sample, as Pettus finished the week with a very respectable coverage grade of 78.2.
CB Keeyon Stewart, TCU
Stewart was tested extensively in his first college game, seeing eight targets on 31 coverage snaps, but the true freshman held up to the large workload. Stewart allowed just two of those eight targets to be completed for 39 yards while forcing three incompletions. In all, he allowed a passer rating of 47.4 on passes into his coverage.
S Micah Abraham, Marshall
Like Pettus, Abraham was also targeted three times as the primary coverage defender and gave up a touchdown, though his was of the shorter variety at just three yards. Abraham was strong overall in coverage, however, adding a pass breakup and two coverage stops to his stat line on his way to a 78.0 defensive grade.
S Jalen Graham, Purdue
Graham played a major role in the opener with 82 defensive snaps in his first college game. He didn't make many flashy plays, but he also didn't make any mistakes, finishing the game without a single negatively graded play. Graham was targeted three times in the game and did not allow any completions, forcing two of the passes to fall incomplete himself with tight coverage.
DI Norell Pollard, Virginia Tech
Pollard's stat sheet won't overwhelm you with just one tackle in 28 defensive snaps and no quarterback pressures, but they don't tell the story on his performance. He had an impressive pass-rush snap that left Boston College's left guard reaching at air in the first quarter of their game. Pollard also was disruptive in run defense down near the goal line, pushing his blocker into the backfield on several occasions.
LB Mikel Jones, Syracuse
Across 33 defensive snaps, Jones picked up a 77.3 overall grade in his first college game against Liberty, and it was the run game where he made his mark. Jones recorded a run-defense grade of 84.3 with the highlights including a play in which he flew off the edge to take down the runner from behind in the backfield and a rushing attempt where Jones evaded a blocker to the meet the runner in the hole for no gain.