If this article was a YouTube video, Dirty Money's Coming Home would be the intro music.
The double-platinum anthem by Sean "P. Diddy" Combs and Skylar Grey has a way of painting a mental picture the moment you hear it. Grey's soft yet emotional voice paired with the slow piano melody has a way of evoking feelings of reminiscence and reflection. Then, when the tempo picks up, your blood gets flowing, your head starts nodding and your mind becomes filled with motivation.
The combination of those two feelings is the only real way to start a conversation about Kentucky Wildcats wide receiver Wan'Dale Robinson.
The 5-foot-7, 185-pound offensive weapon is a big reason why the Wildcats have gotten off to a 2-0 start to the 2021 college football season. The program is currently ranked 12th in the country in total offense, with 542 yards per game. Robinson leads their aerial attack with 226 receiving yards, but he's also second on the team in rushing yards with 73.
Those 73 rushing yards come from just three carries, and those 226 receiving yards come from just 10 catches, which exemplifies the kind of big-play talent he is.
In fact, Robinson's first catch of the 2021 season was a 33-yard touchdown to open the scoring against ULM in Week 1, a result he could have predicted before the ball was even snapped.
"Right before that play was called, I remember we had looked over to the sidelines, and then they called it. I was like, 'oh yeah, this is a touchdown,'" Robinson said in a recent interview with PFF.
"They gave me the look that I wanted, and then I crossed that safety space, and I was like as long as Will [Levis] gives me a chance, I'm gonna make the play. So, he put it right where it needed to be."
It's long been believed that Robinson would eventually help bring Kentucky to the forefront of the offensive age in college football. The native of Frankfort, Kentucky, was billed as the next big thing in the Wildcats' football program, even before he stepped foot on campus. As a high schooler just about 30 minutes northwest of Lexington, Robinson rushed for over 6,700 yards with an additional 1,700 receiving yards in his high school career. Big Blue Nation was excited to see that eclectic offensive ability in Mark Stoops' program.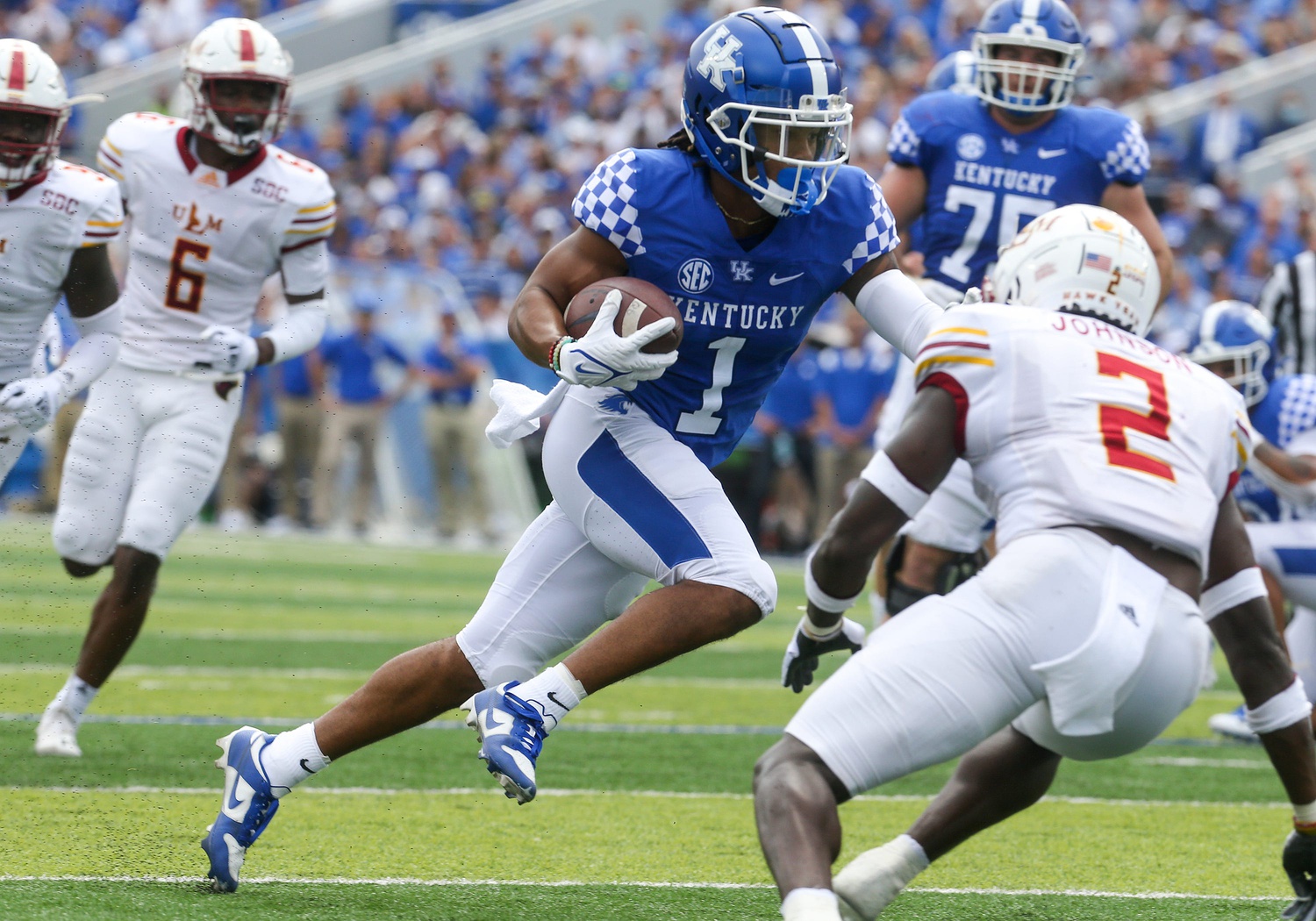 But Robinson's path to racking up yards and scores in Kentucky blue has been a winding one. In reality, it almost never happened. After initially committing to play at Kentucky, the four-star recruit then changed his decision and ultimately chose to go to Nebraska to start his collegiate career. Now, after being named second-team freshman All-American in his first season, we find Robsinson back in his home state for his local team.
The reason was usage, but not a lack of it. Rather, it was the direction of it.
"I didn't expect to play as much running back and do the inside zone as much as I did," Robinson said. "My freshman year, I just kind of did it out of necessity. A lot of running backs got hurt. As a freshman, I'm doing whatever I can to make sure that we're winning and just keeping us in ball games. The next year, kind of the same scenario, and we were just in a lot of close games and weren't really able to figure it out.
"Just really coming to the point where I'm like okay, at the next level, am I really going to be in the backfield taking these handoffs and things like that? I mean, obviously, I know there's a chance that I'll take the jet sweeps and do some schematic things that have me as a running back, and I'm fine with that. I just don't want to be truly stuck back there playing running back and having to learn pass protections and things like that. So, it was really good to get here. And now, I'm really just kind of focusing on receiver. And I'll do some gadget things here and there just because that's my skill set, and I know I can do them and have a history of doing them."
After asking if there was a pass-protection rep in practice or in games that stuck out to him as the moment he realized he didn't want to be doing that too often, Robinson smiled with one instance that came to mind.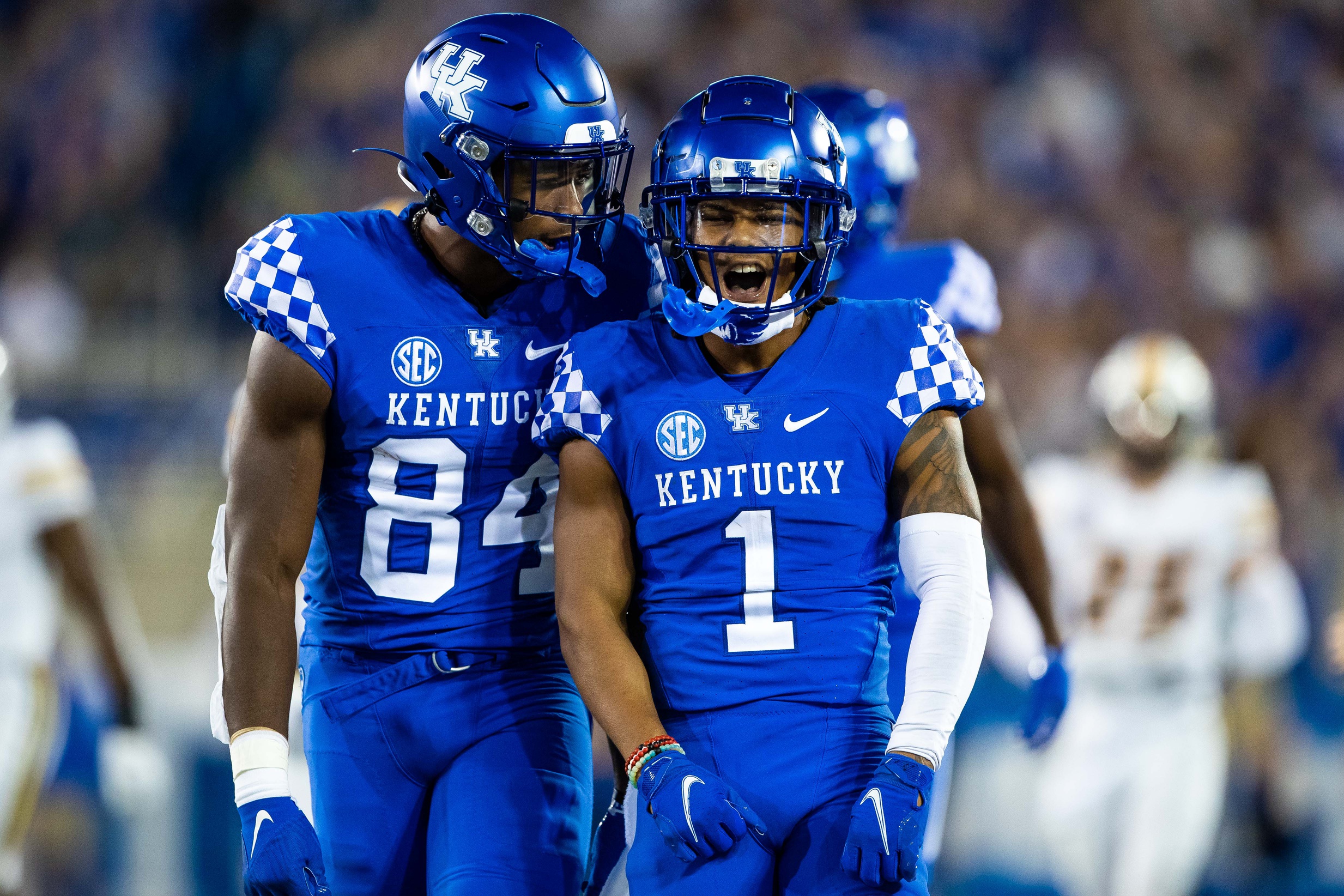 "We were playing Iowa last year. I was playing running back, and they brought a little cross-dog blitz," Robinson said. "And one of the [linebackers] came, and I had cut him. And he didn't fall all the way. He just fell on me, and I was like, 'oh yeah, if I'm cutting him and he's just doing this, this ain't for me.' So, at that point, it was time to make a change."
Robinson doesn't have to take on many linebackers these days. Instead, he's blowing right by them on his way to open space as a slot receiver. His 86.3 PFF overall grade currently ranks fifth among the 87 FBS wide receivers who have seen 15 or more targets. 
Wan'Dale Robinson: PFF receiving stats and rank among 87 FBS wide receivers with 15 or more targets
| | | |
| --- | --- | --- |
| PFF Stats | | Rank |
| PFF receiving grade | 86.3 | 5th |
| Average depth of target | 14.8 | 15th |
| Yards per reception | 22.6 | 6th |
| Yards per route run | 5.26 | 3rd |
| Passer rating when targeted | 145.8 | 10th |
So far, 72.2% of Robinson's snaps have come from the slot, which is an area of play he wanted to focus on when he moved to Kentucky. And not only are the Wildcats playing him where he wants to be played, but they're also getting him involved more than any other receiver. Through two weeks, Robinson has been targeted on 38.6% of his routes, a rate that bests the next closest Kentucky receiver by more than 15 percentage points.
The orchestrator of all that, offensive coordinator Liam Coen, is why Robinson says right now was the right time for him to play for Kentucky, not a few years ago.
"[Liam Coen] wasn't there whenever I was being recruited and things like that, so they were running the ball a lot more whenever I was being recruited," Robinson said.
"It was just a really heavy ground game. And then, off of what Nebraska had done my senior year, just the expectations that were leading up, I was like, that would kind of be a perfect fit for me just because I know I'm gonna be all over the field — I'm gonna play some running back. I'm gonna play some receiver. I'm gonna do a lot of different things.
Obviously, me wanting to go to the next level, I knew for a smaller guy like me, I had to put a lot of things on film, not just one little thing. I had to do a lot of different things just because of my size."
When it comes to what makes Liam Coen, a first-time offensive coordinator at this level, such a great coach to play for, Robinson said it's how he coaches with you, not at you.
"There's an example, we were in practice during camp, and I had run a route a certain way, and he had just kind of asked me why I did that. I gave him my explanation," Robinson said. "He was like, 'well, I mean, I really like that.' He's just kind of open for dialogue. He's understanding why we're doing things. As long as we have an explanation, you can really explain to him why you did something. In that regard, he's always going to listen, and he's always open for an answer."
I watched Robinson's tape earlier this year as a part of some summer scouting. As I did, an easy, very recent player comparison — everyone loves those — popped into my head: Rondale Moore.
I knew there was no way I was the only one who thought that. It was too easy — they both have positional versatility, dynamic after-the-cath ability and served as the focal point of their offense. So, as you can imagine, I was even more excited when I learned that Robinson and Moore are former training partners from their high school days and are still friends to this day.
"He's kind of set the blueprint," Robinson said. "From the moment we started training in high school to going to college and doing the things that we did and obviously wanting to go to the next level. Since my sophomore and junior year, we've been talking about these kinds of things. He obviously set the blueprint going to Purdue, and that was kind of the reason I wanted to go to Nebraska the way I did, just how he was able to have an impact as a freshman. And that's what I wanted to go and do … just be able to be the face of the team wherever I was able to go from the start. So just having him there has been nice, just because I've been able to see him go through everything. I can ask him questions about what he's been through, and he'll let me know anything. That's just been really good."
Naturally, with Rondale putting up 90th-percentile 40 times, vertical jumps and broad jumps at his pro day, I had to ask Robinson if he ever beat Moore at any of those athletic measurements back when they trained together, knowing even if Robinson came close, that would tell you how athletic he is.
"Whenever we trained, our trainer used to just have competitions with us whenever we were doing drills," Robinson said. "Like certain tennis balls and catching footballs and things like that. I know I've definitely gotten him a couple of times in some of those drills… That's a freak. That's one thing I can say about him. He is a freak of nature."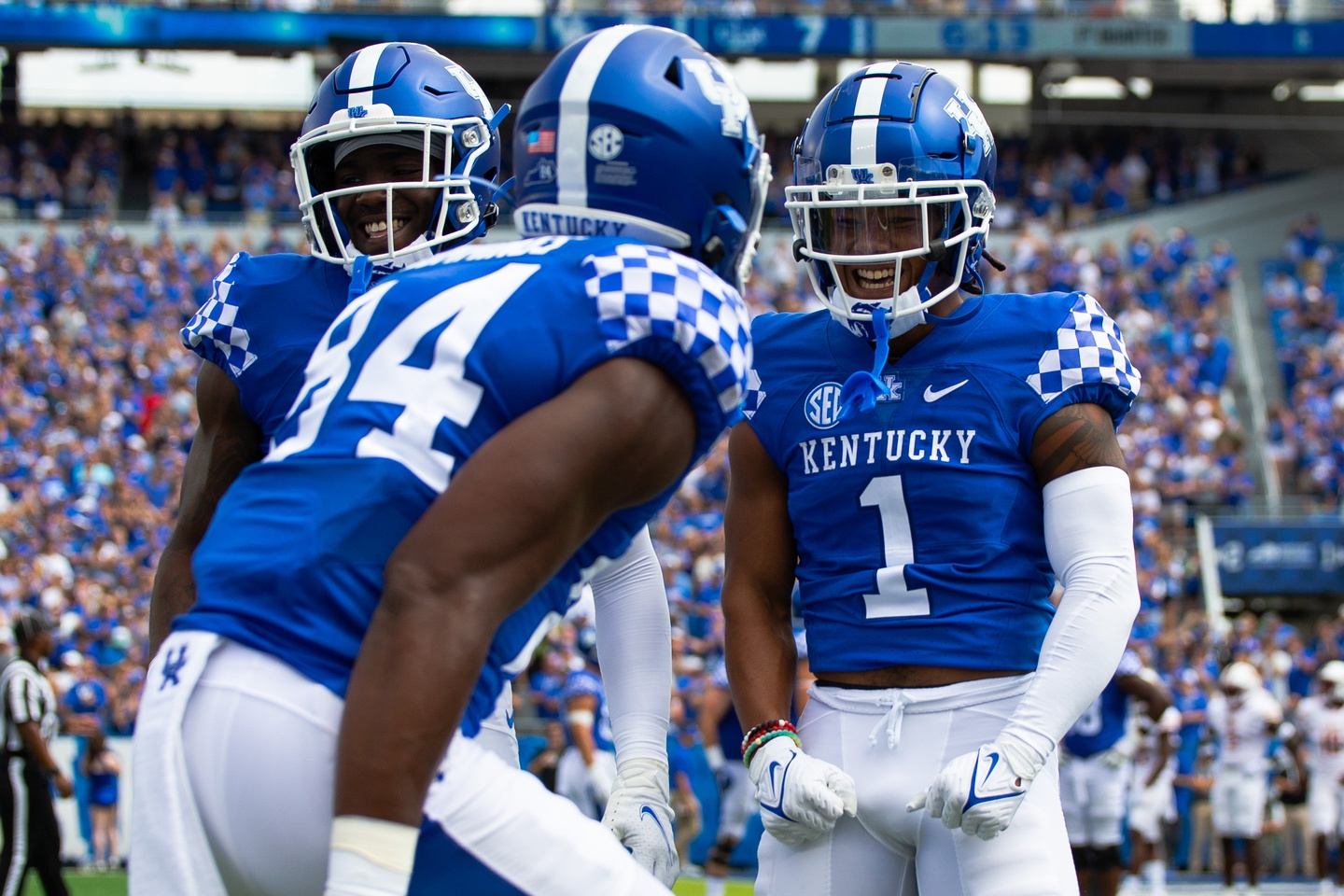 Moore isn't the only pro player Robinson has been trying to emulate this season. His offensive coordinator came to Kentucky this offseason after spending the past three seasons with the Los Angeles Rams.
From 2018-19, Coen served as the Rams' assistant wide receivers coach. By 2020, he was the assistant quarterback coach and was working very closely with head coach Sean McVay. And before Robinson even had the chance to get his pads on for Kentucky, Coen was telling him to watch any and all tape of Rams wide receiver Cooper Kupp.
"We have every single cut-up of the concepts that they have, so I was able to watch Cooper on every cut-up that he ran and every route that he ran," Robinson told me. "With Cooper, he's just efficient. Everything's quick. He's going to get to point A and point B. There's not very many people that I've seen that can cover him one-on-one, especially in the slot. So just really being able to take away from those option routes and those choice routes and things like that. Those were a really, really big deal to me, knowing that I'll run a lot of those at the next level. Really just trying to figure out the counters he has, and some of the moves and setups that he has, it was a really big deal to me."
But Robinson isn't quite where guys like Moore and Kupp are. Not yet, but that will come. For now, he's home. In a place that means so much to him for so many reasons, it's the people he loves the most.
"Everybody here, they welcomed me back," Robinson said. "When I was coming back, I didn't know how I would be welcomed back. When I left, things weren't the best, and everybody was a little upset with me. But coming home, everybody's just been really, really nice and open arms and just welcoming for everything that I need."
As they've given their support to him, Robinson has given back to them — with catches, runs and touchdowns as a leader in Kentucky's must-watch offense.