The running element from the quarterback position is a huge factor in college football, much more so than in the NFL. At PFF we break down our player grades into different aspects of the game, allowing us to see, for example, which quarterbacks were most productive from a rushing standpoint.
Using those grades, along with total yardage, yards per carry, yards per contact and forced missed tackles, we have ranked the best running quarterbacks in college football entering the 2016 season.
Here's the top 10:
1. Greg Ward Jr., Houston Cougars
Ward was the most lethal running threat from the quarterback position in 2015. No QB compiled a higher PFF rushing grade or more total rushing yards. 613 of his 1,201 yards came after contact, a sign of his ability to avoid tackles (he broke 40 in 2015) with his combination of speed, elusiveness and power. He was an incredibly valuable rushing weapon for the Cougars in the red zone, frequently punching it in at close range on designed runs. All told, 19 of his 21 rushing touchdowns (by far the most among QBs) came on designed running plays, but he was still a very effective scrambler as well, frequently extending plays and averaging more than 10 yards per rush on scrambles.
2. J.T. Barrett, Ohio State Buckeyes
As the triggerman in head coach Urban Meyer's run-heavy offense, Barrett's rushing production comes mostly from designed runs as opposed to scrambles. His 2015 numbers took a hit based on the Buckeyes starting the season with Cardale Jones under center, but he still managed to rush for 702 yards (5.9 yards per carry), with 322 of those coming after contact on the strength of his 22 missed tackles. That pales in comparison to his 2014, when he was the top-graded rushing QB in all of college football. He will have to find a new read-option partner, with RB Ezekiel Elliott being drafted fourth overall by the Dallas Cowboys, but Barrett should once again be a force in the Buckeyes' rushing attack on designed running plays in 2016.
3. Lamar Jackson, Louisville Cardinals
Jackson figures to be at the top of many breakout player lists this offseason, and even though he graded very poorly as a passer last season (he tied with Penn State's Christian Hackenberg at No. 130 of 157 qualifying QBs in PFF passing grade), it's easy to see why: He is one of the top running threats in all of college football. No QB with 100 or more rushes had a higher yards per carry average than Jackson's 8.1 last season, and he looked more like a running back or wide receiver than a quarterback once he got into the open field, using his combination of vision, elusiveness and breakaway speed to produce huge gains. The majority of his carries came on designed runs, and he's clearly a weapon when keeping on read-option plays, but he was perhaps most dangerous when he scrambled after the play broke down. Of his 37 forced missed tackles last season, 20 came on scrambles.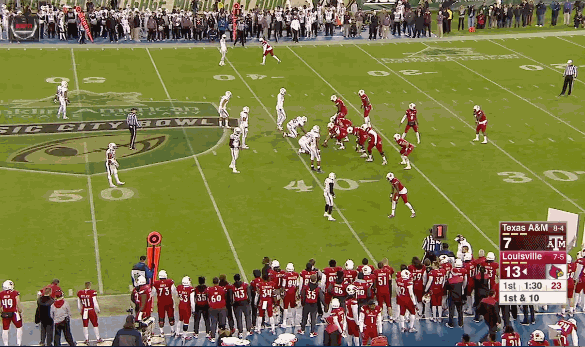 4. Matt Davis, SMU Mustangs
Like some of the other players on this list, Davis earned a negative passing grade in 2015, and overall the Mustangs had a very disappointing 2-10 season. But one bright spot was Davis' ability as a runner, earning the fourth-highest rushing grade in the country. 563 of his 1,053 rushing yards came after contact, a reflection of his ability to bounce off of tackles and stay on his feet. In total, he broke 48 tackles last season, most among quarterbacks, including 21 on scrambles. There's lot of improving for the Mustangs to do this season, including their passing attack, but Davis can create a lot on his own with his legs.
5. Deshaun Watson, Clemson Tigers
Heisman finalist Watson earned the highest rushing grade among returning Power-5 QBs last season, running for 1,174 yards and 12 touchdowns on 207 carries. He was good both on designed runs and scrambles, and led the Tigers to a near-upset of Alabama in the national title game in part due to his rushing success, recording 89 yards on 17 carries, including 45 yards after contact and two forced missed tackles. Watson is also one of the best passers on this list, making him a candidate to be the top quarterback in college football this season as well as a possible first-round draft choice in the 2017 NFL draft.
6. Josh Dobbs, Tennessee Volunteers
The Vols might have the nation's best running back tandem in Alvin Kamara and Jalen Hurd, and Dobbs gives them another rushing weapon out of the backfield. He hasn't yet taken the next step as a complete quarterback, having posted a negative passing grade in his career, but his running chops are legitimate. He forced 45 missed tackles last season, which is an outstanding number, excelling both as a power runner on designed rushing plays and as a scrambler on broken plays. His top rushing performance of the year came in a 38-31 win over Georgia, when he broke a ridiculous 12 tackles, including several on this masterpiece of a run: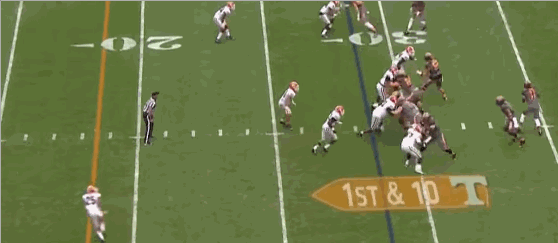 7. Quinton Flowers, USF Bulls
Only Ward earned a higher rushing grade among returning QBs last season than Flowers. The majority of that success came on designed runs that showcased Flowers' combination of power and speed, and he demonstrated better ball security than most of the other quarterbacks on this list, fumbling just twice as a runner all season. His two top-graded rushing performances came in conference wins over UConn and Temple, running for a combined 194 yards and forcing eight missed tackles.
8. Patrick Mahomes II, Texas Tech Red Raiders
Mahomes' raw rushing stats aren't as impressive as some of the other QBs on this list, but he produced plenty of highlight-worthy plays with his legs last season. He was particularly magical in his ability to maneuver within the pocket and find receivers downfield, but that translated into runs as well: He rushed for 383 of his 576 total yards on scrambles, with 14 of his 21 forced missed tackles coming on scrambles as well. He was also an effective player on designed runs in the red zone, finishing the season with 10 total TDs despite not producing a run of longer than 25 yards all season.
9. Baker Mayfield, Oklahoma Sooners
Mayfield ranked No. 1 in overall QB grades among returners last season, which was boosted by his No. 17 rushing grade. He did a great job of evading pressure in the pocket, resulting in a lot of highlight-reel throws and a QB rating versus pressure that would have ranked No. 1 among all QBs overall – a remarkable feat. 386 of his 598 yards came on scrambles, including three of his seven TDs and 16 of his 23 forced missed tackles, so he's less of a threat on designed runs than most guys on this list, but overall he does plenty with his legs to make him even more difficult for opponents to defend.
10. Seth Russell, Baylor Bears
Russell missed the second half of 2015 due to a season-ending neck injury, but what he did on the ground in his first few games was very impressive. He totaled 410 yards on 46 carries, good for 8.9 yards per carry, with all six of his touchdowns and 10 of his 13 broken tackles coming on designed running plays. His dual-threat ability makes him a potential Heisman contender in 2016, provided he stays healthy and doesn't have to split time with the QB who replaced him in the starting lineup last year, Jarrett Stidham.