This weekend brings with us the best matchup of quarterbacks so far this season: Clemson's Deshaun Watson (the preseason Heisman front-runner) versus Louisville's Lamar Jackson (the current Heisman front-runner).
Colleague Steve Palazzolo examined which of those quarterbacks he'd take right now to win a college football game, if given the choice, but there's no debating that both rank among the best signal-callers in the sport right now.
Who are the nation's top QBs based on their performances so far this season? We ranked the top 10 below:
1. Lamar Jackson, Louisville Cardinals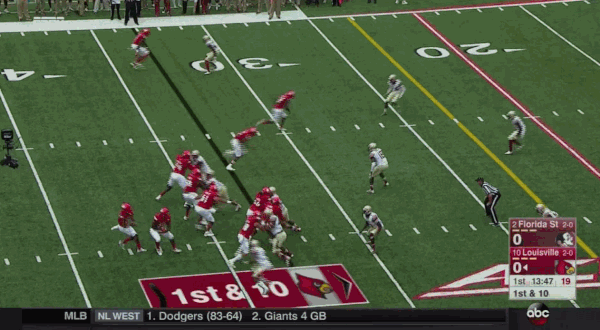 Jackson has earned the second-highest QB grade so far this season. He has been close to unstoppable as a runner and has displayed enormous improvement as a passer from last season to this year. He is third in the nation in passer rating and tied for sixth in deep-ball adjusted completion rate, throwing on target on 50 percent of his throws of 20-plus yards. He has been particularly effective when using play-action fakes, preying on defenses who have to respect his running ability and the run game of the Cardinals as a whole, earning a near-perfect passer rating of 142.0 on play-action dropbacks.
2. Patrick Mahomes II, Texas Tech Red Raiders
In his three games this season Mahomes has been spectacular, and while we will have to see if he can continue to perform at the same level once he reaches the meat of Texas Tech's conference schedule, there's no denying what he's done so far. He ranks first in PFF QB grades, first in passer rating, and third in adjusted completion rate. Like Jackson, his athleticism brings another dimension, as Mahomes regularly turns out highlight-reel plays on scrambles and owns a sack percentage of just 8.9, meaning he is one of the toughest QBs to get on the ground even once he's been pressured. His passer rating on play-action dropbacks is a perfect 158.3.
3. Davis Webb, California Golden Bears
The Texas Tech transfer and successor to No. 1 overall pick Jared Goff is off to a great start this season, earning the fifth-best grade among all college quarterbacks. Unlike the two QBs mentioned above, who have won in part due to their legs and ability to extend plays, Webb has thrived in the Bears' quick-strike passing game. His time-to-throw of 2.33 seconds is the sixth-fastest in the nation, and his passer rating of 128.5 on throws that are out of his hand in 2.5 seconds or less ranks second.
4. Deshaun Watson, Clemson Tigers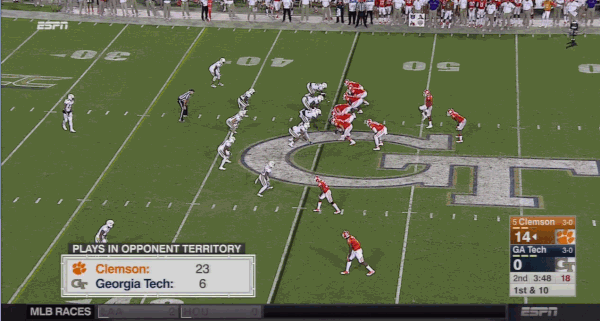 Watson hasn't yet been as dominant as he was a season ago, ranking just 15th in PFF quarterback grades so far. But he appeared to have knocked off most of any remaining rust with a strong performance in last week's win over Georgia Tech. Like Jackson and Mahomes, Watson's athleticism brings another dimension, and last season he graded as the second-best running QB in the country behind Houston's Greg Ward Jr. But he has also demonstrated a penchant for getting rid of the ball quickly this season, with a time-to-throw of 2.20 seconds that is third-fastest in the country.
5. Seth Russell, Baylor Bears
Russell graded extremely well last season prior to his season-ending injury in October, and he's off to a fast start in 2016, including a very impressive performance in last week's win over Oklahoma State. He has earned the seventh-highest PFF grade among quarterbacks so far, and has picked apart defenses with a passing attack that is both extremely heavy on play-action (66.9 percent of dropbacks include play-action, the highest rate in the country) and on quick throws (time-to-throw of 1.94 seconds is nation's fastest).
6. Austin Allen, Arkansas Razorbacks
Allen graded well through the first three weeks of the season but had a breakout performance in the Razorbacks' 45-24 loss to a very good Texas A&M team. He was 28 of 40 on aimed passes for 372 yards and two touchdowns, grading very well on pass attempts of 10 or more yards and on pressured dropbacks. For the season he ranks third in PFF grades, and has excelled on high-degree-of-difficulty throws. He has been under pressure on 40 percent of his dropbacks, the second-highest rate in the nation, and 63.3 percent of his passing yards have come in the air – the fifth-highest rate in the nation, and a sign that he isn't just racking up stats with short throws that produce big gains after the catch.
7. Baker Mayfield, Oklahoma Sooners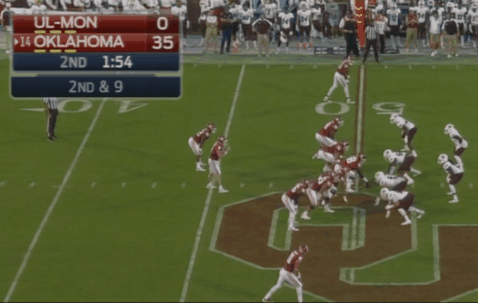 The Sooners have seen their playoff hopes whittle away in their 1-2 start, but seeing as how those two losses came against legit national title contenders in Houston and Ohio State, it's hard to give Mayfield too much blame for them. Moreover, he has actually performed at a high level so far this season, albeit not as high of a level as he did a year ago. His passer rating when blitzed is nearly perfect this season.
8. Jake Browning, Washington Huskies
Browning currently ranks 16th in PFF QB grades and has the potential to end this season as one of the best passers in the nation. He stood out as a true freshman last season for his ability to execute deep throws as well as passes when under pressure of the opposing pass rush, and he has been good in both areas so far this season. He graded very well in UW's win over Arizona last weekend, and he faces a showcase game this Saturday night at home versus the seventh-ranked team in the country in Stanford.
9. Chad Kelly, Ole Miss Rebels
There is plenty of up-and-down to Kelly's game, but he still measures up as one of the best quarterbacks in college football this season. He ranks fifth in passer rating and third in deep-ball adjusted completion rate – the latter of which is particularly impressive given that 22 percent of his pass attempts travel 20 or more yards downfield, the sixth-highest rate in the nation. Even more impressive: He has performed well despite being under pressure on 36 percent of his dropbacks, the seventh-highest rate in the nation, and 70 percent of his yards have come in the air, the second-highest rate. There hasn't been any padding to Kelly's stats this year.
10. Mitch Trubisky, North Carolina Tar Heels
Tabbed by PFF in the preseason as a potential breakout candidate based on his per-snap grading as a backup last season, Trubisky is starting to establish himself as one of the nation's best QBs. He has graded well in all four of his games so far this season, including the season-opening loss to Georgia, and was outstanding in last week's win over Pittsburgh with a 453-yard, 5-TD, 0-INT performance. He is the owner of the second-best adjusted completion rate on throws under pressure, at 81 percent.