Offensive line play often gets overlooked in football analysis, because it's not flashy and doesn't always lead to obvious highlights. But evaluating every play of every game, like we do at Pro Football Focus, leads to some special views of every position. Here is a look at five of the top returning offensive linemen in college football.
Dalton Risner, tackle, Kansas State
Risner is one of the most efficient players in college football. This is a credit to the coaching and scheme of the Wildcats offensive line and also his talent and skillset. Risner may project as a guard at the next level, but his play has been reminiscent of Cincinnati Bengals tackle Andrew Whitworth as he plays "long" with his arms generating leverage at the point of attack. Risner plays with great extension in hands and arms to keep defenders off his chest to avoid being thrown off of pass and run blocks in ways you don't see often in college football offensive lineman. When run-blocking, Risner demonstrates the understanding of angles as he puts his body in position to block the defender in the appropriate relationship relative to where the ball carrier is attempting to run. Risner can get overpowered from time to time, but he was consistently one of the better performers at tackle we saw, as he finished the 2016 campaign as our sixth-highest rated tackle overall.
Will Hernandez, guard, UTEP
Hernandez won PFF's award for best pass protector across college football this season. It's not the fact that he didn't allow a sack or hit as much as defenders consistently seem to end up on the ground around him. UTEP employs a power-blocking scheme, making Hernandez look like a guy who could star on an offensive line like the Oakland Raiders' in their heavy power-blocking schemes. Hernandez was our top run-blocking guard in 2016 and amazingly allowed only one QB hurry the whole season.
Wyatt Teller, guard, Virginia Tech
Teller has power in his delivery when blocking that is fun to watch. He has struggled with consistency at times, which can be expected as a player develops, but his explosion along with his movement in space on pull blocks and working to second level can take your breath away. Wyatt finished 2016 as our seventh-highest-rated guard. Teller can take huge steps next year and solidify his spot as one of the top guards in the nation.
Frank Ragnow, center, Arkansas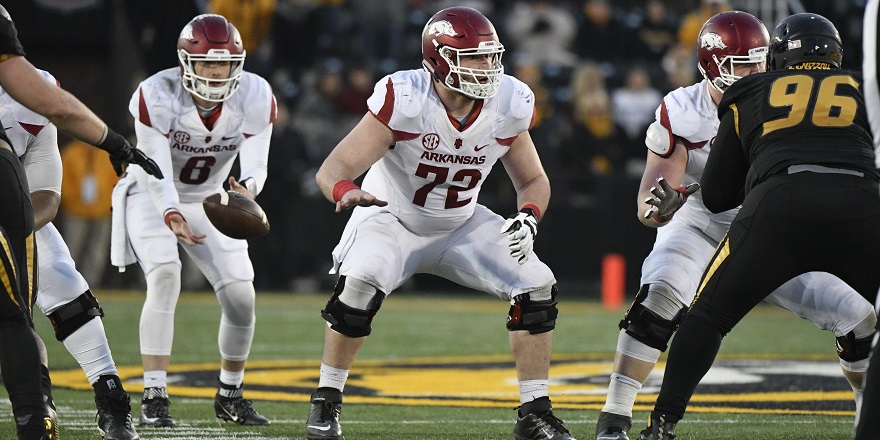 There isn't much to say about Ragnow other than he could help some NFL teams next year if he was eligible to enter the NFL Draft. Our highest-graded center (by a wide margin), Ragnow's ability to execute in run blocking at the first and second levels coupled with his size and athleticism make his skill set hard to find in a lineman. Ragnow can improve as a pass protecter, but because of his size and length he could play more than just center at the next level if need be.
Brian O'Neill, tackle, Pittsburgh
O'Neill may be the most unrefined player on this list, but you will not find a lineman who was asked to do more in 2016. In Pitt's flashy offense, O'Neill played both left and right tackles at various times. Asked to block down on power plays and reach wide defenders on jet sweep runs, O'Neill found himself as a focal point of Pitt's offense. O'Neill's versatility is reflected in his grades, as he finished 2016 as PFF's 11th-highest-graded tackle. O'Neill is set to have a breakout 2017 season.