Signing day is almost upon us, and with that in mind, it's time for us to look to the biggest need for each team in the SEC. Though some of these positions will be filled with JUCO transfers, and some will even see true freshmen step in and play right away, this is a look at which positions they have lost the most from through players graduating or leaving for the draft, and which positions they need a new player to step in and fill a role for.
Alabama: Secondary
As loaded as the Alabama defense was last year, the Crimson Tide secondary was their biggest issue, particularly after safety Eddie Jackson was lost for the season through injury. Jackson is now on his way to the NFL, and is joined by Marlon Humphrey, the team's second-best cornerback last year. While Humphrey did give up 16.9 yards per catch over the past two seasons, he also made his share of plays on the ball, so he will be a big loss in that secondary. They do return their top player there in the versatile Minkah Fitzpatrick, but players will need to step up if Alabama doesn't want to be exploited like it was late in the game against Clemson in 2017.
Arkansas: Tight end
After losing Hunter Henry to the NFL draft a year ago, it's now Jeremy Sprinkle's turn to go pro, and this time the Razorbacks don't appear to have anyone waiting in the wings to take over and impress straight away. Sprinkle was nothing special as a run blocker, but did some nice work as a receiver, dropping just two of the 35 catchable passes thrown his way. With talent at the wide receiver position, having someone step up at tight end could help the Razorbacks have one of the best receiving groups in the SEC in 2017.
Auburn: Pass rush
Another team who are losing their top pass-rusher, the Tigers see star defensive player Carl Lawson head to the NFL this year. One of the nation's top pass-rushers, he racked up nine sacks, 13 hits and 45 hurries in 2016. On top of that, they also lose their next best pass-rusher, in defensive tackle Montravius Adams. Between the two of them, Auburn is losing 17 sacks, 22 hits and 66 hurries, with no other player picking up more than three sacks, or 22 total pressures in 2016. Auburn's offense has the potential to improve next year, but they need to find a way to get production from their pass rush to make sure the defense doesn't fall away.
Florida: Cornerback
After losing star cornerback Vernon Hargreaves to the NFL last year, this year the Gators are losing both starting cornerbacks in Quincy Wilson and Teez Tabor, creating a big hole in their production in the defensive backfield. Tabor made life miserable for opposing wide receivers in 2016, giving up just 20 receptions for 276 yards, with only one touchdown allowed. He also picked off four passes and broke up six more. Wilson gave up even fewer receptions into his coverage, with just 16 passes being caught against him. He allowed an NFL passer rating of just 29.9 on throws into his coverage. Losing both of these guys will be tough for Florida, and the team will need several players to step up and fill the void.
Georgia: Offensive line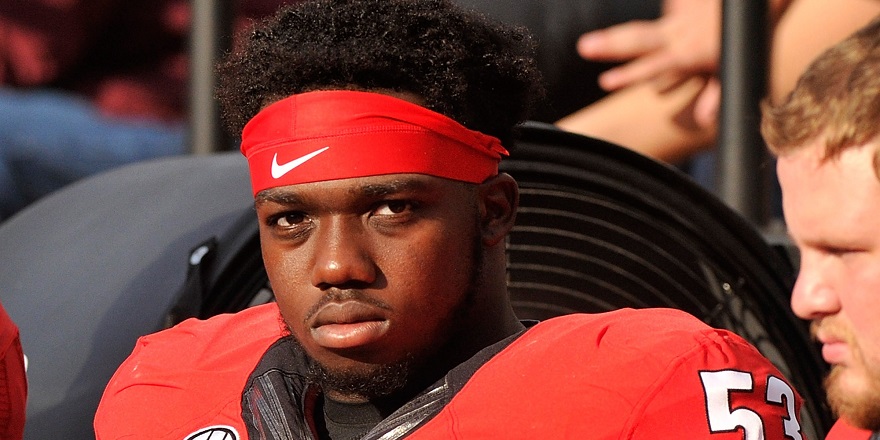 The Georgia offensive line had just two players finish 2016 with even an average grade, in center Brandon Kublanow and guard Lamont Gaillard. With Kublanow graduating, the Georgia offensive line loses its best player, and someone who allowed just one sack and six pressures in 2016. It's of even bigger importance in the running game, where Nick Chubb returns for his senior season, and could use as much help as possible to give him free runs and linebackers and defensive backs. Chubb forced 39 missed tackles on 223 carries last year, and will be looking to build on that in 2017.
Kentucky: Wide receiver
Kentucky need to find a playmaker at wide receiver this spring. The team's leading receiver, Jeff Badet, who led the team with 670 receiving yards, has left the team via a graduate transfer, leaving a big hole in terms of playmaking pass catchers. Dorian Baker did show flashes down the stretch, but still had only 14 receptions, and dropped two of the 16 catchable passes thrown his way. They may be hoping for a guy like Garrett Johnson, who forced 10 missed tackles on 39 receptions in 2016, to step up and be the team's most dangerous playmaker, but in losing Badet this has become a huge need for the Wildcats.
LSU: Secondary
By the time the first day of the NFL draft is over, LSU will likely have seen two players from the secondary having their names called. Safety Jamal Adams was the best safety in the nation in 2016, and losing a player who impressed so much both against the run and in coverage creates a huge hole defensively. Tre'Davious White was tied for the highest coverage grade among cornerbacks in all of college football last year, allowing just 302 yards on 25 receptions from the 60 passes thrown into his coverage. With those two headed to the big leagues, at least two players in the LSU secondary will have to step up in a huge way.
Mississippi State: Offensive tackle
Quietly, Mississippi State right tackle Justin Senior was the second-highest-graded tackle in the SEC last year. Though he had his struggles against Tim Williams and Alabama, where he allowed a sack, a hit and two hurries, his overall production as a pass protector will be a big loss for the Bulldogs. Outside of that game against Alabama, he allowed just two sacks, no hits and eight hurries in pass protection, and unless someone can step up in 2017, it's tough to see them allowing less pressure from the right tackle spot next year.
Missouri: Pass rush
Missouri was essentially a factory for defensive ends going to the NFL for several years. From Kony Ealy to Shane Ray and Markus Golden and now Charles Harris all going high — or being viewed as high — NFL draft picks. The thing is, though, they've always had someone waiting in the wings to take over. This year, with Harris heading to the NFL, they lose his 10 sacks, 18 hits and 33 hurries, and unlike two years ago when Ray and Golden left, there isn't a player who has shown the production to replace Harris like he replaced them.
Ole Miss: Pass catchers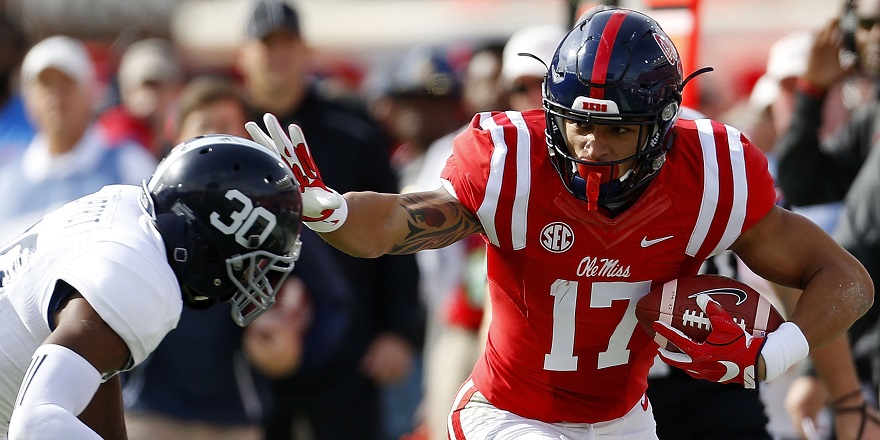 In wide receiver Damore'ea Stringfellow and tight end Evan Engram, Ole Miss are losing its two best pass catchers heading into the 2017 season. Stringfellow dropped 10 of the 56 catchable passes thrown his way last year, but did also score six touchdowns. The loss of Engram hurts even more though, given his versatility to move around. No tight end in all of college football averaged a higher yards-per-route-run average from the slot than Engram did at 2.61, and that production will be incredibly tough to replace.
South Carolina: Pass rush
The Gamecocks have talented players on their defensive line, but they really lack talent when it comes to pass-rushers. Their leading pass-rusher, Darius English, is on his way to the NFL, taking with him a 10-sack, 6-hit, 14-hurry season. No other player on the South Carolina defense had more than two sacks a year ago, and nobody had more than 14 total pressures. That's an incredible lack of production, and if they want to compete in the SEC East next year, they need to find a way to get after quarterbacks.
Tennessee: Pass rush
Losing a player like Derek Barnett is never easy, and when you look at his production in 2016, it's even harder to stomach for Tennessee fans. Barnett was one of the top pass-rushers in all of college football last year, racking up 13 sacks, 22 hits and 41 hurries, and will likely go on to have a very productive NFL career. Tennessee also lost their second-best pass rusher in Corey Vereen, who produced seven sacks, four hits and 29 hurries a year ago. Outside of those two, no Tennessee player had more than two sacks, or 17 total pressures, so this is a huge area of need for 2017.
Texas A&M: Pass rush
Speaking of tough to replace, the Aggies will likely see their star player drafted with the No. 1 overall pick in the 2017 NFL Draft. Myles Garrett has been one of the top players in the nation in each of the past three seasons, and leaves Texas A&M having racked up 31 sacks, 35 hits and 99 hurries in that span. It hurts even more because they are also losing Daeshon Hall, who racked up 38 total pressures in 2016. Outside of those two, no Texas A&M player produced more than five sacks or 20 total pressures last year, so expect to see a big drop off here.
Vanderbilt: Quarterback
Vanderbilt need to improve at the quarterback, and it needs to be more than just flashes from Kyle Shurmur. This doesn't necessarily mean that they need an incoming quarterback to be the guy, but in the very least they need to see an improvement from Shurmur. While he had three impressive performances, he also had his share of bad showings, and struggled under pressure, where his completion percentage dropped 12.7 percent, and his NFL passer rating dropped 23.5 points. If Vanderbilt has any chance to compete in the East next year, the team needs to improve here.