When the purple and gold confetti fell from the rafters of the Mercedes-Benz Superdome last January, it didn't just signal the culmination of the 2019 college football season or secure LSU quarterback Joe Burrow's status as the first overall pick of the 2020 NFL Draft — it also brought PFF College's sixth season of grading every player on every play of every game to a triumphant close.
There have been over 60,000 player seasons recorded in that span, but only a select few can be considered the best of the PFF College era. So, using a combination of PFF grades and PFF's wins above average (WAA) metric, we present the best single seasons we have ever seen at the FBS level.
[Editor's note: Click this link to see PFF's 2020 NFL Draft grades for all 32 teams. And if you haven't already, be sure to pick up a copy of PFF's 2020 NFL Draft Guide by subscribing to PFF EDGE or ELITE.]
QUARTERBACK —  JOE BURROW, LSU (2019)
Kyler Murray (2018) and Baker Mayfield (2017) were once neck and neck for this accolade, but Burrow's performance last year blew them both out of the water. The LSU signal-caller shattered records across the board in 2019, and he did it while playing against the toughest possible competition.
Burrow started 15 games this past year, with seven of those coming against top-10 teams. All he did was record a 93.4 PFF overall grade in those seven games. Burrow ended the season ranked first among qualifying FBS passers in adjusted completion percentage and passer rating from a clean pocket. He ended the season with nine more big-time throws than anyone else at the position.
Most valuable players in the @PFF College era in PFF wins above average:

1. Burrow (2019) – 2.95
2. Mariota (2014) – 2.36
3. Murray (2018) – 2.33
4. Mayfield (2017) – 2.32

Friendly reminder that Burrow's 2019 season was stupid good and unlike anything we have ever seen. pic.twitter.com/UrvnZDOLVB

— Anthony Treash (@PFF_Anthony) February 6, 2020
RUNNING BACK — KAREEM HUNT, TOLEDO (2016)
This one was an incredibly close race between Hunt's 2016, Christian McCaffrey's 2015 and Ezekiel Elliott's 2014, but Hunt wins this one by a hair.
Every year there is only a handful of running backs who are genuinely great as both a rusher and a receiver, but no one has been able to emulate what Hunt was able to do in 2016. That year, he produced elite 90.0-plus grades in both facets of play and was just a nightmare to defend in the MAC.
There was one game, in particular, in which Hunt had his way with Western Michigan (Week 13) and had one of the best games of the PFF College era. Here are his stats for that game:
Kareem Hunt: Week 13 of 2006 vs. Western Michigan
| | |
| --- | --- |
| PFF grade | 99.9 |
| Carries | 20 |
| Broken tackles | 17 |
| Explosive runs | 7 |
| Yards per carry | 10.0 |
| Receptions | 3 |
| Broken tackles | 6 |
| Yards per reception | 24.3 |

WIDE RECEIVER —  AMARI COOPER, ALABAMA (2014)
Ja'Marr Chase's 2019 came really close to taking the top spot here, but he just fell short of beating Cooper's 2014 campaign when the Alabama pass-catcher posted a 93.3 receiving grade.
Cooper averaged 3.99 yards per route run that season, an incredible figure for an SEC wide receiver. He was also dangerous after the catch on screen passes and generated an elite 90.0-plus PFF grade and 11.0 yards after the catch per reception across his 30 screen receptions.
TIGHT END — HARRISON BRYANT, FLORIDA ATLANTIC (2019)
Harrison Bryant put up some serious numbers in Florida Atlantic's offense this past year. He posted a 92.9 receiving grade overall on the year and did damage specifically when lined up in the slot or outside. On those reps, Bryant recorded a 90.3 receiving grade (next best was 75.6) and averaged over a full yard more than anyone else on a per-route basis, ending the season with an average of 3.33 yards per route run.
I should note here that the Cleveland Browns selected Bryant with the 115th overall pick of the 2020 NFL Draft, but his performance in college has nothing to do with how he will fare at the next level. For what it's worth, Mike Renner — PFF's lead draft analyst — has concerns with his athleticism and strength. Still, Bryant's 2019 season at Florida Atlantic goes down as the best we have seen.
OFFENSIVE TACKLE — PENEI SEWELL, OREGON (2019)
After earning an 84.0 overall grade in only seven starts as a true freshman in 2018, Sewell came back this past year and beat out Ryan Ramczyk's 2016 season for the best we have ever seen by a tackle.
While he shined as both a pass-blocker and a run-blocker, recording a 90.0-plus PFF grade in both facets, Sewell did his very best work in the run game — he earned a 95.6 run-blocking grade and led the FBS in big-time blocks (PFF's highest-graded blocks).
Penei Sewell is just an absolute unit.

His 2019 was the best @PFF_College has ever seen by a tackle. pic.twitter.com/iQmHy5WCKa

— Anthony Treash (@PFF_Anthony) April 28, 2020
OFFENSIVE GUARD — QUENTON NELSON, NOTRE DAME (2017)
Nelson earned PFF overall grades of 85.2 and 85.4 in his first two seasons at Notre Dame, but he took it to a whole new level in his final season. He earned a 92.2 overall grade on the year, recording more big-time blocks than anyone else by a large margin, and he allowed only five pressures all year long.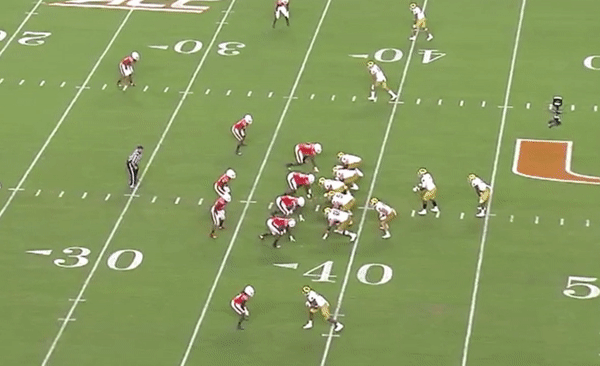 CENTER — AUSTIN BLYTHE, IOWA (2015)
Blythe was solid in pass protection in 2015, but that's not the reason he makes this list. The Iowa center consistently made holes in the run game for the Hawkeyes that season, recording an incredible 95.4 run-blocking grade on the year. Frank Ragnow (2016) is the only other Power 5 center who comes close to Blythe's 2015 season when it comes to PFF WAA.
INTERIOR DEFENSIVE LINEMAN — QUINNEN WILLIAMS, ALABAMA (2018)
Quinnen Williams' 2018 is up there with Joe Burrow's 2019 season in the sense that his standing at the top isn't even close to being challenged.
In his first season as a starter, Williams posted a 96.0 overall grade and grades of 96.5 in run defense and 92.5 as a pass-rusher. His tackling was also near-perfect, as he missed only two tackles on 64 total attempts. There really wasn't a single game he played in that could have been considered a "bad" performance — he graded above 77.0 in every single contest.
Most single-season WAA among interior defensive linemen (since 2014)
| | |
| --- | --- |
| Player, school and season | WAA |
| 1. Quinnen Williams, Alabama (2018) | 0.84 |
| 2. Christian Wilkins, Clemson (2018) | 0.60 |
| 3. Maurice Hurst, Michigan (2017) | 0.58 |
| 4. Jonathan Allen, Alabama (2016) | 0.54 |
| 5. Solomon Thomas, Stanford (2016) | 0.50 |

EDGE DEFENDER — CHASE YOUNG, OHIO STATE (2019)
The fact that Ohio State's Chase Young, Nick Bosa and Joey Bosa all own the three best seasons by a Power 5 edge rusher is pretty remarkable. Young's 2019, however, shattered the previous record for the highest pass-rush grade we have given out, finishing at an incredible 96.4. He recorded 25 combined sacks and hits, six forced fumbles, and he generated at least three pressures in all but one game. And in the one game he didn't, Northwestern used rollouts and avoided him at all costs.
LINEBACKER —  REUBEN FOSTER, ALABAMA (2016)
Regardless of his role, Foster was a headache to face in 2016. He posted a 92.9 grade overall on the year and was lights out as a run defender, ultimately earning a 94.9 run-defense grade and a 16.3% run-stop percentage (first) while missing only five tackles on 97 attempts.
He also allowed 50 or fewer yards in coverage in every single game, and all but four of those games saw him allow fewer than 20 yards. Foster even impacted the game as a blitzer, generating 22 pressures on 93 pass-rush snaps. Put simply, Foster just did everything at a high level for Alabama in 2016.
CORNERBACK — DEREK STINGLEY JR., LSU (2019)
He didn't win SEC Freshman of the Year for his 2019 campaign, but he should have. In fact, Stingley's season was the best season we have seen by an FBS cornerback.
At just 18 years of age, Stingley not only recorded a 91.9 PFF overall grade across a whopping 94 targets, but he also allowed just a 38% catch rate. He also forced more contested targets than anyone else in 2019 (34) and allowed only 10 catches in those situations while intercepting five passes and forcing 19 total incompletions. He did all of this as an 18-year-old true freshman in the best conference in college football.
SAFETY — JABRILL PEPPERS, MICHIGAN (2016)
Peppers was one of the most versatile college players we have ever come across — he could play inside linebacker, lockdown the slot, rush the passer off the edge, impact the game as a returner … he even played 58 snaps on the offensive side of the ball. Peppers produced 0.64 WAA in his 2016 campaign, significantly higher than the next closest season by a safety (0.58).
KICKER — DANIEL CARLSON, AUBURN (2016)
Of course, we have to give you the best kicker and punter seasons, and the honor of the best kicker season of the PFF College era belongs to none other than Daniel Carlson in 2016. That year, Carlson put up a 95.1 grade and made 28 of his 32 attempts, four of which came from 50 or more yards out.
PUNTER — BRADEN MANN, TEXAS A&M (2018)
Mann has represented the brand incredibly well over the last couple of years at Texas A&M, with his 2018 Ray Guy Award-winning season being the best we have seen. He earned a 95.3 punting grade on the year, averaged 51.0 yards per punt (two yards more than anyone else) and had one that went as far as 82 yards.