A locked-in college football schedule with no sudden changes. Tailgates with friends and family. Stadiums packed to the brim. Students storming the streets after a major upset win. It's all coming soon — the college football landscape is returning to normal.
The 2021 college football season kicks off in just under two months, and what better way to prepare than by running through PFF's preseason awards. The 600-page PFF College Football Magazine and PFF Preseason All-America Team dropped on Monday, and 10 all-conference teams will be hitting PFF.com throughout the week.
Below is the PFF 2021 Preseason All-SEC Team. The side below was selected with the help of PFF grades and advanced statistics, which are now available to PFF's CFB Premium Stats+ Subscribers.
Note: Georgia wide receiver George Pickens would have earned a WR spot had he not suffered a knee injury that will keep him out of the 2021 season.
QUARTERBACK
Corral gets to orchestrate a favorable Lane Kiffin offense, but he led that offense to near perfection last season. His Week 7 performance against Arkansas was the only blip, as he racked up six interceptions and earned a 30.8 passing grade in that nightmare start. Despite that, Corral still earned a 90.5 PFF grade for the season — he was that good the rest of the year.
Corral piled up the fifth-most deep passing yards (1,265) in 2020. On throws of 10-plus yards downfield, the Ole Miss quarterback ranked fifth in percentage of accurate passes thrown. Even with that six-interception performance, he still managed to rank in the top 20 in the FBS when it came to negatively graded throw rate. He paired that with the 11th-best positively graded throw rate, making him one of six Power Five quarterbacks to rank in the top 20 in both categories.
Second-Team: Myles Brennan, LSU
Third-Team: Emory Jones, Florida
Honorable Mention: Connor Bazelak, Missouri
RUNNING BACK
Bigsby finished the 2020 season as the fifth-most-valuable first-year non-quarterback in the country, per PFF Wins Above Average (WAA). For those who don't know, running backs actually do matter in college football.
The 2020 four-star recruit who ranked 40th nationally, according to 247Sports, was easily among the most elusive ball carriers in college football last year. His strong contact balance was on full display as he came away with the fifth-most broken tackles per attempt (0.34) in the FBS.
The 6-foot, 204-pound freshman was the third-highest-graded ball carrier in the FBS behind Javonte Williams and Khalil Herbert before suffering an injury in Week 12 against Tennessee.
Second-Team: Jerrion Ealy, Ole Miss
Third-Team: Kevin Harris, South Carolina
Honorable Mention: Isaiah Spiller, Texas A&M
Robinson has been a key backup over the last four years and is set to take on a starting role in his "super senior" season this fall. The 2020 season was his best yet, as he recorded an 89.5 rushing grade — 11th-best in the FBS — on 91 carries. Robinson runs violently and will be one of the toughest guys to bring down in 2021 — he averaged over 4.0 yards after contact per attempt and broke 23 tackles in 2020.
Second-Team: Chris Rodriguez Jr., Kentucky
Third-Team: Devon Achane, Texas A&M
Honorable Mention: Zamir White, Georgia
WIDE RECEIVER
The former LSU tight end looked like the baby version of Kyle Pitts as a true freshman and will now take his talents to Georgia to play wide receiver. And he's going to be a good one.
The 6-foot-5, 249-pounder is an elite athlete, possesses a massive catch radius and has some craftiness as a route-runner and after-the-catch weapon. He hauled in seven of his 13 contested targets and broke nine tackles on 35 receptions in 2020. He ran 33 routes on the outside for LSU last season, picking up eight receptions for 85 yards.
Second-Team: Kayshon Boutte, LSU
Third-Team: Dominick Blaylock, Georgia
Honorable Mention: Jaden Walley, Mississippi State
Burks took his play to new heights in 2020 after being solely utilized as a deep threat as a true freshman in 2019. He improved his receiving grade from 70.5 to 88.9 this past season. Burks still made his fair share of deep plays, but he started to produce on the underneath and intermediate route trees, too. 
Burks was a hard man to tackle with his size, physicality and speed, averaging 7.6 yards after the catch and breaking nine tackles on 50 receptions in 2020. Those traits have helped him vertically, as well. Over the past two seasons, he has been responsible for 17 receptions of 20-plus yards, the 10th-most among Power Five receivers. And he did that as an underclassman.
Second-Team: Ainias Smith, Texas A&M
Third-Team: Kearis Jackson, Georgia
Honorable Mention: Amir Abdur-Rahman, Vanderbilt
DeVonta Smith was the most productive wide receiver against press coverage in the 2020 season, but right behind him was teammate John Metchie III, who will now be the focal point of the Alabama offense. The sophomore put up 3.55 yards per route run against press coverage in 2020, the fifth-highest mark we have seen among Power Five wide receivers over the last five years. 
Metchie has the second gear to get on top of defensive backs and handles contact well along the route, but the latter disappears at the catch point in contested scenarios (he caught four of 13 in 2020). He isn't much of a tackle breaker after the catch, either. I'm expecting some growth and a big junior year breakout from Metchie, but he's going to be a big-play threat for the Crimson Tide at a minimum.
Second-Team: Wan'Dale Robinson, Kentucky
Third-Team: Cam Johnson, Vanderbilt
Honorable Mention: Jalin Hyatt, Tennessee
TIGHT END
Wydermyer has lived up to the hype as the Aggies' clear-cut top receiver since joining the program in 2019. His two-year 88.3 receiving grade trails only Charlie Kolar for the best among Power Five tight ends.
He's good at playing through contact and took a massive step forward in 2020. He went from running 80% of his routes from in-line as a true freshman to running only 54% of his routes from in-line as a true sophomore, and he saw his yards per route run average from receiver alignments go from 0.98 to 1.77. Wydermyer's grade on those plays also spiked to the third-highest in college football, behind only Kyle Pitts and Charlie Kolar.
Second-Team: Jahleel Billingsley, Alabama
Third-Team: Darnell Washington, Georgia
Honorable Mention: Nick Muse, South Carolina
OFFENSIVE TACKLE
Neal is an absolute unit at 6-foot-7 and 360 pounds, and he is living up every bit to his recruiting status. Neal was a 2019 consensus five-star recruit who ranked No. 7 nationally, according to 247Sports. He started at left guard from Day 1 and performed fairly well, earning a 71.2 PFF grade. He then moved to right tackle for the 2020 season and elevated his play.
With the help of his brute strength, length and athleticism, Neal recorded an 83.7 PFF grade in 2020, ranking fourth in the Power Five. He laid down a whopping 12 big-time blocks in the run game, the second-best single-season mark by a right tackle in the PFF College era.
Second-Team: Jamaree Salyer, Georgia
Third-Team: Kenyon Green, Texas A&M
Honorable Mention: Brodarious Hamm, Auburn
While Kinnard's pass protection is good, he gets the nod largely because of his impact in the run game. The 6-foot-5, 345-pound right tackle has consistently paved holes for ball carriers over the past two years, generating run-blocking grades of 89.1 in 2019 and 91.9 in 2020. Both marks ended up being among the 10 highest in college football.
Kentucky employed heavy doses of inside zone in that span, and zone concepts just happen to be Kinnard's bread and butter. No tackle has managed a higher zone run-blocking grade since 2019.
Second-Team: Warren McClendon, Georgia
Third-Team: Austin Deculus, LSU
Honorable Mention: Myron Cunningham, Arkansas
GUARD
Ekiyor oozes power and will clear blocks on man runs with ease. He posted the fourth-highest positively graded run-block rate among Power Five guards on such runs last year, his first as a starter. At the same time, his quicks aren't great, which we saw firsthand in the postseason. In the regular season, Ekiyor was the sixth-highest-graded guard in the Power Five, with the five players ahead of him having since departed for the NFL. His play dipped a bit against Florida, Notre Dame and Ohio State, but considering it was his first action as a starter, there was a lot to like about what Ekiyor displayed.
Second-Team: Ed Ingram, LSU
Third-Team: Ethan White, Florida
Honorable Mention: Jeremy James, Ole Miss
Shaffer finally earned a starting spot in 2020 after three years of limited game action. While he was rather inconsistent, his high-end play earns him a spot on this list. He was the fourth-highest-graded Power Five guard in 2020, finishing with the seventh-best positively graded run-block rate in the Power Five and performing well on true pass sets for a first-time starter in the SEC. He ranked eighth in the Power Five and second in the SEC in true pass set blocking grade.
Second-Team: Luke Fortner, Kentucky
Third-Team: Ty Clary, Arkansas
Honorable Mention: Case Cook, Missouri
CENTER
Maietti ranked sixth among Power Five centers in pass-block grade from 2017 through 2019 with Rutgers. He then transferred to Mizzou and maintained his stout pass protection while showing notable improvement in the run game (76.5 run-block grade, over 13 grading points higher than his previous career high). He also boasts the longest streak of career pass-block snaps played without a sack allowed by a Power Five center in the PFF College era (1,329).
Second-Team: Liam Shanahan, LSU
Third-Team: Ricky Stromberg, Arkansas
Honorable Mention: Ben Brown, Ole Miss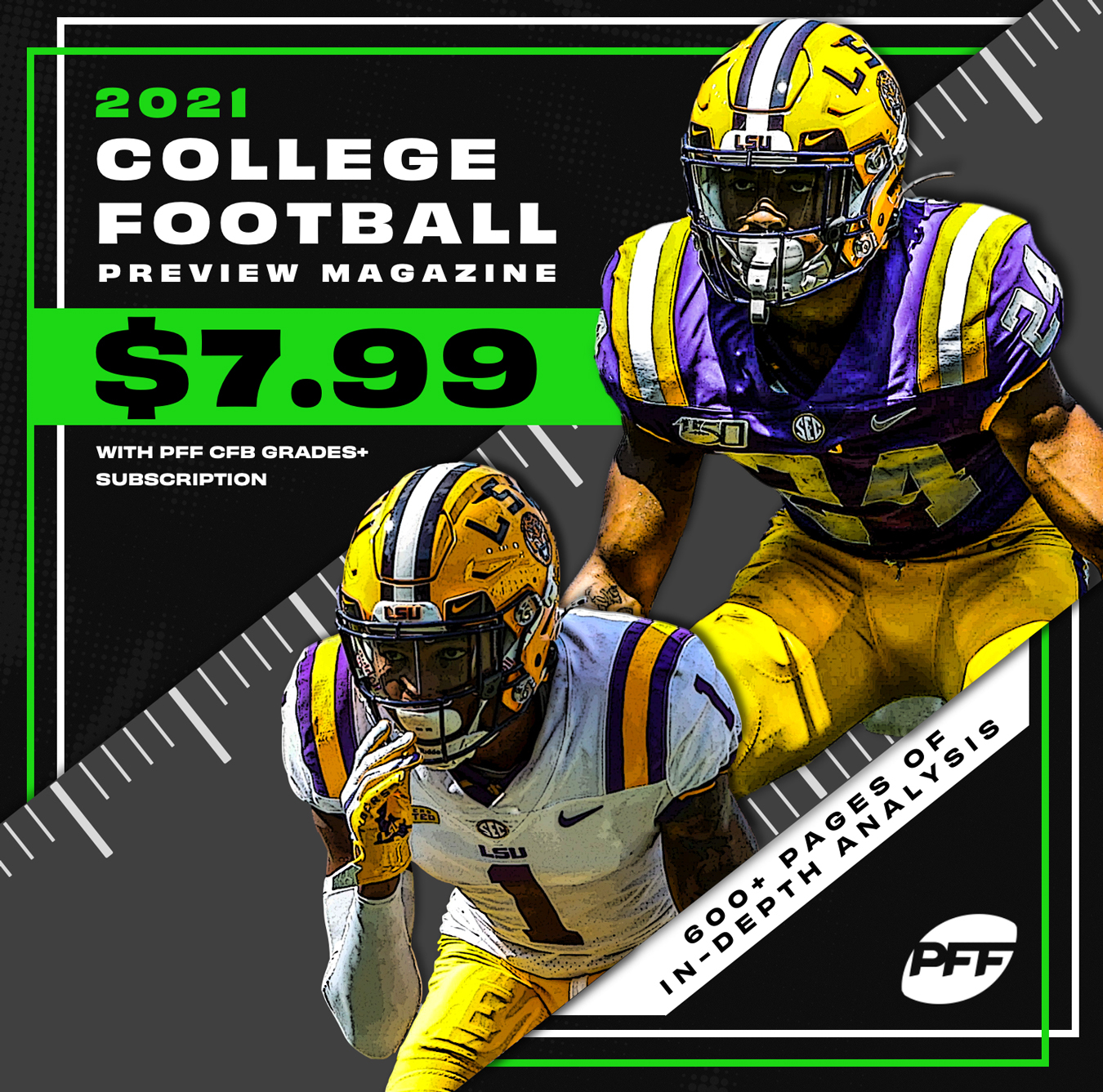 INTERIOR DEFENSIVE LINE
Whiteside was a player PFF was excited to see in 2020, but an injury robbed us of that. However, he was healthy for contests against Alabama and Tennessee to start the season, and the nose tackle looked like the impact pass-rusher we were expecting. In those outings, he put up a 17% pass-rush win rate and a 76.4 pass-rush grade.
Whiteside was versatile and productive in 2019, winning reps anywhere from heads-up nose to 5-technique. But it was his dominance at nose tackle that really caught our eye, as he finished the season with a 79.7 pass-rush grade and a 16% win rate when playing 0/1-technique, both the third-best marks from an SEC nose tackle in PFF's seven years of grading college football. The only players to surpass Whiteside in those metrics were Jeffery Simmons and Javon Kinlaw, who were first-round picks.
Whiteside flashes an impressive get-off for a 310-pound man and pairs that with plenty of power. With a fully healthy year under his belt, I'd expect him to become a household name.
Second-Team: Jordan Davis, Georgia
Third-Team: Aubrey Solomon, Tennessee
Honorable Mention: Jalen Carter, Georgia
After a couple of years of strong run defense but little to no impact as a pass-rusher, Mathis turned a corner in 2020. He raised his pass-rush grade over 24 grading points to 79.5 while maintaining a 70.0-plus run-defense grade for the third straight season. That led him to an 80.0 PFF grade on the year, which ranked 11th among Power Five interior defensive linemen. 
Mathis is capable of tossing around opponents like rag dolls and has decent hand placement. I wouldn't expect him to rise to the levels of Christian Barmore or Quinnen Williams, but he's an all-around impactful player — which is something many programs wish they had.
Second-Team: Jayden Peevy, Texas A&M
Third-Team: Devonte Wyatt, Georgia
Honorable Mention: Cameron Young, Mississippi State
EDGE
Leal has a lot of power with his 6-foot-4, 290-pound frame, and it showed routinely this past season. He notched an 80.0-plus grade as both a run defender and a pass-rusher in 2020, something only four other Power Five edge defenders accomplished this past year. Leal displayed improved hand usage and a deadly push-pull. He flashed exactly that in his performance against Florida — which earned him a career-high PFF grade.
He was a consistent performer in 2020 with a single-game PFF grade north of 70.0 in nine of his 10 outings, which led him to an 88.3 PFF grade for the season. Leal may be 290 pounds, but he sure doesn't play like it with his athleticism and twitch. Needless to say, he is clearly living up to his five-star recruiting status.
Second-Team: Brenton Cox Jr., Florida
Third-Team: Ali Gaye, LSU
Honorable Mention: Tyree Johnson, Texas A&M
Anderson came to Alabama as a five-star recruit who ranked in the top 20 of the 2020 class, according to 247Sports, and he finished his first season with a whopping 60 pressures. Not only was his total more than double that of any other true freshman, but it was also the most in the entire FBS. Sure, the 13 total games he played helped, but Anderson's 17.4% pressure rate still ranked eighth in the FBS, and his 19.5% win rate ranked 24th.
Anderson has the requisite flexibility and bend for an edge rusher. He also blew up several run plays en route to an 81.1 run-defense grade. Very few true freshmen come close to sniffing those kinds of numbers. The sky is the limit for Anderson in 2021. He put up crazy numbers for someone of his age and still has room to grow with his technique. I'd bet on him producing at an elite level for the Crimson Tide this fall.
Second-Team: Adam Anderson, Georgia
Third-Team: BJ Ojulari, LSU
Honorable Mention: Kingsley Enagbare, South Carolina
LINEBACKER
Jones posted an elite 90.2 coverage grade with Clemson in 2020 to go with 11 pressures on 48 pass-rush snaps as a blitzer. His athleticism will be an asset to the Tigers, who no longer have to be too worried about the departure of standout coverage linebacker Jabril Cox.
Second-Team: Grant Morgan, Arkansas
Third-Team: Christian Harris, Alabama
Honorable Mention: Zakoby McClain, Auburn
Dean is coming off his first year in a starting role, and all he did was earn a 76.1 run-defense grade and a 75.3 pass-rush grade with 11 pressures on 52 rushes. Those two grades, along with his positively and negatively graded play rate against the run, rank in the top three among all returning SEC off-ball linebackers.
Second-Team: Chance Campbell, Ole Miss
Third-Team: Ventrell Miller, Florida
Honorable Mention: Owen Pappoe, Auburn
CORNERBACK
Stingley might be the best athlete to take the field this fall. He's such a rare talent that even Coach O is thinking about giving him some reps on offense. Coming out of high school in 2019, the five-star cornerback clocked a 4.3-second 40 time and a 42-inch vertical. He then proceeded to have the best true freshman season since PFF College's inception back in 2014, recording a 91.7 PFF grade and 0.97 wins above average (WAA), the latter being the best mark among non-quarterbacks all year.
Last year, he saw two fewer targets per game on average, as it quickly became apparent that opposing quarterbacks weren't looking to test him. Stingley saw 30 targets over his seven outings, allowing just seven first downs while forcing five incompletions, three of which came against Mizzou when he played most of the game with an ankle injury.
Second-Team: Josh Jobe, Alabama
Third-Team: Roger McCreary, Auburn
Honorable Mention: Derion Kendrick, Georgia
LSU landed the very best true freshman regardless of position in 2019 with Stingley, and they held that honor once again in 2020 thanks to the standout play from five-star corner Eli Ricks.
The Tigers deployed a healthy dose of man coverage last season, and unlike most first-year corners in the SEC, Ricks handled it like a pro. His man-coverage grade ranked first among all Power Five cornerbacks in 2020, and he allowed just six catches on 19 targets while making seven total plays on the ball when he was tasked with single coverage.
Ricks' physicality at the line of scrimmage and poise at the catch point make him a difficult cornerback to beat outright. It's quite clear he already has an excellent feel for the position. The LSU cornerback duo of Stingley and Ricks is going to be dangerously good in 2021. Godspeed to the SEC wide receivers facing these two next year.
Second-Team: Kaiir Elam, Florida
Third-Team: Martin Emerson, Mississippi State
Honorable Mention: Nehemiah Pritchett, Auburn
SAFETY
Battle showed the kind of growth in his true sophomore campaign that many down in Tuscaloosa were hoping to see. After posting a 66.8 PFF grade as a key reserve in Year 1, Battle bolstered that mark to 80.9 in Year 2 that ranked sixth among all Power Five safeties. The slot/deep versatility is there with Battle, as he was the only Power Five safety with 150 snaps and a grade north of 75.0 in both the slot and at free safety.
Second-Team: Lewis Cine, Georgia
Third-Team: Demani Richardson, Texas A&M
Honorable Mention: Christopher Smith, Georgia
Catalon is a high-energy, high-effort player in this Arkansas secondary who has the chance to take his play to elite status in 2021 after a fantastic first season in a starting job in 2020. He's a quick processor and gets going in a hurry. He made eight plays on the ball and eight passing stops last season, both of which were top-10 marks among Power Five safeties.
Second-Team: Yusuf Corker, Kentucky
Third-Team: Smoke Monday, Auburn
Honorable Mention: DeMarcco Hellams, Alabama
FLEX D
First-Team: Tykee Smith, Georgia
Smith, a three-star recruit of the 2019 class, has recorded the third-best slot coverage grade in the FBS over his true freshman and sophomore seasons while serving as the "spear" in West Virginia's defense. Now, he'll be taking his talents to the Georgia Bulldogs, where he will anchor a secondary that was gutted this past offseason.
Smith's 2020 campaign was a sight to behold. He was targeted 38 times in coverage across 10 games and allowed just 110 yards for the season. He did not give up a single explosive pass play of 15 or more yards while making five plays on the ball and forcing 10 passing stops. At 5-foot-10, 198 pounds, Smith is a physical player who shed receiver blocks and blew up screens like clockwork in 2020. He has great eyes in coverage and was never caught off guard. Keep an eye on Smith next season — he's the real deal.
Second-Team: Malachi Moore, Alabama
Third-Team: Dreshun Miller, Auburn
Honorable Mention: Myles Jones, Texas A&M
KICKER
First-Team: Cade York, LSU
Second-Team: Anders Carlson, Auburn
Third-Team: Will Reichard, Alabama
Honorable Mention: Harrison Mevis, Missouri
PUNTER
First-Team: Jake Camarda, Georgia
Second-Team: Paxton Brooks, Tennessee
Third-Team: Nik Constantinou, Texas A&M
Honorable Mention: Grant McKinniss, Missouri
KICK RETURNER
First-Team: Tank Bigsby, Auburn
Second-Team: Lideatrick Griffin, Mississippi State
Third-Team: Velus Jones Jr., Tennessee
Honorable Mention: Jerrion Ealy, Ole Miss
PUNT RETURNER
First-Team: Ainias Smith, Texas A&M
Second-Team: Derek Stingley Jr., LSU
Third-Team: Dominick Blaylock, Georgia
Honorable Mention: Slade Bolden, Alabama