Pass rush matters at the Power Five level.
It's not quite the same as it is in the NFL, where coverage clearly is more valuable than the pass rush. In the Power Five, pass-rush performance can explain the output of any given pass play just as much as coverage, which was one of the findings from PFF's data studies this past offseason. 
---
Click here for more PFF tools:
Rankings & Projections | WR/CB Matchup Chart | NFL & NCAA Betting Dashboards | NFL Player Props tool | NFL & NCAA Power Rankings
---
The Power Five level is where the physical freak recruits land and due to the lack of refined technique in college football, those superior athletes have a significant advantage, especially against offensive linemen who lack the technical prowess of their NFL counterparts. That lack of refinement can be seen when college quarterbacks are pressured. When college quarterbacks face pressure, there are more undisciplined moments than in the NFL, as the QBs are less poised and make more rash decisions, which leads to heightened levels of inefficiency.
This begs the question: Which pass rushers have been making the biggest impact in college football? With the help of PFF's advanced database that is used by all 32 NFL teams and over 100 FBS programs, we have the tools to answer that question. 
Please note that this has nothing to do with NFL potential. In addition, this list does not reflect PFF pass-rush grade for the season as strength of schedule, situation and the opposing scheme are not reflected in that.
Related content for you: Highest-graded players at every position through Week 9 of the 2021 college football season via Seth Galina
THE GAME WRECKERS
These are only a handful of players in college football who can single-handedly take over a game with their pass-rush prowess. Opposing offenses scheme around these players, as they try to limit any one-on-one opportunities with chip blocks and double teams because they know these pass rushers will get to the quarterback if they don't. 
Hutchinson is in the midst of the second-most dominant season by a pass-rusher in the PFF College era — behind only former Ohio State Buckeye Chase Young in 2019. He owns a 93.3 pass-rush grade through eight games, and over half of his single-game grades have finished above 85.0. Hutchinson is generating pressure at the highest rate in college football (21.9%) and is winning most of his one-on-one true pass-rush opportunities. And he is doing this after suffering a season-ending fracture in his leg in the COVID-shortened 2020 season. With his power and get-off, Hutchinson has been virtually unblockable this season and should probably be thrown into the Heisman conversation.
Thibodeaux is understandably the early favorite to be the No. 1 overall pick in the 2022 NFL Draft. The 6-foot-5, 258-pound edge defender is built to play at the next level. From a collegiate production standpoint, Thibodeaux has seen immense growth this season after earning an 80.9 pass-rush grade as an underclassman. He's showing refinement within his rushes and is no longer winning on tools alone.
Oregon edge Kayvon Thibodeaux vs UCLA (per @PFF_College)

???? 91.2 pass-rush grade
???? 10 pressures (3 sacks)
???? 28% win rate

This was his 3rd "elite" pass-rush grade above 90.0 in 2021 despite it being just his 4th game w/ 10+ pass-rushes. Special player.pic.twitter.com/RuoEVHGrHU

— Anthony Treash (@PFF_Anthony) October 24, 2021
The Oregon Duck has earned a 92.0 pass-rush grade in 2021 despite missing a couple of games early due to injury. Last week's performance against Colorado may look underwhelming on paper (60.2 pass-rush grade and two pressures), but that doesn't tell the full story. Colorado quarterback Brendon Lewis threw the ball within two seconds of the snap on over half of Thibodeaux's 20 pass-rush snaps, leaving the star pass-rusher with only a few true pass-rush opportunities in the game. When Thibodeaux was off the field, the Colorado offense stopped calling quick, schemed throws, which illustrates the kind of impact he has on college football games.
Karlaftis — who was born in Athens, Greece — is the "Greek Freak" of college football. He is one of the most powerful defensive ends in college football. He pairs that strength with arguably the best hand usage in the country and an explosive get-off that makes life tough on opposing offensive tackles. The 6-foot-4, 275-pound Boilermaker showed a lot of promise as an underclassman and is now maximizing his full potential as a true junior, as evidenced by his 91.2 pass-rush grade this season.
Purdue edge George Karlaftis became the 1st player to earn 10+ pressures vs an Iowa OL in the @PFF_College era yesterday.

If he wasn't doubled/chipped/cut, he was in the QB's face. Insane power and get-off. One of the few true "game-wreckers" in #CFB. pic.twitter.com/cAV5Bn1lvm

— Anthony Treash (@PFF_Anthony) October 17, 2021
Enagbare's outstanding motor has helped him earn a 93.4 pass-rush grade this season. On true pass rushes (no screen, trick play, RPO or play-action involved), Enagbare has the highest win rate in the Power Five (40.4%). Even against solely SEC opponents, the 6-foot-4, 265-pound edge defender is still producing at an elite level, recording a 90.7 pass-rush grade against SEC opponents. For perspective, only three SEC edge defenders have earned a higher pass-rush grade within conference play in the PFF College era, and all three are starters in the NFL.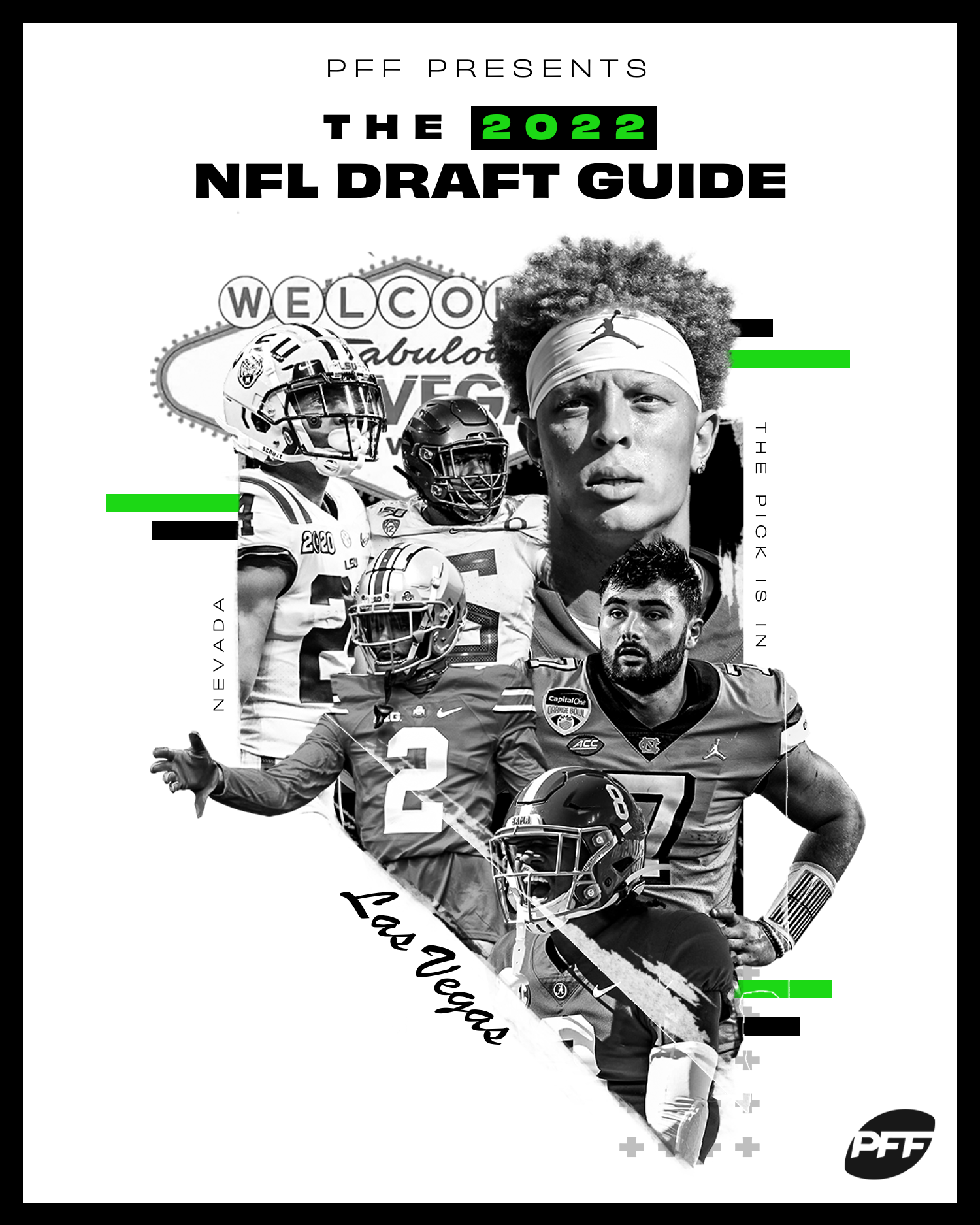 TOP OF TIER 2
Bonitto made his name known as one of the most underrated pass rushers in college football in 2020, as he posted an FBS-leading 93.6 pass-rush grade. So far this season, Bonitto has sustained that high level of play, earning a 92.0 pass-rush grade this season. Bonitto is a nimble athlete on the edge who will take advantage of the inside door when left open. It takes a gifted big man to be able to handle Bonitto's athletic traits, which is why he has recorded a win rate north of 17% in every single game he's played in since 2020. And that win rate is one most college edge defenders would take on any given week.
Ebiketie had a mini-breakout campaign in 2020 with the Temple Owls and has since become one of the premier pass-rushers in the Power Five at Penn State. He's been the model of consistency along the edge for the Nittany Lions, earning a grade above 70.0 in each of his eight starts thus far. Ebiketie is fantastic with his hands and has stepped up in Shaka Toney and Odafe Oweh's absence (both are in the NFL). He has earned a 91.8 pass-rush grade on true pass rushes this season — tied for the fourth-best in the Power Five.
Panasiuk has clearly bounced back from a down 2020. He was on the cusp of becoming a top pass rusher in the FBS after his 2019 season that ended in an elite 90.0 pass-rush grade, but after he caught COVID-19 a month before the 2020 opener, that next step forward was put on hold. Panasiuk dropped 25 pounds and suffered from durability issues, which hindered his pass-rush impact. After a bit of a slow start to 2021, Panasiuk is back on the path to dominance, racking up 40 pressures in five games since Week 4, which is 10 more than any other Power Five edge defender.
Ojabo has one of the best backgrounds in all of college football. 
The 6-foot-5, 240-pound edge defender grew up in Scotland, where he played soccer and basketball before moving to the United States and becoming a track and basketball star. He didn't pick up football until his junior year of high school after the Rutgers head football coach called him and told him to do so. Ojabo did, and he received 35 offers after his first season while learning alongside former Penn State Nittany Lion and now Baltimore Raven Odafe Oweh.
Ojabo ended up at Michigan and hardly played in his first two years, but he now has a featured role in the Wolverines' defense and is destroying the offensive linemen in front of him. Ojabo owns a 90.8 pass-rush grade for the 2021 season and has posted a single-game mark above 90.0 in two of the last four weeks. He was just a raw athlete playing the position his first couple of seasons on campus but not anymore.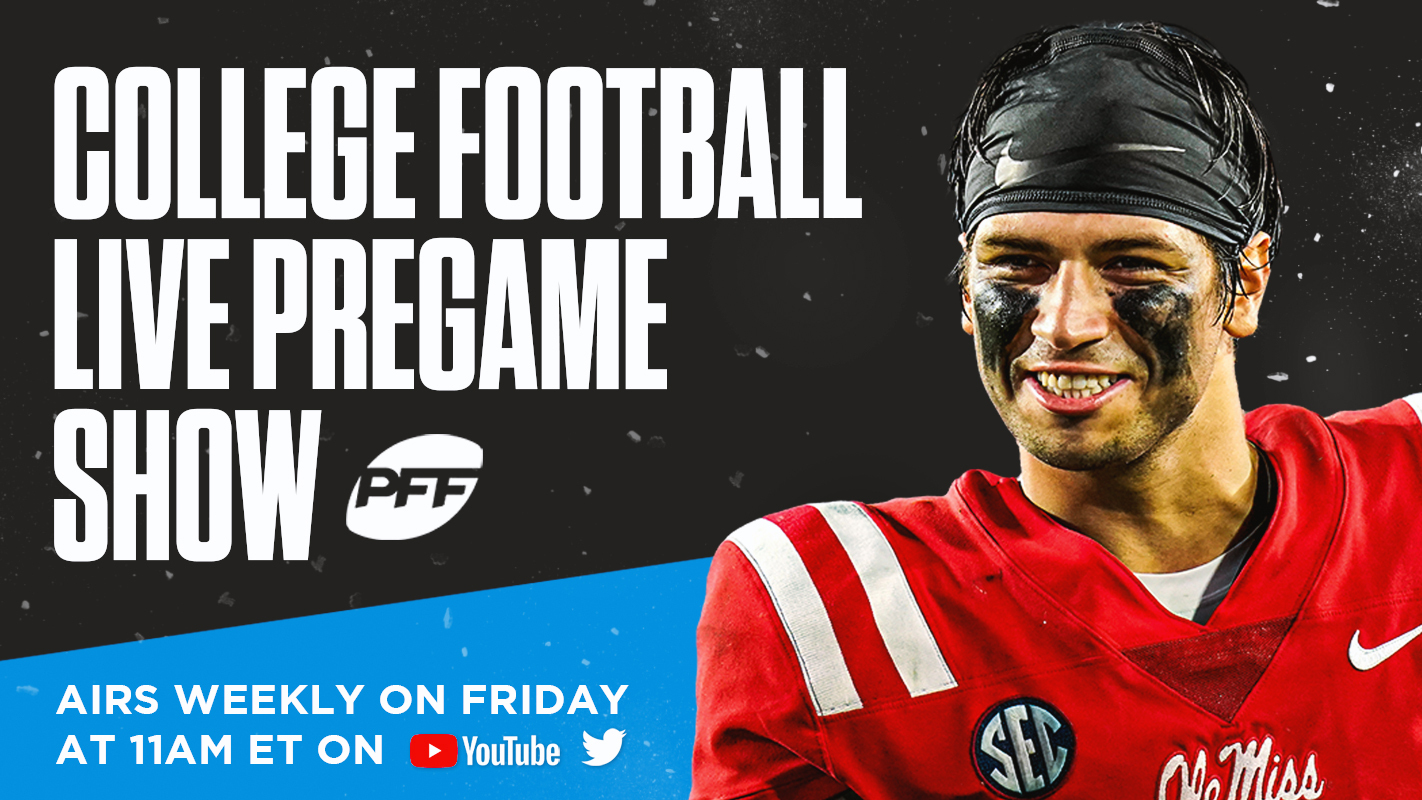 Jackson entered the 2021 season as a toolsy player who had sky-high potential, and he's taken the next step forward, as we had hoped. He has the explosiveness, agility and flexibility that coaches dream of having on the edge. Those traits have helped him earn an 85.5 pass-rush grade this season. Against Power Five offensive lines on true pass-rush reps, his pass-rush grade jumps to above 90.0. While his "ghost move" is among the filthiest in college football, Jackson's pass-rush move repertoire is still a work in progress. Still, he's gotten by without that polish.
Anderson is hands down the best non-draft-eligible edge defender in college football. The 2020 five-star recruit lit up the playing field as a true freshman in Alabama's title run last year, and he has sustained that level of play this season. Anderson generated a Power Five leading 60 pressures last year and is second so far this season with 43. That's an unprecedented total for an underclassman. The scary thought is that he still has a lot of room to grow from a technique standpoint and is only scratching the surface of what he can become.