No year in college football will be more memorable than the one we are experiencing now, as the impact of COVID-19 has forced most colleges to cancel the 2020 fall football season with the hope of trying to play in the spring.
We aren't here to give you our opinion on whether they should or should not have played in the fall, nor are we going to do that with their attempt to play in the spring. Instead, we want to shine a light on the players who deserve credit for the performances they have put forth over their college careers.
Without further ado, we present to you what would have been the 2020 PFF College Preseason All-Big Ten Team.
QUARTERBACK
The Lawrence vs. Fields debate is actually a lot closer than most people think. Fields' 2019 campaign was actually the 10th-best season we have ever recorded in the PFF College era in regard to WAA, and his 92.4 passing grade was second only to Burrow last year.
The Buckeyes offense certainly eases the stress, and he also has had a gifted set of route-runners, but he still has to find the open receiver and hit them with an accurate ball — and Fields routinely did just that in 2019. He had a remarkable 33:6 big-time throw to turnover-worthy play ratio on throws of 10-plus yards downfield, which helped him once again rank second to only Burrow in grade on such throws. And, of course, we can't forget about his special speed at the position, which helped him pick up at least one 10-plus yard gain on the ground in all but three games last year.
RUNNING BACK
The 2019 season didn't go quite as planned for Sermon, as he suffered a season-ending injury in Week 11 and saw only 54 carries in nine games. He did, however, impress on those limited reps by producing 14 explosive rushes of 10 or more yards to go along with 17 broken tackles, which was reminiscent of the 2018 campaign that saw him produce an elite 90.7 PFF rushing grade and the FBS's second-highest WAA figure.
RUNNING BACK
Brown really took off in the back half of the 2019 season when he was given more opportunities. From Week 9 on, Brown ranked 12th among Power 5 running backs in rushing grade (83.3), tied for first in yards after contact per attempt (5.0) and sixth in percentage of carries resulting in a first down or touchdown (34%).
WIDE RECEIVER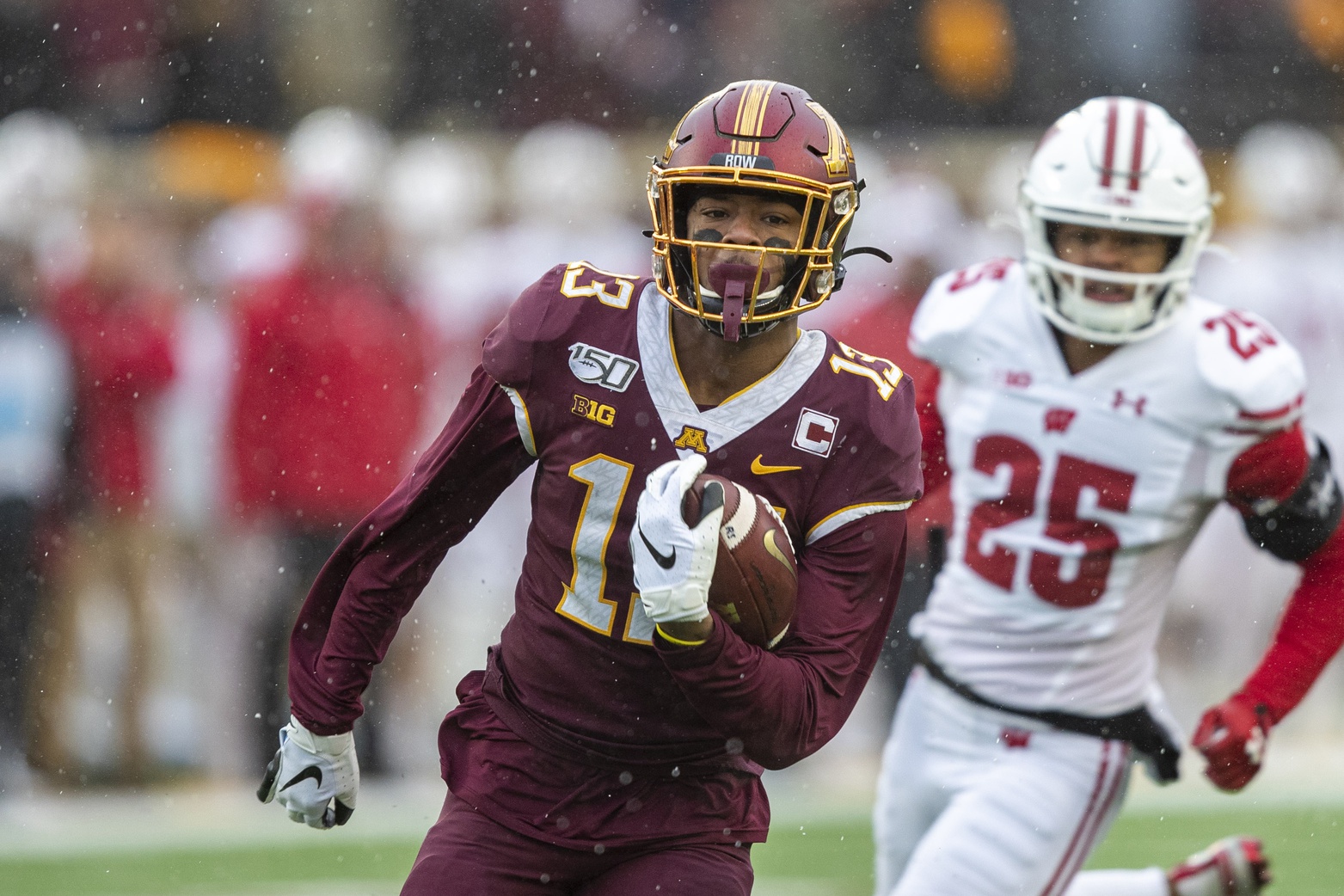 Bateman is one of the most complete wide receivers in the country. He's not an elite athlete, but he still generates separation at a high rate with his route-running ability. This past year, he generated a step or more of separation on 57.8% of his targets against single coverage (13th among Power 5 wide receivers). Bateman is also strong at the catch point, as he caught 10 of 16 contested targets 10-plus yards downfield in 2019. He can also create after the catch, as he broke 17 tackles on 60 catches.
WIDE RECEIVER
Moore's after-the-catch ability is on the same level as Waddle's. He's elusive in an open field and can power through contact with his 5-foot-9, 181-pound frame. The Purdue pass-catcher missed almost all of his 2019 campaign due to injury, but he broke records as a true freshman in 2018 when his 37 broken tackles after the catch were the most ever in a single season by a Power 5 wide receiver in the PFF College era. At the time, Moore's 2018 season was the most valuable true freshman season we had ever seen from a non-quarterback.
WIDE RECEIVER
Olave is an advanced route-runner — one of the best you'll see in that area at the position. On targets 10-plus yards downfield last year, he generated open separation (more than a couple of steps) on 57% of his targets, which was the highest in college football. That helped him produce an 86.6 receiving grade last year. There really aren't many cornerbacks in the Big Ten that can go up against him one-on-one.
TIGHT END
Freiermuth takes the cake as the best tight end in the Big Ten. He's a powerful human at 6-foot-5, 260 pounds, and he bodies defenders in tight coverage (fifth in grade versus tight coverage). He's a bowling ball after the catch, too, as evidenced by his nine broken tackles on 43 catches from a season ago.
OFFENSIVE TACKLE
There were only two tackles set to return to college football who produced grades above 85.0 in both pass protection and as a run-blocker in 2019: Oregon's Penei Sewell and Northwestern's Rashawn Slater. Only Tristan Wirfs produced a higher PFF grade than Slater's 89.9 among Big Ten tackles in 2019, and third was down at 76.9. Slater is one of the most undervalued players in all of college football.
OFFENSIVE GUARD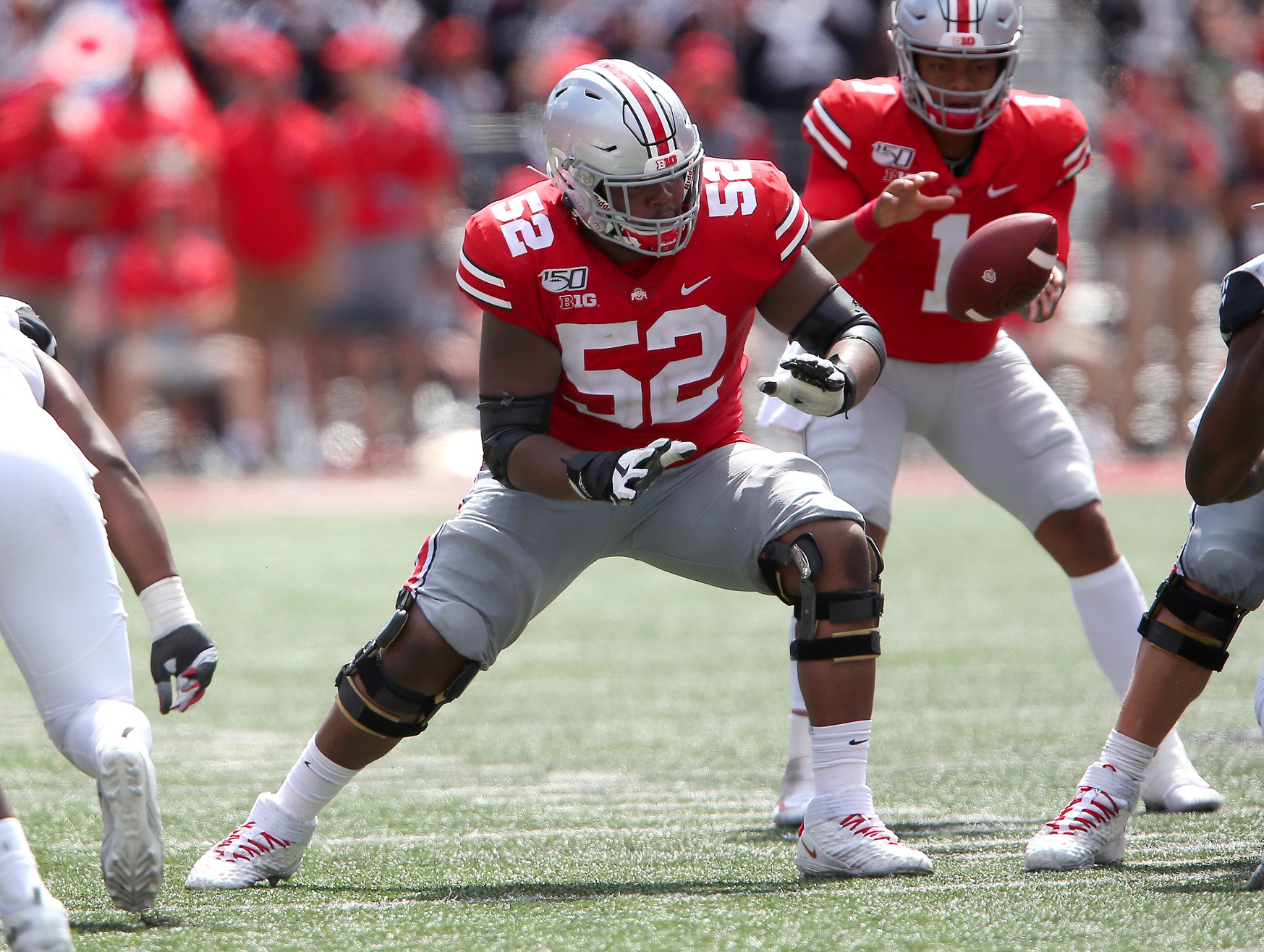 Davis is the best interior offensive lineman in college football, and it isn't particularly close. In his first full year starting in 2019, Davis impressed in both facets of play, earning an 83.0 run-blocking grade (fourth in the FBS) and not allowing a single sack or hit on 459 pass-block snaps. He's the most complete player at the position.
CENTER
Linderbaum ended his first year playing center — after switching positions from the defensive line — as the fifth-highest-graded center in the FBS. Of every season recorded by an FBS center since 2014, it was the 39th-best in regard to PFF WAA. Iowa has churned out some of college football's top offensive linemen over the years, and Linderbaum is apparently the next one in line.
OFFENSIVE GUARD
Green's pass-blocking needs some work, but he lands on the first team for the work he does in the run game. He can be a nasty run-blocker and can wreck guys on the move. Green's FBS-high 13 big-time blocks verify that.
OFFENSIVE TACKLE
Van Lanen didn't quite live up to expectations in 2019, as his PFF grade went from 90.8 in 2018 to 72.6 last year. Still, he's one of the top offensive tackles in college football. His work as a run-blocker particularly stood out, as he was fifth in the Big Ten in positively graded run-block rate.
---
[Editors Note: PFF's customizable NFL Mock Draft Simulator gives you the opportunity to be the GM of any team and is now updated with a select group of 2021 prospects]
---
INTERIOR DEFENDER
There isn't a better Big Ten defensive lineman than Johnson when it comes to defending the run. He earned an 86.5 grade in that facet last season, leading all who were set to return in 2020. We'd like to see him improve his pass-rush production, but he is far from a liability in that facet.
INTERIOR DEFENDER
Iowa getting Heflin as a transfer is huge. He'll make an immediate impact with his play strength and heavy hands. It'll be a tall task to replicate the 90.1 PFF grade he produced in 2019 after leaving the MAC to the Big Ten, but he'll most certainly be productive.
EDGE DEFENDER
Hutchinson can play anywhere on the line — from heads-up nose to 6/7-technique — and remain a dominant force as a pass-rusher and run defender. He produced an 83.6 run-defense grade in 2019 to go along with 46 total pressures. With guys like Chase Young and A.J. Epenesa out, Hutchinson is the Big Ten's new No. 1 defensive lineman.
EDGE DEFENDER
Panasiuk offers little in run support, but he is easily one of the best edge rushers in the country. He has a refined set of moves, but his swipe is the most deadly. His 90.0 pass-rush grade last year was both fourth in the Big Ten and 15th in the FBS.
LINEBACKER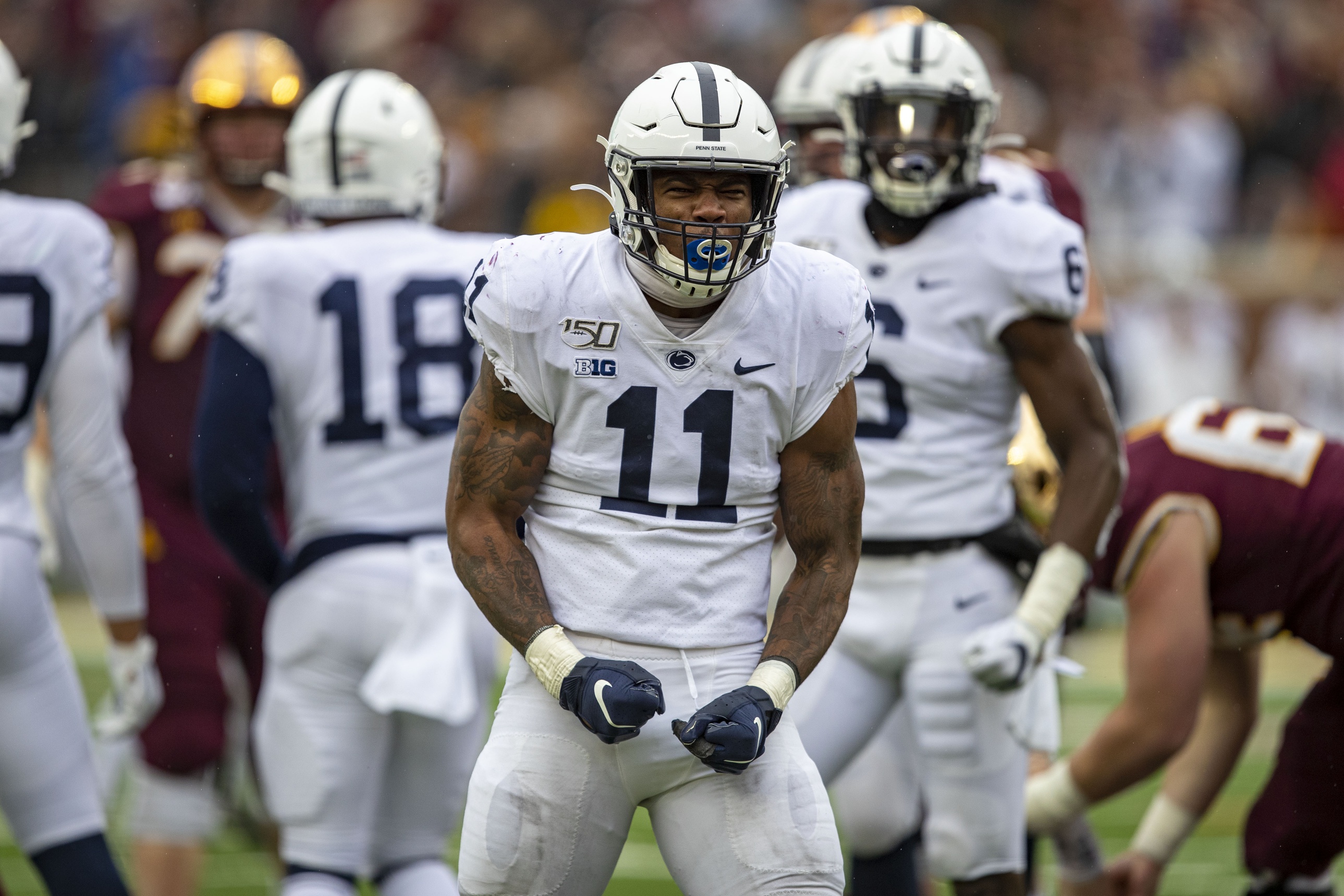 It feels egregious to have a player like Parsons come in eighth in a rankings list, but in all honesty, you can have the top eight players in any order — they're all rare talents.
Parsons was the most valuable off-ball linebacker of the 2019 season and is so good that our own Mike Renner has called him the best prospect at the position since Luke Kuechly. He does everything at the position at an elite level, though his work in run defense was particularly impressive during his sophomore campaign, as he earned a 94.8 grade in that facet.
LINEBACKER
Sanborn is one of the Big Ten's best off-ball linebackers when it comes to blitzing (20.5% win rate on 83 pass-rushing snaps). And the story is the same when it comes to coverage play. His 83.7 coverage grade led all off-ball linebackers in the conference.
CORNERBACK
Mullen is one of the most underrated cornerbacks in the country. As a true freshman in 2019, he put up the second-best forced incompletion rate in the FBS (30%), and he posted the third-highest rate of contested targets forced (43%). Good luck shaking him downfield.
CORNERBACK
Thomas far exceeded expectations in his first full season starting in Michigan's press-heavy scheme. He recorded three interceptions and five forced incompletions while allowing only seven first downs in press coverage last year.
SAFETY
Brisker is the secret superstar of this Penn State team. The JUCO product had no trouble with the jump in competition, as he put up the fifth-best coverage grade among Big Ten safeties. He has great range and will be a playmaker for Penn State for years to come.
SAFETY
Burrell's tackling would normally raise a red flag (17 misses on 71 attempts in 2019), but his playmaking in coverage makes it easy to look past those tackling issues. Whether he was playing free safety, in the slot or in the box, Burrell thrived with nine combined pass breakups and interceptions on the year.
FLEX DEFENSE
There are very few bones to pick with Wade's slot play in 2019. He made more plays on the ball (8) than first downs allowed (7) — something no one in the Big Ten came close to doing. Wade was going to kick to the outside in his next season of play, and we believe he has the tools to thrive there.
KICKER
PUNTER
KICK RETURNER
PUNT RETURNER