A locked-in college football schedule with no sudden changes. Tailgates with friends and family. Stadiums packed to the brim. Students storming the streets after a major upset win. It's all coming soon — the college football landscape is returning to normal.
The 2021 college football season kicks off in just under two months, and what better way to prepare than by running through PFF's preseason awards. The 600-page PFF College Football Magazine and PFF Preseason All-America Team dropped on Monday, and 10 all-conference teams will be hitting PFF.com throughout the week.
Below is the PFF 2021 Preseason All-ACC Team. The side below was selected with the help of PFF grades and advanced statistics, which are now available to PFF's CFB Premium Stats+ Subscribers.
QUARTERBACK
UNC's offense cooks when Howell is given the green light to launch it deep because he arguably has the best deep ball in college football. Over the last two seasons, Howell ranks first in the Power Five in 20-plus-yard completions (66), passing yards (2,654), touchdowns (32) and big-time throws (59, 15 more than the next QB).
Pressure was Howell's Achilles' heel as a true freshman in 2019, as he recorded a 38.2 passing grade when the opposing pass rush got home. In 2020, he improved that mark to 74.7 while maintaining a top-10 clean-pocket passing grade. The North Carolina product finished the 2020 season as the sixth-highest-graded quarterback at 92.3.
How he fares without that slew of weapons he had at his disposal as an underclassman is something to keep an eye on this fall.
Second-Team: D'Eriq King, Miami (FL)
Third-Team: D.J. Uiagalelei, Clemson
Honorable Mention: McKenzie Milton, Florida State
RUNNING BACK
NC State returns one of the most elusive backs in college football in Zonovan Knight. His 0.34 broken tackles per attempt tied for fourth among all Power Five running backs in 2020, paving the way to an 87.1 rushing grade that ranked 10th among that group.
Second-Team: Jordan Mason, Georgia Tech
Third-Team: Lawrance Toafili, Florida State
Honorable Mention: Ty Chandler, North Carolina
Gibbs, a top-100 recruit in the 2020 class, was called on to have a bigger role last year than anticipated due to an injury to running back Jordan Mason. And just as Mason did in his 2019 freshman year, Gibbs performed at a surprisingly high level. He averaged 4.17 yards after contact per attempt and broke 0.39 tackles per attempt on the ground. The latter mark ranked second-best in college football, behind only 2021 second-round pick Javonte Williams.
As great as that is, Gibbs was at his best in the passing game. His 2020 receiving grade tied for fifth-best by a Power Five running back in the seven years of the PFF College era. He also ranked fourth among that group in yards per route run generated and second in percentage of targets turned into a gain of 15-plus yards. And remember, he did all of that as a true freshman. He's going to be a nightmare for any defense to defend this fall and will have the chance to claim the title of top receiving back in the country.
Second-Team: Lyn-J Dixon, Clemson
Third-Team: Mateo Durant, Duke
Honorable Mention: Sean Tucker, Syracuse
WIDE RECEIVER
After doctors discovered Ross' spinal condition, which led to surgery this past offseason, his football career seemed up in the air. Ross missed all of 2020, but fortunately, he made a full recovery and is healthy for the 2021 season. That means Clemson returns a top-three receiver in college football.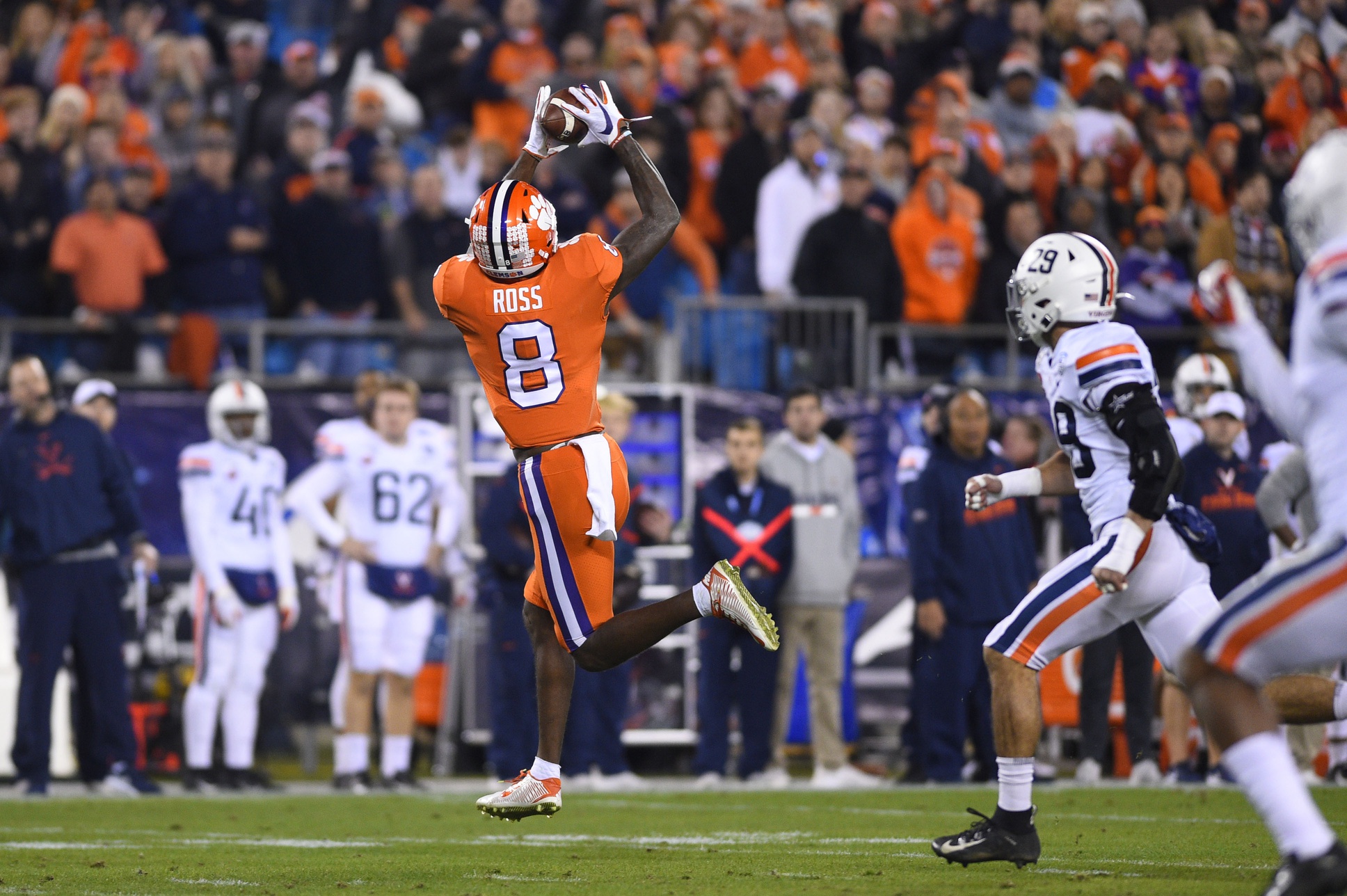 The 6-foot-4 wideout earns his keep on vertical routes. He established himself as one of the best deep threats in college football prior to 2020, coming away with the third-most touchdowns on targets of 20-plus yards in 2018 and 2019 (11). His size comes in clutch on those passes, as he often bodies defensive backs in contested situations. Ross has hauled in nine of 13 such deep targets in his career. He isn't uber-athletic, but he wins so often because of his physicality.
Second-Team: Tre Turner, Virginia Tech
Third-Team: Charleston Rambo, Miami (FL)
Honorable Mention: Donavon Greene, Wake Forest
Roberson came into the 2020 season having seen 29 targets in three years at Wake Forest and left it the second- highest-graded wide receiver in the FBS (92.6) — just like we all expected. He exploited holes in zone coverage and extended several plays in the open field with his after-the-catch ability. Roberson's 340 receiving yards coming from finding a hole in zone coverage were the second-most in the Power Five, and he racked up 7.6 yards after the catch and eight broken tackles on his 16 such receptions. His separation percentage against single coverage ranked ninth in the FBS in 2020.
Second-Team: Billy Kemp IV, Virginia
Third-Team: Mike Harley, Miami (FL)
Honorable Mention: Joe Ngata, Clemson
Flowers is among the best wide receivers in the ACC, alongside Clemson's Justyn Ross and Wake Forest's Jaquarii Roberson, and he has every opportunity to become a top-five or top-10 receiver nationally in 2021. Flowers broke out in a big way in his 2020 true sophomore campaign, doing damage both in the slot and on the outside. His route splits were nearly dead even between the two (48% in slot, 52% on the outside), and he managed to generate a 70.0-plus receiving grade at both alignments. Only two other Power Five wide receivers ran 100 routes at each position and accomplished that feat in 2020: Alabama's DeVonta Smith and Indiana's Ty Fryfogle.
From the slot, Flowers was used quite a bit on screens, jet sweeps and end-arounds, and he had an average depth of target of 8.7 yards on those snaps. On the outside, he was fed vertical route opportunities and ranked third among Power Five wide receivers in both average depth of target (19.5 yards) and deep target rate (38.2%). He is a sudden athlete who is capable of doing anything asked of him, a prime candidate to go from great to elite in 2021.
Second-Team: Emeka Emezie, NC State
Third-Team: Jordan Addison, Pitt
Honorable Mention: Tayvion Robinson, Virginia Tech
TIGHT END
First-Team: James Mitchell, Virginia Tech
Mitchell has run rather hot and cold over the past two years, but his big-play ability lands him inside the top 10. Since 2019, he has turned over 31% of his targets into a gain of 15-plus yards, the second-highest rate among Power Five tight ends. Mitchell has also churned out 10.7 yards after the catch per reception in that span, over a yard and a half higher than anyone else at the position in the FBS.
Mitchell's production became more consistent in 2020, as he wasn't asked to win at receiver nearly as much. His rate of inline passing snaps went from 31.5% to 49.5%, and his receiving grade (69.8 to 83.8) and yards per route run average (1.59 to 2.86) spiked with it.
Second-Team: Marshon Ford, Louisville
Third-Team: Davis Allen, Clemson
Honorable Mention: Will Mallory, Miami (FL)
OFFENSIVE TACKLE
McFadden dazzled as a rotational tackle in 2019 with an 88.3 PFF grade across 335 snaps and maintained that stellar play in 2020 as a full-time starter. His 83.5 PFF grade ranked 11th among all Power Five tackles. That led him to the fifth-highest PFF Wins Above Average (WAA) total among returning FBS tackles.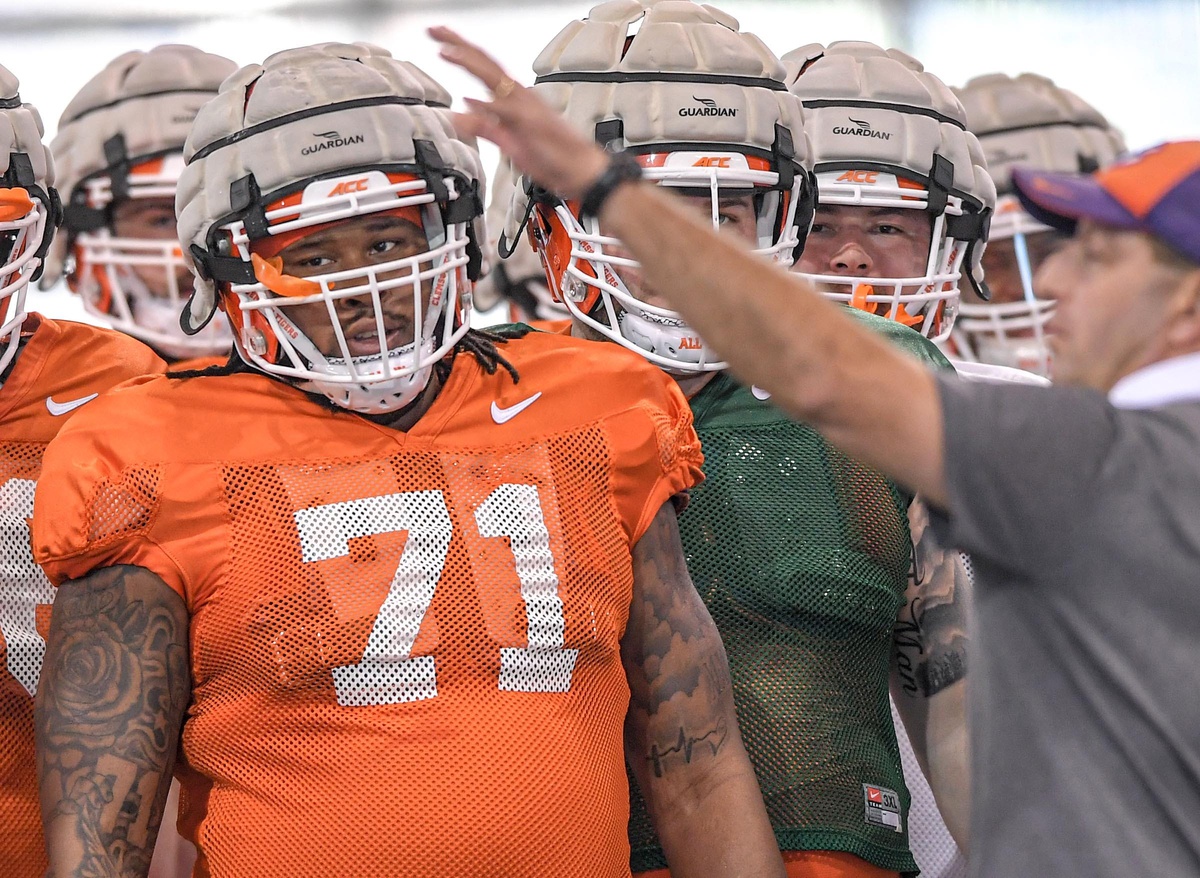 However, McFadden faltered a bit against premier edge rushers — such as Miami's and Pittsburgh's — en route to sub-60.0 pass-blocking grade in both outings. Whether McFadden rises up this list or even holds a spot in the top 10 moving forward hinges on how he fares against physical top-tier competition in 2021.
Second-Team: Luke Tenuta, Virginia Tech
Third-Team: Zach Tom, Wake Forest
Honorable Mention: Zion Nelson, Miami (FL)
Primarily playing left tackle for the Wolfpack in his two years on campus, dabbling at guard for a few games to start 2020, Ekwonu owns a 61.9 career pass-block grade with 15 combined sacks and hits allowed. That's not particularly impressive, but he's one of the best run-blockers in the country. Ekwonu's 92.1 run-block grade as an underclassman was the fourth-best mark among FBS tackles. And two of the three ahead of him are now in the NFL.
North Carolina State deploys a zone rushing attack, with over three-fourths of the team's runs being such since 2019, and that's where Ekownu is a true mauler. He is tied with Kentucky's Darian Kinnard for the most big-time blocks — PFF's highest-graded plays for linemen — on zone runs over the past two seasons.
Second-Team: Tyler Vrabel, Boston College
Third-Team: Devontay Taylor, Florida State
Honorable Mention: Jarrid Williams, Miami (FL)
INTERIOR OFFENSIVE LINE
Gibson is an athletic defensive tackle-to-center convert. He flipped to the offensive side of the ball in the middle of the 2018 season, his second one with NC State. Gibson was named the starting center for 2019, performed quite well and then broke out in 2020 in his second year holding the job. He posted a grade above 80.0 as both a run- and pass-blocker, something only five other Power Five centers accomplished in the past five years. Four of those five are now in the NFL, with the other being Linderbaum from last season.
Second-Team: Johnny Jordan, Virginia Tech
Third-Team: Cole Bentley, Louisville
Honorable Mention: Olusegun Oluwatimi, Virginia
Both Grant Gibson and Alec Lindstrom are just too good of players to kick one down to the second-team, so we ride with these two primary centers as two of the three PFF Preseason All-ACC First-Team interior offensive linemen.
Alec Lindstrom, the younger brother of former Boston College offensive lineman and current Atlanta Falcon Chris Lindstrom, had rather low expectations coming into college, as he was just a two-star recruit. But like his older brother, he proved to be an underrated talent and a standout pass protector since taking over the starting center job in 2019.
Lindstrom finished 12th among Power Five centers in pass-block grade that year and then recorded the second-best mark among that group of qualifiers in 2020, with an 85.1 mark. Pittsburgh's and Clemson's ferocious defensive fronts did rattle Lindstrom a bit, but he was sharp in every other outing. He also played the fifth-most true pass sets among Power Five centers, further solidifying his impressive grade.
Second-Team: Navaughn Donaldson, Miami (FL)
Third-Team: Caleb Chandler, Louisville
Honorable Mention: Matt Bockhorst, Clemson
Johnson transferred to Boston College from Davidson in 2019 and performed well at guard right away. He earned a 71.4 PFF grade that year, the seventh-best mark among ACC guards. He then moved to left tackle for 2020 and struggled in his debut. But he was crisp the rest of the way, recording a 79.6 PFF grade through the end of the year (sixth among ACC OTs, 24th in the Power Five). This fall, he's headed back to his natural home at guard.
Second-Team: Lecitus Smith, Virginia Tech
Third-Team: Christian Mahogany, Boston College
Honorable Mention: Will Putnam, Clemson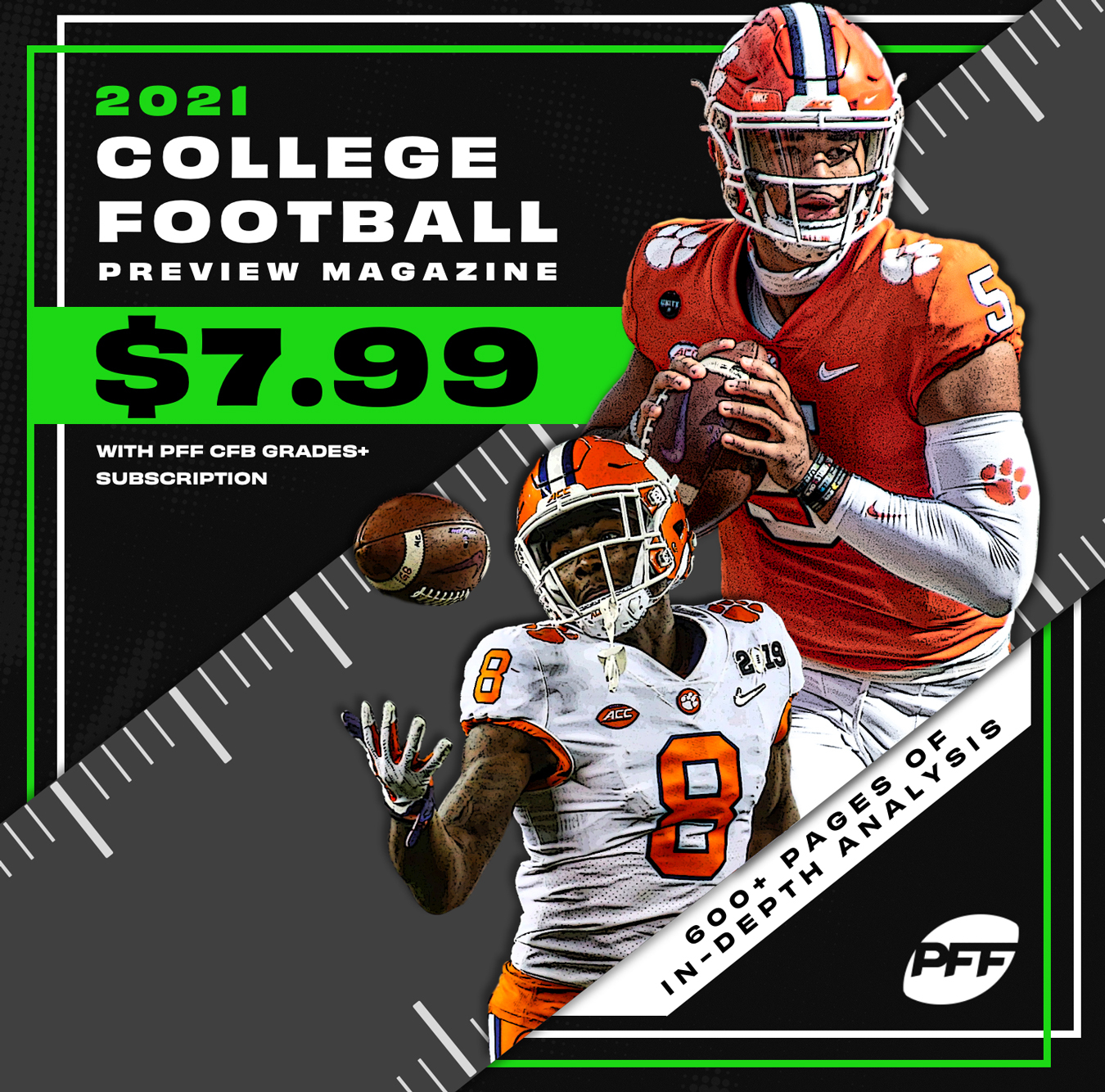 INTERIOR DEFENSIVE LINE
Bresee was the No. 1 recruit of the 2020 class, according to 247Sports, and he was as good as advertised when it came to rushing the quarterback. Bresee posted an 81.2 pass-rush grade and a 14.1% pass-rush win rate, both of which ranked sixth or better among Power Five interior defensive linemen. Once he gets to the side of a lineman, they are toast. Bresee's run defense was shaky, but he should have no problem improving there. Either way, you can count on the 6-foot-5, 300-pound interior defender getting after the quarterback in 2021.
Second-Team: Neste Jade Silvera, Miami (FL)
Third-Team: Aaron Faumui, Virginia
Honorable Mention: Keyshon Camp, Pitt
Only three Power Five interior defensive linemen ranked inside the top 10 in both run-defense and pass-rush grades in 2020. Two are in the NFL, and the other is Pittsburgh's Calijah Kancey, who at the time was a redshirt freshman with no previous snaps in college football to his name. 
Kancey had no issue beating up on lesser offensive lines in his first year on the field, but he didn't have nearly the same kind of production against stout interior offensive linemen — including North Carolina State's Grant Gibson and Notre Dame's unit. We shall see if that changes in 2021, but regardless, Kancey is one to keep an eye on.
Second-Team: Cory Durden, NC State
Third-Team: Tyler Davis, Clemson
Honorable Mention: Devin Danielson, Pitt
EDGE
Murphy, the 2020 No. 7 overall recruit, took on a major role as a true freshman, registering six starts and 423 snaps. And his run defense was truly advanced for his age; the 6-foot-5, 275-pound edge defender posted a 92.5 run-defense grade (first in FBS). He also had the most tackling attempts overall without a miss (31). When Clemson rushed four defenders instead of three, Murphy's pass-rush win rate was 17%.
Second-Team: Keion White, Georgia Tech
Third-Team: Noah Taylor, Virginia
Honorable Mention: Stefon Thompson, Syracuse
Standing at 6-foot and weighing 258 pounds, Valdez is a versatile lineman who can win anywhere along the defensive line, from nose tackle to wide nine. He was a 2019 breakout performer, producing a 79.7 PFF grade that ranked eighth in the ACC and 27th in the Power Five, and he matched that success in 2020 under a new coaching regime with a 79.1 PFF grade that ranked sixth in the ACC and 18th in the Power Five.
He's performed particularly well in run defense, limiting mistakes while being a constant disruptor. He ranks eighth or higher among Power Five edge defenders in both positively and negatively grade run play rate over the past two seasons, paving the way for his fourth-ranked run-defense grade among the group. And he also shored up his tackling in 2020. It was a major pain point in 2019, but he reduced his missed tackle rate from 27.8% to 8.8% this past season.
Valdez hasn't been, and likely never will be, one to put together a purely dominant, game-wrecking performance, but the Eagles can count on him to make an impact every week in 2021.
Second-Team: Jordan Domineck, Georgia Tech
Third-Team: Kingsley Jonathan, Syracuse
Honorable Mention: Tomon Fox, North Carolina
LINEBACKER
Bright is easily the best off-ball linebacker in the ACC heading into the fall. It doesn't matter where he's at or what the offense does, he's going to perform at a high level. He has played over 230 snaps each at outside linebacker, in the box and from the slot over the past two years, earning 73.0-plus grades as a run defender, as a pass-rusher and in coverage both seasons.
Second-Team: Amari Gainer, Florida State
Third-Team: Baylon Spector, Clemson
Honorable Mention: Drake Thomas, NC State
Skalski is back for his sixth season in the collegiate ranks and brings with him proven impact play against the pass. Over the last couple of seasons, he has racked up 17 combined sacks plus hits as a blitzer while earning an 86.0 grade in coverage. Not only does that lead all ACC off-ball linebackers in that span, but that trailed only former Missouri Tiger Nick Bolton, who was taken 58th overall in the 2021 NFL Draft by the Kansas City Chiefs, for the best in the Power Five.
Second-Team: Ryan Smenda Jr., Wake Forest
Third-Team: Nick Jackson, Virginia
Honorable Mention: Gilbert Frierson, Miami (FL.)
CORNERBACK
First-Team: Storm Duck, North Carolina
A former three-star recruit, Duck became the Tar Heels' starter in Week 5 of the 2019 season before establishing himself as one of the top young cornerbacks in the country by the end of the year.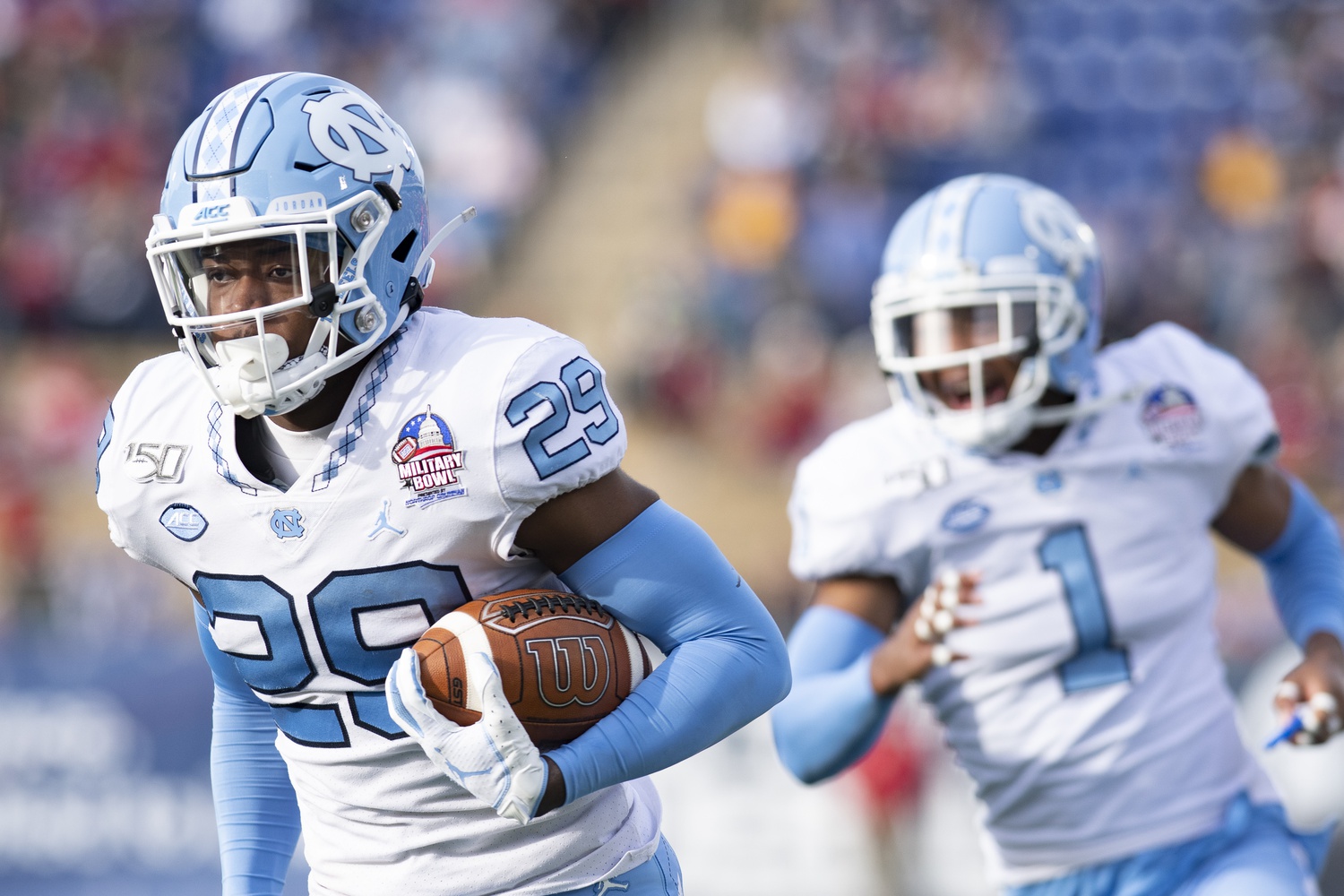 Duck finished his first season with an 81.3 coverage grade, a top-20 mark in the Power Five and one of the 15 best grades produced by a true freshman in PFF's seven years of grading college football. He played in just two games last season because of injury, though. He was targeted 13 times over those outings, and he allowed just four catches for 31 yards while forcing five incompletions. Clemson has some talented cornerbacks on their roster, but it's hard not to say Duck is the ACC's best cornerback entering the season.
Second-Team: Tony Grimes, North Carolina
Third-Team: Marquis Williams, Pitt
Honorable Mention: Dorian Strong, Virginia Tech
In a year where cornerback play across the board may be the best of the PFF College era, Waller is more than capable of producing at a top-10 or even All-American level despite missing most of 2020 due to injury. He proved as much back in 2019 when he made more plays on the ball than first downs or touchdowns allowed en route to the seventh-best outside coverage grade among Power Five corners. Four of the six cornerbacks ahead of him that year were drafted within the first two rounds of either the 2020 or 2021 NFL Draft, and the other two are LSU's Derek Stingley Jr. and Washington's Trent McDuffie.
Waller was tested repeatedly downfield but rarely let up an open target, routinely forcing tight coverage and playing the catch point exceptionally well. Only Jaylon Johnson (formerly of Utah and now with the Chicago Bears) and former teammate Caleb Farley (now with the Tennessee Titans) allowed a lower catch rate on 10-plus-yard targets among Power Five outside corners than Waller (20.7%). He's now fully healthy and ready to get back to that lockdown 2019 form.
Second-Team: Caelen Carson, Wake Forest
Third-Team: Damarri Mathis, Pitt
Honorable Mention: Ja'Sir Taylor, Wake Forest
SAFETY
Turner was great as a reserve in 2018 and 2019, with a two-year 80.5 PFF grade across 971 snaps. He took on a full-time starting job in his fifth year in 2020 and maintained his admirable play en route to a 79.1 PFF grade. There was one notable improvement: tackling. He missed over 25% of his career attempts prior to 2020 but cut that rate to 6.5% last season.
Second-Team: Kenderick Duncan Jr., Louisville
Third-Team: Deon Jones, Boston College
Honorable Mention: Jammie Robinson, Florida State
Thomas broke out in 2019, putting himself on a path to becoming one of the premier safeties in the ACC. However, his coverage play took a considerable step back this past year as he played more deep safety. His grade in that facet dropped from 80.8 to 56.0. Still, his great run support remained, and his grade in that facet since 2019 ranks third among Power Five safeties.
Second-Team: Nasir Greer, Wake Forest
Third-Team: Joey Blount, Virginia
Honorable Mention: Bubba Bolden, Miami (FL.)
FLEX D
Booth, a 2019 five-star recruit, made some highlight-reel plays on the ball in 2020 that scream "special." After a so-so debut in which he gave up two catches for 67 yards, Booth was lights out the rest of the way, allowing just 93 yards on 174 coverage snaps in his last 10 games. He could challenge for the title of top cornerback in the ACC in 2021.
Second-Team: Kai'Trel Clark, Louisville
Third-Team: Josh DeBerry, Boston College
Honorable Mention: Josh Blackwell, Duke
KICKER
First-Team: Nick Sciba, Wake Forest
Second-Team: B.T. Potter, Clemson
Third-Team: James Turner, Louisville
Honorable Mention: Christopher Dunn, NC State
PUNTER
First-Team: Kirk Christodoulou, Pitt
Second-Team: Lou Hedley, Miami (FL)
Third-Team: Trenton Gill, NC State
Honorable Mention: Alex Mastromanno, Florida State
KICK RETURNER
First-Team: Zonovan Knight, NC State
Second-Team: Trebor Pena, Syracuse
Third-Team: Jahmyr Gibbs, Georgia Tech
Honorable Mention: Hassan Hall, Louisville
PUNT RETURNER
First-Team: Jaelen Gill, Boston College
Second-Team: Taylor Morin, Wake Forest
Third-Team: Thayer Thomas, NC State
Honorable Mention: Billy Kemp IV, Virginia