With the 2019 College Football Awards show on the horizon, it's time to take a look at who we would give the season's top awards to following an incredible 2019 season. With our play-by-play grading of every player on every play of every game, we can take an in-depth look at the most deserving players for every award, with a clear eye at who the most deserving players truly are for each of the major college football awards.

It's important to note that this is not a prediction of who will win — but rather, who we would we have given the awards after watching every player across the country.
Be sure to check out our All-American teams as well as our All-Conference team selections for the ACC, Big Ten, Big 12, SEC, Pac-12, AAC, C-USA, MWX, MAC and Sun Belt.
Heisman Memorial Trophy: Most Outstanding Player
QB Joe Burrow, LSU
This one isn't even close, and it likely goes down as one of the largest margins of victory in recent history of the Heisman — that's just how we see it. This should be a runaway victory for Burrow, who completely dominated the nation's toughest conference against arguably one of the tougher schedules in college football. He was outstanding at every level of the field, leading the nation in passing grade on pressured passes, 20-plus yard passes, play-action passes, you name it. Burrow was unstoppable this season and he looked more and more like the Heisman lock every single week, debuting on our weekly Heisman race at No. 1 all the way back in Week 2. He only fell out of the top spot one week, thanks in large part to Chase Young's dominant outing against Wisconsin. Still, with a multitude of Heisman moments in his pocket, Burrow is the hands-down winner of the nation's most prestigious award and arguably the most deserving player of it that we've seen in some time.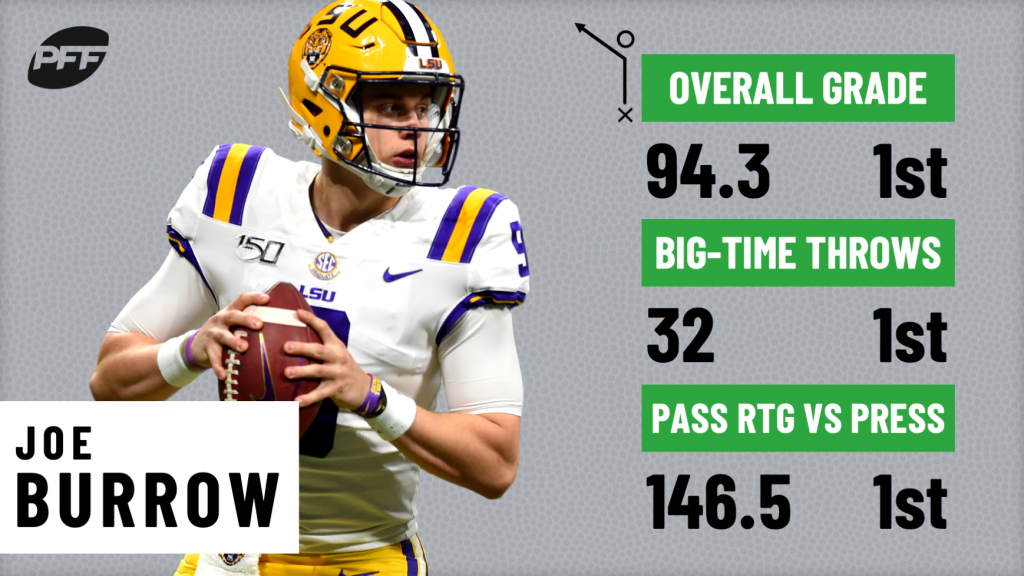 Maxwell Award: Most Outstanding Player / Walter Camp Award: Player of the Year Award / Davey O'Brien Award: National Quarterback Award / Johnny Unitas Golden Arm Award: Outstanding Senior Quarterback
Joe Burrow, QB, LSU
The amount of superlatives that can be and will be assigned to Burrow come the official end of the season may be astronomical. Burrow was by far the nation's best player at the most important position in all of team sports, setting PFF College records along the way. His 83.0% adjusted completion percentage is not only the second-best mark in the nation behind only Tyler Huntley, it set records when looking at it against the rest of the college football landscape. In the PFF College era, 373 quarterbacks have attempted 250-plus passes in a season and seen an average depth of target of 9.1 yards downfield or higher. Of those 373 quarterbacks, Burrow is the only one to average a depth of target farther than 9.1 yards downfield and still finish the season with an adjusted completion percentage above 81.1%. 
Burrow was the country's top quarterback by a long shot, and it didn't matter which way you sliced it — he dominated the college football landscape. While he led in big-time throws (32), Burrow was no stranger to taking something off his throws, as he was just as good at throwing vertical routes as he was horizontal routes. He played himself from a mid-round draft pick and an above-average SEC quarterback into one of the more decorated college seasons that we've seen from a quarterback, and his mantle should don the hardware to prove it.
Doak Walker Award: National Running Back Award
Travis Etienne, RB, Clemson
Etienne set the record from us at PFF with the highest percentage of missed tackles forced per carry by breaking a tackle on 46% of his attempts in 2019. He totaled 84 missed tackles forced on just 181 carries, ranking first among running backs in total missed tackles forced on the ground but just 45th in total attempts this season. He churned out a first down or a touchdown on his carries 37% of the time while he broke off first contact just the same, earning 973 of his 1,492 total rushing yards after contact. Etienne was as big of a home-run threat that there was in the country. And though he had some solid run-blocking in front of him, he was no stranger to making defenders miss and bouncing off would-be tacklers on his own all year long.
Fred Biletnikoff Award: Outstanding Wide Receiver
WR Ja'Marr Chase, LSU
Chase's body of work is second-to-none, as he exploded onto the scene with the help of Joe Burrow's emergence. He finished with the second-highest receiving grade and the second-highest overall grade among all qualified receivers, doing so on 30% more targets than his counterparts at the top. Sustained top-notch receiver play gives him the edge in the top receiver award, as he hauled in 73 receptions for 1,498 yards, 18 touchdowns and 39 first-down receptions. He broke off his man with a quick first step with relative ease, but he could also bring down contested catches when the opportunity was presented to him, finishing the season by hauling in 14-of-27 contested-catch opportunities. Chase was dominant all over the field, but he was the nation's top receiver on throws targeted outside the numbers. On such situations, Chase hauled in 44 receptions on 64 targeted throws for a national-best 10 touchdowns and 26 explosive plays of 15-plus yards. 
John Mackey Award: Outstanding Tight End
TE Harrison Bryant, FAU
No tight end had the kind of season Bryant had in 2019, and he capped it with a Conference-USA Championship to boot. He led all tight ends with 65 receptions, 1,004 yards, 12 missed tackles forced and was by far the highest-graded tight end overall for the season. It wasn't just his receiving prowess that made him stand out this season, however, as he also put forth quite the display of blocking skills to round out his skillset. Bryant finished the year with a 75.2 pass-blocking grade, ranking 19th in the country, while also possessing a top-10 figure in run-blocking grade. FAU running backs averaged over 2.00 yards before contact when rushing to either side of Bryant in 2019.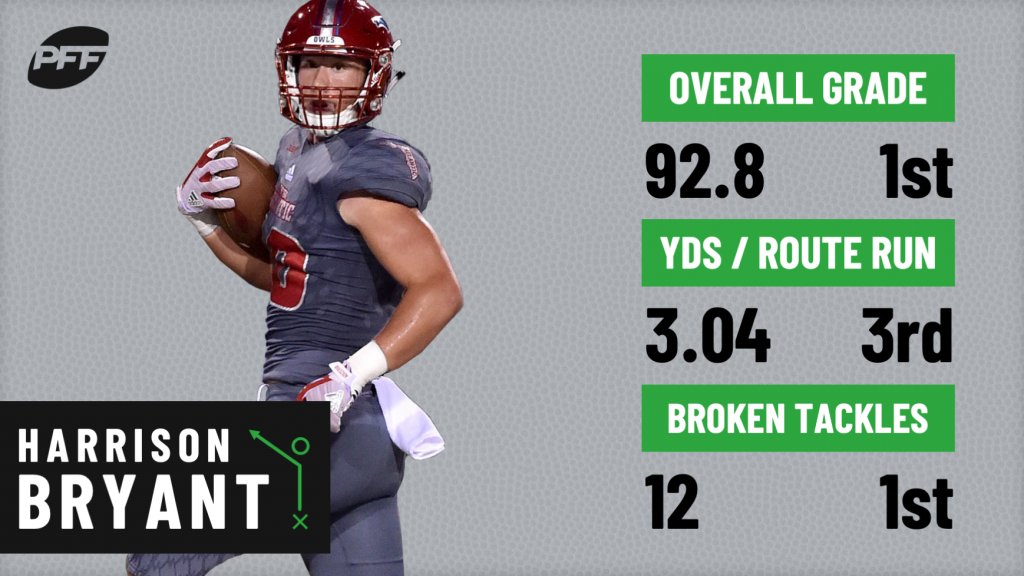 Outland Trophy: Outstanding Interior Lineman
Penei Sewell, OT, Oregon
Perhaps the most dominant college tackle since Eric Fisher went first overall in 2013, Sewell has taken his already-dominant first year on campus to even greater heights during his true sophomore campaign in Eugene. His season saw him even crack our top 10 for the Heisman Trophy, as he'll certainly dot all sorts of preseason watch lists next year for the prestigious award. Still, he should end his season as not only our Pac-12 Player of the Year but also with some additional hardware — he's the highest-graded offensive player this season, regardless of position. Sewell holds the nation's top run-blocking grade of any offensive lineman, and he allowed all of seven total pressures across his 466 snaps in pass protection. There is no one offensive lineman who can hold a candle to Sewell across both facets of play.
Rimington Trophy: Outstanding Center
Matt Hennessy, C, Temple
As terrific of a center that you'll find in all of college football this season, Hennessy was outstanding for the Owls in 2019. He led all centers in overall grade, as he was the only one to finish with an elite overall grade of 85.0 or higher, sitting at 87.0. He led them all in run-blocking grade while finishing fifth in pass-blocking grade, as he allowed just four total pressures on his 454 pass-blocking snaps. He paved the way for some wide-open rushing lanes with ease just the same as he stepped back in pass protection, being an absolute stalwart interior player for his Owls team.
Chuck Bednarik Award: Defensive Player of the Year / Bronco Nagurski Award: Defensive Player of the Year / Ted Hendricks Award: Defensive End of the Year
Chase Young, Edge, Ohio State
Like the aforementioned Burrow, Young's 2019 season should be as decorated as we've seen in recent time for a defensive end, as he single-handedly changed each game he played. He was arguably the best college football player when he was on the field — and not just on defense. Young set PFF College records in the process for overall and pass-rush grades. With routine double-teams and even triple-teams, with running backs and tight ends chipping him, Young still won over 28% of his pass-rush attempts and finished with the national-best 18 sacks. He recorded 51 total pressures on his 282 pass-rushing attempts but was often not given the chance to record a pressure, as the offensive game plan literally dictated plays away from Young's side of the field. In fact, Young was so dominant, he had another 29 pass-rushes in which he beat the tackle in front of him but didn't get credit for a pressure due to the play call literally scheming against Young's pressure-making ability.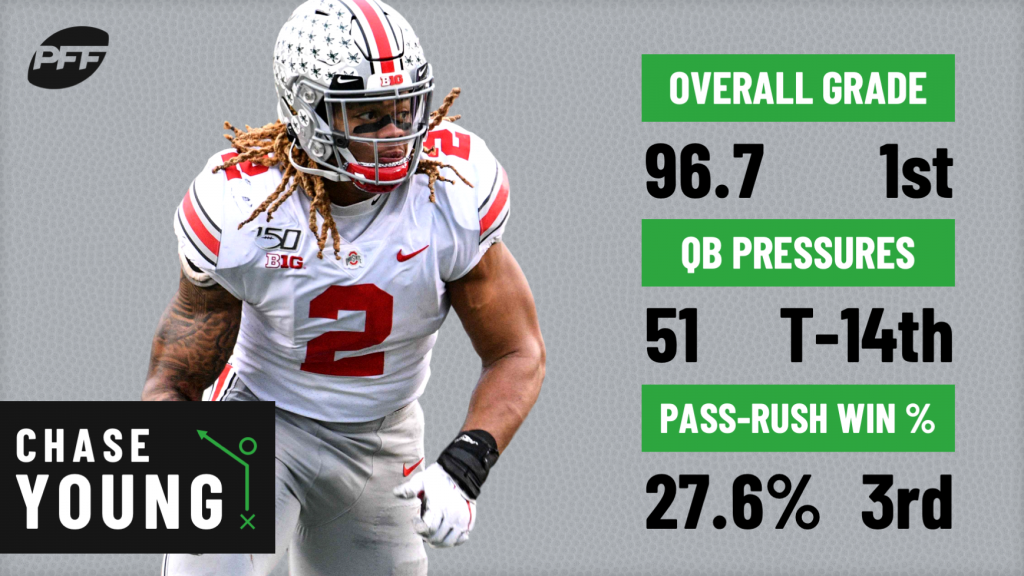 Jim Thorpe Award: Outstanding Defensive Back
Derek Stingley Jr., CB, LSU
Stingley possesses arguably one of the nation's better cover-corner skillsets and he showed off those skills in more than a few moments. In total, he was targeted a whopping 85 times in 2019 as teams clearly looked away from star cornerback Kristian Fulton and star safety Grant Delpit. Stingley allowed just 34 receptions, seeing a completion percentage of just 40.0% into his coverage. He also snagged six interceptions while forcing 17 total incompletions. For the season, he lined up in press coverage on 278 snaps, going one-on-one with talented receivers such as Collin Johnson, Kalija Lipscomb, DeVonta Smith and George Pickens. Those 278 press-coverage snaps ranked as the fourth-most in the country, and yet, he was only beaten for five touchdowns and nine first downs all year long. Understanding where he lined up and how many times he was tasked with going one-on-one with a receiver makes the picture of just how good he was in coverage a bit clearer. What makes it even more impressive is the fact that he is only a true freshman. 
Lou Groza Award: Collegiate Place-kicker Award
Gabe Brkic, K, Oklahoma
In his 13 games this season, Brkic did not miss a single kick, including going a perfect 44-of-44 on extra points and another 17-of-17 on field goals. He wasn't tasked with as many kicks as the rest of the country's top kickers, but when he was given the opportunity to add value and points, he did so without any issue. He was a perfect 4-of-4 on kicks from at least 40 yards out while also handling kickoff duties admirably, pinning opposing teams beyond the 25-yard line on average during his 101 kickoff attempts.
Ray Guy Award: Outstanding Punter
Sterling Hofricther, P, Syracuse
Finishing not only as PFF's highest-graded punter, Hofrichter was the nation's best at pinning opponents deep in their own territory. As dangerous of a skill that a punter can own, his average hangtime of 4.51 led all punters this year, and he used that to his advantage by allowing just 13 total punt-return yards — the fewest in the country among punters with at least 40 attempts. For the year, Hofrichter launched 69 punts for a total of 3,022 yards, seeing a net punt average of 43.0 yards, the fourth-highest among all punters. He also knocked 32 of those kicks inside the opponent's 20-yard line.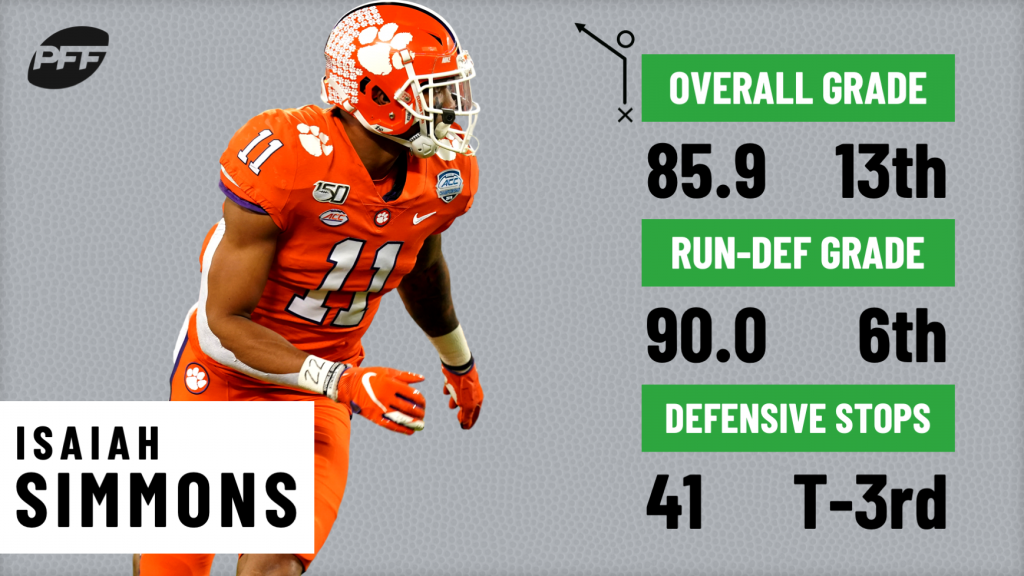 Paul Hornung Award: Most Versatile Player
Isaiah Simmons, LB, Clemson
The most versatile player award oftentimes drums up the notion of an offensive player who gets the ball into their hands in more ways than one. When you watch Simmons play, you realize he's that and then some, but on the defensive side of the ball. For the year, he logged 808 total defensive snaps, with 104 coming from the defensive line, 203 coming as a box linebacker, 230 coming from a slot cornerback alignment, 106 as a free safety, six snaps as a wide cornerback and another 159 snaps on a variety of special teams' units. Simmons played all of those positions at an extremely high level, finishing with elite grades in run defense, tackling and overall. He attempted 81 total tackles and missed just six attempts while he racked up 25 total pressures — including 10 combined sacks and hits. Simmons also limited receivers in his primary coverage to just 61 yards after the catch and a passer rating of 74.4 on his 34 targeted passes. He did it all for Clemson this season and is certainly the most versatile player in all of college football.