Oklahoma Sooners 45, Texas Longhorns 40 
Here are the top takeaways and highest-graded players from Oklahoma's 45-40 win over Texas.
Oklahoma Sooners
Quarterback grade: Baker Mayfield, 76.7
Mayfield moves the chains with a number of big throws and runs
It was a classic game for Mayfield that featured few negatives and a number of passes that moved the chains, many of which came after Mayfield maneuvered around the pocket before finding the open man. His best throw of the day was a strike on a post for a deep touchdown late in the second quarter and there were few misses after that point. However, Mayfield nearly gave the game away with a late fumble on an option run, but was lucky that Texas was unable to fall on the ball.
Top offensive grades
WR Dede Westbrook 88.5
LT Orlando Brown 80.0
C Erick Wren 79.0
RT Bobby Evans 78.7
RB Samaje Perine 77.7
Dede Westbrook's big plays carry the offense
Westbrook was the best player on the field, catching all 10 of his targets for 232 yards and three touchdowns. He was on the receiving end of the post route from Mayfield, but also took a slant to the house as well as a slant-and-go. Beyond Westbrook, LT Orlando Brown had one of the best games of his career with a clean day in pass protection and strong run blocking in Oklahoma's power-heavy scheme. At running back, Samaje Perine was a workhorse with 214 yards on 35 carries and 149 of those yards coming after contact. He forced eight missed carries as a runner.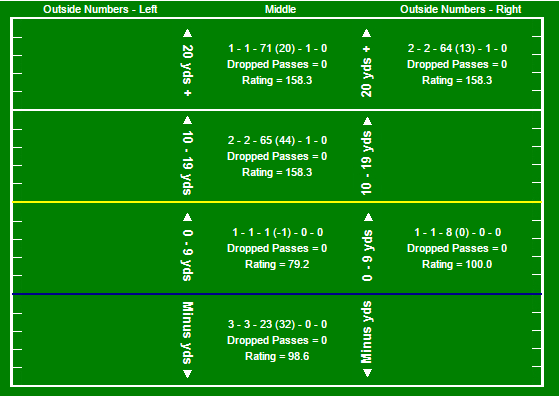 Top defensive grades
Edge Ogbonnia Okoronkwo 80.6
LB Emmanuel Beal 78.3
CB Steven Parker 77.9
DI Neville Gallimore 77.8
S Will Sunderland 77.3
Defense solid, but gives up a number of big plays
The big plays did the Oklahoma defense in, and that's why they gave up 40 points on the afternoon. It wasn't all bad as they made a number of key stops against both the run and pass, but two long passing touchdowns by Texas QB Shane Buechele and a few wide open runs by RB DeOnta Foreman stick out as negatives. Ogbonnia Okoronkwo was the star on defense with two sacks, three hurries and a batted pass on 26 rushes while LB Emmanuel Beal finished with a team-high five stops. CB Jordan Thomas had a roller coaster of a game, getting his hands on four passes but also getting torched for two long touchdowns and what should have been a third had Buechele not overthrown his wide open receiver. Thomas finished at 68.6 for the game.
Texas Longhorns
Quarterback grade: Shane Buechele, 61.1
Buechele misses too many throws in losing effort
Buechele clearly hasn't been the same quarterback since a dynamic start to the season and this was his third-straight subpar game. The true freshman missed far too many throws, finishing with an adjusted completion percentage of only 63.6 and he hit only 4-of-11 on passes thrown at least 10 yards in the air. Buechele did throw two excellent deep passes for touchdowns early in the third quarter, but his inaccuracy hurt the offense's efficiency and ability to sustain drives and he was late and behind on his third-quarter interception.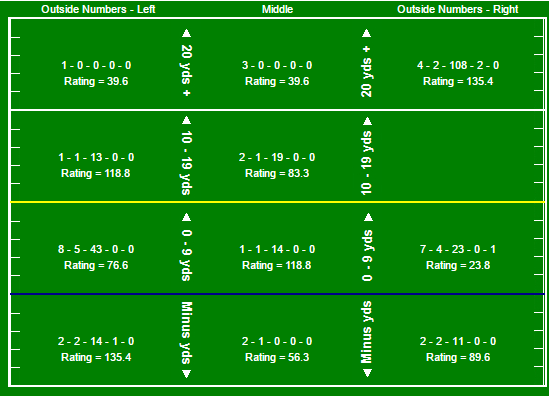 Top offensive grades
C Zach Shackelford 78.4
LT Connor Williams 78.0
WR Devin Duvernay 76.9
RB DeOnta Foreman 76.4
WR Dorian Leonard 69.9
Hit or miss up front, Foreman runs hard
The offensive line had two bright spots in Zach Shackelford, who had the best game of his young career, and Connor Williams, who continued his All-American type of season with a strong run-blocking effort and only one pressure surrendered. RB DeOnta Foreman ran for 159 yards on 25 carries, with 98 yards coming after contact. He forced five missed tackles, but did put the ball on the ground once. WR Devin Duvernay caught all three of his targets for 81 yards and he had a beauty of a catch on a 63-yard go route for a touchdown.
Top defensive grades
DI Poona Ford 78.0
DI Charles Omenihu 74.3
S Jason Hall 73.5
CB P.J. Locke III 73.2
Edge Malcolm Roach 72.0
Defense misses 19 tackles
A week after missing 13 tackles against Oklahoma State, Texas missed 19 this week, a big reason for the 45 surrendered points. LB Malik Jefferson and S Dylan Haines missed three apiece while eight others got into the action with at least one missed tackle. As for the bright spots, Poona Ford tied for the team lead with four stops while DI Charle Omenihu was solid against the run while adding two hurries. Overall, however, it was another disappointing effort by the defense as head coach Charlie Strong's seat heats up even more.