Recruiting is the lifeblood of college football. The best teams consistently win over the most talented high school football players, allowing continued success over many years. In spite of this, little analytical research has been done on the topic.
To course-correct for that, we'll take some time to analyze the results of 2022 National Signing Day using two key metrics: winning a state and balkanization.
We'll consider a team to have won a state if they have the plurality of top 15 recruits in the state of any program. If two or more programs have the same number of commitments, then the tiebreaker is whoever has the most total stars of those programs. If the programs have the same number of total stars, then the winner is whoever has the highest total 247sports composite rating. This can also be extended to the metro level.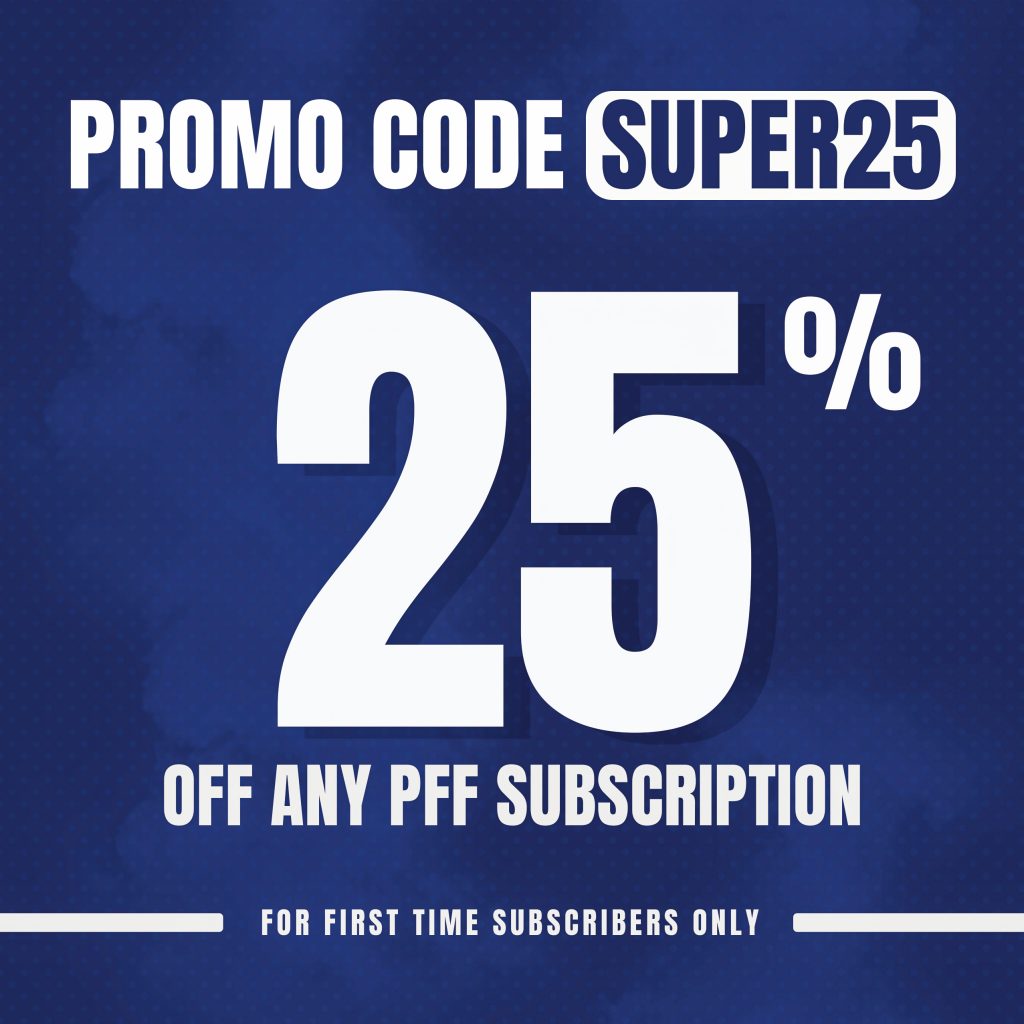 Balkanization refers to how many schools got a commitment from a top-15 recruit — it is a measure of how well a state is "locked down." The maximum balkanization a state or city can have is 15 (every top recruit is going to a different school) and the minimum balkanization is 1 (one program got every top recruit). With that out of the way, which college football programs won every state this cycle?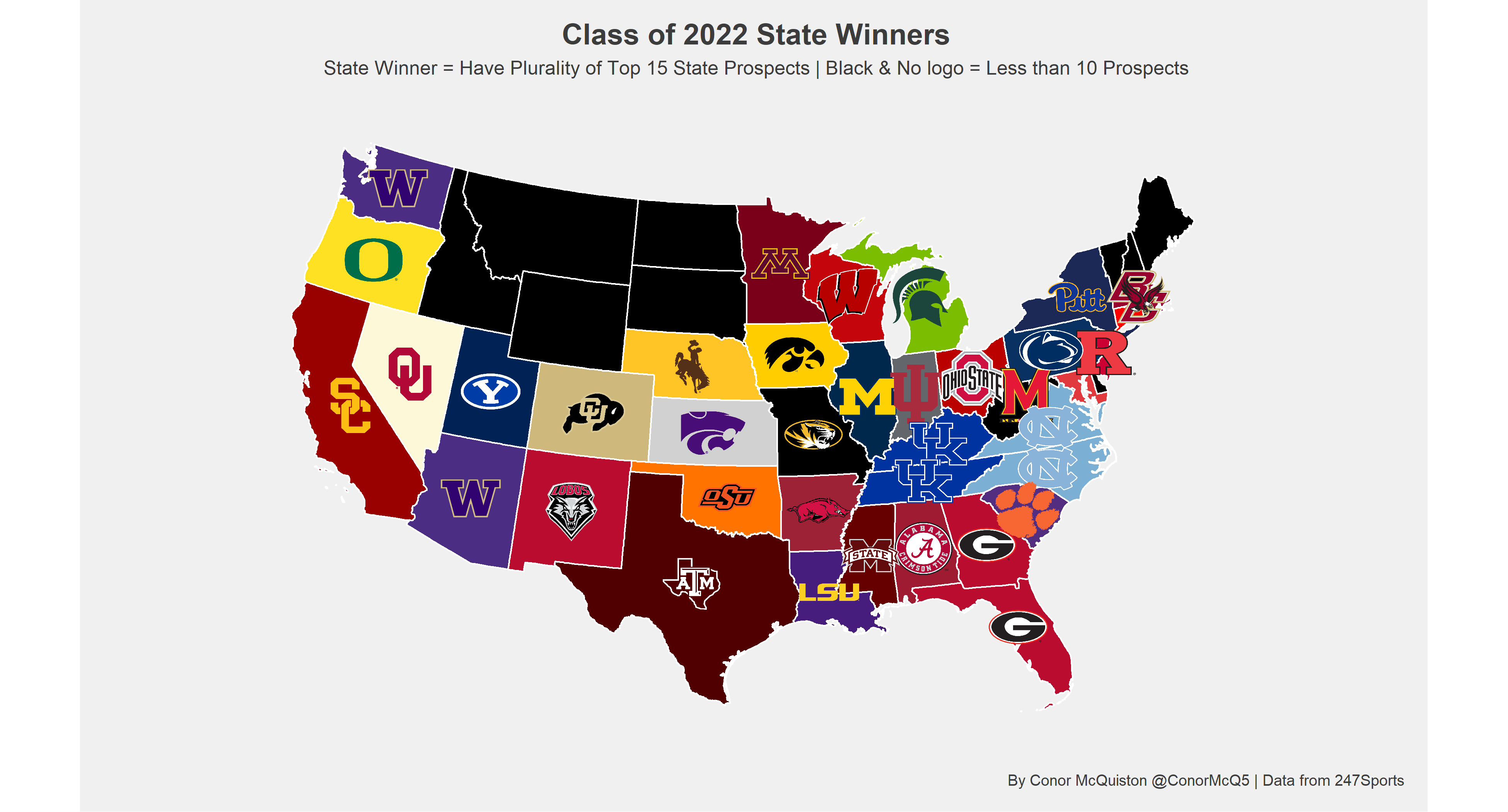 In lieu of an exhaustive reasoning for every state winner, we'll pick eight particularly interesting states and break down their recruiting battles.
The Dawgs are building upon their first national championship in over 40 years with a tremendous recruiting class. This is not a terribly surprising result given they just won the national championship and UGA has won the state nearly every year since Kirby Smart took over as head coach. The only exception was in 2020 when LSU got a commitment from five-star recruit and top GA prospect Arik Gilbert, who has since taken a circuitous route to end up with UGA anyway. What's more noteworthy is the lead UGA has built up over other schools, and how this has reversed a recent trend for them.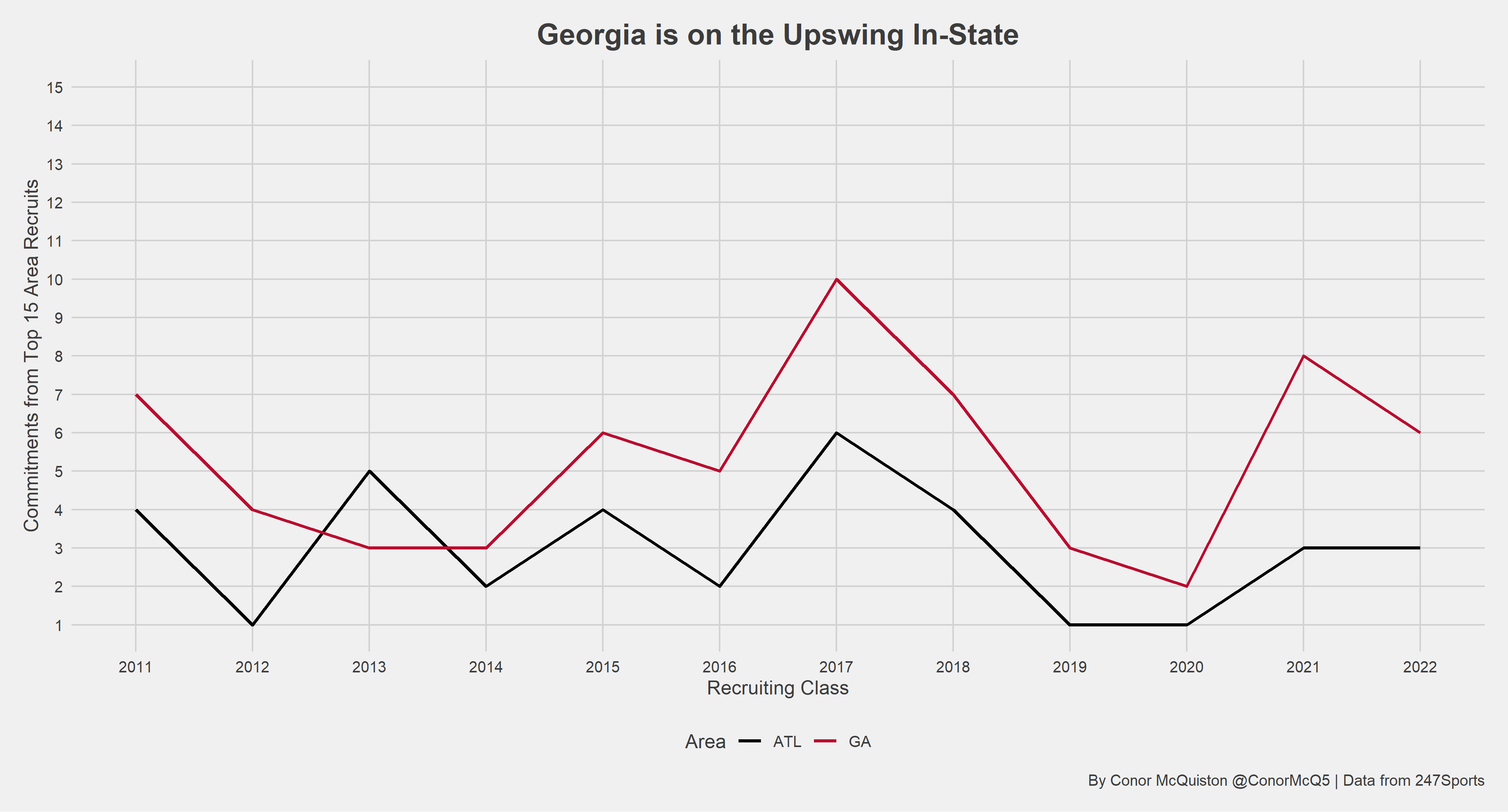 After exploding onto the scene with an astounding 10 top recruits in the state during his first cycle in 2017, Smart's lead within the state gradually diminished until bottoming out at only two in 2020. He reversed this trend in 2021 with a strong in-state showing and has rolled this momentum into the current class. Another encouraging point: They are not reliant entirely on Atlanta, the Southeast's most centralized and thus competitive pool of talent, for this talent.
Atlanta is one of the most competitive individual cities in America, alongside Los Angeles, Miami and Dallas-Fort Worth, and thus any plurality gained in the city would likely only result in a handful of recruits. In other words, since UGA's 2021 and 2022 Georgia classes are composed of less than half Atlanta recruits, this may imply that they're doing a better job forming connections with more rural, harder-to-access high schools. This could be a boon for them as it could help keep a healthy supply of in-state talent into the program even in years when a strong plurality is not struck inside Hotlanta.
---
Click here for more PFF tools:
Rankings & Projections | WR/CB Matchup Chart | NFL & NCAA Betting Dashboards | NFL Player Props Tool | NFL & NCAA Power Rankings
Best Bets Tool
---
Florida is one of the three most talent-rich states in the country, along with California and Texas. Every program in the FBS wants "Florida Speed" on its roster, and each of the state's "big three" programs (Florida, Florida State and Miami) have won multiple championships off the back of in-state talent. Thus, the notable part about this win is not that Georgia won a narrow plurality of top Florida recruits — the state's winner every year since 2017 has had three or four top recruits (save Alabama with a bananas seven in 2021). The notable part is the continued inability of any of the Big 3 Florida schools to make a serious run at winning the state.
Free for 7-days. Subscribe to continue reading and unlock
All premium content with the best insights + analysis in the game
NFL Draft Guide, Big Board + Mock Draft Sim
Fantasy Draft Kit and Nathan Jahnke's award winning rankings
Bet smarter with PFF player mismatches and expert betting insights
NFL and CFB player grades and premium stats
Unlock all PFF data trusted by all 32 NFL teams
Already have a subscription? Log In