The Big 12 has generally been known for its high-octane offenses led by top-notch quarterbacks. There's no reason to think that that won't be the case again this year. Other than TCU's Trevone Boykin, every starting quarterback in the conference from last season is returning. There's a good mix of really high-end talent as well as some that are less so.
As we saw last season, the top teams in the Big 12 all benefitted from excellent quarterback play. It would be a shock if a team succeeded in the conference without high level quarterback play. While there are always a few surprises every season, the quarterback situations in the Big 12 look pretty set in stone. Here's a ranking of the top five QBs in the conference based on their play in previous seasons:
Baker Mayfield, Oklahoma
Mayfield is without question the biggest name of the returning quarterbacks in the Big 12. There's a case to be made that he's the best returning quarterback in the nation. He had the highest overall grade among any returning quarterback at +49.6 last season. His 36-to-7 touchdown-to-interception ratio was easily the best among Big 12 quarterbacks, as well as all Power-5 conference quarterbacks. He was the biggest reason Oklahoma earned a spot in the College Football Playoff.
Mayfield's adjusted completion percentage of 77.2 was the highest percentage in the Big 12, and also ranked second among returning QBs on any Power-5 team. His deep throw adjusted completion percentage of 51.7 ranks fifth among Power-5 QBs and fourth among those in the Big 12. That shows just how important the deep throw is in the conference, and Mayfield is one of the best in the nation at it. He was effective under pressure and rarely made a turnover worthy play.
With the loss of star wide receiver Sterling Shepard there's more pressure on Mayfield's shoulders to succeed. But based on how he played last year all signs point to another high-quality season. If he performs at the same level or even finds a way to improve, Oklahoma will still be one of the teams to beat in the Big 12.
Mason Rudolph, Oklahoma State
Based on last year's play, Rudolph ranks second, but there's a good chance that he could finish the season at number one. Rudolph was largely overshadowed by Mayfield last year, but Oklahoma State was 10-0 going into the final two weeks of the season and it was largely thanks to his strong play. His passing grade of +43.5 was actually better than Mayfield's, and was the highest passing grade among all returning Power-5 QBs. He only threw 21 touchdowns (and nine interceptions), but the Cowboys frequently subbed in dual threat QB J.W. Walsh near the goal line, who threw 13 touchdowns and ran for 13 more, taking away what could have been Rudolph's numbers.
Now that Walsh is gone, Rudolph has full reign over the offense. The biggest reason for excitement is Rudolph's deep throw. His adjusted completion percentage on throws greater than 20 yards downfield was 57.3. Only one QB in the nation (Texas' Jerrod Heard) had a higher rate than that, and he had 57 less attempts than Rudolph (87 to 32). In fact, Rudolph's 89 attempts on deep throws were the second –most in the nation. Take a look at this incredibly perfect throw that goes right through his receiver's hands.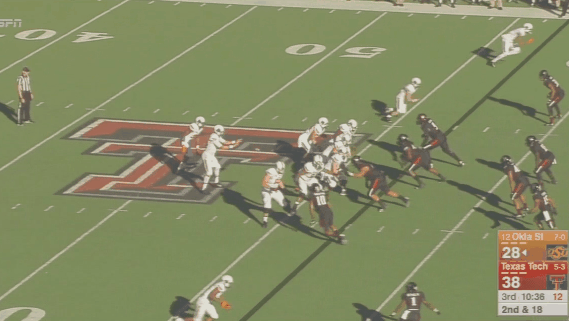 Rudolph also performs extremely well under pressure. His 64.1 adjusted completion percentage in such situations was sixth-highest among returning Power-5 QBs, and the highest among anyone in the Big 12 last year. Now that he's not splitting time, he should have a breakout year for Oklahoma State.
Seth Russell, Baylor
Russell is our first dual-threat quarterback to make the list. He perfectly operates what is arguably the most exciting offense in all of football. Over the past two seasons, Russell has started eight games. Baylor has gone 8-0 in those games and the offense has averaged 690 yards and 62.3 points per game. Those are video game numbers happening in real life. Russell himself averages 318 passing yards, 52 rushing yards, over four passing touchdowns and nearly one rushing touchdown per game during that span.
Russell isn't the most talented passer in the Big 12 but that doesn't mean he's bad by any means. He's accurate, as shown by his 70.8 adjusted completion percentage last year. He also has a strong arm and is accurate on 47.3 of his throws over 20 yards downfield. Both of those numbers rank fifth in the conference and 17th in the nation. He also loves to attack downfield, as his 10.5 yards per attempt was the highest mark in the nation among all QBs last season.
Russell combines a perfect blend of passing ability with the threat of running that allows the Baylor offense to operate at peak efficiency. The only real knock on him is his health. He's been injured the past two years, including almost half of last season. But if Russell can stay healthy, the rest of the Big 12 better watch out.
Patrick Mahomes III, Texas Tech
Mahomes represents the best quarterback in a tier below the top three above. It's not that he's not talented, but he just hasn't shown that he's quite at the same level as Mayfield, Rudolph or Russell. But that doesn't mean he can't reach that level this year. Mahomes has a ton of athleticism and uses it to his advantage to put up crazy numbers at Texas Tech. He led the Big 12 with 4644 passing yards and 36 touchdowns last season. He also added 576 yards and 10 touchdowns on the ground.
While Mahomes may not make a ton of difficult throws in the Red Raiders offense, he rarely misses on the throws he does make. His 74.2 percent adjusted completion rate was second in the conference and sixth among Power-5 quarterbacks. He doesn't have a great deep ball, accurate on just 40.3 percent of his throws and seven interceptions. But he also threw 15 deep touchdowns and that was the most in the Big 12. Mahomes also adds a huge running threat to his quarterbacking. He doesn't necessarily scramble all the time but he makes plays with his feet to extend passing plays like the one below.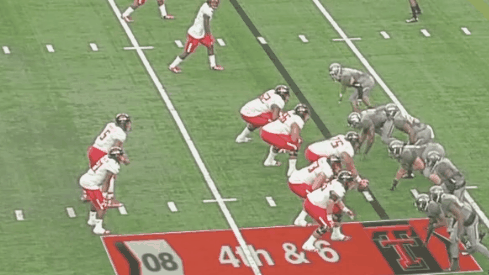 If Mahomes can shore up his deep ball a little bit and cut back on the turnovers it would not be a stretch to compare him to the top three quarterbacks on this list. He has that potential, he just needs to fully realize it.
Kenny Hill, TCU
Remember Kenny Hill? The Texas A&M quarterback took over after Johnny Manziel and immediately broke his single game passing yards record with 511 yards in his first start. He played well over half the 2014 season, before being replaced by Kyle Allen and then suspended from the team. He was granted his release from the team and transferred to TCU. He sat out last season and now looks to take over as the starter with Trevone Boykin gone.
In his 2014 starts he graded out at +13.9 overall, which would've put him sixth in the Big 12 among returning players this year. Hill was very accurate through all his starts and his 77.3 percent adjusted completion rate ranked fifth in the entire nation in 2014. His deep ball wasn't perfect but he was still accurate on 44 percent of his throws over 20 yards downfield. He was also very effective when dealing with pressure, completing over 50 percent of his throws for an average of 9.7 yards per attempt, seven touchdowns and two interceptions.
Hill is also an impressive runner. He had 38 carries for 264 yards and forced ten missed tackles. He's an exciting player that knows how to throw the football. His skillset fits very well in the TCU offense and it's not crazy to think that TCU will be just as good as last season with Hill at the helm.
BONUS: Jarrett Stidham, Baylor
Stidham makes this list as a bonus because he's almost certainly stuck behind Russell on the Baylor depth chart this season provided that Russell is healthy. But Stidham is too good a quarterback to leave out. Last season when Russell went down and Stidham took over, he proved that he was a more than capable starting quarterback.
Stidham was incredibly accurate last season. His adjusted completion percentage was 81.0, which was third in the nation among quarterbacks with over 100 attempts. He was just as effective throwing the football deep last season and was accurate on 57.1 percent of his throws over 20 yards downfield. He was also very good at dealing with pressure, and his accuracy actually increased in such situations.
Stidham doesn't run the offense quite as efficiently as Russell because he doesn't offer a running threat on the read option to keep defenses guessing. But if Russell's health fails him again, Stidham would have no problems stepping in and leading Baylor to another successful season.