As a senior in high school, Derek Stingley Jr. made a name for himself for his vaunted coverage ability. The former five-star recruit and high school All-American, as well as the top-ranked cornerback in the nation, received scholarship offers from seemingly every college in the country. Of all the schools that he received offers from, Stingley Jr. decided to stay in Baton Rouge and play for his hometown LSU Tigers. He showcased his talents during spring and training camp, subsequently leading to head coach Ed Orgeron naming him the starting cornerback opposite senior Kristian Fulton, effectively creating one of the nation's deadliest secondary duos.

In his first game as a collegiate athlete, Stingley Jr. faced Georgia Southern and was targeted a mere three times. He did not allow a single completion, but he did break up a pass, which led to a 39.6 passer rating when targeted and a coverage grade of 74.1.
After his great Week 1 play, all eyes were on him heading into College Station to play Sam Ehlinger and the Texas Longhorns, and he didn't disappoint in the Week 2 matchup, as he was targeted four times, produced two pass breakups and allowed just two catches for 20 yards on 64 snaps in coverage. His strong performance against a stellar Texas offense was deserving of a 74.2 coverage grade on the day.
However, Derek Stingley Jr.'s most impressive outing this season would come against Vanderbilt in Week 4. The ball was thrown into his coverage nine times, but he only conceded four receptions for 72 yards. He made up for the yardage allowed by nabbing four pass breakups and one interception for a passer rating of 32.9 when targeted. It was his best statistical game thus far as well as his highest-graded game in terms of coverage, as he left the contest with a coverage grade of 87.9.
In 2019, Stingley Jr. has posted most of his production on the outside, as he has played 338 of his 386 total defensive snaps as an outside receiver. From that position, he has a forced an incompletion—either by way of pass breakup, interception or close coverage—on 30.3% of his targets so far, which is the seventh-best mark in the nation among all defensive players with a minimum of 15 targets, and it highlights his ability to make a play on the ball when in coverage. Through seven weeks of college football, Stingley Jr. boasts not only the ninth-highest coverage grade among cornerbacks but also the second-highest overall grade among all true freshman defenders in the nation. His play has put him on the national map and has caught the eye of PFF's lead college football analyst Cam Mellor, who recently placed Stingley on the PFF Midseason All-American Team.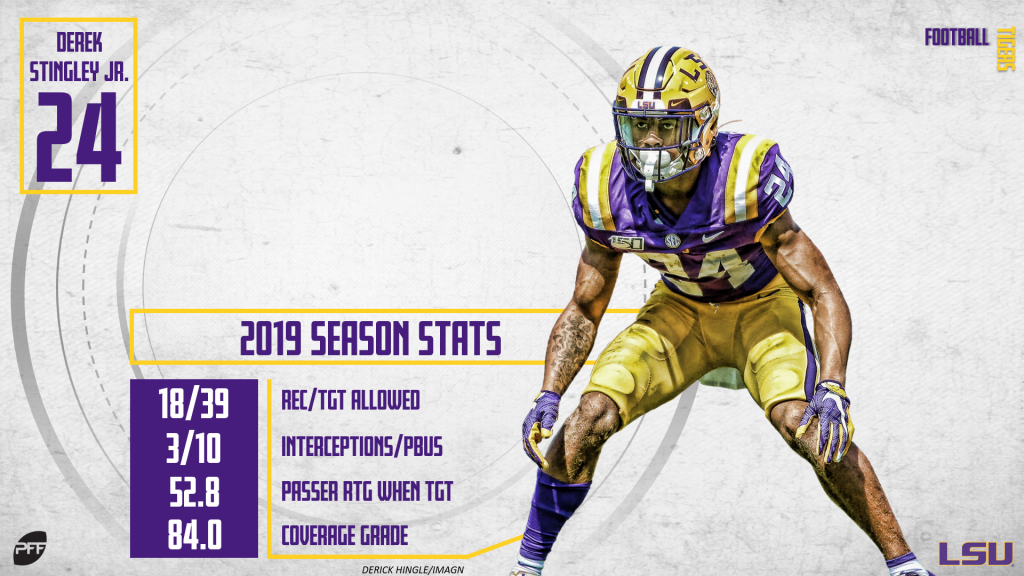 Derek Stingley Jr. enters a Week 8 bout against SEC opponent Mississippi State coming off his worst coverage grade of the season (59.2), but he'll look to bounce back and dominate a Bulldogs offense that ranks 74th among 130 FBS schools in receiving grade. Stingley Jr. has started his collegiate career as one of the best true freshman football players in the nation, and if he continues to improve his skills, there's a very real chance we will hear his name come up in the discussion for the best cornerback in college football.