I've chatted with plenty of draft prospects before. Among them, there are those who quite easily pass that all-too-referenced "eye test" when you stand next to them or when they walk in the room — the ones who just look like NFL players. Utah State wide receiver Deven Thompkins, well, he doesn't — even on Zoom.
As I was introducing myself, we were still adjusting the camera for his 5-foot-8 frame. But he doesn't care about that, and neither do I. And that's because I've seen him perform, seen how little his stature matters, seen the tape of the smallest player out there making the biggest plays game after game after game.
Click here for more PFF tools:
Rankings & Projections | WR/CB Matchup Chart | NFL & NCAA Betting Dashboards | NFL Player Props tool | NFL & NCAA Power Rankings
---
Right before we started the interview, I made sure to congratulate him on being named as a semifinalist for the Biletnikoff Award, the yearly award given to college football's most outstanding FBS wide receiver. With a smile that could light up a room, Thompkins simply replied, "thank you, thank you. I really appreciate it."
It's a well-deserved honor. After all, no FBS receiver has more receiving yards (1,459), yards per game (145.9) or 100-yard games (8) than Thompkins, and the Utah State wideout's 90.3 PFF receiving grade is third in the country entering Week 12.
Even more impressive is the fact that the 5-foot-8, 155-pound Thompkins has the third-most contested catches in the FBS, with 12. The only two pass-catchers ahead of him are 6-foot-5, 210-pound Drake London of USC and the 6-foot-2, 195-pound Tauskie Dove of Missouri.
I'd say that's pretty "outstanding."
Deven Thompkins: PFF receiving statistics and rank among 181 FBS receivers with 50 or more targets
| | | |
| --- | --- | --- |
| Stat | | Rank |
| Targets | 120 | 3rd |
| Receptions | 79 | 5th |
| Receiving yards | 1,459 | 1st |
| Contested catches | 12 | T-3rd |
| Receiving yards from contested targets | 329 | 1st |
| Yards per route run | 3.80 | 2nd |
| PFF receiving grade | 90.3 | T-2nd |
Click here to view Deven Thompkins' career in PFF Premium Stats…
But all this almost never happened. Almost a year ago to the day Thompkins was named as a semifinalist for his position's most prestigious award, he had entered his name into the transfer portal.
Thompkins led the Aggies in receiving in last year's shortened season. But for the team as a whole, the year was a struggle. Utah State finished their six-game schedule 1-5 and fired former head coach Gary Andersen midway through the year. That, and other factors, led to Thompkins searching for a change of scenery.
"It was kind of all things that happened here at Utah State with the firing of coach Gary Andersen and them kicking [quarterback] Jason Shelley off the team and things like that," Thompkins said in an exclusive interview with PFF. "So, I just felt like the program was getting dysfunctional, and I was like, okay, 'I haven't been getting the touches and the yards,' so I just wanted to find a really good offensive system at that standpoint.
I wanted to be in an offense that was going to allow me to completely display what I have. And I started getting a little homesick because my kids moved back to Florida at that time, so it was like I wanted to be closer to them."
It turns out that system was right under his nose in Logan, Utah — he just didn't know it yet. After a lot of talks, a lot of phone calls and a lot of reassurance, Thompkins decided to take his name out of the portal.
"Really, just the way coach [Blake] Anderson approached me — both him and coach [Kyle] Cefalo," Thompkins said. "Coach Anderson, he's just such a genuine man. I could hear that through the phone with him, and the same thing with coach Cefalo. Everything they just said was so genuine, and I really felt it and understood where they were coming from.
"Utah State is home. This is where I started at. I wanted to finish it here just because of all the jumps I had in high school. I was like, 'I don't wanna do that again.' So, I was like, 'okay, I hear it in them.'"
"At that time, there was a lot going on with Black Lives Matter and a whole bunch of racial issues. Coach Anderson made it a big standpoint that he wanted a diverse coaching staff. So, that to me was like, 'okay, he's really about business.' So, I really respected that from him, and ever since he got here and I came back, he's just been exactly who he said he was. It's really a blessing to play for him, honestly."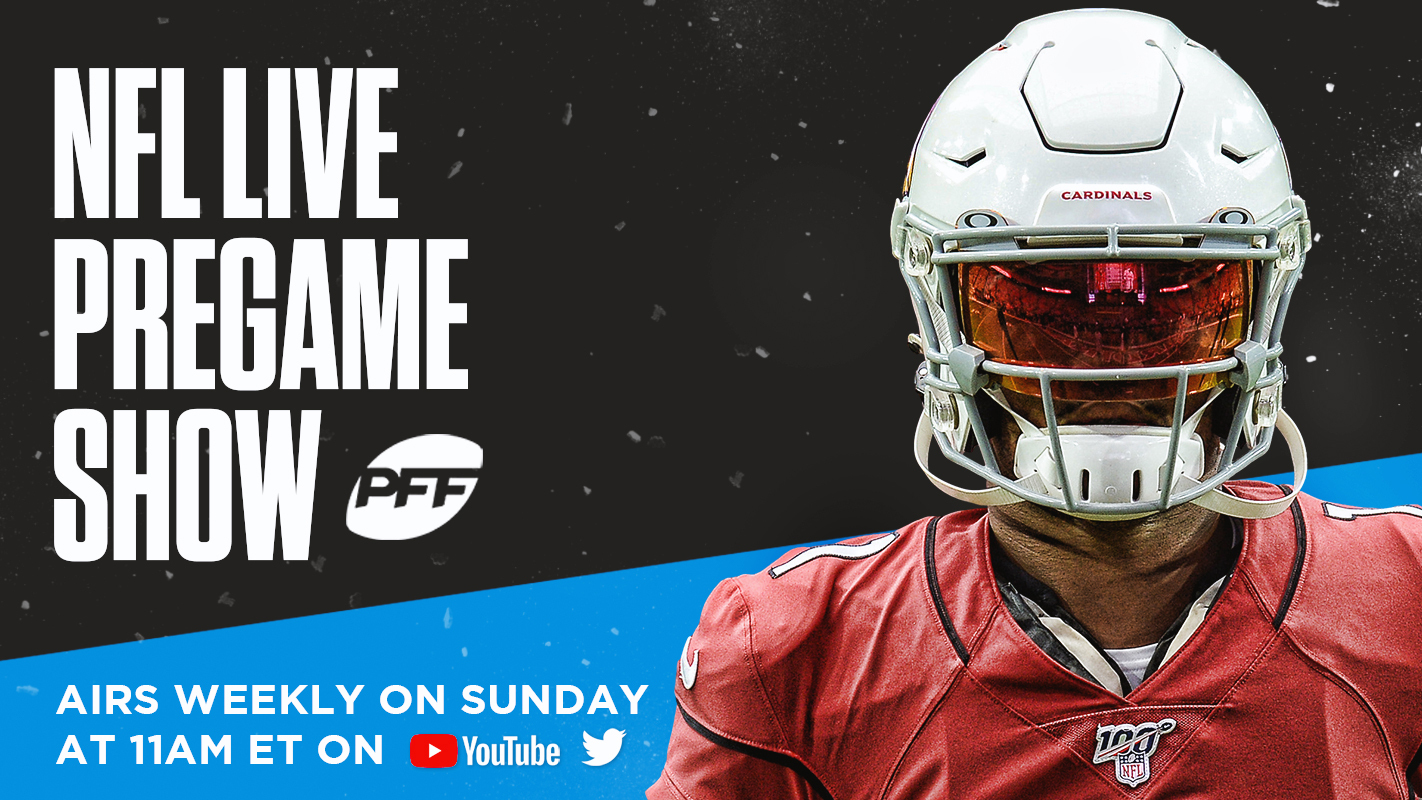 Getting Thompkins back on campus was almost like having to recruit him all over again. The Aggies had shepherded in an entirely new coaching staff, but the song and dance was the same. Though Thompkins had his frustrations, it wasn't out of the question that he could fall in love with Utah State once again. In fact, you could probably say the odds of getting Thompkins back this time around were higher than they were for a two-star offensive weapon from Fort Myers, Fl., who committed to the Aggies three years prior.
"So, near the end of my senior year before we were about to play in the playoffs, one of my old coaches reached out to coach Jovon Bouknight who used to be a receivers coach here," Thompkins said. "And the coach that reached out was my freshman high school coach, and I played varsity for him. But he reached out to him, and he was just kind of telling him about me and things like that. Then coach Bouknight called me one day and was like, 'I like you a lot. Coach Blaire told me about you.'
"So, the more we talked, he came down to visit me, and then eventually he just gave me that offer, and I just ran with that. I was really like, 'well, this is a one-in-a-million opportunity for me.' So, I wanted to make the most of that, for sure."
Thompkins is not only making the most of his time on the field; he is making the most off it, as well. He's a father of two, balancing the student-athlete plate of grades and football along with splitting time in Utah and Florida to see his son and his daughter as much as he can. His daughter, Nyomi, is three years old and lives in Florida with her mother. His son, two-year-old Messiah, lives with him in Utah.
Those who have experienced the student-athlete life would tell you it's like having two full-time jobs, and those who have children at a young age would tell you the same thing. Thompkins is going through all that at once, yet he does it with that big smile. He can't help it; they are his biggest joy, even from the moment he was first told he would soon be a dad.
"At first, it was just like 'wow,'" Thompkins said. "I was really stunned because it was something that me and my childrens' mother wanted. We wanted to have a child, so it was nice. I was really, really excited. My mom wasn't too excited at first, but she came around after a while.
"It really did change me, though. Understanding that, and it was my senior year of high school. At that time, a couple of days before, I had just got that offer from Utah State, so it was like back-to-back really, really good news. It changed me, man. At that point, I just knew I had to really do this, and now I had no room for error."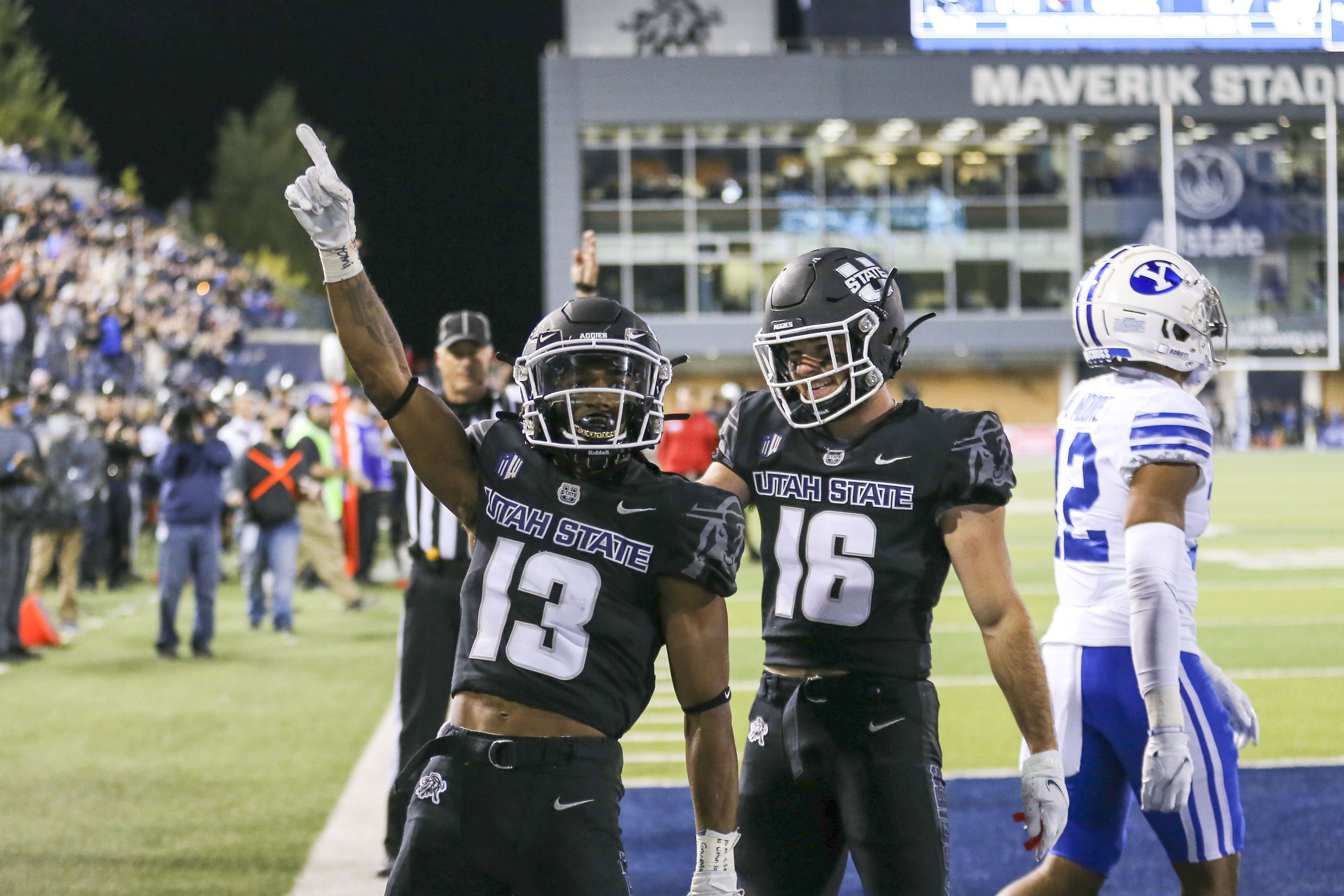 Thompkins was just 17 years old when he became a father for the first time, an age at which few would consider themselves to be truly "ready." The Aggies receiver would tell you himself he wasn't ready either, but ready or not, it was happening. So he reached for the only blueprint of parenting he had, the one his parents used on him.
"For me, being so young, it was like I'm still a baby," Thompkins said with a laugh. "I'm my momma's baby still, so it's like I'm about to have a baby of my own now. So, I really reverted back to a lot of how my mom raised me. Trying to learn how to raise a child, you revert back to how you were raised as a child. My mom and my dad, they loved on me a lot, and I really love them and appreciate them, and that's how I love my children, as well. I've learned to take that father aspect of me and bring it onto the field when I play."
Thompkins said having a daughter completely opened his world. It made him see people and situations differently, with more patience and perspective. She changed his life before she could even walk or speak. When Thompkins learned he was having a son, it was a different life-changing experience.
"[My son] was born with Down Syndrome. That was kind of hard to accept at first," Thompkins said. "Whenever we first learned the possibility that he could have Down Syndrome, it was when he was still in the mother's belly. So, we found that out. And once he was born, they did a blood test, and it turned out that he actually did have Down Syndrome. He has Trisomy 21. So, it took a little bit for me to grasp, but I really embraced it a lot because they're special.
"Those are really special children, and to be able to have a child like that, you have to be a special person … So, I really appreciate that God gave me a child with Down Syndrome, and he's been amazing. He's honestly my angel child. My daughter, she's a spitting image of me. She's wild, and she's crazy. But my son, he's so calm, and they help me stay sane. They balance me out a lot.
"I've been able to balance it just by working on really focusing on myself, learning to master myself in a sense. Learning how to balance everything that comes with life being a student-athlete and a father, but understanding that being a father has to come first before everything. At the end of the day, I have to make sure that I provide a life for them that I can be proud of and that they can be comfortable with.
I think that motivation is what also helps me be able to balance that and not be able to fall off or anything, always having that end goal in mind for them and making sure that I prioritize their life first."
The 5-foot-8, 155-pound senior has brought that patience and maturity of fatherhood to the field, both literally and figuratively. Every game, Thompkins wears white gloves and white tape on his wrists. And around his wrist, you'll see the names of his two children and the name of his mother.
There's a certain poetry in that, an almost unique display of perspective. Before the ball finds its way into his hands, before he makes a man miss or plucks the ball right from the hands of the defender tasked with covering him, his family are front and center.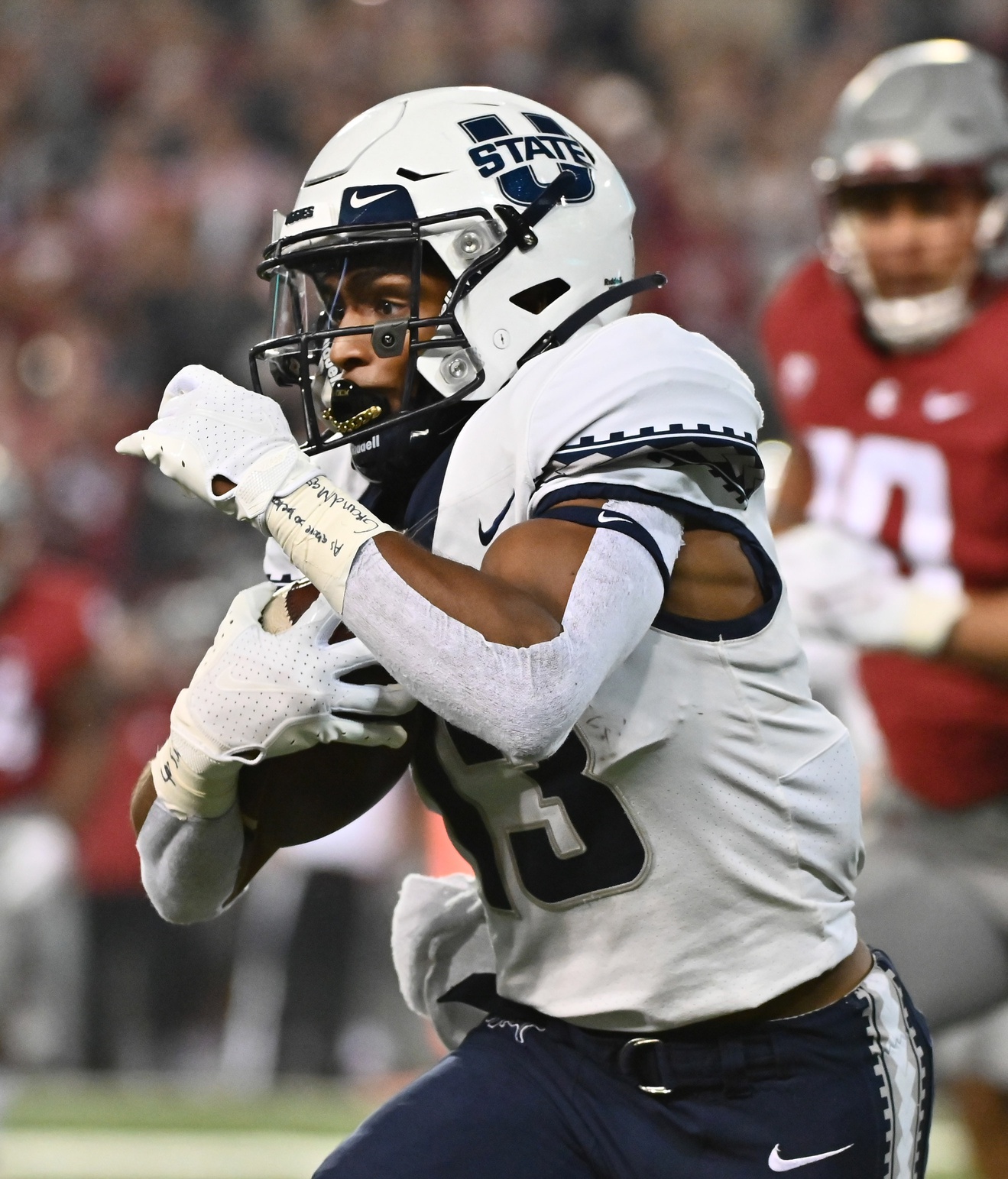 The ball has found his hands a lot this season — 79 times, to be exact, more than any other year he's been at Utah State combined. At his current pace, his final season receiving total will likely be double his career totals prior to this year. So, how did he do it? How did he make this massive leap in production?
"I really learned to read the field, learned coverages specifically," Thompkins said. "Coach Cefalo, he helps me working on the board, looking at different defenses, and he runs our certain plays through these certain defenses. Then, it's just watching film and seeing how they drop, learning certain tendencies like with the nickel backs and how deep the linebackers are going to drop and how deep the safeties are going to play.
"Getting into the game, I really let the game come to me now. The first couple plays, I'll start getting a feel for the defense, seeing how they're going to move against me. Really feeling the physical aspect of the game because when you're watching the film or then in practice with the scout team, you can't duplicate how they're going to play exactly. I really just start by getting in the groove and feeling them out.
"I used to play the game so fast physically to the point I wouldn't understand what I was doing in my brain sometimes. I wouldn't understand what's going on on the field too much. Now, I've learned to put it all together, actually play fast and be able to read everything in a slower way. That's something that I love for sure."
Deven Thompkins: Receiving stats since 2018
| | | | | | |
| --- | --- | --- | --- | --- | --- |
| Season | Receiving grade | Targets | Receptions | Yards | YPRR |
| 2018 | 58.3 | 19 | 9 | 65 | 0.67 |
| 2019 | 64.5 | 66 | 40 | 536 | 1.80 |
| 2020 | 62.0 | 30 | 20 | 214 | 1.75 |
| 2021 | 90.3 | 120 | 79 | 1,459 | 3.80 |
YPRR= Yards per route run
As my time with Deven began to come to a close, I asked him the question I knew he'd get asked a million times between now and draft day:
"You're 155 pounds. Have they ever tried to put more weight on you?"
"They did try to put it on me," Thompkins said with a laugh. "I got to 165. That was my sophomore year when I was kind of heavy. After that, I don't know. I eat a lot. I've been trying to eat, and I work out, but my metabolism has just been so fast, it doesn't go nowhere. I have abs and things like that, so people think I have a strict diet or something. But in reality, I don't have a strict diet at all. So, I don't know!"
Of course, I told him that most people in the world would love to be able to eat whatever they wanted. Thompkins mentioned eating McDonald's a little more than he should and how his go-to meal is anything with pasta, especially lasagna.
But the question remains, what is the NFL going to do with a 5-foot-8, 155-pound wide receiver, especially one that produces at the level and in the manner Thompkins does — not just with speed, but with the incredible acrobatic ability for contested catches and catches in tight windows?
I asked Thompkins who he loves to watch and who he tries to model his game on.
"My most favorite ever is Odell [Beckham Jr.]. When he was in his prime, Odell was just a beast," Thompkins said. "He was unstoppable, the way he attacked the ball in the air and everything, the way he played and takes slants to the house. … Yeah, he has a bigger stature than me, but I can make those same types of plays. That was an inspiration for me. I can attack the ball in the air like he can. I can make those five-yard catches and turn it into a big play. I really admire his game.
"Then Tyreek Hill, of course, that's definitely one of my most favorites, as well. He just bounces around the field and things like that. And then you look behind you, and he's already down the field. It's crazy to see him play like that. I really learn to take both of their games. I love the way both of them play, and I incorporate it into my game."
My final question to Thompkins was a fun one but a personal one. In doing some research for questions to prepare, I took a look at Thompkins' Instagram. Of course, there were plenty of football highlights and the cutest pictures of him and his children, as you would expect. But something else caught my eye: his handle, @GrandmasterDT.
The "DT" part makes sense with his initials, but I had to know: what's the grandmaster part?
"For me, it's about self-mastery," Thompkins said. "I really want to focus on mastering myself as a human, emotionally, physically and spiritually. I know you know when it comes to the grandmaster thing, I love watching and learning about ancient Kung-Fu and Chinese. I love learning about ancient cultures and stuff like that. You have the grandmaster who's a master of everything; he's a master of all. That's how the grandmaster thing came about, just wanting to master myself as a human."
Thompkins has experienced a lot in life already. He has been shaped in a lot of ways. But he would tell you first that he's not a grandmaster yet. He can still be better in everything, including football — and that's one hell of a statement for the leading receiver in all of FBS college football.