The Group of Five will never get the love it deserves nationally, so we are here to show off some unsung players in college football who are playing at an elite level. From the obvious choice of BYU's Zach Wilson as the best Group of Five quarterback to some unknown names, all of these players deserve our praise and attention.
Quarterback: Zach Wilson, BYU — 93.7
Not much more can be said about Zach Wilson, whose incredible season has rocketed him up draft boards as an almost sure-fire top 10 pick in the 2021 NFL Draft. Wilson showed promise in the past two seasons, posting 80.5 and 76.2 grades the past two seasons, respectively. But now with a veteran group of skill players and a loaded offensive line, he's just showing off.
Only 14.5% of Wilson's passes have been charted as "uncatchable," ranking behind only Ohio State's Justin Fields (9.3%) among quarterbacks with at least 50 throws beyond the line of scrimmage this season. Wilson just doesn't miss.
Running Back: Lew Nichols III, Central Michigan — 90.6
This was tough because of snap counts between teams whose conferences started a while back and those who have just recently kicked off. There are four Group of Five running backs with 90.0-plus grades but only one with both rushing and receiving grades above 85.0. That's Central Michigan's Lew Nichols III.
Again, he hasn't played many snaps because the MAC just started up again, but Nichols has already forced nine missed tackles on 26 attempts. He's caught all six of his targets and is averaging an incredible 16.7 yards after the catch.
Tight End: Sean Dykes, Memphis — 74.8
Regardless of snap count, only 15 tight ends in the Group of Five have a receiving grade above 80.0. Most of those players have just a few receiving snaps, so filtering out certain players leaves Sean Dykes, who has seen the fourth-most targets of any tight end in the country and still boasts an 80.2 receiving grade.
He's caught 35 of his 38 catchable targets, reeled in six of his 12 contested catch opportunities and generated a tremendous 2.11 yards per route run. That's even more impressive considering he's run the ninth-most routes of any tight end in the country.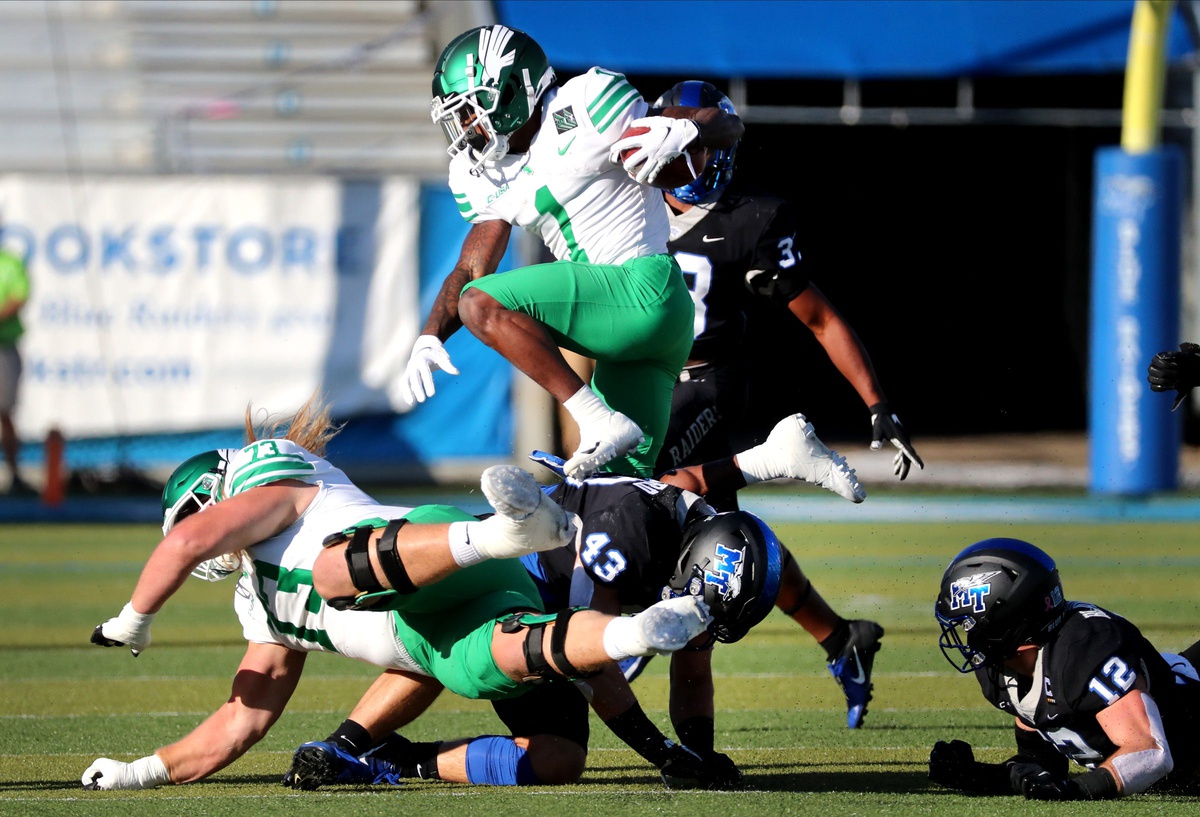 Slot Receiver: Jaelon Darden, North Texas — 87.3
This was a toss-up between Darden and UCF's Marlon Williams. Darden gets the nod because of his 4.08 yards per route run compared to Williams' 3.19. Williams has run 141 more routes, however. Darden already has 10 missed tackles forced on his 42 catches to go along with 12 explosive plays. He has produced a 134.7 passer rating when targeted.
Wide Receiver: Jaivon Heiligh, Coastal Carolina — 89.6
This was another close call — this time between Heiligh and BYU's Dax Milne, who both have been great when lining up on the outside. I give the nod to the Coastal Carolina receiver because the Chanticleers' passing game is truly the reason the team is undefeated right now. For a true triple-option team to be this good at throwing the football is stunning. Heiligh has caught 26 of his 29 catchable targets while generating a stunning 4.46 yards per route run — the best for any Group of Five receiver with at least 100 snaps lined up outside.
Tackle: Brady Christensen, BYU — 95.3
The BYU left tackle plays the game so patiently in pass protection. He knows most college edge rushers don't have the moves to beat him cleanly, so he waits for them to do whatever they can and then just eats them up.
Sometimes, Christensen gets a little frisky with a jump set, which is a nice little change-up considering how often he is firing off the ball in BYU's base outside zone run. He doesn't get beat by speed to the outside because he's quick enough to get to his spot before the edge rusher, and he still doesn't get beat inside because of his anchor and strength.
On "true pass sets," he's allowed one pressure on 64 pass-blocking reps. Of the 168 Group of Five linemen with at least 50 true pass sets, he's one of 16 players who have given up either one or zero pressures and his grade is second from the top, at 88.8, in those situations.
Overall, Christensen is the highest-graded Group of Five lineman in pass protection and the second-best run-blocking lineman. His usefulness in BYU's outside zone scheme will suit him well at the next level, with that scheme becoming the base play for many NFL teams.
Guard: Cain Madden, Marshall — 94.2
The undefeated Thundering Herd have pieced together one of the best Group of Five offensive lines — led by Madden, their right guard. Madden is a competent pass protector, but he really shines in the ground game. His style is more of "shock and awe" than a mauler.
He doesn't get his hands on defenders and grind them to a pulp. Instead, he pops linemen and linebackers and sends them back. It's nice watching a guard play with that type of pop. He's the best-run blocking guard in the Group of Five and bests Brady Christensen by .1 grading points for all Group of Five linemen.
Center: Noah Hannon, Appalachian State — 87.6
Like Christensen, Hannon's ability in a pure outside zone scheme could translate well in the NFL. He is a classically undersized center with quickness and tenacity that runs people off the ball, and he doesn't ever give up on a play.
He has the speed to get to the right side of nose guards, and even shaded tackles, and get his hips around to the playside. He's also allowed only two pressures on 224 pass-blocking snaps. He is an all-around dominant presence for Appalachian State.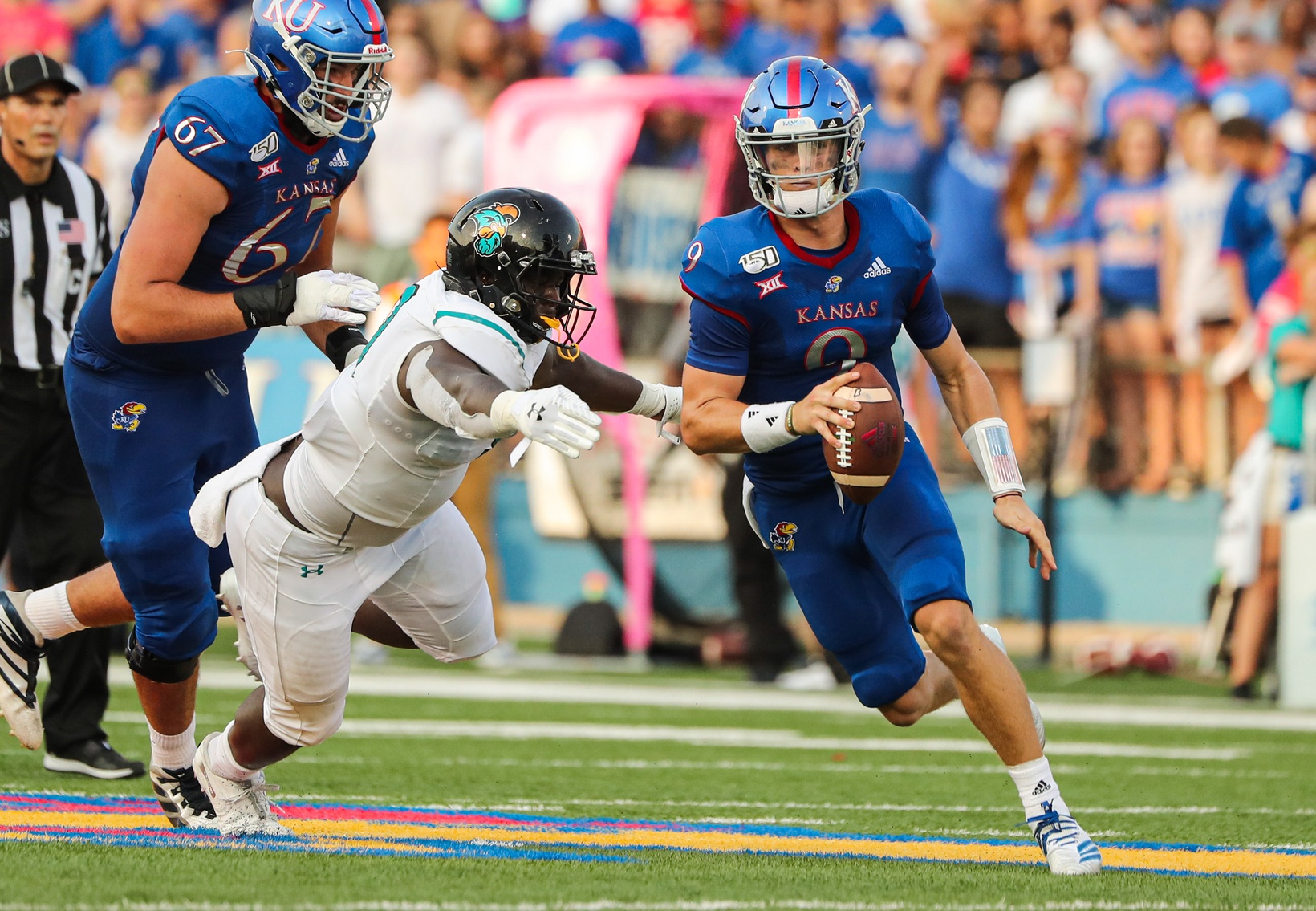 Edge defender: Tarron Jackson, Coastal Carolina — 90.9
Jackson has been absolutely unblockable for the undefeated Chanticleers. He has a quick outside move and has also been cleaning up tackles with a nice arm-over inside move that catches them napping.
His one-on-one win rate is 24%, which is 11th-best in the Group of Five among edge defenders with at least 25 pass-rushing snaps. Considering no one has more pass-rushing snaps than him in the Group of Five, that's an incredibly high win rate. He has 38 total pressures this year.
Interior Defender: Keenan Stewart, UTEP — 90.5
Stewart has been a solid pass-rusher from the interior of the Miners' defense but has been absurdly good against the run with a 91.8 run-defense grade. His 22 run stops are second-most in the Group of Five, behind only Texas State's Nico Ezidore. He's had nine tackles for loss or no gain, which again ranks second in the Group of Five. Stewart is simply a dominant player inside.
Linebacker: Zaven Collins, Tulsa — 92.5
Besides a 71.7 grade against East Carolina, Collins has graded higher than 80.0 in every other game this season, including an 88.8 grade against SMU and a 93.5 whopper against South Florida. He has been the do-it-all player in the middle for a tremendous Golden Hurricanes defense.
He already has 11 run stops and five tackles for loss against the run in only five games. In coverage, he boasts three interceptions and a dropped interception in coverage to go along with an incredible 13 total pressures, including four sacks, as a pass-rusher. Collins is a real stat-sheet stuffer.
Slot Defender: James Wiggins, Cincinnati — 84.0
These are players designated as either safety or cornerback but play most of their snaps near the box — either as a linebacker type or a slot corner. There's basically been no one better than Wiggins who can play in man coverage but is also not afraid of coming down and making a play in the dirty areas. Wiggins' passer rating when targeted has been a paltry 56.6, and he has forced four incompletions on the 24 targets thrown his way.
Outside Cornerback: Shemar Jean-Charles, Appalachian State — 85.4
It's just been impossible for teams to throw to their X receiver with Jean-Charles locking down the outside on the Appalachian State defense this season.
Only 12 of the 42 targets thrown his way have been caught. He's made a play on the ball 16 times, coming away with an interception, a dropped interception and 14 forced incompletions. No one with over 100 coverage snaps on the outside comes close to his 23% completion rate allowed.
Safety: Richie Grant, UCF — 85.0
Richie Grant is the best all-around safety in the Group of Five. He splits time at free safety, in the box, as a slot corner and is on two special teams units. His run defense has been his best asset, earning a 91.5 run-defense grade while notching 12 run stops.
There's no safety with at least 50 plays against the run who is within five grading points of that 91.5 mark. He's a stud in coverage, too, boasting a 36.4 passer rating when targeted that ranks 18th-best among safeties in the Group of Five.