After Week 8 in college football, we take another look at who's in line for the Heisman in our weekly Heisman Watch.

1. QB Joe Burrow, LSU
Last Week: 1st
Burrow remains the highest-graded skill player on the offensive side of the ball at the most important position in all of team sports. He had another terrific outing against Mississippi State, in which he set the LSU record for most passing touchdowns in a season with 29. He's finding all levels of the field beautifully and just simply doesn't put the ball in harm's way. It's been a thing of beauty watching Burrow sling the ball in 2019.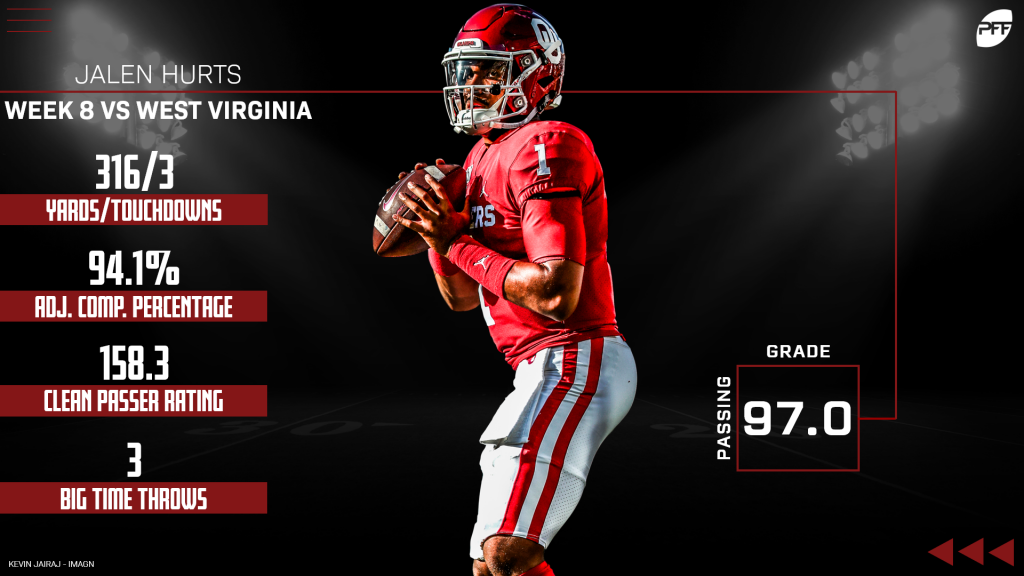 2. QB Jalen Hurts, Oklahoma
Last Week: 3rd
Climbing the offensive grading ranks, Hurts had the most dominant passing performance we've seen from a quarterback this year, besting Brock Purdy's Week 4 performance by a few grade points. He lit up the field and threw 3x more touchdowns than he did incompletions, finishing the day against West Virginia by going 16-of-17 for 316 yards and three scores. He's not taken sacks, he's consistently finding the open receiver and when it's asked of him, he's taking the deep shot more than admirably. This is a two-horse race at this stage between Hurts and Burrow and could possibly be one of the closest final voting results in recent memory.
3. Edge Chase Young, Ohio State
Last Week: 2nd
All Young did was destroy the competition put in front of him on Friday night, and he now has 30 pressures on just 145 pass-rushing snaps this year. He's recorded a sack in every game and multiple pressures in all but one outing in 2019, and he's recorded another four stops in run defense. He's the best player in college football at this time but will need some gaudy box-score statistics to prove it to the general layman as we approach December.
4. QB Justin Fields, Ohio State
Last Week: 6th
The injury to Tagovailoa vaults Fields into the fourth spot here, as Fields beautifully worked all levels of the field on Friday night against Northwestern. He's now the third highest-graded quarterback in the country and finished the evening against Northwestern just a mere few minutes into the third quarter with four passing touchdowns on just 18 completions. He's lost a fumble in a few games now and will have to tighten that up against Wisconsin, who is without a doubt their toughest defensive opponent to date.
5. QB Tua Tagovailoa, Alabama
Last Week: 4th
A high ankle sprain suffered in the second quarter against Tennessee forced Tagovailoa to miss the majority of the contest against the Volunteers as he finished without a passing touchdown because of it for the first time in his starting career. With him scheduled to miss at least one game (Week 9 vs Arkansas), Tua's Heisman chances lie in the chance that he returns healthy against LSU in Week 11 and healthy enough to put up big numbers against the odds-on favorite in Joe Burrow. He's as talented as they come but will have to return to form quickly for the Crimson Tide if he's going to earn the Heisman.
6. RB Chuba Hubbard, Oklahoma State
Last Week: 8th
Hubbard increased his lead over the nation's running backs with another strong outing on the ground but like his fellow counterpart who's been on this list all season (Jonathan Taylor), his team didn't get the win because of it. Hubbard is 288 yards ahead of the next best running back in terms of total yards and has averaged 6.5 yards per carry on 194 attempts. His great vision has been apparent, as the Oklahoma State offensive line ranks just 47th in pass-blocking grade this year. He not only leads the country in total rushing yards but also in yards after contact and combined first-down and touchdown runs, gaining 696 and 59, respectively.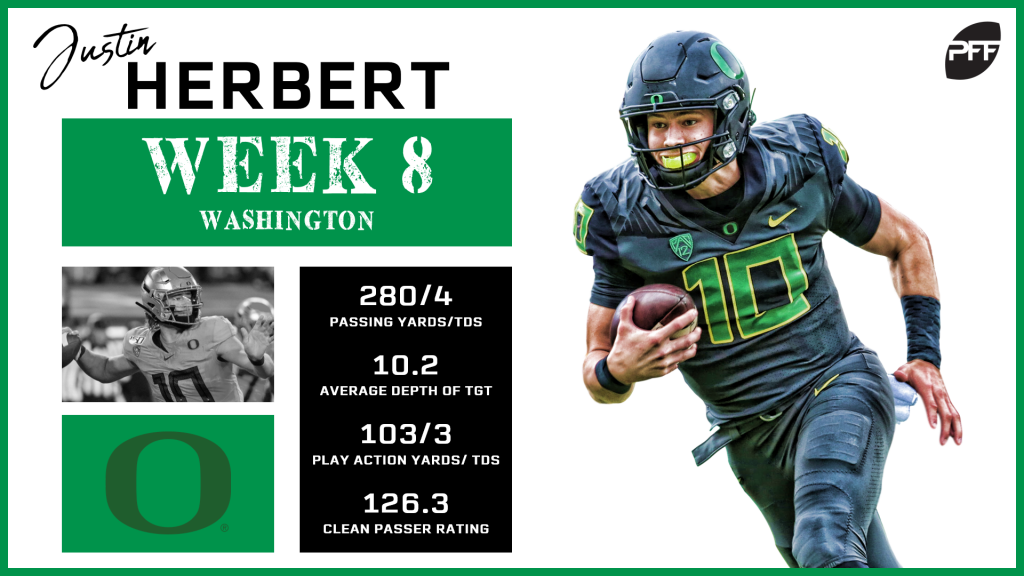 7. QB Justin Herbert, Oregon
Last Week: 11th
Herbert outdueled his counterpart in Jacob Eason this past Saturday, finishing with four passing touchdowns against a stiff Washington secondary. He completed 24-of-39 passes and, for the first time all season, Herbert didn't have a single pass attempt dropped by his pass-catchers. The Auburn game is looking like a blip on the radar at this stage, as he's elevated his game when his team needs him to and has a comfortable 21:1 touchdown-to-interception ratio as we stand. More performances like this latest outing will vault him even higher if the Ducks stay winning.
8. RB J.K. Dobbins, Ohio State
Last Week: 9th
Dobbins has now gained over 100 yards in three straight outings and in five of the seven games for OSU this year, breaking at least two tackles in every game. For the season, he's averaging 4.52 yards after contact per attempt and has broken 32 tackles. He's on pace for a career year in every PFF metric, as he and Fields make up one of the more impressive QB-RB combinations in the country.
9. RB Jonathan Taylor, Wisconsin
Last Week: 5th
Taylor once again went over 100 yards and became the fastest running back to reach 5,000 career rushing yards in NCAA history, but the Badgers were upset by Illinois, thus crashing Taylor's chances at a Heisman. He's gained 610 yards after contact and is well on his way to career-high figures in missed tackles forced, as he's just 19 broken tackles short of his previous career-best of 67 set last year.
10. QB Brock Purdy, Iowa State
Last Week: 13th
Oh, you haven't heard about Brock Purdy yet? If it weren't for Trevor Lawrence's fabulous true freshman season, Purdy would have his spot in the PFF College record books as the highest-graded true freshman quarterback in our history, yet he still holds that second spot. Currently, Purdy is the owner of the second-highest passing grade in any single game from a quarterback and his outing against Texas Tech was a teaser for the national audience at just how good he can be. He threw for 378 yards and three scores, averaging 11.8 yards per attempt while his underrated athleticism has seen him record multiple first downs and touchdowns on the ground with his legs. He's trending in the right direction against Big 12 competition, as the Cyclones have an interesting date with the Sooners looming.