With our play-by-play grading of every player from every game, the PFF data knows no bounds, and we take to National Signing Day with a different approach. By analyzing which schools are departing the most snaps at the most important positions across the country, we can see whose signees should have the biggest instant impact during the 2020 season.
You may have heard a ton about some of the top-notch recruits, but because of the loss of snaps due to graduation or the NFL draft, these units should see an immediate void filled with their early signing-day class:
Oregon inside linebackers
Troy Dye (senior) – 723 snaps, 76.1 grade (First-Team All-Pac-12)
Isaac Slade-Matautia (sophomore) – 706 snaps, 64.1 grade
Sampson Niu (junior) – 209 snaps, 58.5 grade
MJ Cunningham (RS freshman) – 128 snaps, 55.6 grade
Dru Mathis (junior) – 58 snaps, 63.6 grade
Ge'Mon Eaford (freshman) – 28 snaps, 65.7 grade
Nate Heaukulani (junior) – 21 snaps, 53.1 grade
Andrew Johnson Jr. (RS freshman) – 0 snaps, n/a grade
Nick Wiebe (RS freshman) – 0 snaps, n/a grade
Ben Gomes (senior) – 0 snaps, n/a grade
Snaps gone on defense: 2,795, 34.88% (82nd)
Signed:
Justin Flowe – 5-star, Rivals No. 4 player overall
Noah Sewell – 5-star, Rivals No. 16 player overall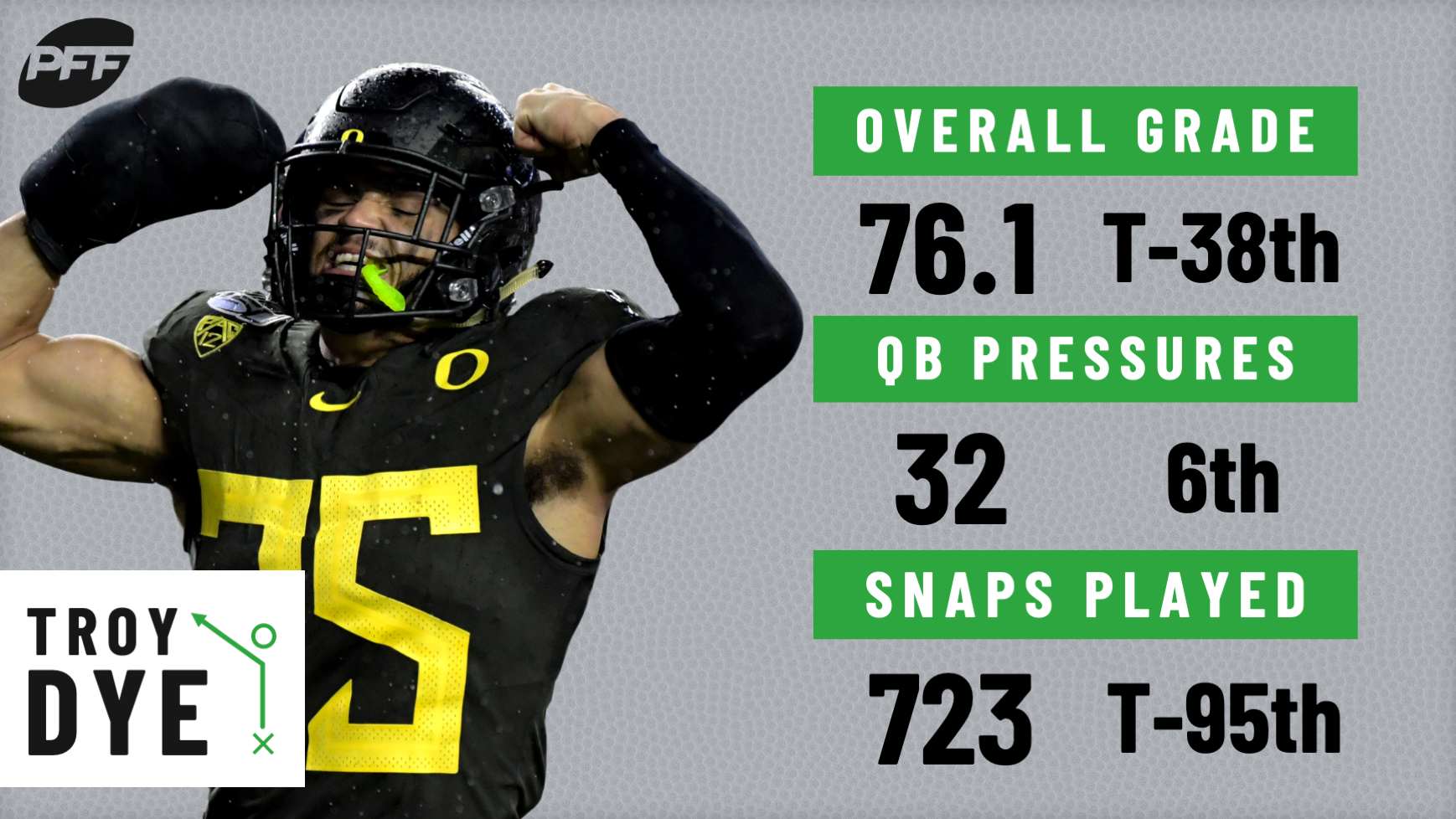 You can't sign two of the country's top 16 players, each at the same position, and not think this has immediately filled a big need on any defense. With the departure of Troy Dye from the Oregon defense, a void of 723 total defensive snaps and a spot as First-Team All-Pac-12 linebacker apparently became necessary for head coach Mario Cristobal and staff to find right away. They landed the letters of intent from Flowe in a nationally telecast signing-day decision while Sewell made joining his brother Penei official with his LOI. They each bring a different but similarly dominant high school pedigree with them as Flowe, the 6-foot-3, 225-pound No. 1 player at the position hails from Upland, California, and Sewell tops the charts at 6-foot-1 and 260 pounds as the No. 2 player at the position and No. 1 player in Utah.
They each had over 30 offers from schools across the country but the ability to play in defensive coordinator Andy Avalos' defensive scheme was too good to pass up. Dye exits as one of the most decorated linebackers from the Pac-12 during the PFF College era, garnering season grades of 76.1 or higher in each of the past three years and capping a four-year career with a remarkable 3,234 career snaps. He recorded 290 solo tackles and made 179 defensive stops while never grading below 70.9 in coverage for a given season. His departure left a massive hole and even though youngsters in Isaac Slade-Matautia and former JUCO-transfer Sampson Niu will certainly be around in 2020, the next potential three- or four-year starter at the inside linebacker position is clearly on their 2020 recruiting class.
Georgia tackles
Andrew Thomas (NFL draft) – 817 snaps, 92.4 grade (First-Team All-American, All-SEC)
Isaiah Wilson (NFL draft) – 718 snaps, 78.5 grade
Xavier Truss (freshman) – 44 snaps, 71.4 grade
Warren McClendon (freshman) – 19 snaps, 60.1 grade
Owen Condon (RS freshman) – 15 snaps, 62.6 grade
Snaps gone at tackle: 1,535, 95.2% (most)
Signed:
Tate Ratledge – 5-star, Rivals No. 13 player overall
Verbal:
Broderick Jones – 5-star, Rivals No. 18 player overall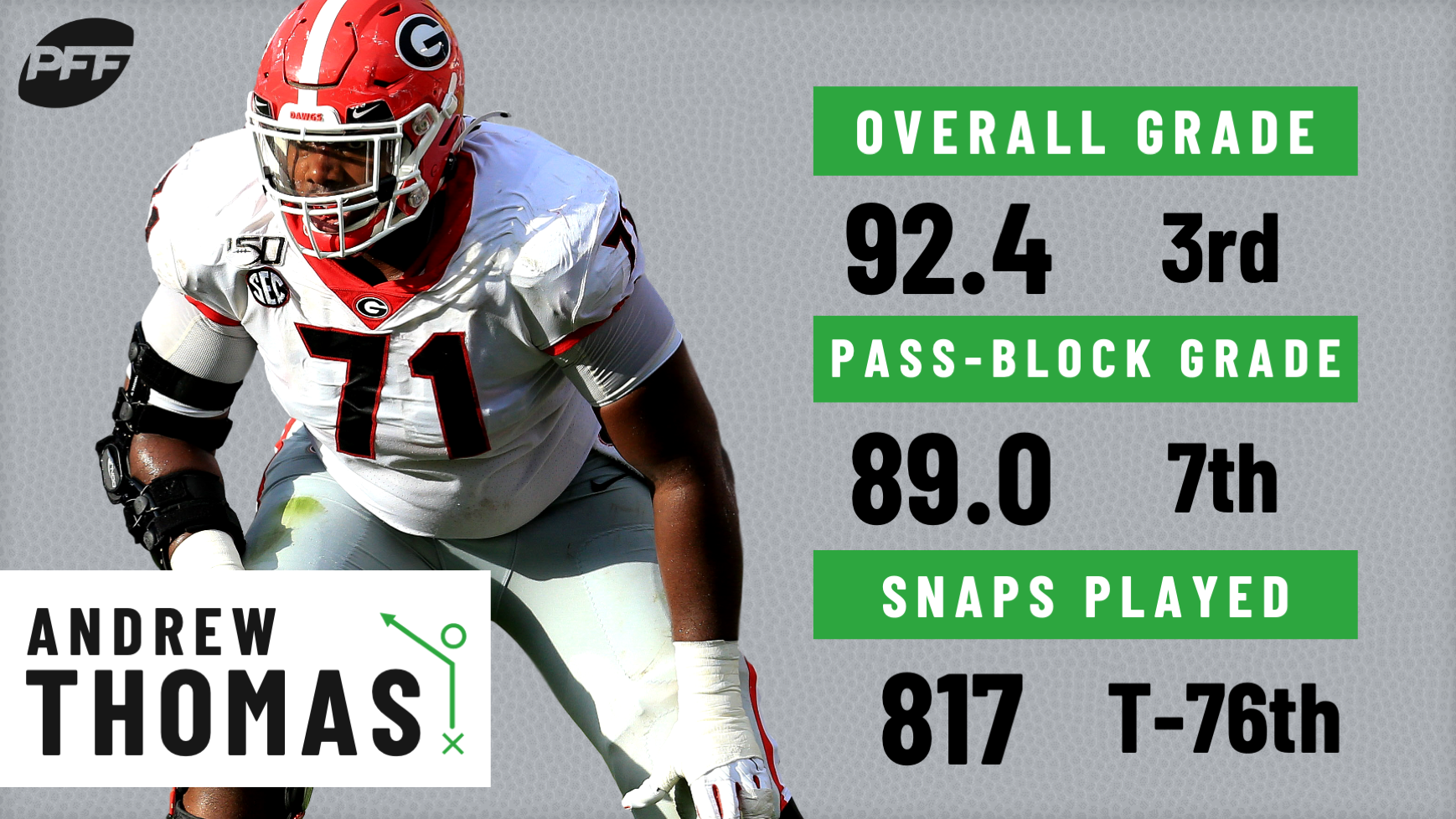 With both of their starting tackles from the 2019 season declaring early for the 2020 NFL Draft, the bookend spots at tackle are open for the Bulldogs in 2020. Odds are one of the talented true freshman who saw the field for limited snaps but spent a full season with the program gets the nod at right and/or left tackle as Xavier Truss and Warren McClendon each held their own in limited time this year but landing the players they did at the position already bolsters their unit a great deal.
Both Tate Ratledge and Broderick Jones (still verbally committed, remains unsigned) are 5-star prospects and both rank inside the top 20 overall among all players on Rivals' recruiting board. Ratledge sent his letter of intent in as the No. 2 ranked tackle in the country, standing at 6-feet-5 tall and 295 pounds, he had offers from Alabama, Auburn, and Florida, to name a few. He's a dominant pass-blocker and should fill the void left by Thomas and Wilson's departure that leaves a hole of 37.9% of the pass-blocking snaps from 2019 now gone. No other team in the country loses that many snaps at the tackle position and even with the youth in place, you'd expect Ratledge and Jones (if he signs in February) to play big roles in 2020 and beyond on a stalwart offensive line.
Alabama cornerbacks
Patrick Surtain II (sophomore) – 759 snaps, 84.5 grade
Trevon Diggs (senior) – 730 snaps, 89.6 grade
Shyheim Carter (senior) – 574 snaps, 74.7 grade
Josh Jobe (sophomore) – 221 snaps, 61.9 grade
Jalyn Armour-Davis (RS freshman) – 58 snaps, 61.5 grade
Scooby Carter (freshman) – 32 snaps, 57.4 grade
Demarcco Hellams (freshman) – 29 snaps, 71.8 grade
Marcus Banks (freshman) – 27 snaps, 65.4 grade
Brandon Turnage (freshman) – 1 snap, 60.8 grade
Snaps gone at cornerback: 1,304, 53.6% (34th-most)
Signed:
Brian Branch – 4-star, Rivals No. 4 CB in the country
Jahquez Robinson – 4-star, Rivals No. 13 CB in the country
Malachi Moore – 4-star, Rivals No. 19 CB in the country
Ronald Williams – 4-star, JUCO signing
While the Crimson Tide aren't losing everyone from their vaunted secondary unit, the loss of two of their most-valuable players overall in Trevon Diggs and Shyheim Carter certainly bodes well for more playing time for a lot more bodies in 2020. Surtain will anchor the unit for one more season but with a cast of relatively unproven bodies needing to replace those two starters, the signing of JUCO transfer Ronald Williams and three of the top 20 cornerbacks in the entire country on signing day makes a ton more sense. Branch likely plays safety for the Crimson Tide so Robinson and Moore will battle it out for reps throughout fall camp and Williams will enter with a bevy of experience himself.
Moore hails from Trussville at 6-foot, 175 pounds and had offers from nearly every other SEC school but has been a longtime Alabama commit. Robinson, one of the best defensive players in Florida, also had more offers from SEC schools than he did not and made his February commitment official Wednesday. At 6-foot-2, 180 pounds, he has all the length to play outside for the Crimson Tide as 658 of his snaps came from outside corner. Carter's departure leaves a similar void from the inside as 508 of his snaps came from the slot. Odds are one of the younger cornerbacks jumps into the void left from the slot but with the pedigree of their players signed and cornerback coach Karl Scott's already proven ability to replace stars at the position bodes well for these talented youngsters and the Crimson Tide as a whole.
Some other big voids to watch out for as they get replaced
Cal defense: Losing 84.3% of their solo tacklers from 2019, the most by a large margin in the FBS
Washington State secondary: Losing 80.0% of their forced incompletions from the secondary, fourth-most in the FBS
UAB receiving corps: Losing 91.5% of their total targeted passes from 2019, by far the most in the FBS
South Carolina rushing attack: Losing 80.7% of their first-down carries (5th-most), 89.5% of their rushing touchdowns (3rd-most), 75.5% of their yards after contact (12th-most)