Each season of college football ends with several teams that finish well below preseason expectations. Yet, at the same time, there are also a number of teams that surprise, upsetting the status quo and playing their way into the national conversation.
So, for those of you who are sick of hearing about how Alabama, Clemson, Ohio State and Georgia will steamroll the rest of the nation in 2021 — or those of you who want to identify a few interesting futures bets — here are six college football teams that seem poised to surpass expectations this season.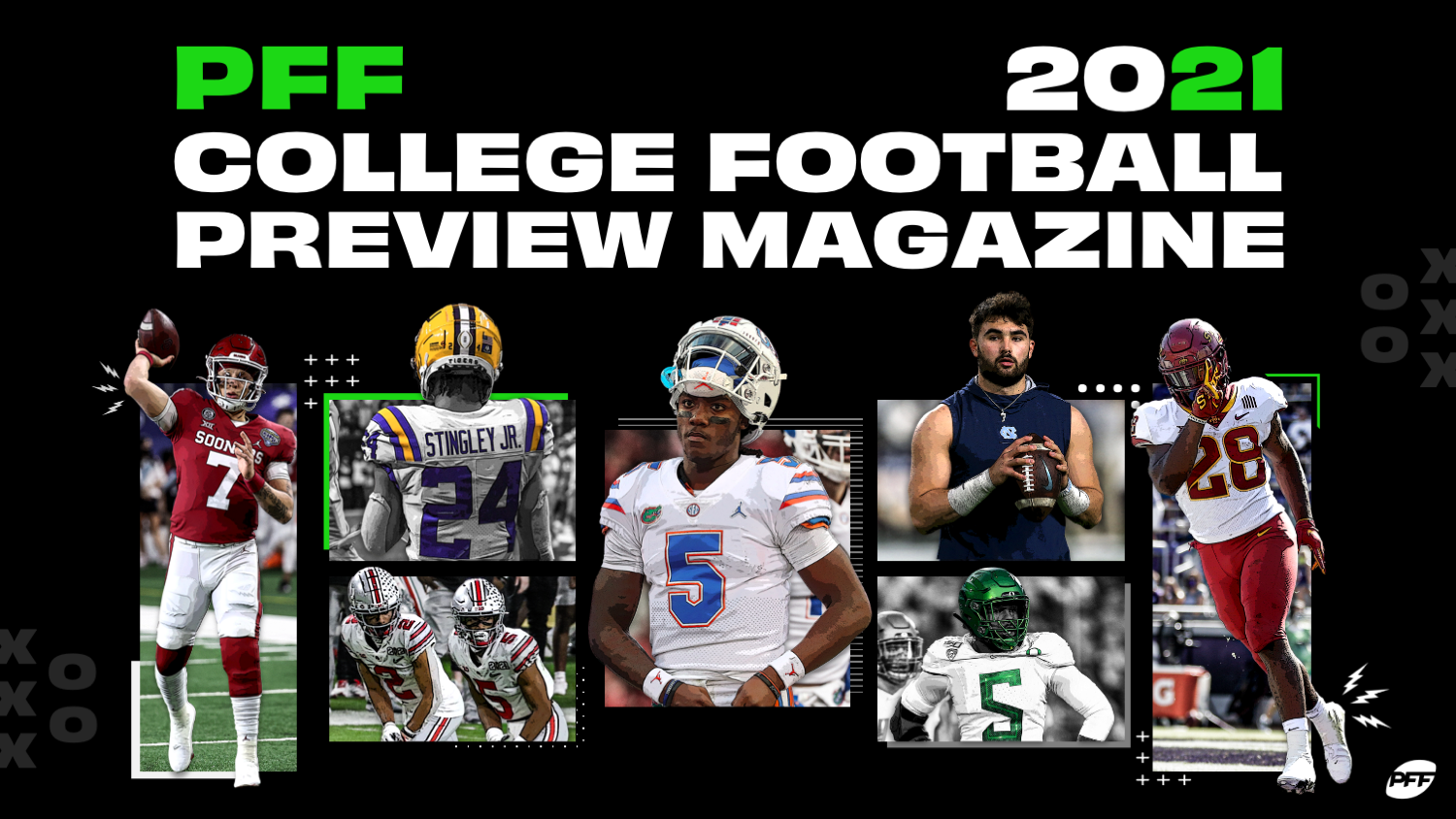 Why they are being slept on: A new era of Texas football will kick off this fall as the team welcomes former Alabama offensive coordinator Steve Sarkisian as head coach and Casey Thompson as the likely starting quarterback.
Sarkisian has proved to be one of the top offensive playcallers in college football. He called the plays in 26 games for the Crimson Tide from 2019 to 2020, and not once did the team produce negative expected points added (EPA) per play over a game. Yes, the Alabama program has been full to the brim with talent, but the fact that he didn't even come close to fielding an inefficient offense is truly absurd.
Percentage of games that generated positive EPA per play since 2019 (Power Five only)
| | |
| --- | --- |
| Team | Rate |
| 1. Alabama Crimson Tide | 100% |
| 2. Ohio State Buckeyes | 91% |
| 3. Oklahoma Sooners | 84% |
| 4. Clemson Tigers | 78% |
| T5. LSU Tigers | 76% |
| T5. Notre Dame Fighting Irish | 76% |
Thompson has taken only 34 dropbacks in his Texas career, so having a playcaller as experienced as Sarkisian will only help his transition into the starting role.
The 6-foot-1, 194-pound signal-caller earned a 90.0 grade on 17 attempts in 2020, a mark anchored by three big-time throws. He showed fantastic ball placement and timing while staying calm and delivering big-time throws under pressure. If he can sustain those flashes within a scheme that has demolished defenses nationwide, monster numbers could be in store for the new Texas quarterback.
Texas also has one of the biggest breakout candidates of the season in the form of Bijan Robinson. The sophomore earned five-star recruiting status in 2020, according to 247Sports, and dazzled down the stretch of his true freshman campaign. Over his last four games, Robinson produced a 10-plus-yard run on 14 of his 47 carries, breaking 21 tackles and averaging nearly 9.0 yards after contact per attempt. He put up one of the 10 highest rushing grades in the Power Five from Week 10 on (82.9).
Like the quarterback and running back positions, the Texas wide receiver room is raw but has a lot of potential. Josh Moore is the experienced player of the group but struggled last season when he finally got the chance to showcase his skill set. He is a great athlete but struggled to separate at a high level against single coverage and got pushed around in contested scenarios.
Still, he has all the traits needed to develop into an effective receiver. Jordan Whittington is another high-upside player and showcased the strength and agility to be an all-around weapon for Texas, producing a 70.0 receiving grade on his 24 targets in 2020 while averaging 8.2 yards after the catch and generating 2.17 yards per route run.
Bottom line: Texas will creep back closer to their old ways with Sark leading the charge, but it could happen sooner rather than later if the offense maximizes its full potential. While they might not be able to hang with Oklahoma for this season, they have every opportunity to be the second-best team in the conference and exceed their projected eight-win total for the regular season.
Related: 2021 College Football Betting Guide via Ben Brown
Why they are being slept on: Every college football fan knows about big-armed quarterback Carson Strong, but the top two pass-catching weapons at his disposal — Romeo Doubs and Elijah Cooks — are still being overlooked.
Strong fits like a glove in this Air Raid attack. Last year, he sported an 85.8 passing grade, a 1.7% turnover-worthy play rate (fifth in the FBS) and a 12.9% uncatchable pass rate (tied for second). Strong also threw four touchdowns that traveled 50-plus yards through the air, the most in a single season in the PFF College era — no other quarterback in the FBS in 2020 had more than one.
Last season, Doubs emerged as Strong's go-to deep target, finishing top-three in the FBS in both deep receiving yards (538) and touchdowns (seven). He even led the FBS in deep receiving yards (505) against single coverage.
Cooks ran only 19 routes and caught two passes before he lost the 2020 season to injury. In 2019, though, the 6-foot-4, 215-pound receiver was a bully on the field, catching 15 contested passes, breaking 15 tackles after the catch and leading the FBS in yards generated from catchable but inaccurate targets (417). 
Bottom line: There are very few coverage units on Nevada's schedule that can effectively shut down the three-headed monster of Carson Strong, Romeo Doubs and Elijah Cooks. The Wolf Pack are in prime position to take home the top spot in the Mountain West Conference West division and secure a double-digit win total for the second time in the program's history.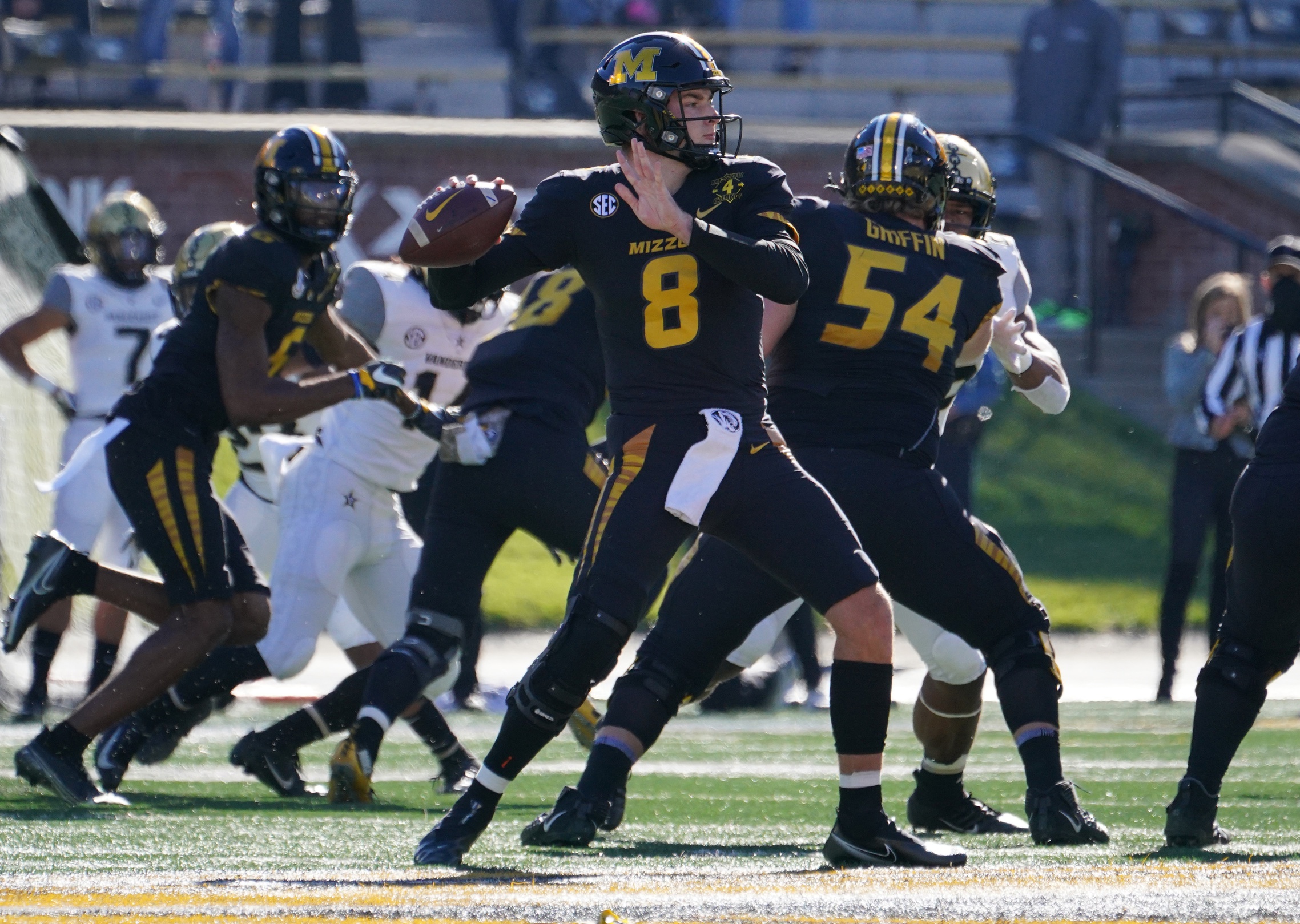 Why they are being slept on: Missouri may have finished at a flat 5-5 record in Year 1 of the Eli Drinkwitz era, but the sheer potential within this group is clear.
The major concern entering the season was the quarterback position, but Connor Bazelak took over the job by the third game and stabilized what was thought to be one of the worst situations in the Power Five. He proceeded to earn a 77.4 passing grade for the year, ninth among returning Power Five quarterbacks.
Tigers head coach Eli Drinkwitz recently appeared on PFF's 2 for 1 Drafts Podcast with Austin Gayle and Mike Renner and stated the two big areas he wants to see improvement in from Bazelak were deep ball accuracy and red-zone efficiency, a fair assessment given that he struggled to deliver well-placed 20-plus-yard passes all year. However, he was supremely accurate to the short and intermediate levels of the field, which is a far more stable situation from year to year. On clean-pocket throws between one and 19 yards downfield, Bazelak ranked sixth in the FBS in uncatchable pass rate at 11.4% in 2020.
Outside of the quarterback, there are two deciding factors as to whether this team can really surprise in 2021: the receiving corps and the coverage units.
Right now, their best (and only) proven receiving threat is running back Tyler Badie, as Mizzou doesn't have a single wide receiver on the roster who has recorded a single-season grade above 70.0. That could change with Ohio State transfer Mookie Cooper, a top-100 recruit in the 2020 class, who has yet to play a down at the collegiate level but has the skill set to bolster the deep passing game immediately.
The story remains the same in the secondary. Missouri ranked fourth-to-last in the SEC in EPA allowed per pass play in 2020, and their two highest-graded defensive backs from that coverage unit are no longer with the program. They did help matters by adding cornerback Akayleb Evans from Tulsa a year after he earned a 73.1 PFF grade and allowed 26 or fewer yards in all but one of his starts. The Tigers will need that level of play (and then some) to save this group from completely falling apart.
Bottom line: Connor Bazelak can get Mizzou back to a bowl in 2021. The quality of that bowl game, though, depends on the performance of Mookie Cooper, Akayleb Evans and the other inexperienced wide receivers and cornerbacks.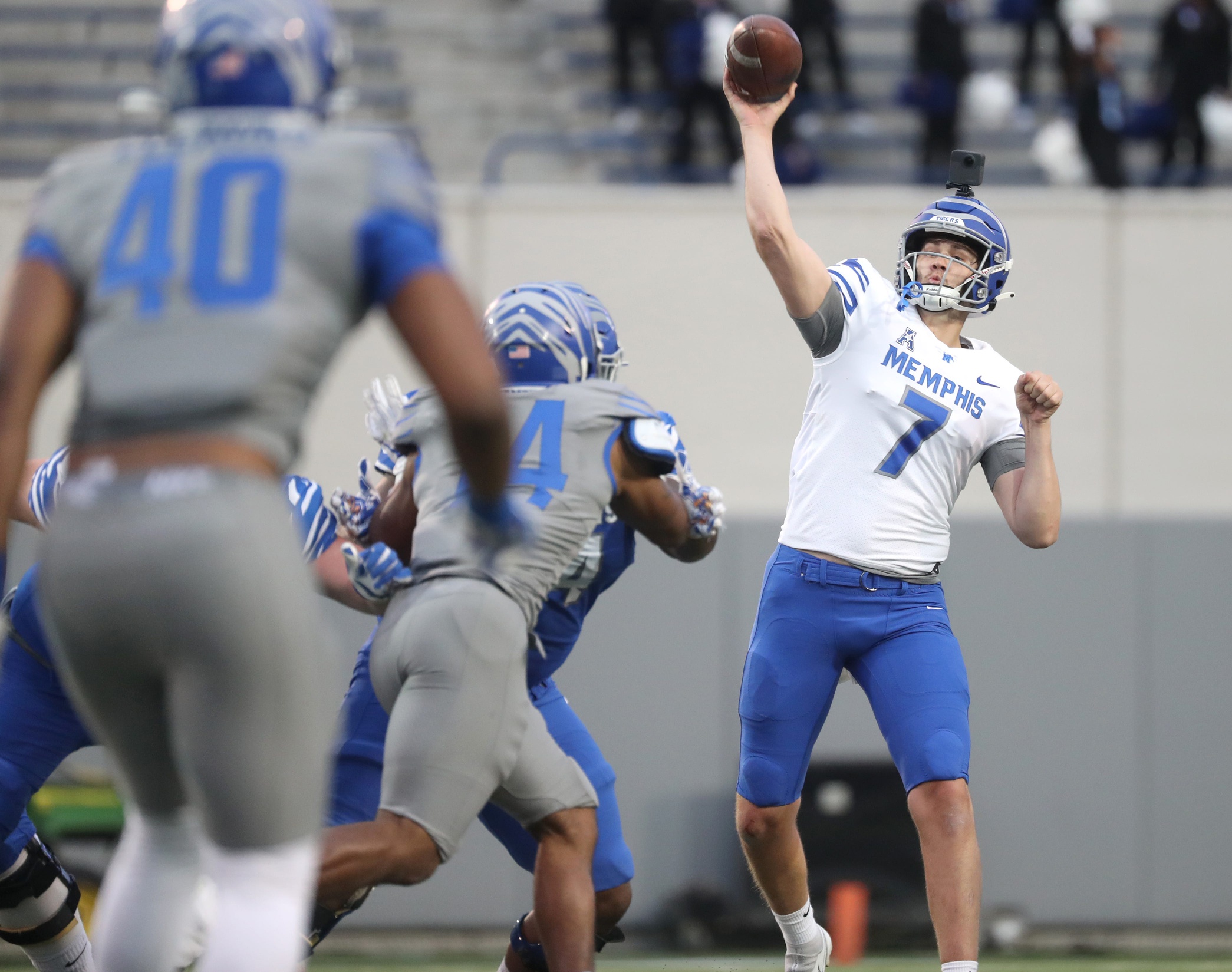 Why they are being slept on: The loss of several important contributors from last season, including quarterback Brady White, wide receiver Tahj Washington, offensive tackle Obinna Eze, interior defensive lineman O'Bryan Goodson and defensive back T.J. Carter, is casting doubt on the Tigers' 2021 season, but they still can secure a top-25 spot if Arizona transfer Grant Gunnell can reclaim his 2019 form.
The 2020 version of Gunnell was wildly different from the one we saw in 2019. He took 185 dropbacks across eight games for Arizona in 2019, displaying pinpoint accuracy and putting up an 85.4 passing grade. He then returned to attempt only 93 passes across four games in 2020 before injury shut him down for the year, but he still managed to rack up seven turnover-worthy plays over that span.
The 6-foot-6, 225-pound quarterback joined the Tigers hoping to unlock his deep passing game, as it wasn't something he was allowed to do at Arizona. His 6.1-yard average depth of target over his career is among the lowest in college football, even though he's thrown an accurate pass on 65.5% of his 10-plus-yard throws, one of the best marks in the country.
If Gunnell can sustain that downfield production with a higher rate of attempts, Calvin Austin III will be ready to cash in. Austin has deadly quicks and established himself as one of the top vertical threats in the country in 2020. His 21 vertical-route catches in 2020 were 10 more than any other AAC wide receiver and led everyone in the FBS.
As for the secondary, it's never easy to replace a well-experienced veteran like Carter, but the Tigers do return their two highest-graded defensive backs from last year's team, safety Quindell Johnson and cornerback Jacobi Francis. 
Bottom line: Memphis isn't going to knock out Cincinnati for the AAC title, but they have the potential to be a top-25 program and extend their streak of eight-win bowl seasons to eight.
Why they are being slept on: The NC State offense is underrated heading into 2021. Firstly, the program has one of the most well-rounded centers in college football in Grant Gibson and one of the best run-blockers overall in Ikem Ekwonu. And they'll be opening up lanes for running back Zonovan Knight, who is the most valuable returning running back in the ACC, per PFFWAA. 
Then there is the receiving unit, which is oozing with potential.
Wide receiver Emeka Emezie is coming off a late-career breakout year after a move back to the outside. Following middling grades of 60.7, 63.2 and 61.4 from 2017 to 2019 and a short stint from the slot to open 2020, Emezie looked like a different player from the outside starting in Week 5 of last year. He recorded a 77.3 receiving grade, 2.40 yards per route run and a Power Five-best 83.3% contested catch rate from that point forward. He saw press coverage on nearly half of his outside snaps in that span and ranked second to only then-Alabama wideout DeVonta Smith in receiving grade on those plays.
Starting quarterback Devin Leary looked like a new man in the four games we got to see from him in 2020, too, as he tallied at least four big-time throws in all three games he started.
Bottom line: The defense isn't anything to brag about, but if the offense can reach its full potential, this is quite easily an above-0.500 team. It wouldn't be a complete shock to see NC State start the year 5-1.
LSU was once an easy shoo-in for a spot here, but after the team announced that quarterback Myles Brennan would be sidelined indefinitely after undergoing surgery, I'm less confident in calling them a "sleeper" team, even if I do believe they can bounce back from last season's 5-5 campaign.
Here's why: Firstly, Brennan is one of the most underrated quarterbacks in the country when healthy. He may have only played in three games last year before suffering a season-ending injury, but what he did in that small sample should be getting everyone down by the Bayou ecstatic for this fall. He earned an 88.3 passing grade while tossing up an astounding 10 big-time throws to just one turnover-worthy play across 145 dropbacks. He was calm, cool and collected when under pressure, a sharp decision-maker overall and was an excellent vertical passer.
Brennan's competition, Max Johnson, put up a vertical-throw passing grade nearly 30 grading points lower than Brennan last year as a freshman, and Brennan doubled the freshman's yards per attempt average on those same throws.
The inexperienced freshman is always the more attractive option over the inexperienced veteran, and the team's offensive scheme made the two look closer than they were. But, at the end of the day, Johnson didn't look ready and Brennan did. 
The good news is that Johnson will have Kayshon Boutte to throw to in 2021.
One of the nation's top breakout candidates, Boutte displayed elite acceleration, top-end speed and toughness down the stretch for LSU in his 2020 true freshman campaign. He secured a starting spot for the final four games of the year, hauling in 14 receptions for 308 yards and three touchdowns against Ole Miss to cap off the stretch. He earned a 73.1 PFF grade and generated 2.38 yards per route run for the year. 
He is unafraid to make plays over the middle of the field and ended up averaging 7.6 yards after the catch while breaking 12 tackles on his 45 receptions.
As for the defensive side of the ball, there's too much talent for them to be as average as they were in 2020. The unit begins and ends with what is unquestionably the best outside corner duo in the country. Derek Stingley Jr. and Eli Ricks have the man coverage skills to lock up any wide receiver in the country. Stingley was the highest-graded corner when playing man on the outside in 2019, and Ricks claimed that honor in 2020. And joining them this year at off-ball linebacker is Mike Jones Jr., who transferred from Clemson, where he established himself as the top coverage linebacker in the nation.
Bottom line: This LSU outfit would have been a top-10 team in college football with Myles Brennan starting at quarterback. And while the Tigers will be better this year than last, they likely won't maximize their potential because of the injuries they have to overcome.