Last week, we took a look at the top true freshmen in the country — and after a wild weekend of college play we're updating our ranking.
Dexter Lawrence and Ed Oliver remain atop the list, but Alabama quarterback Jalen Hurts has jumped to the No. 3 spot. There are always a handful of freshmen who finally start contributing around mid-season, but for now let's focus on those that have made the biggest impact through five weeks of play.
Here are the best true freshmen in the nation heading into Week 6:
Dexter Lawrence, Clemson 85.1
Back at the top after another strong week, Lawrence has narrowly edged Houston's Ed Oliver as both a run defender and as a pass rusher. He's been a disruptor in the run game but he's finished his fair share of plays as well with a run stop percentage that ranks second among interior defensive linemen at 13.0 percent. As a pass rusher, Lawrence is coming off his best game in which he picked up three QB hits and four hurries, bringing his season totals to one sack, seven QB hits, and six hurries on his 89 rushes.
Ed Oliver, Houston 84.8
While Lawrence has the slight edge as far as run grade goes, Oliver leads the entire nation with a run stop percentage of 19.0 percent (12 run stops on 63 run snaps). He's done his damage as a pass-rusher as well, notching three sacks, a QB hit, and six hurries on his 138 rushes. Oliver was the best player on the field last week against UConn as he continues to live up to his five-star hype. Few true freshmen will be relied upon as much as Oliver down the stretch, but he's one of the keys to success for undefeated Houston.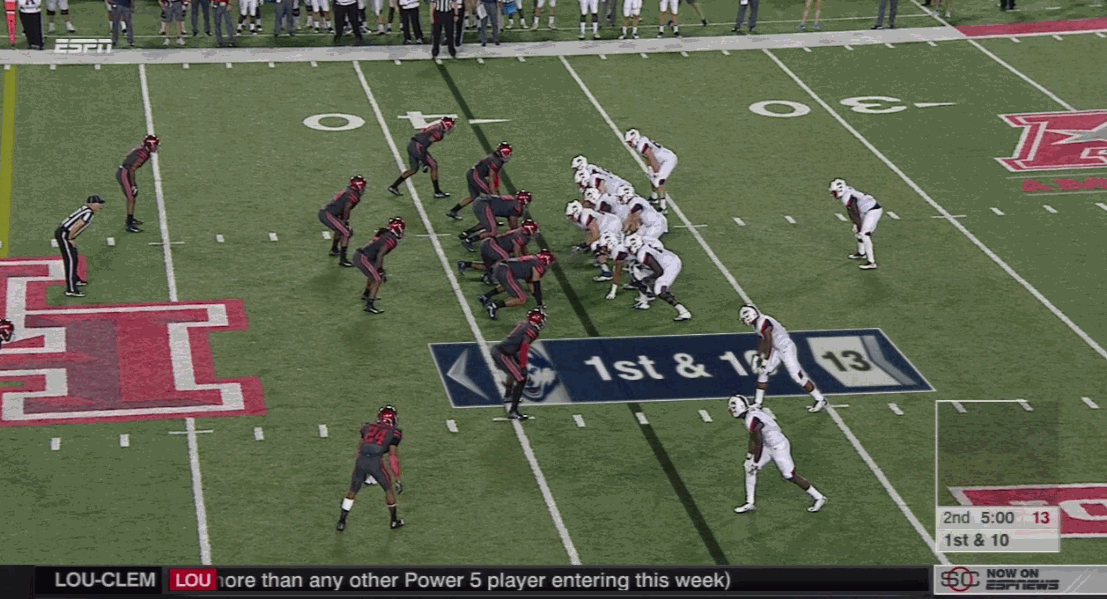 Jalen Hurts, QB, Alabama 77.2
Continued improvement from Hurts is a scary proposition for opposing SEC teams as his running ability has brought a different dynamic to the Alabama offense. He's now rushed for 324 yards on the season, including 223 on schemed runs and 101 as a scrambler. While Hurts has the arm to challenge defenses down the field, he does leave a few throws on the table, as evidenced by his hitting 6-of-14 on throws beyond 10 yards in the air on Saturday against Kentucky. The overall body of work has been extremely impressive, especially as a true freshman on the defending national champions.
Rashan Gary, Edge, Michigan 80.1
The top-graded true freshman edge rusher had a quiet game against Wisconsin as he only saw the field for 13 snaps and failed to pressure the quarterback on his seven rushes. He's slowed down as Big Ten play has started the last two weeks, but it's hard to ignore his torrid start that saw him pick up two sacks, three QB hits, and three hurries on only 55 rushes in his first three games. As talented as Gary is, Michigan is so deep up front, he may not see as much time as some of the other defensive linemen on the list, so he'll have to take advantage of his opportunities when they arise.
Trayveon Williams, RB, Texas A&M 74.8
Up to No. 5 after another strong week, Williams is the leading rusher for Texas A&M, averaging 9.0 yards per carry on his 54 attempts to go with four touchdowns. He ranks second in elusive rating (182.1) among true freshmen running backs, breaking 20 tackles on his 54 rushes while averaging 5.46 yards after contact per rush. Williams should continue to see his workload increase as he brings a big-play threat to the Aggies' offense.
Jawaan Taylor, OT, Florida 79.5
Maintaining his spot in the top 10, Taylor has been one of Florida's best offensive linemen since stepping in full-time in Week 2 against Kentucky. He's tapered off some since that time, but he's season grades in pass protection (79.6) and as a run blocker (77.8) are very good for a true freshman. Taylor will continue to get challenged as the SEC schedule heats up, but for now, it appears as though the Gators have found a solid starter at tackle.
Joshua Jacbos, RB, Alabama 78.2
It's been a small but impressive sample from Jacobs who is coming off career-highs in rushes (16) and yards (100). Only a smaller sample size is keeping him this far down the list and but he's ready to carve out a niche for himself in the Alabama backfield. He leads all true freshmen with an elusive rating of 205.1, breaking 10 tackles on his 34 rushes and another seven on only five receptions.
Jonah Williams, OT, Alabama 74.7
It was a rough game against Kentucky on Saturday as Williams had his struggles in the run game and committed two penalties (now four on the season), but it doesn't diminish his body of work this season. He's stepped in as the starter for Alabama at right tackle and he's still surrendered only two pressures (one sack, one QB hit) on 194 pass-blocking attempts this season. His 83.8 grade in pass protection leads all true freshman tackles.
N'Keal Harry, WR, Arizona State 74.7
Arizona State's No. 2 receiver has slowed down in recent weeks and there are a number of other true freshman knocking at the doorstep to dethrone Harry from the top of the rankings. A negated long touchdown make his 20 catches for 215 yards and two scores look a little worse, but we've seen the downfield ball skills and after-the-catch ability that should make Harry a star in the ASU offense.
Michael Pinckney, LB, Miami 80.4
Moving from the watch list into the top 10, Pinckney has the top grade among freshman linebackers and he's coming off the best game of his young career against Georgia Tech. He's done his best work in the passing game, whether rushing the passer where he's posted four sacks, two QB hits, and a hurry on just 33 rushes or in coverage where his 82.5 grade leads all true freshmen.
Dropped out:
QB Shane Buechele, Texas;
LB Troy Dye, Oregon
Watch list:
Jacob Eason, QB, Georgia;
Greg Little, OT Ole Miss;
Brian Burns, Edge, Florida State
Carter Coughlin, Edge, Minnesota;
Tai'yon Devers, Edge, Minnesota
J.J. Taylor, RB, Arizona
Demetris Robertson, WR, Cal
Nick Bosa, Edge Ohio State;
Benito Jones, defensive interior, Ole Miss;
Isaac Nauta, TE, Georgia;