It's the final mailbag of the college football regular season. While this fall had fewer games to grade and analyze than any season we've seen before, it certainly will be the most memorable — for a number of reasons.
Let's enjoy one last college football Saturday, shall we?
Non-First rd graded player that is most likely to succeed. (Regardless of situation they go to)

— Nathan Franks (@EtanSK) December 18, 2020
While we haven't finalized round-grades yet, there is a prevailing perception at the moment of who will be getting first-round consideration and who won't.
The player who hasn't seemed to be getting much of any Round 1 hype who I'd be happy to draft at any point in Round 2 is Ohio State wide receiver Chris Olave.
Getting open in the NFL is one part physical tools and two parts skill. Olave has the skill parts down pat, and as so many talented college route-runners before him — Keenan Allen, Michael Thomas and Cooper Kupp, to name a few — have proved: you don't need to be a "physical freak" to produce in the NFL.
Mel Kiper has Iowa DT Davyion Nixon at 10 overall. I'm diehard Iowa guy, but that seems crazy to me. Where does he slot in for you, if he comes out?

— Caleb Ellis (@CalebEl15549080) December 18, 2020
Even if I were to take away the positional-value argument — because I assume Kiper's draft board doesn't take that into account — it still feels like an overreaction based on Nixon's sack totals. He has seven sacks on the season, but he still only has 23 total pressures on 256 pass-rushing snaps.
I do love the ferocity he plays with, and I think he's really only scratching the surface as a pass-rusher, but you want far more of a polished product in the top 10. Nixon is probably a better prospect right now than Justin Madubuike was coming out, and Madubuike checked in at 47th on PFF's final draft board.
Who has the better knees. Kadarius Toney or Jaelon Darden. Both guys have the knee bend on jukes that wouldn't look out of place on the AND1 tour

— Griff&Co (@griffinglover) December 18, 2020
I love Darden. He's a fantastic prospect, and I think he'll well outperform his draft stock. That being said, he — and everyone else in college football, for that matter — doesn't hold a candle to Kadarius Toney in this regard.
Toney has that way of moving that comes along once every few years; it's one that's simply different from every other human being. Dante Hall, Percy Harvin Cordarelle Patterson, etc. He's forced a number of broken tackles this season on moves that only he can really execute.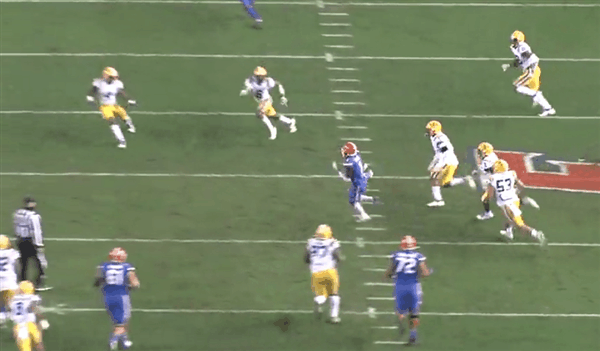 Now, does that mean he'll be a good receiver in the NFL? Not necessarily. But I'd love to try and get the ball in his hands in space.
Illinois win total prediction for 2021

— Barstool Carl (@barstoolcarl) December 17, 2020
The scary thing for Illinois is that they're sending more talent to the NFL than they have since probably 2013. That doesn't bode well for a team that went 2-5.
Obviously, this is highly predicated on who they hire. If they zig and hire someone who's bringing different elements to the table schematically on either side of the ball — which is what I believe they should do — I'd say five wins. But if they go for a talented recruiter to do better in the Chicago area or pluck an OC/DC from a top program, I don't foresee a quick turnaround, and I'll say three wins.
Who do you think has the better pro career between Michael Carter and Javonte Williams?

— Dillon Shrauger (@DillonShrauger) December 18, 2020
While I think Carter is the better receiving back, it's hard to argue against Williams' bell-cow ability here. At 5-foot-10, 220 pounds, Williams is physically built the way one would create a running back in a lab. He's in that LaDanian Tomlinson-esque mold where he can execute between-the-tackles concepts with power, but he can also get to the edge with his burst. Even though he's been in a timeshare at North Carolina, Williams will rack up the touches at the next level.
Who is one player who is getting overhyped in this year's pre-draft process?

— Obby (@Observeman24) December 18, 2020
It's still a tad early to tell exactly who is getting significant "hype" at this point. The one player I've seen mocked in the first round yet will likely not end up close to a first-round grade for us is USC defensive tackle Jay Tufele.
He opted out this season, but he only earned a 73.3 overall grade in 2019. His 72.0 and 71.5 pass-rushing grades in his last two seasons at USC are nothing to write home about. While he's a plus athlete for the position, it's not as if Tufele is a freak who you'd bank on figuring it out.
Rank the best QB prospects you ever graded. Luck, Lawrence the recent QBs etc etc

— mkeller25 (@mkeller25) December 18, 2020
We started grading in 2014, so our first draft was the Jameis Winston–Marcus Mariota draft. Their grades paled in comparison to some we'd see in the future.
While Baker Mayfield had the best college career from a purely grading perspective, Joe Burrow's 2019 was the best single season, and Trevor Lawrence has been the most impressive from a "prospect perspective." Here's how I'd rank the top three purely as prospects:
Truthfully, Justin Fields and Zach Wilson aren't too far off these top three, based on what we've seen. We weren't particularly high on Deshaun Watson or Patrick Mahomes coming out, and they have obviously been the best two over that time span in the NFL.
For a team like the #Jets who have struggled finding edge rusher help, what's the best type of prospect they could draft:
A super high ceiling guy like Jaelen Phillips or Paye, or a more finished product/high effort player like Ossai or Rumph who have lower ceiling?

— Coach Lamers (@AndrewLamers) December 17, 2020
The Jets are in a position where they don't have to play for 2021 (or even 2022, for that matter). If they get Trevor Lawrence, you're drafting for the next decade.
At that point, with the Seattle pick at the back end of the first round, I'd happily take a physical freak like Jayson Oweh or Carlos Basham if they're on the board. Both players made the top 10 on Bruce Feldman's Freaks List, although both qualify as "developmental prospects" currently.
Prospect with highest ceiling in upcoming draft

— poyle mcpoyle (@McpoylePoyle) December 18, 2020
You guys know that I LOATHE ceiling talk. Football is still a skill game, and decidedly non-physical-freaks like Tom Brady or Richard Sherman can ascend to being the best at their respective positions because of it.
That being said, it's difficult to argue with Trevor Lawrence here. What he was capable of in college football as a true freshman is different from anything we've ever seen. He's lost one game in his career as a starter, and it was to one of the most loaded college football teams ever assembled. It's scary to think where his game could end up.
If we are talking about position players, I'm going to go with Micah Parsons. Penei Sewell, Ja'Marr Chase and Kwity Paye are all in the conversation here, but Parsons is different from any linebacker in recent memory. He's not only the top off-ball linebacker in this class, but he has the tools to be the top edge rushing prospect if he wanted to be, as well. The top linebackers of the past decade — Bobby Wagner and Luke Kuechly — didn't quite have that in their bag of tricks.
If Sewell was in last years draft who are you taking him or Chase Young?

— ⚜️ Cole Haines ⚜️ (@cole_haines) December 18, 2020
With both falling in the "as close to a sure thing as you can get, but there are still no sure things in the draft" bucket, this is more of a debate on positional value.
While I'd say competence at tackle is far more valuable than competence at edge, dominance at tackle is less valuable than dominance at edge. A dominant edge has to be accounted for every snap, while you can just move your best pass-rusher to the other side to get away from a lights-out tackle.
Hey Mike, why do you think this year's crop of rookie cornerbacks have struggled overall? The lack of an offseason program hasn't seemed to affect other rookie position groups as a whole nearly as much.

— Jeremy Friedrichs (@FriedrichsJk) December 17, 2020
The reasons for this are twofold. The first is obviously the lack of any offseason. At such a reactive position, one can't understate how much reps matter. The more a young corner sees certain route concepts or releases in certain coverages, the better they will react to them.
The second reason is that everyone is struggling. There are currently only four cornerbacks in the entire NFL with an overall grade of 80.0 or higher. There are only 25 total cornerbacks over 70.0. That means there's not even one above-average one per team! It's never been more difficult to cover the receiver talent and offensive schemes present around the league.