A breakout quarterback on the right team can send the college football world into a frenzy — just like Joe Burrow did at LSU in 2019 and Zach Wilson did at BYU in 2020.
While those kinds of out-of-nowhere performances won't happen every year, there will always be a number of passers who end up far exceeding the public's expectations. Here are the 10 best candidates to do that in the 2021 college football season.
Subscribe to
Uiagalelei has already shown glimpses of the kind of quarterback he might be for the Tigers in 2021. He got the opportunity to make a couple of spot starts as a true freshman last season, against Boston College and Notre Dame. In those two outings, he came away with an 83.6 passing and five big-time throws without recording a single turnover-worthy play.
The 6-foot-4, 250-pound quarterback made the right decisions with the ball and unleashed his cannon of a right arm, even if there were some accuracy issues on sideline throws. Of his 29 passes that traveled over five yards downfield, only 31% were accurate while 44.8% were entirely uncatchable, something teams will be monitoring this fall. 
Jones has yet to start for the Florida Gators, having been limited to only mop-up duty in his three years, but his brief work as a passer and runner has been impressive nonetheless.
An elite athlete for a quarterback, Jones has also flashed some real-deal arm talent, producing an 80.6 passing grade across 87 career attempts. He pairs that with a two-year 81.7 rushing grade on 76 carries.
Head coach Dan Mullen, one of the best offensive playcallers in the country, has a penchant for dual-threat quarterbacks like Jones — if there is anyone who can put Jones in a position to succeed, it's him.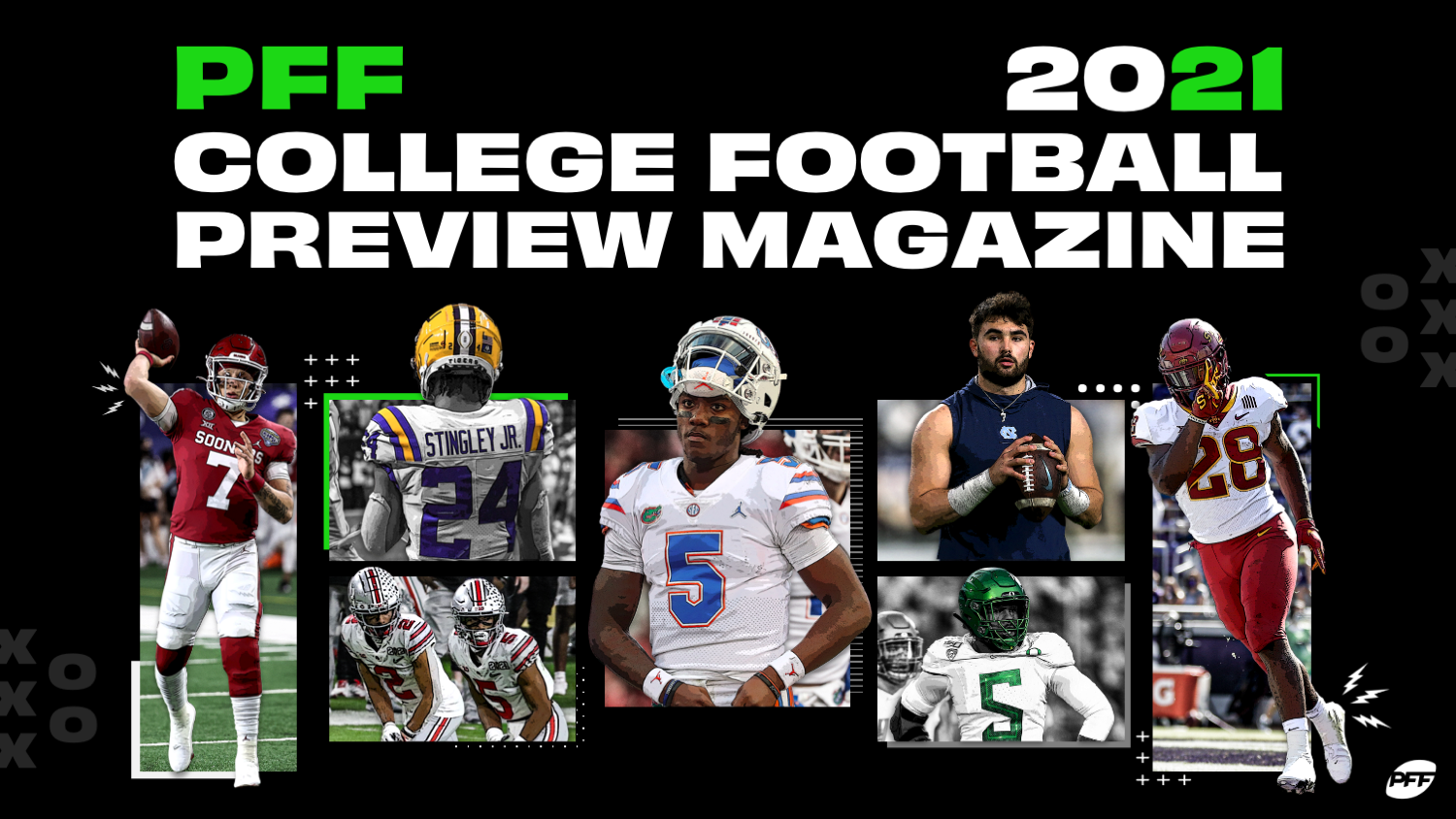 Tagovailoa was inconsistent in his four games for the Terps in 2020, but he still put more than enough on tape to get Maryland fans excited about the 2021 season.
The former Alabama transfer produced PFF grades of 40.8, 90.2, 74.3 and 41.1 in his four outings, displaying accuracy when in rhythm, the ability to extend plays with his legs and a knack for leading his receivers across the field on horizontal concepts, ultimately earning a 78.3 passing grade on such plays.
The main area for improvement in 2021? His Decision-making. He simply put the ball in harm's way far too often last year, ending the year ranked 130th of 140 qualifying quarterbacks in turnover-worthy play rate (5.9%).
A season ago, Mertz put on one of the best debut performances of the PFF College era when he didn't throw a single uncatchable ball and tossed three big-time throws en route to a 93.9 passing grade against Illinois.
Then everything went south. Mertz reportedly suffered a shoulder injury in his very next game but played through it, which partly explains why he earned a poor 53.4 passing grade over his last five games. Only time will tell how much that injury affected him, but that first game tells us all we need to know about his ceiling.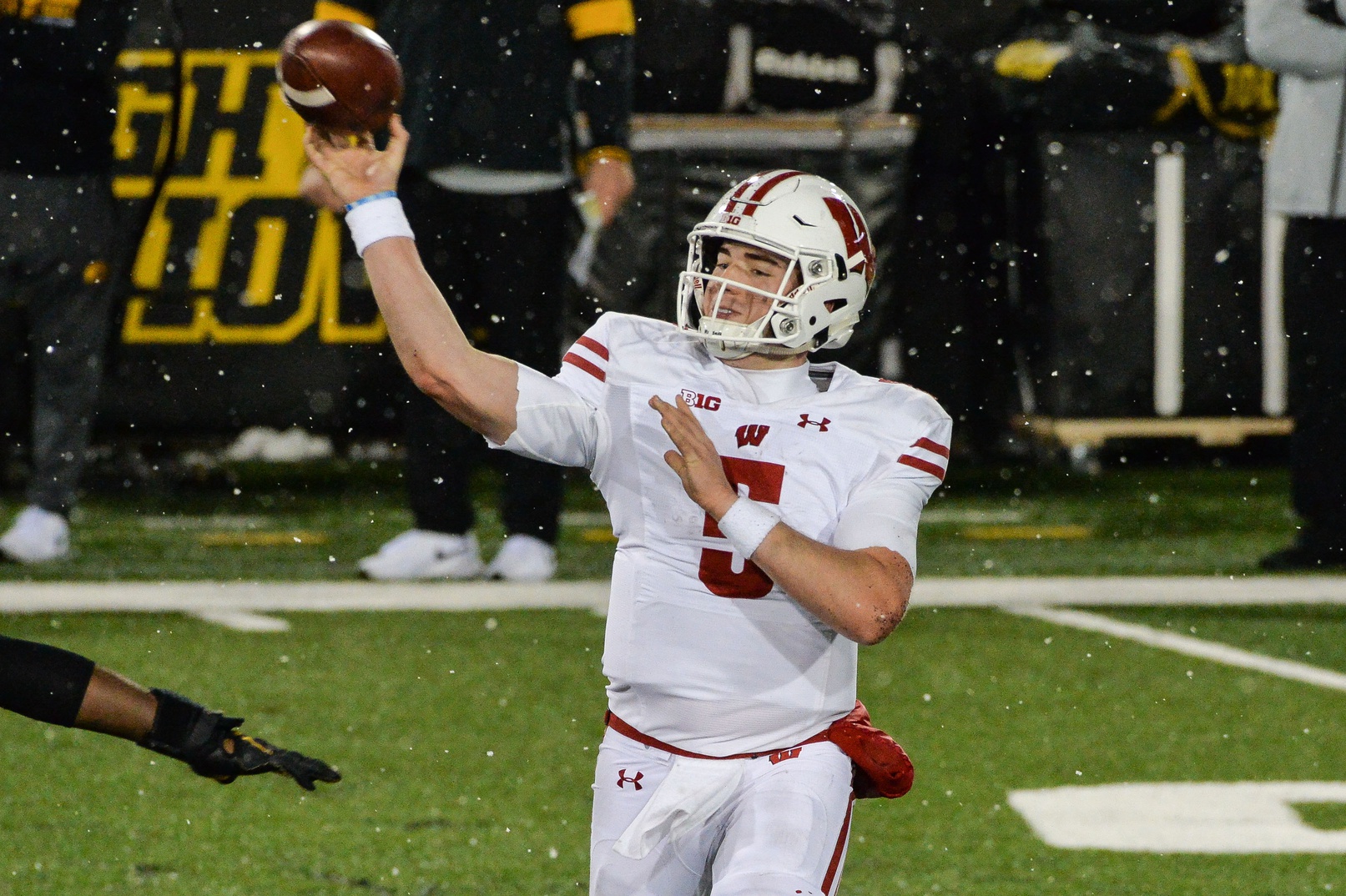 Off-field issues may keep de Laura out of the starting job, but he's undoubtedly the best passer on the Wazzou roster despite playing in only four games during his COVID-shortened freshman season.
The 6-foot, 195-pound quarterback produced a 78.4 passing grade and ranked fourth in the FBS in passing grade (91.0) on passes thrown less than 2.5 seconds after the snap. His performance dipped when he held onto the ball inside the pocket, so that's something to monitor moving forward.
The 2020 version of Gunnell was wildly different from the 2019 iteration. He took 185 dropbacks across eight games for Arizona in 2019, displaying pinpoint accuracy and ending the campaign with an 85.4 passing grade.
The Wildcats passer attempted only 93 passes across four games in 2020 due to injury but still racked up seven turnover-worthy plays before transferring to Memphis. We can't wait to see him take ownership of the deep passing game in 2021, something he wasn't given the OK to do at Arizona. 
---
Click here for more PFF tools:
PFF Greenline | PFF Fantasy Rankings | PFF Fantasy projections | NFL Premium Stats | Win totals tracker  |
---
This job could very well go to 2020 top-100 recruit Hudson Card, but Thompson is primed for success if he claims the job. Working with head coach Steve Sarkisian — one of the top playcallers in college football — will be huge in Thompson's development.
The 6-foot-1 signal-caller earned a 90.0 grade on his 17 attempts in 2020, anchored by three big-time throws. He showed fantastic ball placement and timing while staying calm and delivering a couple of big-time throws under pressure. If he can sustain those flashes in Sarkisian's offense, Thompson seems destined for monster numbers.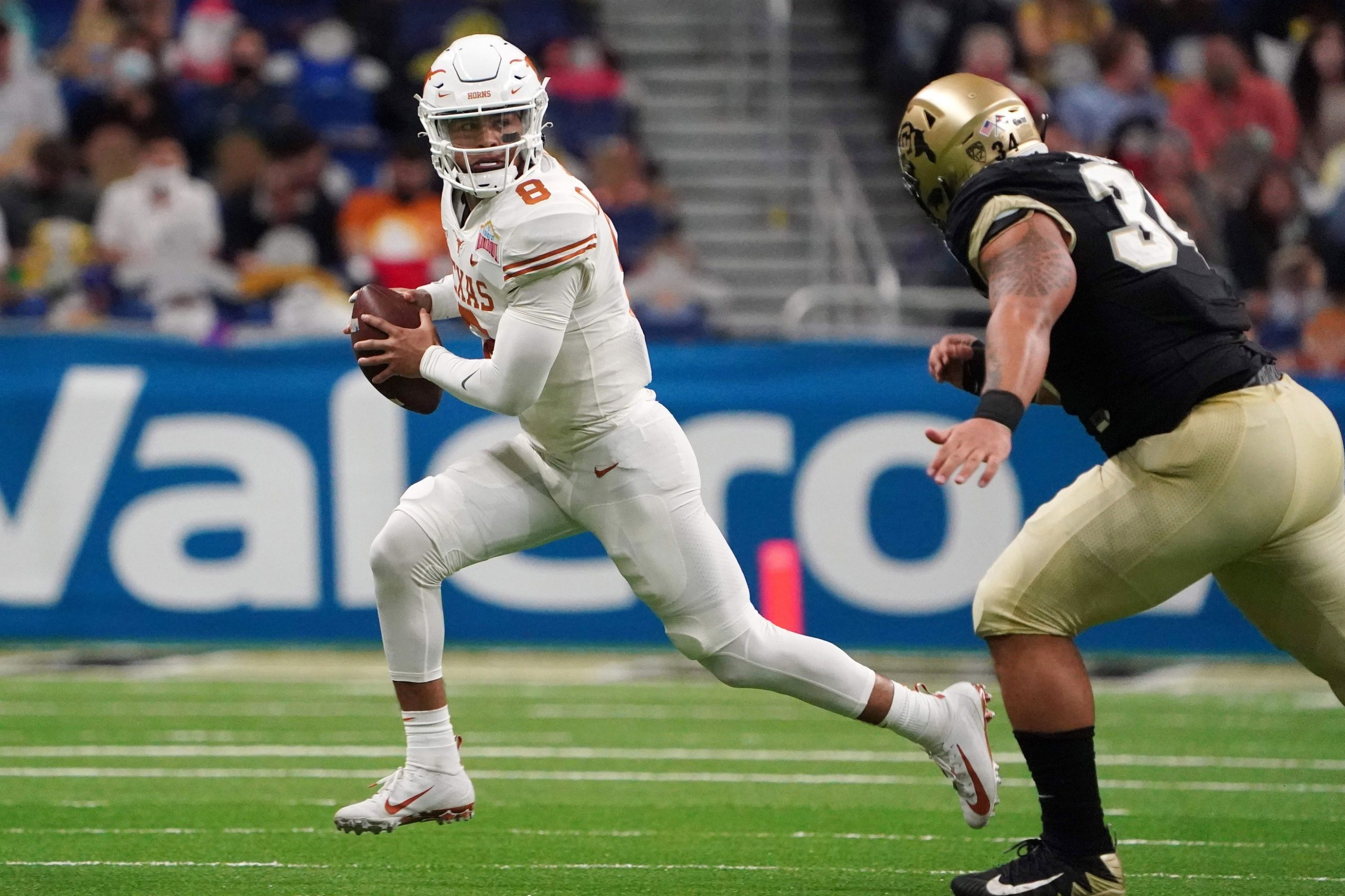 Mordecai, a four-star recruit in the 2018 class, began his career at Oklahoma. He rode the pine behind a talented crop of quarterbacks and attempted just 70 passes in three seasons. However, he did impress in the small sample with a 79.0 career passing grade that featured five big-time throws.
The now-SMU quarterback can get a little antsy at times, but he did make some beautiful off-platform throws and showed accuracy from the pocket. He and wide receiver Reggie Roberson Jr. have the potential of making up one of the top QB-WR tandems in the Group of Five.
Hall is set to receive the impossible task of replacing BYU legend Zach Wilson, who last season earned the highest single-season PFF grade ever given to a non-Power Five quarterback.
The last time Hall saw game action was in 2019. He showcased toughness, athleticism, arm strength and an ability to play on the move, all things coaches desire at the quarterback position, ultimately earning a 77.3 PFF grade across 55 dropbacks.
Hall is unlikely to replicate the level of production Wilson provided, but he certainly has the talent to rank among the nation's top non-Power Five quarterbacks and hold off the kind of debilitating regression that will threaten this BYU program. The only thing he needs to do is avoid injury and play the season from start to finish, something he has struggled with in the past.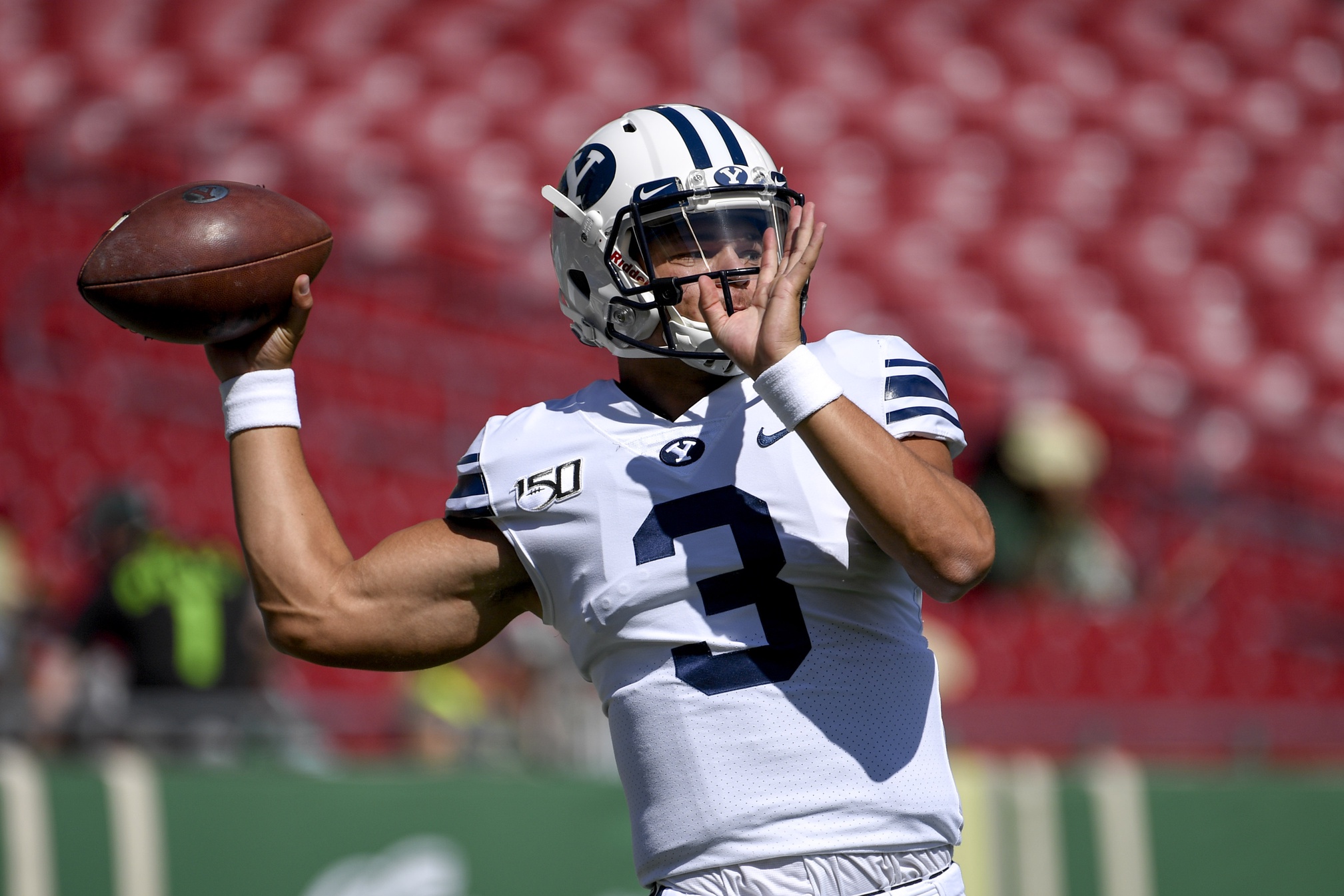 The Hilltoppers landed a major transfer addition in Zappe, who joins the team from Houston Baptist. While his Husky squad went 1-3 in their four outings last fall, Zappe performed admirably, earning an 86.1 passing grade and leading the team to 0.38 expected points added (EPA) per pass play.
Zappe earned an elite 91.2 passing grade and generated a minimal 1.7% turnover-worthy play rate against FBS competition at Houston Baptist. He should provide a spark to a Hilltopper passing offense that ranked second-to-last in the C-USA in passing grade and third-to-last in passing efficiency.