As a part of our partnership with ESPN, this is a part of a story that was originally published on ESPN+ and can be viewed in its entirety here with your ESPN+ subscription – The biggest potential weakness for each top College Football Playoff contender
There is no such thing as a perfect team in college football. Every team has some type of flaw, but it's the number of weaknesses and the magnitude of them that separate the bad teams from the good and the good from the elite.
With the help of PFF's unique play-by-play grading and advanced database, we can easily spot the biggest flaw of each team in college football. Below, you'll find the top 10 teams that are in the running for a spot in the College Football Playoff and their biggest weakness, as well as our analysis on how concerned you should be about said weakness. Please note that these 10 teams do not reflect our top 10 teams in college football — this list includes the teams that have the best chance at making the playoff based on what has already happened and what we think will happen with each of their respective schedules.
Biggest weakness: It has been only one game, but the interior offensive line did not look great against a subpar Nebraska pass-rush unit.
Why this is a weakness: To no surprise, the Buckeyes' offense was rolling in their 2020 season opener against the Nebraska Cornhuskers. Ohio State had its best game since 2014 in the percentage of pass plays generating positive expected points added at 76.5% (i.e., it consistently had successful pass plays). That said, not everyone on the offensive side of the ball was perfect. The interior offensive line lost multiple reps in pass protection against a middling pass rush. As a whole, Ohio State's interior offensive line combined for a 40.6 pass-block grade, ranking third-to-last in the Big Ten. The Buckeyes also allowed the second-most pressures among all interior lines in the conference (eight).
Level of concern: Although it wasn't the best game for right guard Wyatt Davis, center Josh Myers and left guard Harry Miller, this "biggest" weakness is really being nitpicky. Again, no team is perfect, but this Buckeyes roster has few glaring weaknesses of which to speak. The passing offense led by Justin Fields still managed to put up historic numbers despite the lowly pass protection on the interior. Not to mention, we have enough data on Davis and Myers to know they are bound to bounce back. Davis was the fifth-highest-graded pass-protecting guard in the Big Ten last year, and Myers allowed one or fewer pressures in 10 of his 14 starts in 2019.
---
Biggest weakness: Wide receiver depth.
Why this is a weakness: Trevor Lawrence and Clemson lost their top two targets from last year's passing attack, as Tee Higgins headed to the NFL and Justyn Ross, unfortunately, had to undergo season-ending surgery this offseason. That left Lawrence with senior Amari Rodgers and a slew of underclassmen who have promise but are unproven. So far in 2020, Clemson's receiving unit has missed a lot of catchable balls downfield. On targets of 10 or more yards, the Tigers have caught the second-lowest rate of catchable targets in the ACC at 69% and have produced the third-worst drop rate at 22%. Rodgers has been great working in the shallow areas of the field and connected with Lawrence on multiple big plays deep downfield, but he has been as guilty as the young receivers in those rates listed above. He has dropped a quarter of his catchable targets 10-plus yards downfield.
Level of concern: Arguably the best underclassman receiver on the roster this year, Joseph Ngata, has been limited this year due to injuries, but he should be back to full strength in the coming weeks. He was the fifth-most-valuable true freshman wide receiver in 2019, per PFF's Wins Above Average (WAA) metric, so that should help matters. Ultimately, though, having a quarterback as good as Lawrence lowers the severity of this weakness. He has been pinpoint-accurate downfield this year and constantly giving his receivers a chance to catch the ball. Lawrence is tied for first in the ACC in the percentage of catchable balls thrown 10 or more yards this year at 68% — that's 15 percentage points higher than the conference average. As long as they don't continue to drop a ball that ends up falling in the hands of the defense, as Rodgers did against Syracuse last week, this shouldn't be too much of a concern.
---
Biggest weakness: Slot coverage.
Why this is a weakness: Alabama's outside cornerback duo of Patrick Surtain II and Josh Jobe has been far from the issue for the Crimson Tide on the defensive side of the ball — they are actually the best outside tandem in the SEC in terms of PFF coverage grade. The Crimson Tide's slot coverage, however, has been a huge issue, as we all saw in the Ole Miss game. Alabama ranks 10th among the 14 SEC teams in slot coverage grade after giving up a 123.1 passer rating and an SEC-high 13 explosive plays of 15 or more yards to opposing slot receivers.
Level of concern: Zero. There should be no concern with this weakness, and Mac Jones and the offense are big reasons why. The passing attack is playing at a near-unstoppable level this season, ranking first in the FBS in EPA per pass play generated, and Alabama has recorded the highest explosive pass play rate in the Power 5 at 26.7%. The loss of Jaylen Waddle no doubt hurts, but the Crimson Tide still have the SEC's highest-graded wide receiver, DeVonta Smith, as well as the eighth-highest-graded wide receiver, John Metchie III. Most importantly, they have the highest-graded quarterback in college football with Jones, who has the lowest negatively graded throw rate in the country. As long as Jones sustains this level of play, there is no reason to worry about any Alabama defensive deficiency.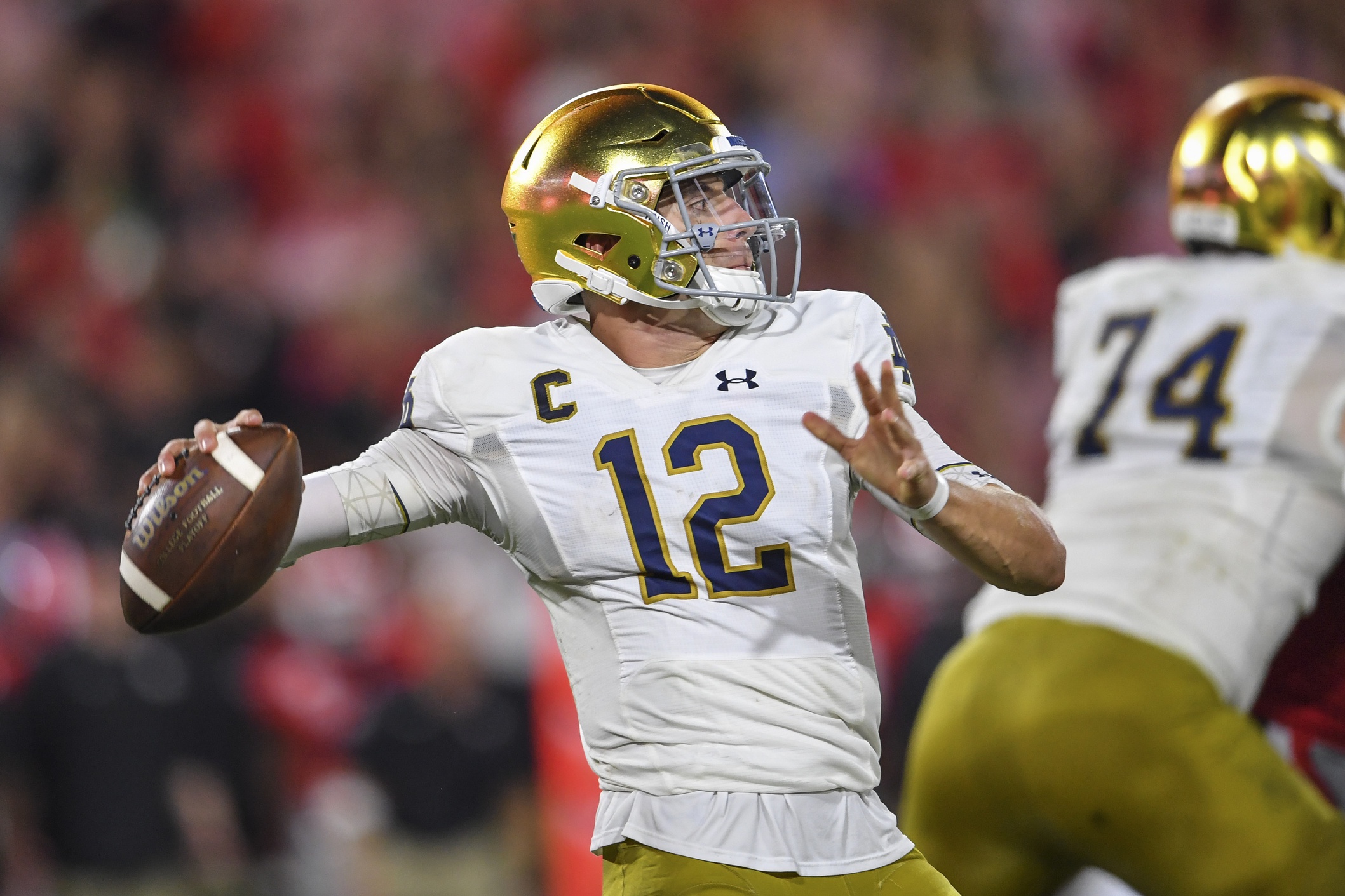 Biggest weakness: Quarterback.
Why this is a weakness: Through Notre Dame's first five games of the 2020 season, quarterback Ian Book has earned a 59.0 passing grade that ranks 70th among 90 FBS qualifiers. He has produced more turnover-worthy plays than big-time throws and ranks in the bottom five in the ACC in both negatively graded and positively graded throw rate. It's also worth noting that Book has earned a higher grade under pressure — a volatile metric — than when in a clean pocket, which is the most stable and predictive performance of quarterback play.
Level of concern: Despite Book's underwhelming play, Notre Dame has still managed to field the most efficient passing attack in the ACC in terms of EPA per play generated. But remember, EPA is a team stat and not a quarterback stat. Notre Dame's offense steamrollered a very good Pitt defense last week, but there were two interceptable balls thrown by Book that the Panthers couldn't capitalize on, and over 60% of his passing yards came after the catch. Even with a great defense, it isn't likely Notre Dame beats Clemson this year with Book playing the way he is.
---
Biggest weakness: Quarterback.
Why this is a weakness: Georgia offensive coordinator Todd Monken has made this offense an aggressive one. Quarterback Stetson Bennett has an average depth of target of 11.3 and has thrown to a vertical route on nearly 24% of his throws — both of which are the highest marks in the SEC. Bennett, however, has not been so great on these vertical concepts. He ranks 10th of 14 SEC quarterbacks in passing grade when throwing 10 or more yards downfield, and he is also 11th in negatively graded throw rate on these passes. Bennett has been inaccurate on these throws, too, with 44% of them being charted uncatchable this year (ninth-worst in the SEC).
Level of concern: It's widely known at this point that Georgia's defense is what makes this team good, but an elite-level defense alone just isn't going to cut it. Nick Saban said it himself last week: Offense wins championships. We saw this firsthand in Georgia's 41-24 loss to the Crimson Tide, who have arguably the best offense in the country. Georgia's offense is ninth in the SEC in EPA per play generated this year, and though the Bulldogs might still be able to win out in the regular season to get to the SEC championship, that kind of per-play efficiency just isn't going to hang with Alabama.
---
Biggest weakness: Passing offense is limited with Spencer Sanders.
Why this is a weakness: Oklahoma State's offense requires a quarterback who can effectively throw downfield, and it looked like the team found that arm when an injury sidelined Sanders in the Cowboys' 2020 season opener. True freshman Shane Illingworth, a four-star recruit who ranked 166th in the 2020 ESPN 300, started the Cowboys' second and third games against West Virginia and Kansas, respectively, and effectively hit throws downfield.
His passing grade on 10-plus-yard throws over that two-week span ranked eighth in the FBS. Sanders returned for Oklahoma State's fourth game in Week 8 and struggled to match Illingworth's success in that facet. Sanders completed just 6 of 13 passes targeted over 10 yards for 148 yards and a touchdown, with no big-time throws and a couple of interceptions. On top of that, he threw more uncatchable balls than accurate ones, leading to a passing grade on such throws that ranked 50th among 91 qualifying quarterbacks in Week 8.
Level of concern: Sanders' being an inconsistent downfield thrower in Week 8 is no different than how he performed last year, ranking 101st in the FBS in passing grade and 85th in uncatchable pass rate on 10-plus yard throws in 2019. It might have been a small sample from Illingworth, and one of those games did come against one of the worst teams in the Power 5, but he performed at a level Sanders has yet to reach. As long as Sanders is behind center, there is reason to be concerned.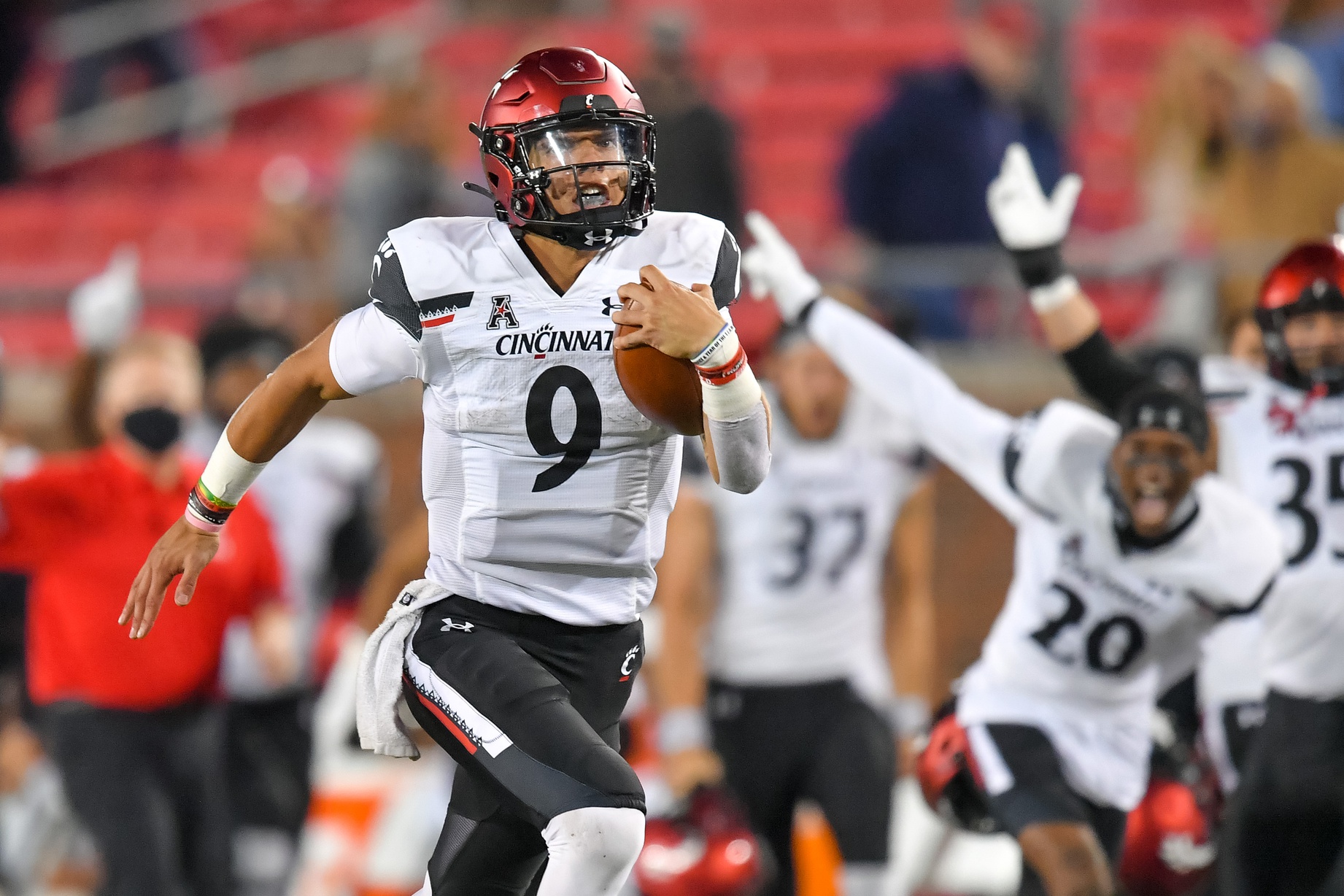 Biggest weakness: Lack of an explosive passing offense.
Why this is a weakness: The Bearcats have one of the worst downfield passing attacks in the country. Quarterback Desmond Ridder has completed just three passes that traveled 20-plus yards downfield, ranking dead last in the AAC. Yes, even fewer than Navy.
When looking at Cincinnati's explosive plays of 15 or more yards, Ridder's attempts have traveled an average of 11.3 yards downfield (third-lowest in the FBS). That means his receivers are playing a big part in any of the team's explosive plays with their after-the-catch ability. And they aren't generating these explosive plays often. The Bearcats produced just three 15-plus yard plays last week against SMU, tying for the fewest in the AAC that week. Yet, they still managed to win, 42-13.
Level of concern: Cincinnati more than proved in its win over SMU that its defense can propel the team to win out, which includes games against Memphis and UCF, despite the lack of an explosive pass offense.
Entering the week, the Mustangs had generated the sixth-most expected points added per pass play in the FBS (0.4) and earned a mark above 0.22 in all of their five games. Yet, Cincinnati held SMU to minus-0.22 expected points added per pass in Week 8. The starting cornerback trio of Ahmad Gardner, Coby Bryant and Arquon Bush has combined to allow a 24.1 passer rating in coverage with seven interceptions and seven forced incompletions.
Remember, offense wins championships. But as good as SMU's, Memphis' and UCF's offenses are, none are remotely close to Alabama's or Ohio State's. Cincinnati's defense is good enough to win regular-season games and possibly get a College Football Playoff berth, but if the latter were to happen, the Bearcats' offense would drag the team down against whomever it faces.
---
Biggest weakness: No Graham Mertz for the next three weeks.
Why this is a weakness: Unfortunately, Badgers starting quarterback Mertz tested positive for COVID-19 in consecutive days this past weekend, meaning he will at a minimum miss Wisconsin's next three games. The freshman quarterback had to step in this year and take over the starting role for Jack Coan, who is out with an injury, and he had a near-perfect debut last Friday against Illinois. Mertz earned a 92.9 passing grade for the game and threw a catchable pass on every one of his 21 throws — that's something no one had done in a single game with at least 20 passes in the previous seven weeks of the 2020 season. The pass coverage was pretty poor, but doing that in your first career start at the collegiate level is impressive regardless of the opponent. He showed he has the arm talent to be highly successful at the position.
Level of concern: With Mertz and his backup, Chase Wolf, out, Wisconsin will have to start Danny Vanden Boom — a redshirt junior with one career pass attempt. Remember, Vanden Boom was the Badgers' fourth-string quarterback prior to Coan getting hurt; he will now have to start against Nebraska, Purdue and … No. 13 Michigan. The Badgers' playoff hopes won't be completely dead if they are able to go 2-1 in those three games and then win out and beat the Ohio State Buckeyes in the Big Ten championship game. However, Nebraska and Purdue aren't going to be walks in the park for a quarterback who was a fourth-stringer a month ago. Hopefully, he proves the world wrong, but the concern level is high until we see him play a game.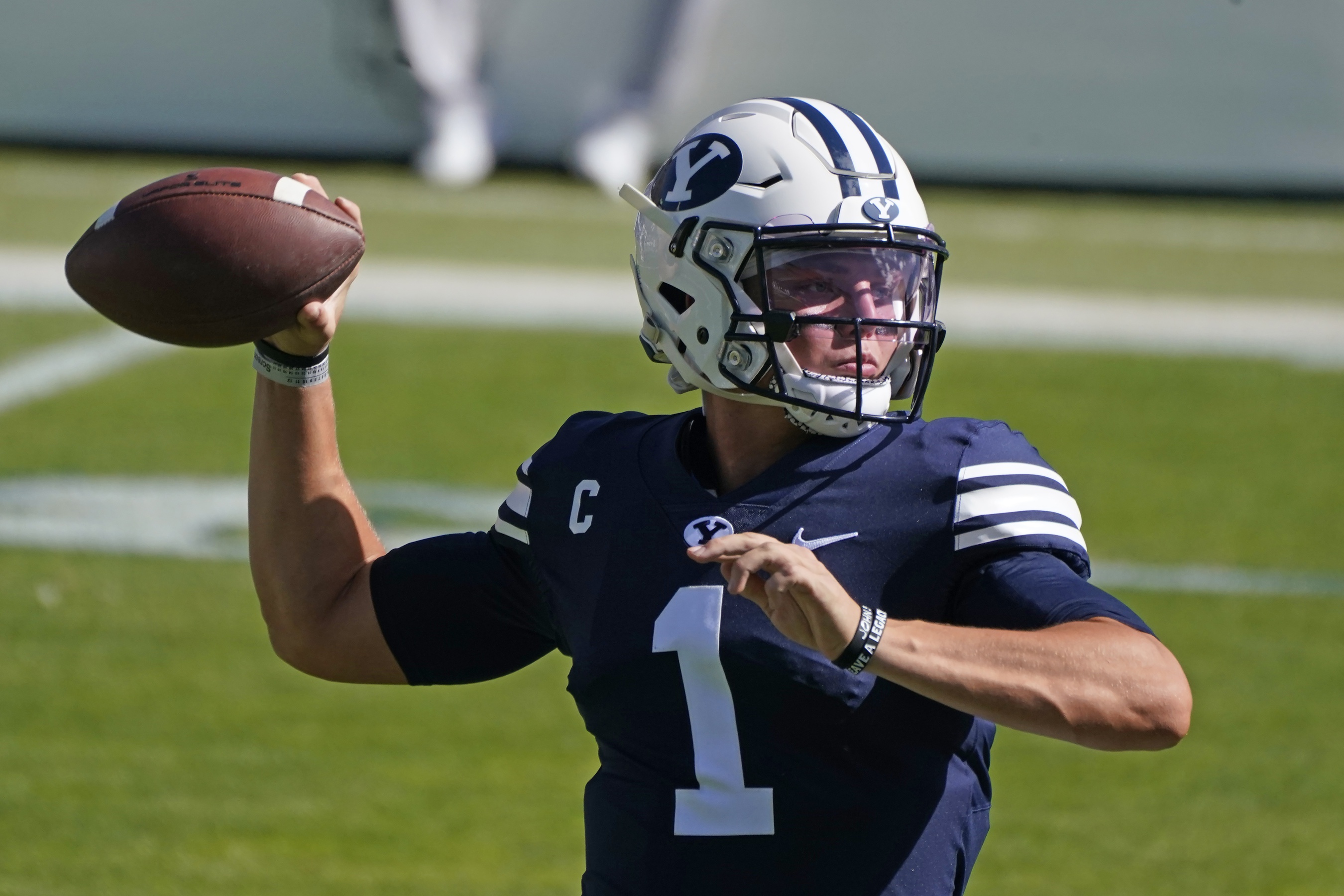 Biggest weakness: Strength of schedule.
Why this is a weakness: They aren't perfect, but the Cougars have shown few weaknesses on the playing field this season. Led by quarterback Zach Wilson, this 6-0 BYU team has a real chance of putting together an undefeated 10-0 season and throwing its hat in the ring for a CFP berth. To do that, the Cougars will have to steamroller their competition because their schedule is incredibly weak. The Cougars have faced Navy, Troy, Louisiana Tech, UTSA, Houston and Texas State so far — all six of those teams rank in the bottom half in the FBS in PFF ELO. They'll have their two toughest games of the season — against Boise St. and San Diego State — over the next four games, but they won't be able to just squeak out victories and walk their way into the College Football Playoff. They'll have to handily beat each of them.
Level of concern: Despite the weak schedule, Wilson is performing at a level that is incredibly impressive regardless of competition level. He has recorded a 94.0 passing grade through his six games this year, ranking in the top three in both negatively graded and positively graded throw rate. Since PFF College's inception in 2014, we have never seen a quarterback produce at this kind of level through his first six games in a season — not Baker Mayfield, not Kyler Murray, not even Joe Burrow. This isn't to say Wilson is a better player than any of those three — and, again, the schedule has been weak — but if he sustains this play over the course of the next four games, the Cougars have a great shot at finishing undefeated.
---
Biggest weakness: Outside of already needing a lot to fall in their place due to the seven-game-max schedule, the linebacker unit is borderline a liability.
Why this is a weakness: The Pac-12 is at a disadvantage this year given that they are set to play only six regular-season games. To make the College Football Playoff, the conference will certainly need Alabama, Ohio State and Clemson to go undefeated and BYU, Cincinnati and Oklahoma State all to lose. Then, they'll need a team to crush its opposition and go a perfect 7-0 to secure a spot — and the team with the best chance at that is USC.
The Trojans do, however, have a middling defense with a big weakness at off-ball linebacker. Palaie Gaoteote returns as a starter, and although he has been tolerable against the run, he has struggled in coverage and has displayed poor tackling. Gaoteote missed 14 of his 68 tackle attempts in 2019 and ranked 23rd of 31 qualifying off-ball linebackers in coverage grade. The other starting spot is an even bigger concern, too, as it'll be either Kana'i Mauga, the lowest-graded linebacker in the Pac-12 last year, or Ralen Goforth, who missed two tackles on four attempts on his 56 snaps en route to a 49.4 PFF grade in 2019.
Level of concern: As long as Kedon Slovis takes that next step forward to elite status, the defense should be of no concern. Slovis' accuracy is quite easily the best in the country — he ranked second to only Burrow in the percentage of accurate passes thrown beyond the line of scrimmage in 2019. He also maneuvered the pocket exceptionally well and made magic on long-developing plays, and he even earned a 90.1 PFF passing grade on pass attempts that took longer than three seconds from snap to pass, almost seven grading points clear of the next returning signal-caller. With that kind of talent at quarterback, as well as the receiving unit he has at his disposal, I wouldn't be too concerned with the weakness at off-ball linebacker, or the defense at all for that matter.
---