Who are the good teams in the Big 12 right now? After two weeks of Big 12-on-Big 12 action, we still have no clue.
TCU could be undefeated if they had just started Max Duggan against Iowa State, while those same Cyclones are few lucky bounces away from potentially being 0-3. Oklahoma is playing good football but finds itself at 1-2 on the season with their chances of another trip to the College Football Playoff evaporating. Texas' Sam Ehlinger, my Heisman Trophy candidate, has been shaky so far this year, and now his team plays for its life against Oklahoma next week. And maybe Oklahoma State, who looked bad against Tulsa, is actually good? Who knows.
In this week's film room, we look at Spencer Rattler, Sam Ehlinger, Brock Purdy's fall from grace and Max Duggan's surprising start to the season.
It ain't Purdy
Brock Purdy might have been a mirage this whole time.
After a scintillating true freshman 2018 season that saw him post an 88.0 passing grade, his play has been slipping every year since. His grade fell to 82.2 in 2019, still relatively good, but he only ranked 24th in passing grade among quarterbacks with over 100 dropbacks, down from 12th the year prior.
Purdy has bottomed out this season. His 47.7 passing grade ranks 73rd out of 75 quarterbacks who have dropped back at least 40 times.
Brock Purdy: Game-level performance in 2020
| | | | | |
| --- | --- | --- | --- | --- |
| Week | PFF Passing grade | Dropbacks | Big-time throws | Turnover-worthy plays |
| 2 | 40.5 | 41 | 0 | 2 |
| 4 | 59.3 | 26 | 1 | 2 |
| 5 | 55.3 | 32 | 2 | 4 |
What propped up Purdy's 2018 grade is now his downfall: play under pressure. Purdy posted an unsustainable 77.7 grade under pressure that season, the sixth-best mark among FBS quarterbacks who were pressured at least 40 times.
Purdy wasn't lucky, he played well, but we know that play under pressure is not reproducible year to year. His pressured-passing grade dropped to 54.6 last season and now sits at 28.6 this year.
His pressure rate has hardly fluctuated from year to year, too. In 2018, he was pressured on 40% of his dropbacks, and while that number fell to 35% last year and 36% this year, it's not that much different. He just hasn't been able to handle the heat anymore, and this season he's reacted by throwing the ball to the other team too many times.
Iowa State is lucky that only one of Purdy's eight turnover-worthy plays has led to an actual turnover. That's why they are 2-1 after their upset victory over Oklahoma. Purdy actually threw three balls to Sooner defenders, and every single one of them fell incomplete; he also fumbled on a scramble only for him to recover his own gaffe.
Six of his eight turnover worthy plays have come under pressure. He only committed three turnover-worthy plays on 117 pressured dropbacks in 2018.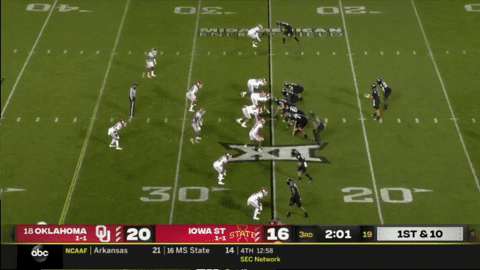 On first-and-10, there is no reason to attempt this dangerous throw against a post safety. Oklahoma is in perfect leverage to defend this seam throw with the man-coverage defender outside and in trailing position and the free safety deep and inside. The only place you can put the ball is outside and deep, and you just hope your receiver runs under it. Purdy is hit as the throws, but this is where he wanted to go with the ball the whole time. Bad process.
There's an argument to be made that Iowa State is an 0-3 team that caught a couple of lucky breaks en route to a 2-1 record: TCU starting their worst of two quarterbacks and then Oklahoma defenders not catching Purdy's errant throws.
Red River Elimination Game
Because of that Iowa State upset win against Oklahoma, this week's Red River Shootout becomes a must-win game for both sides.
Texas is coming off an upset loss to TCU and didn't play particularly well in an overtime win against Texas Tech, while the Sooners come in reeling after back-to-back losses for the first time in over two decades. The loser of this game is effectively out of any national title conversations, though both might be already out of the picture and might even be out of the Big 12 title hunt, as well.
This was supposed to be the year Sam Ehlinger showed the world that he is a very good, borderline elite college quarterback. His passing grade has risen every year as a starter, going from 64.6 in 2017 to 81.2 in 2018 to 86.9 in 2019. He has taken a step back in 2020 after two consecutive years of losing outstanding college receivers to the professional ranks. His PFF passing grade sits at 80.9 right now, and that includes the no-sweat win against UTEP to open the season.
The biggest difference for Ehlinger this season has been his accuracy at the lower levels of the field. His big-time throw rate and turnover-worthy play rate have remained consistent over the years, but his ability to allow the offense to at least stay on schedule when the big play didn't present itself has been crucial over the years. So far in this young season, when Ehlinger throws a pass between 1 and 10 yards downfield, his accuracy is down to 46.9%. The two seasons prior, he was at 70.4% combined. His percentage of totally uncatchable passes in the same range went from 12% to 18% this season.
Let's take this play against TCU last week: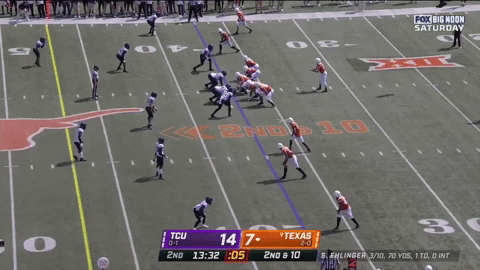 Ehlinger does a good job looking to his weakside and seeing his slot fade essentially double-covered before working to the fieldside to hit his slot receiver one-on-one against a linebacker. He just misses him. That's a matchup that Texas will take every time, and Sam is just missing them. I believe that he'll figure it out, and that's good news for a Texas team that probably still has an outside chance at the playoff if they can run the table.
On the other side of the field are the reeling Oklahoma Sooners, who come to Texas as the losers of two straight games.
The OU defense hasn't been as terrible as it may have looked, given the scoring outputs of Kansas State and Iowa State. Their EPA per play on defense, -0.008, is 40th among the 74 FBS teams that have played so far. It's not great, but at least the number is negative.
OU's biggest problem so far has been how unlucky they've been. Above, we talked about them being so close to creating turnovers in the ISU game but came away empty-handed. The Sooners' defense is second in the country in dropped interceptions and has seen three of the five fumbles by their opponent land right back into the offense's hands — bad luck.
The Sooner offense is going to be just fine going forward because of their quarterback. Yes, he's thrown some bad balls, especially late in games, but he is one of six quarterbacks with over 25 dropbacks and an elite 90.0-plus passing grade.
Spencer Rattler is actually fourth in the FBS with a 91.1 passing grade so far, and that includes his six turnover-worthy plays, which are 10th-most in the FBS. That's how good he's been. He does fall to ninth in the FBS when just looking at games against FBS defenses, but, again, that's with six-turnover worthy plays — and those plays are somewhat expected from a youngster. Three of those six plays have come on the last drive of the game as Rattler tries to lead a comeback, and the Sooners wouldn't be in those situations if the defense hadn't had such bad luck.
Rattler has posted a 90.8 passing grade in the first three quarters against his two Big 12 foes this season. The important number to look at with Rattler is the percentage of negatively and positively graded plays. He's 13th in the country in avoiding negative plays while being sixth in creating positively graded plays. He's the real deal; he's just been put in some unfortunate circumstances.
Maxxed Out?
Max Duggan was not a good quarterback last season; his 57.0 passing grade ranked 144th among 183 FBS QBs with at least 100 dropbacks last season. Sure, it was his true freshman season, but when TCU decided to start its season with Georgia transfer Matthew Downing at the helm, it wasn't that much of a shock.
Downing couldn't move the football the way Gary Patterson would have liked in the first half against Iowa State, going 11-for-21 with a 68.0 passing grade. Back would come Duggan, who produced an 80.3 passing grade and almost a comeback victory.
Duggan got the start against Texas a week later and continued to impress. His passing grade dipped to 73.8, but his rushing grade propped his overall grade up to 87.4 — the best overall grade of any game of his career.
Duggan has looked good, and his ability to run and be a "+1 player" in the run game is crucial, but you have to hope that his play from a clean pocket improves as the season goes on. His passing grade from a clean pocket is 70.3, while his passing grade under pressure is 85.3. That's a big difference, and it's why Downing was benched, as Downing's grade when kept clean was 85.1 while his grade under pressure is 36.4.
There's a reason Downing was picked to lead the offense before the season started, and it's probably because he looked much better during practice without a real pass rush. Duggan's playmaking ability has put him over the top, and hopefully he can continue this streak, but it's worth keeping an eye on.