The SEC is loaded with top pass-rushing talent heading into the 2016 season — from Texas A&M's Myles Garrett to Tennessee's Derek Barnett, to Missouri's Charles Harris, and not forgetting the formidable Alabama duo of Tim Williams and Ryan Anderson. Simply put, there isn't another position within a conference in all of college football that is so loaded with talent.
That opening list doesn't even do the conference justice, with several other talented players trying to crack the break into the top players at the position. One such player is Auburn defensive end Carl Lawson. It might come as a surprise to not see him quite mentioned with the best of the best when it comes to SEC pass rushers, but the truth is that Lawson isn't quite there yet, and he must improve in a couple of ways if he is to challenge the likes of Garrett and Barnett.
Big time potential in flashes
While Lawson has room to improve, he's flashed potential over the years. In 2013, the year before we began grading, Lawson registered four sacks as a true freshman. After missing all of 2014 through injury, he opened the 2015 campaign with a strong showing against Louisville, notching two sacks, a hit and a hurry. The hit came from the outside, with Lawson too far for Louisville right tackle Geron Christian.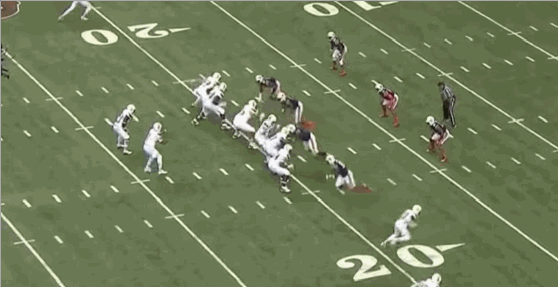 The sack came with Lawson lined up inside, beating left guard Skylar Lacy. For a player who is far more comfortable as an edge rusher, Lawson's hand usage here is excellent, keeping Lacy's hands off of him until he already had the edge inside, forcing the quarterback to step up and latching onto him before he could escape up and out of the pocket.
Lawson's injury happened during that game, with his four total pressures coming on just 14 pass rushing attempts. He also showed a lot of versatility, lining up at six different positions on those 14 pass rushing attempts. The injury definitely derailed his season, but what we saw in the bowl game against Memphis was another nod to his potential.
Arguably the best player on the field that day, Lawson registered a sack and eight hurries on 33 pass-rushing snaps, giving him a pass rushing productivity rating of 21.2 — the fifth-most productive defensive end in any bowl game in 2015.
Again he was used in a number of positions, proving far too good off the edge for left tackle Taylor Fallin on the play below. Eventual first-round QB Paxton Lynch was able to get rid of the ball quickly, but Lawson had beaten Fallin to the outside in under 2.2 seconds.
Lack of consistency
With plays like the ones highlighted above, it's not difficult to see why Lawson gets as much praise as he does. That being said, at this point in his career, those two games are closer to outliers than the average Lawson performance. Now, that might not be entirely his fault — with injuries causing him to miss all of 2014 and play just 416 snaps in 2015 — but the fact remains, Lawson has not been consistent enough through two seasons of PFF grading every snap of FBS college football.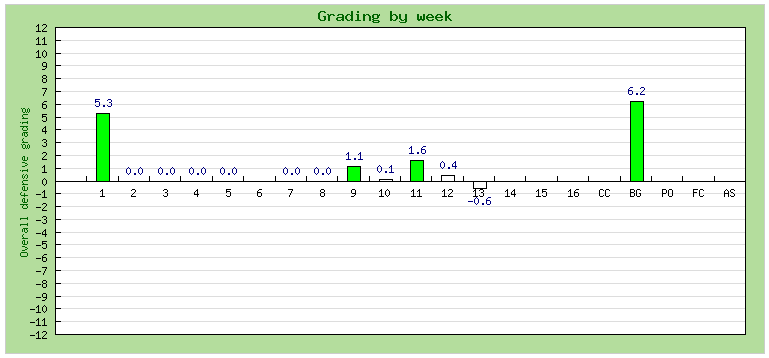 He is at his best as a pass rusher, but even there he was inconsistent week-to-week, with the bowl game by far his best performance in a sense of generating pressure. In three of the seven games he played in last season, Lawson was held to two pressures or fewer, being held in check by Texas A&M, Georgia and Idaho. His pass-rushing productivity rating was impressive in the season-opener and the bowl game, but his inconsistency saw the pass-rushers mentioned earlier (along with LSU's Arden Key) all finish with better pass-rushing productivity ratings than him.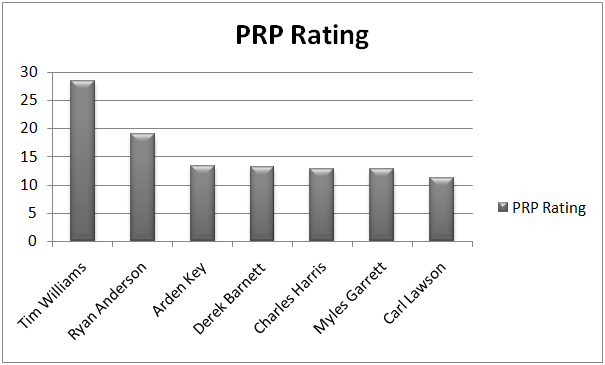 Must improve against the run
At +2.1, Lawson's run defense grade isn't a problem in the sense that he grades negatively in that aspect of his game, but when compared to the other top edge defenders in the conference, there is a pretty clear gap.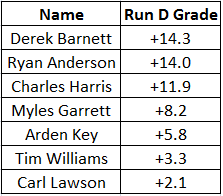 The really telling player name above Lawson is Alabama's Tim Williams. A pass-rush specialist who played just 36 snaps against the run last year, he was able to make more of an impact against the run than Lawson who, despite injury, played 207 snaps against the run. Lawson made 10 tackles resulting in a defensive stop against the run, compared with five from Williams. The difference was Williams did it on almost a sixth of the run defense snaps.
So where does he struggle against the run? In a number of ways. Lawson is athletic enough to get the better of most of the offensive tackles he'll face as a pass rusher, but can often get caught over-pursuing at times against the run. At other times he was overpowered by opposing offensive linemen, being shoved too far inside at times.
Those two knocks aside, we know that Lawson is capable of a very high level of play. The drop in play very easily could have been caused by the hip injury he suffered against Louisville, and at least should have impacted his ability to move as he returned from the injury. However, with two years of college grading under our belts, we're still only talking about two big single-game performances from Lawson. Considering he has the ability to play at various positions throughout the front seven, he's a definite candidate for a breakout year in 2016 — but at this point, there is a gap between Lawson and the other top pass-rushers in a very strong SEC group.