Being a highly touted high school recruit with multiple Power Five offers to sift through is one thing, but actually living up to the hype in college is another.
In every recruiting cycle, we see examples of five-star recruits being the difference-makers they were pegged to be, but there are also those who never pan out. And with the 2021 season on the horizon, most of the top recruits from the 2019 class are entering their true junior year and have signaled which umbrella they fit under.
Using PFF's extensive database, let's dive into the top 25 players from the 2019 class, per 247Sports, and analyze where they stand entering this fall.
Career snaps: 467
Career PFF grade: 70.8
Smith came to Georgia as a raw athlete, and after two years with the Dawgs, he's pretty much no different. His lateral agility and explosiveness are rare, but he has yet to show any technical refinement in his game. He has only three single-game pass-rush grades above 70.0 in his limited time on the field, one of which came against Murray State in 2019 when he solely worked speed-to-power and obliterated his lesser opponent. He owns a 67.6 pass-rush grade against SEC offensive lines to this point. The same potential Smith had in high school is still there, and he will have the chance to right the ship this fall as he takes on a starting spot.
Career snaps: 954
Career PFF grade: 82.2
It took Thibodeaux only a handful of games to showcase his special talent. He earned a 92.2 pass-rush grade in his fifth career outing and has since established himself as one of the premier players in the country. He earned a 79.9 pass-rush grade as a true freshman, the second-best in the Pac-12 and over 10 points higher than any other first-year edge defender in the Power Five that year.
Thibodeaux's 2020 campaign started slowly, but he turned it on down the stretch and looked like an elite edge defender over his final four games (out of seven on the year). He was one of the highest-graded players at his position over that span, boasting an 87.2 PFF grade that included a 12-pressure performance against USC and Alijah Vera-Tucker — a first-round pick in 2021 — in the Pac-12 Championship game.
If you were to build a perfect college pass rusher among those playing next year, Thibodeaux's get-off and bend would be featured traits. He is an elite talent who is bound for a monstrous 2021.
Career snaps: 1,415
Career PFF grade: 91.8
Stingley enjoyed the single-best true freshman season — and one of the best seasons in general, regardless of experience or position — in the PFF College era in 2019. So, yes, it's fair to say he's living up to the hype.
He might be the best athlete on the field this fall, and he pairs that with proven elite production. Stingley recorded a 91.7 PFF grade and generated 0.97 wins above average (WAA) in that 2019 true freshman season, the latter being the best mark among non-quarterbacks all year. As a true sophomore in 2020, he saw two fewer targets per game on average, as it quickly became apparent that opposing quarterbacks weren't looking to test him. Stingley saw 30 targets over his seven outings, allowing just seven first downs while forcing five incompletions — three of which came against Missouri while dealing with an ankle injury.
It's no debate that Stingley is the best cornerback in the country heading into the 2021 season.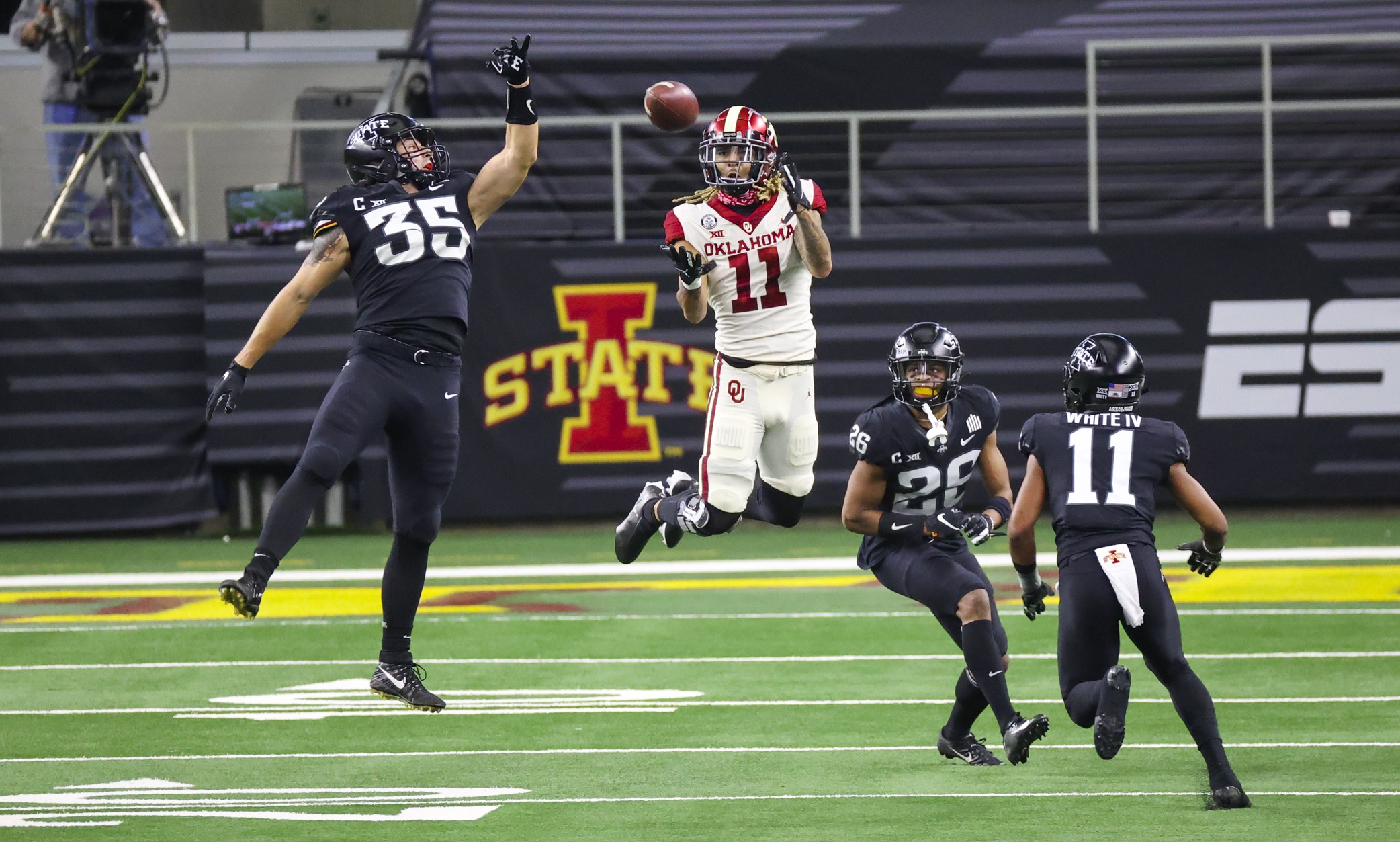 Career snaps: 285
Career PFF grade: 71.9
Haselwood suffered a torn ACL last offseason that limited him to only three games in 2020 — none of which he started in — but he did show some flashes as a true freshman to hint that a breakout is on the horizon. As a true freshman, he earned a respectable 72.4 PFF grade that featured 2.52 yards per route run, zero drops and four contested catches on eight such targets. He flashed advanced ball skills, making highlight-reel grabs look normal. It wouldn't be a major shock to see him break out to an elite level in 2021.
Career snaps: 0
Career PFF grade: N/A
Alfano transferred for the second time in his young college career and still has yet to play a down of football. He was pegged as a defensive tackle recruit in 2019 at 6-foot-4 and 275 pounds, and he led his position class in the 40-yard dash (4.82 seconds), pro agility (4.27 seconds) and vertical (36.6 inches). The tools are there, but off-the-field problems have gotten in the way for Alfano, who has been dismissed by both of his previous programs. He'll look to revive his career at Independence Community College in 2021.
Career snaps: 46
Career PFF grade: 71.4
Sanders has been a part of a talented and crowded Alabama running back room, but injuries have kept him off the field. He missed all of his first year on campus due to a foot injury. Then in 2020, he saw 29 carries in the first half of the season, including the best performance of his career against Mississippi State in Week 9, when he broke four tackles on 12 runs with multiple 10-plus yard plays en route to an 84.1 PFF grade.
But a week after that performance, Sanders was in a car accident that reportedly caused him to be airlifted to a hospital. The good news is, head coach Nick Saban said this past spring that while Sanders isn't fully back yet, he has been progressing and working to return to the field.
Career snaps: 1,512 
Career PFF grade: 81.3
Neal is an absolute unit at 6-foot-7 and 360 pounds, and he is living up every bit to his recruiting status. He started from Day 1 in 2019 at left guard and performed fairly well, earning a 71.2 PFF grade. Then he moved to right tackle for the 2020 season and really elevated his play to top-tier status. With the help of brute strength, length and decent athleticism, given his size, Neal recorded an 83.7 PFF grade in 2020, ranking fourth in the Power Five. He laid down a whopping 12 big-time blocks in the run game, which was the second-most in a single season by a right tackle in the seven years since PFF began grading college football.
Career snaps: 669
Career PFF grade: 63.0
When facing Power Five offensive lines thus far in his college career, Pickens has produced a 55.5 pass-rush grade, a 3.6% pass-rush win rate and a 2.3% pressure rate. All three are bottom-five marks among 119 qualifying interior defensive linemen since 2019. He's been durable but largely ineffective throughout his time at South Carolina.
Career snaps: 210
Career PFF grade: 64.9
McCoy endured a wild start to his college career. He originally signed and enrolled at USC before transferring to Texas shortly after. He then returned to the Trojans prior to the start of the 2019 season. McCoy missed all of his first year on campus, mostly because of an unknown illness, before debuting in 2020. The 6-foot-3, 220-pound wideout flashed his physicality in his limited time on the field, catching all four of his contested targets and breaking six tackles on 21 receptions. USC has a crowded receiver room full of untapped potential, and McCoy is among those who can emerge this fall.
Career snaps: 929
Career PFF grade: 45.6
Wright has been one of the biggest disappointments from the 2019 class; he slotted in as key contributor from Day 1 but has wholly disappointed. He owns the worst negatively graded block rate in the Power Five over the past two seasons, and his pass-blocking grade in that same span ranks 72nd of 88 Power Five qualifiers.
Career snaps: 728
Career PFF grade: 92.6
Rattler first got his chance to start for the Sooners in 2020, and the 6-foot-1, 205-pound signal-caller lived up to expectations, earning a 92.5 mark that not only ranked fourth in the FBS but was also the best PFF grade for a true or redshirt freshman quarterback. His arm talent and ability to play outside of structure from a clean pocket are truly special. The Oklahoma quarterback produced a 91.3 passing grade and a 69.7% accurate-pass rate when creating out of structure in 2020, both of which led all FBS passers. That passing grade beat out Joe Burrow for the best grade ever earned by a Power Five quarterback.
He's the best quarterback in the country heading into the fall. End of story.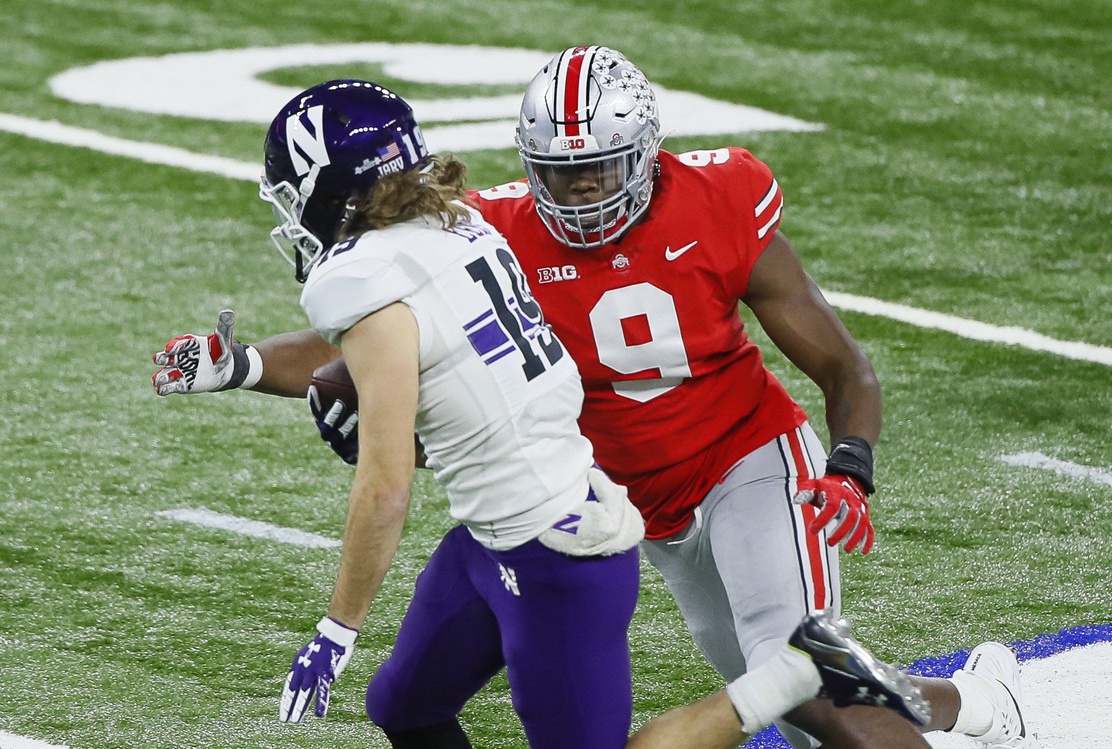 Career snaps: 499
Career PFF grade: 82.5
Harrison was rather quiet as a true freshman in a limited role in 2019, but he began to look like the player he was hyped to be during Ohio State's shortened 2020 season. Over the course of his last four games, Harrison notched a 90.0 PFF grade and 19 pressures on 102 rushes. He is poised to continue that breakout this fall.
Career snaps: 331
Career PFF grade: 74.3
Emery has run hot and cold when on the field for the Tigers, but he has done a good job overall of creating yards with his strong lower half. The explosive back has generated 72% of his career years after contact, which would be a top-three rate among Power Five running backs had he seen enough reps to qualify. Emory possesses excellent cutting ability and top-end speed for the position. While he won't be the bell-cow back in this offense, splitting reps with Tyrion Davis-Price, Emery is a candidate to take a big step forward in 2021.
Career snaps: 762
Career PFF grade: 76.0
Hill made himself known coming out of high school as one of the best all-around athletes entering the college ranks; he posted a 4.30-second 40-yard dash, a 4.13-second pro agility and a 43.6-inch vertical before his arrival to Michigan. And he has used that special athleticism to his advantage when on the field, specifically when covering the slot. Hill ranks 15th among all Power Five defensive backs in slot coverage grade and leads the group on those reps in forced incompletion rate (24.3%). He's one of the best safeties in the Big Ten, flashing the potential to be one of the best nationally this season.
Career snaps: 1,438
Career PFF grade: 70.2
Green has proven to be a brute force in the run game but hasn't been quite up to par in pass protection. He ranked 11th among Power Five guards in run-blocking grade in 2020 but was under the 50th percentile in true pass set grade. Texas A&M desperately needs Green to maximize his potential and improve in pass protection as he makes the move to offensive tackle in 2021.
Career snaps: 909
Career PFF grade: 82.7
Leal possesses a lot of power in his 6-foot-4, 290-pound frame, and it showed routinely this past season. He notched an 80.0-plus grade as both a run defender and a pass rusher in 2020, something only four other Power Five edge defenders accomplished this past year.
He was a consistent performer in 2020, earning a single-game PFF grade north of 70.0 in nine of his 10 outings, which led to an 88.3 PFF grade for the season. He may be 290 pounds, but he sure doesn't play like it with his athleticism and twitch. Needless to say, Leal is clearly living up to his five-star recruiting status.
Career snaps: 58
Career PFF grade: 47.2
Brown is fighting for a starting job for the 2021 season after hardly seeing the field in his first two years on campus. All indications are that he is likely going to be the No. 2 man at left tackle for the Badgers. He has the tools to be great, but at the end of the day, Wisconsin is justified in not starting him. Likely starting tackles Tyler Beach and Logan Bruss have performed too well not to feature on the first-team unit.
Career snaps: 533
Career PFF grade: 60.7
Smith took on a starting job last season after previously serving as a key reserve, with 130 snaps in his 2019 true freshman campaign. He played the overhang role in Penn State's defense due to his physical traits and versatility, but his coverage ability paled in comparison. Playing 62 snaps at outside linebacker, 123 snaps in the box and 125 snaps in the slot last year, Smith produced a 69.7 run-defense grade, 71.3 pass-rushing grade and 50.2 coverage grade.
When covering the slot, Smith allowed 2.1 yards per coverage snap, ranking third-to-last in the Power Five. However, he'll be moving back to the WILL position this fall, where he is perhaps at his best. Smith still has more to prove than most in the 2019 top 25.
Career snaps: 779
Career PFF grade: 74.3
Dean is coming off his first year in a starting role, and he notched a 76.1 run-defense grade and a 75.3 pass-rush grade with 11 pressures on 52 rushes. Those two grades each ranked sixth among SEC off-ball linebackers. His coverage ability is still a work in progress, as he didn't make a single play on the ball and was responsible for 12 first downs allowed in 2020, paving the way for a 54.2 coverage grade. At a minimum, he's going to be a quality player at the position in 2021, but he has every opportunity to improve on that.
Career snaps: 929
Career PFF grade: 80.7
Wilson has developed into one of the best route-runners in college football. He impressed against single coverage last year, recording the sixth-best PFF grade on such plays, and frequently found soft spots against zone while working from the slot. His separation rate subsequently ranked eighth-best in college football in 2020. The 2019 five-star recruit is bound to put up numbers in 2021.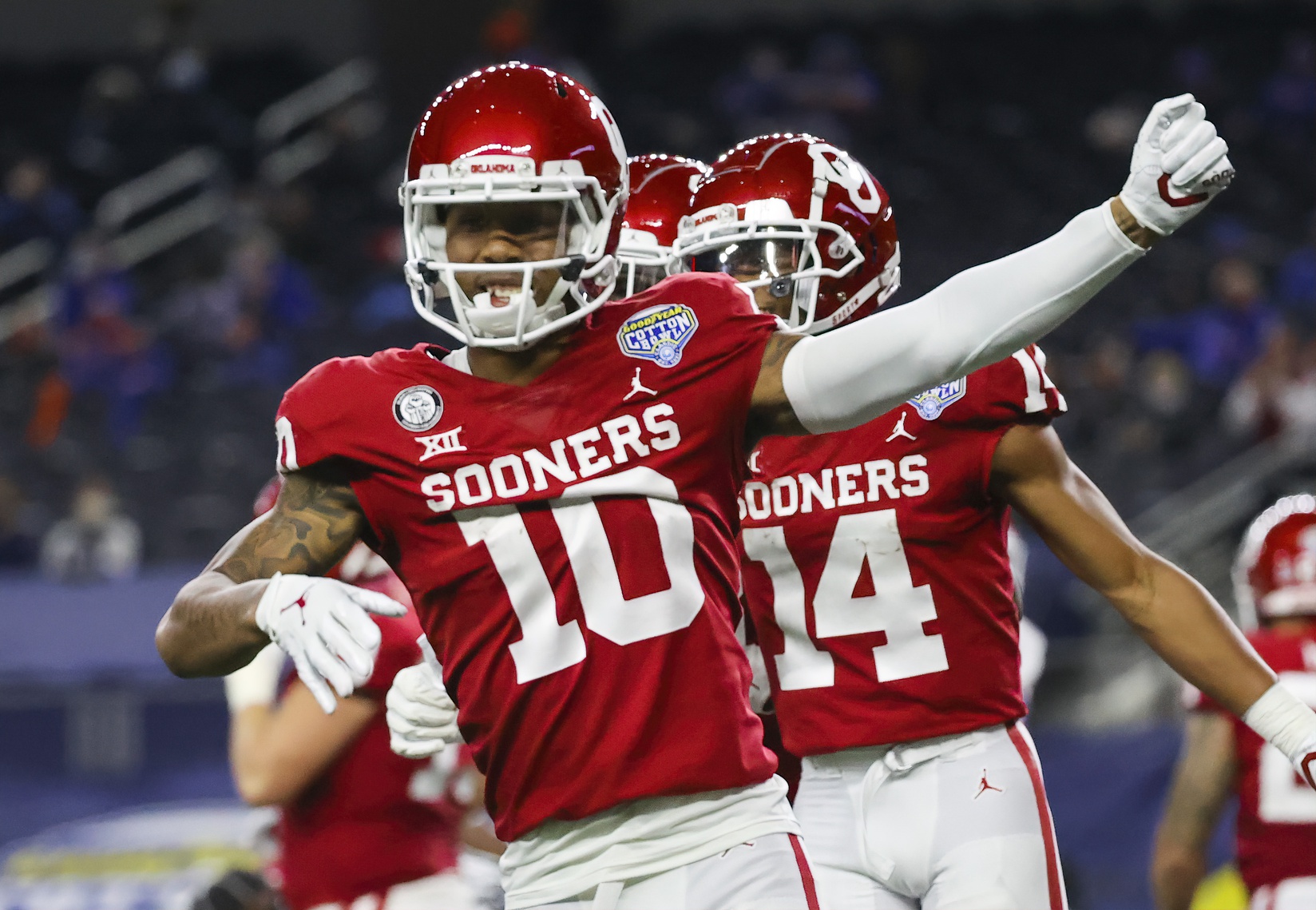 Career snaps: 708
Career PFF grade: 69.5
Many were expecting Wease to breakout alongside quarterback Spencer Rattler in his 2020 campaign, but the wide receiver was average at best. He generated 1.87 yards per route run last season, ranking 12th of 26 qualifying Big 12 wide receivers. Wease struggled to cleanly win against single coverage, too, with a grade on those plays that sat at the 22nd percentile in the FBS. He also wasn't nearly as good as he should have been at the catch point. Wease hauled in only two of his 12 contested opportunities on the year. Due to the emergence of Marvin Mims and the return of Jadon Hasselwood, Wease could miss out on some snaps this season.
Career snaps: 394
Career PFF grade: 64.3
Walker has been a versatile player in his limited action for Georgia, playing 33 snaps at nose tackle, 129 snaps at defensive tackle, 69 snaps at defensive end over the tackle and 163 on the edge outside the tackle. He has decidedly been a better player when at the latter position. When over or inside the tackle, Walker's career PFF grade sits at 54.2. When outside the tackle, his grade jumps over 20 points to 75.1. He enters 2021 ready to play at his best position, and he has lost a good amount of weight since the last time he took the field.
Career snaps: 401
Career PFF grade: 76.8
Booth cracked the list of 25 breakout stars to watch earlier this week:
"After a so-so opener against Wake Forest in which he gave up two catches for 67 yards, Booth was lights out the rest of the way, with only 93 yards allowed on 174 coverage snaps in his last 10 games. He was tested deep downfield often, facing 13 targets of over 20-plus yards, and he almost always came out on top. Only two of those were caught compared to Booth's five plays on the ball."
He is living up to the hype — and he'll continue to do so.
Career snaps: 1,035
Career PFF grade: 82.0
Pickens was one of the most impressive true freshmen in the 2019 class, but injuries have derailed his career ever since. In his first year as a Georgia Bulldog, Pickens posted an 88.0 receiving grade and displayed some of the best hands in the country. He saw 77 targets and didn't drop a single one.
He got stronger at the catch point in 2020 but played through a nagging upper-body injury. As a result, his receiving grade declined to 71.1. And in practice this March, he suffered a torn ACL that will likely keep him out of the entire regular season, at a minimum. With a clean bill of health, Pickens is a top-10 wideout in the country.
Career snaps: 1,218
Career PFF grade: 58.5
Pappoe is such an advanced athlete that he was called "freak" growing up. His rare traits show up regularly on the field, especially in coverage, where he earned a 74.4 grade in 2020 — the 10th-best mark among Power Five off-ball linebackers. He still has room to grow against the run and when taking on blocks (44.8 run-defense grade in 2020), but the potential is there for him to be special.