The dust has settled on the 2019 regular season at the FBS level and it's time to take a look back. Ahead of the conference championships and impending playoffs, we take a look at the best freshmen players in the country with an in-depth look at how they graded over the course of the full season.

Utilizing our play-by-play grades of every player on every play of every game, our All-Freshman Team takes into account every player's actions on the field on Saturdays while also utilizing our wealth of signature statistics to determine the list.
The 2019 All-Freshman Team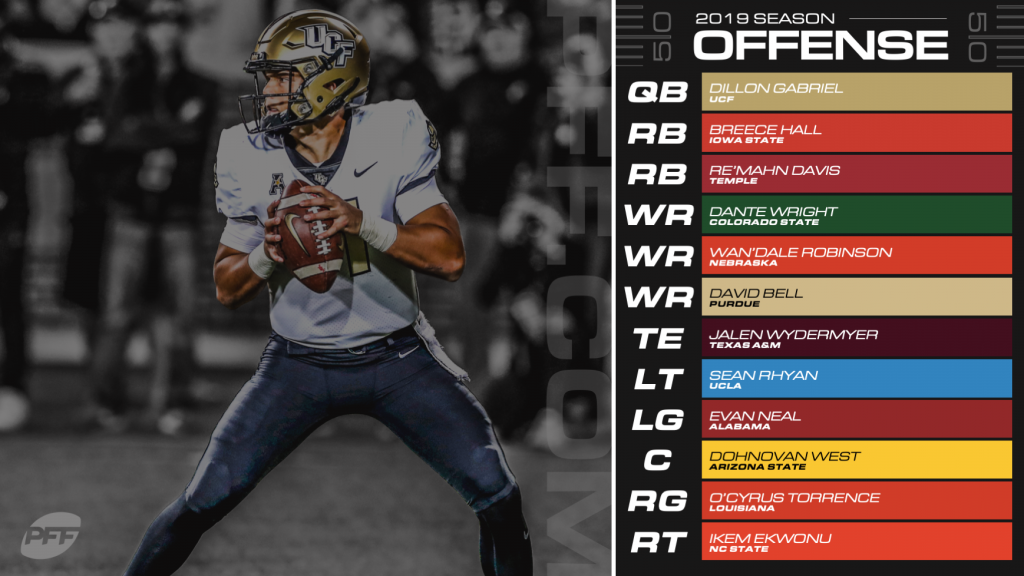 QUARTERBACK
First Team: Dillon Gabriel, UCF
The Knights have found their starting signal-caller in a six-foot quarterback out of Hawaii. Gabriel received his first start of the season in Week 2 against FAU, needing just seven completions to throw for 245 yards and two touchdowns to go along with an additional score on the ground. That game seemed to be foretelling the rest of the season for Gabriel, as he would go on to perform at a level no other true freshman quarterback was able to reach. He finished the year with top-20 marks across a plethora of key statistics — his 3,393 passing yards are 10th, his 9.1 yards per attempt are 11th, his 27 touchdown passes are tied for 19th and his 28 big-time throws are fifth. After a stellar first season, it is safe to assume Gabriel will only continue to improve and develop into a more lethal passer who will strike fear into opposing defenses for years to come. With the star QB at the helm of the offense, UCF will be in perennial contention for the American Athletic Conference championship, a mark they fell just short of this year.
Second Team: Sam Howell, North Carolina
Third Team: Kedon Slovis, USC
Honorable Mentions: Grant Gunnell, Arizona / Hank Bachmeier, Boise State
RUNNING BACK
First Team: Re'Mahn Davis, Temple
In just five starts on the season, Davis carried the rock 177 times for 905 yards and seven touchdowns, flashing his potential as the lead back for the Owls. He averaged an impressive 5.1 yards per carry and 3.58 yards after contact per carry, proving to not only have the vision to hit the open holes but the strength to break off chunk yardage. Davis was able to gain 41 first downs and force 42 missed tackles on his way to the second-highest rushing grade (83.7) among freshman running backs with at least 50 carries. 
Second Team: Sincere McCormick, UTSA
Third Team: George Holani, Boise State
Honorable Mentions: Zonovan Knight, NC State / Jerrion Ealy, Ole Miss
RUNNING BACK
First Team: Breece Hall, Iowa State
Quarterback Brock Purdy received most of the offensive recognition in Iowa this year, but that does not take away from what Hall was able to do on the ground. He rattled off 842 yards on 168 attempts, picking up 36 first downs and finding the end zone on nine occasions. The Cyclone forced 49 missed tackles and had 27 of his carries go for 15 or more yards, both leading all freshman running backs. He was among the 23 running backs in the nation with 150 or more attempts to not fumble, building trust between himself and the coaching staff. On top of his success running the football, Hall was solid in pass protection, not allowing a single sack on 93 reps as a pass-blocker.
Second Team: Isaiah Spiller, Texas A&M
Third Team: Kenneth Walker III, Wake Forest
Honorable Mentions: Zach Charbonnet, Michigan / Eric Gray, Tennessee
WIDE RECEIVER
First Team: Wan'Dale Robinson, Nebraska
The owner of the highest receiving grade among all freshman receivers (85.9), Robinson dominated in his first season for the Cornhuskers. He hauled in 41 of his 59 targets for a solid 461 yards and two touchdowns. He produced game in game and game out for Nebraska, averaging 2.53 yards per route run, seventh among freshman receivers with at least 20 targets. Robinson also ran the football in his first season, gaining 333 yards and three touchdowns on 88 carries. He is a dynamic player who can shine in both the receiving and rushing games, making him one of the nation's most versatile players as a true freshman. 
Second Team: George Pickens, Georgia
Third Team: Garrett Wilson, Ohio State
Honorable Mentions: Treylon Burks, Arkansas / Trey Knox, Arkansas
WIDE RECEIVER
First Team: David Bell, Purdue
You don't expect to see too many true freshmen make the all-conference team in their first year of collegiate action, but Bell earned second-team rights in his first season with the Boilermakers. He finished with the most targets (128), yards (1,035) and touchdowns (7) among all freshman receivers in the nation as he was the focal point of the Purdue offense. He dropped just three of his targets and his 12 broken tackles after the catch tied for the most among freshman receivers. To our enjoyment and the displeasure of opposing defenses, we will have at least two more seasons of Bell in a Purdue uniform to set our eyes on. 
Second Team: Skyy Moore, Western Michigan
Third Team: Zay Flowers, Boston College
Honorable Mentions: Cameron Ross, Connecticut / Jake Smith, Texas
WIDE RECEIVER
First Team: Dante Wright, Colorado State
Wright was one of the lone bright spots for a Colorado State program that ended their season 4-8. He concluded his true freshman year with 57 receptions on 80 targets for 803 yards and four touchdowns. The Rams' up-and-coming star had four games with a passer rating over 140.0 when targeted, flashing his potential as a lead receiver.  Wright's 12 broken tackles after the catch (tied for second) and 9.5 yards after the catch per reception (11th) were both top-15 marks among freshman wide receivers. His future in Fort Collins looks bright.
Second Team: C.J. Johnson, East Carolina
Third Team: Drake London, USC
Honorable Mentions: Jalon Calhoun, Duke / Ahmarean Brown, Georgia Tech
TIGHT END
First Team: Jalen Wydermyer, Texas A&M
Wydermyer became one of quarterback Kellen Mond's favorite targets quickly at Texas A&M. He reeled in 31 of his 42 targets for a respectable 419 yards and six touchdowns. The 6-5 260-pound tight end posted top-10 ranks in multiple receiving facets, recording 7.4 yards after the catch (8th), a 124.9 passer rating when targeted (7th) and eight missed tackles forced (tied for eighth) on his way to the seventh-highest receiving grade (78.8). Wydermyer will look to continue his rapport with his quarterback come the 2020 collegiate season. 
Second Team: Joshua Simon, Western Kentucky
Third Team: Luke Benson, Syracuse
Honorable Mentions: Eli Pancol, Duke / Neal Johnson, Louisiana
OFFENSIVE TACKLE
First Team: Sean Rhyan, UCLA
Rhyan played well on pass-blocking reps for the Bruins, protecting quarterback Dorian Thompson-Robinson's blindside. He played by far the most snaps in pass protection, with 513, and he allowed just one sack on the season. Rhyan also posted a PFF pass-blocking efficiency of 96.2, which ranks ninth among all freshman offensive tackles with at least 100 snaps. 
Second Team: Matthew Bergeron, Syracuse
Third Team: Tyler Smith, Tulsa
Honorable Mentions: Nick Broeker, Ole Miss / Khadere Kounta, Old Dominion 
OFFENSIVE GUARD
First Team: Evan Neal, Alabama
The Crimson Tide have a rising star on the offensive line in Neal. In his true freshman season, he played 392 pass-blocking snaps and didn't allow a single sack. He also nabbed the third-best run-blocking grade among freshman guards, creating holes for Najee Harris to run through time and time again. 
Second Team: Kenyon Green, Texas A&M
Third Team: Ricky Stromberg, Arkansas
Honorable Mentions: Clark Barrington, BYU / Nouredin Nouili, Old Dominion  
CENTER
First Team: Dohnavan West, Arizona State
West spent time at both offensive guard and center for the Sun Devils in his true freshman season, showcasing his ability as both a pass- and run-blocker. He posted top-10 grades in both pass-blocking (10th) and run-blocking (8th) among freshman guards and centers. He allowed 16 total pressures on 464 pass-blocking reps, good for a solid pressure rate of 3.9% (tied for 11th). 
Second Team: Bryan Hudson, Virginia Tech
Third Team: Sione Finau, FIU
Honorable Mentions: Nick Samac, Michigan State / Harry Miller, Ohio State
OFFENSIVE GUARD
First Team: O'Cyrus Torrence, Louisiana
The owner of the highest overall grade (73.9) and second-highest pass-blocking (85.7) and run-blocking grades (72.2) is none other than Louisiana's O'Cyrus Torrence. He has allowed just six total pressures on 336 reps in pass protection, good for the fourth-lowest pressure percentage (1.9%) among freshman guards.  
Second Team: Dontae Lucas, Florida State
Third Team: Sincere Haynesworth, Tulane
Honorable Mentions: Rusty Feth, Miami OH / Doug Nester, Virginia Tech 
OFFENSIVE TACKLE
First Team: Ikem Ekwonu, NC State
NC State quarterbacks will not have to worry about their blindside for years to come, as Ekwonu shined in his first season and will only improve from here. The left tackle did not allow a single sack in 369 pass-blocking snaps and conceded a pressure rate of 4.6%, which ranks fourth among freshman offensive tackles with at least 100 snaps played. He was also a stalwart in the running game, recording a stellar 85.5 run-blocking grade.
Second Team: Cameron Clark, Charlotte
Third Team: Miles Pate, Western Kentucky
Honorable Mention: Walter Rouse, Stanford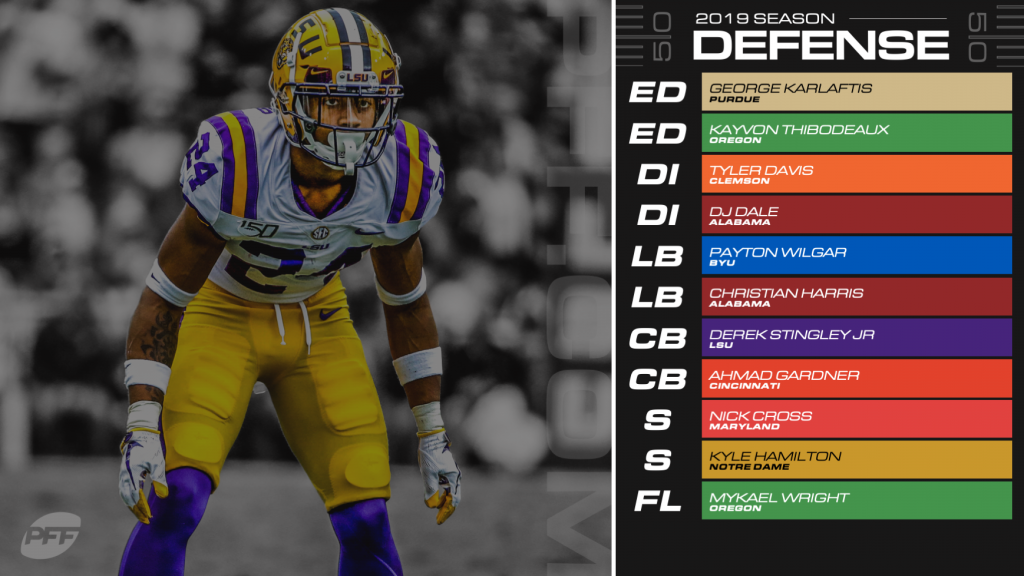 EDGE DEFENDER
First Team: George Karlaftis, Purdue 
Karlaftis recorded 55 total quarterback pressures on the year, the most by any freshman defender, which included eight sacks and 18 more QB hits. He has generated pressure at an impressive rate, owning a pass-rush win rate of 15.2% that ranks seventh among freshman edge defenders with 100 pass-rushing snaps played. He has not only produced as a pass-rusher either, as he has also forced 27 defensive stops against the run.
Second Team: Alex Wright, UAB
Third Team: TreShaun Clark, Liberty
Honorable Mention: Nolan Smith, Georgia / Mase Funa, Oregon
EDGE DEFENDER
First Team: Kayvon Thibodeaux, Oregon
With Thibodeaux, the Ducks have an emerging young defensive disruptor along the defensive line. He currently has seven sacks and a pass-rush win rate of 15.0%, both of which are just behind Purdue's Karlaftis among freshman edge defenders. He's also recorded a pass breakup, one batted pass, one forced fumble, four QB hits and 16 defensive stops against the run. 
Second Team: Drake Jackson, USC
Third Team: Zach Harrison, Ohio State
Honorable Mention: Mohamoud Diabate, Florida / Tremon Morris-Brash, UCF
INTERIOR DEFENDER
First Team: Tyler Davis, Clemson
Davis racked up 17 total pressures on just 182 pass-rush attempts this season, bringing down five sacks with another QB hit as he required double teams from the offensive line to stop him. He recorded 19 defensive stops, 14 of which came against the run, and he has cemented himself as the best run-defending true freshman defensive interior player in the country.
Second Team: Norell Pollard, Virginia Tech
Third Team: Debraylon Carroll, Rice
Honorable Mention: Siaki Ika, LSU / Zacch Pickens, South Carolina 
INTERIOR DEFENDER
First Team: DJ Dale, Alabama
Another Alabama true freshman, Dale was solid up the middle for the Crimson Tide. He contributed both against the pass and the run, owning a 5.4% run-stop percentage while producing seven quarterback pressures and nine defensive stops against the run. If Dale can further improve his pass-rushing ability, he can be a force to be reckoned with upfront for opposing defenses.
Second Team: Jordan Revels, Texas State
Third Team: Brett Johnson, California
Honorable Mention: Keanu Brown, Wisconsin / Tru Thompson, Florida State
LINEBACKER
First Team: Payton Wilgar, BYU
Wilgar currently ranks second in overall grade (70.6) and PFF coverage grade (76.2) among the 24 off-ball freshman linebackers who have played north of 200 defensive snaps on the year. He has contributed in all facets of the game for the Cougars, recording four quarterback pressures, 25 defensive stops and three interceptions on the season.
Second Team: Nick Rattin, Northern Illinois
Third Team: Drak Thomas, NC State
Honorable Mention: Keenan Pili, BYU / Darius Muasau, Hawaii
LINEBACKER
First Team: Christian Harris, Alabama
Harris owns the highest run-defense grade among freshman linebackers who have played 200 or more total snaps. His 9.7% run-stop percentage is the best among true freshman linebackers by a wide margin, as Harris has distinguished himself as a run-stuffer and is a major reason for Alabama's third-best team run-defense grade. He is a crucial playmaker for the Crimson Tide as he has contributed nine quarterback pressures, one forced fumble and 25 more defensive stops.
Second Team: Trace Ford, Oklahoma State
Third Team: Mikel Jones, Syracuse
Honorable Mention: Max Tooley, BYU / Omar Speight, Oregon State
CORNERBACK
First Team: Derek Stingley Jr., LSU
One of the nation's best corners as a true-freshman, Stingley Jr. has posted a coverage grade of 90.0 (5th) and an overall grade of 90.1 (3rd), both of which are top-five among cornerbacks with at least 200 snaps played. The LSU Tiger has conceded 29 receptions on 69 targets for 542 yards and four touchdowns. He has more than made up for the yardage forfeited, snatching four interceptions and 14 pass breakups that are the second-most in the country. Stingley has recorded these stellar numbers while playing in the SEC, matching up with receivers the likes of Jerry Jeudy, Van Jefferson, Jaylen Waddle and Kalija Lipscomb. He is not only one of the best corners in the nation, but he is the best true freshman the country has to offer this year. 
Second Team: Trent McDuffie, Washington
Third Team: Daxton Hill, Michigan
Honorable Mention: Cordale Flott, LSU / Keaton Ellis, Penn State
CORNERBACK
First Team: Ahmad Gardner, Cincinnati
If it were not for Stingley, Gardner would be in sole ownership of the best true freshman mantle. Although he is playing in the Group of Five, the Bearcats' corner has posted an 88.7 overall grade (6th) and an 89.9 coverage grade (tied for 6th) in his first year of colligate action. He has been targeted on 43 of his 256 coverage snaps, allowing just 17 receptions for 230 yards. Due to his elite ball-hawking skills, Gardner has not conceded a single receiving touchdown all season while nabbing three interceptions and five pass breakups. His 28.2 passer rating when targeted is worse than if opposing quarterbacks just spiked the football into the ground. Gardner will have one more game to highlight his coverage ability, as well, as Cincinnati will face off with Memphis on Saturday in the American Athletic Conference Championship. 
Second Team: Kaiir Elam, Florida
Third Team: Storm Duck, North Carolina
Honorable Mention: Ja'Quan McMillian, East Carolina / Cam Lampkin, Utah State
SAFETY
First Team: Nick Cross, Maryland
Cross was influential across all levels, but coverage is where he shined for the Terrapins in 2019. He was the primary coverage defender on 22 targeted passes and didn't allow more than 60% of those passes to be completed. He intercepted two passes and broke up four more, chipping in with another 31 total tackles and five defensive stops all over the field.
Second Team: Jammie Robinson, South Carolina
Third Team: Jordan Anderson, Bowling Green
Honorable Mention: Jordan Battle, Alabama / Jaylen McCollough, Tennessee 
SAFETY
First Team: Kyle Hamilton, Notre Dame
Notre Dame landed the best coverage safety in the entire 2019 recruiting class. Hamilton recorded a near-elite 89.7 coverage grade in his true freshman season, allowing just seven passes to be completed on 22 targets. Those seven went for 74 yards and no touchdowns. However, the Fighting Irish safety stole possession four times by way of interceptions, and he forced another five pass breakups for a passer rating of 3.0 when targeted, best among all defenders in the nation with at least 15 targets. 
Second Team: Cameron Williams, Washington
Third Team: Kerry Martin Jr., West Virginia
Honorable Mention: Martin Emerson, Mississippi State / Dell Pettus, Troy
FLEX DEFENSE
First Team: Mykael Wright, Oregon
Wright has been an integral part of Oregon's success on defense, posting top-15 marks in overall grade (12th), tackling grade (15th) and coverage grade (13th) among all cornerbacks in the nation with at least 200 total snaps. He has been targeted on 22 occasions when in coverage, allowing a mere eight receptions for 85 yards, zero touchdowns, one interception and three pass breakups. He has a passer rating of 29.5 when targeted, ranking ninth in the country using the previous threshold. He has also proven to be a sure tackler, missing zero tackles on 264 snaps played. Wright will have his hands full in the Pac-12 Championship against Utah, but it will be a great indicator of how truly dominant the corner is.
Second Team: Tiawan Mullen, Indiana
Third Team: Kyron McKinnie-Harper, Central Michigan
Honorable Mention: Jaden Davis, Oklahoma / Christian Roland-Wallace, Arizona 
KICKER
First Team: Jadon Redding, Utah
Finishing with a perfect 48-of-48 on extra-point attempts, Redding is an overlooked factor in the Utes' success this season. He has missed three of his 11 field goals, but he been perfect since Week 9. Redding will look to keep his ridiculous 100% extra point completion percentage in the Pac-12 Championship bout against Oregon this Friday.
Second Team: Brandon Talton, Nevada
Third Team: Bijan Nichols, Navy
Honorable Mention: Cade York, LSU
PUNTER
First Team: Austin McNamara, Texas Tech
Averaging an impressive 45.1 yards per punt, McNamara had just 47 return yards on his punts and pinned opponents inside the 20-yard line more than any other true freshman punter (26). By averaging an outstanding 4.21 seconds of hangtime on his punts this year, McNamara ranks ninth in hangtime among all punters in the country with at least 40 attempts. 
Second Team: Ryan Sanborn, Stanford
Third Team: Tom Hutton, Oklahoma State
Honorable Mention: Ben Lennon, Utah
KICK RETURNER
First Team: Joshua Youngblood, Kansas State
The Kansas State product needed just 13 kick returns on the season to amass a whopping 495 yards. Youngblood averaged 38.1 yards per return, which was the second-most among players with at least 10 attempts. He took three out of his 13 returns to the house, including a 93-yarder in the final game of the season against Iowa State.
Second Team: Giles Jackson, Michigan
Third Team: Shedro Louis, Liberty
Honorable Mention: Aaron Young, Rutgers
PUNT RETURNER
First Team: Tayvion Robinson, Virginia Tech
Robinson was not only the highest graded true freshman punt returner (83.0), but the eighth-highest graded in the country among players with at least 10 returns.  Although he did not have a touchdown, the Hokies' returner ran back 12 punts for 174 yards, good for an average of 14.5 yards per return, the nation's 10th-best mark using the previous threshold.  
Second Team: Dante Wright, Colorado State
Third Team: Ryan Montgomery, Cincinnati
Honorable Mention: Ainias Smith, Texas A&M