The Alabama Crimson Tide under Nick Saban have arguably been the greatest college football dynasty we have ever seen. Teams, fans and coaches across the country have patiently waited for some sort of dip in production, but Saban's ability to adapt his team to the ever-changing landscape of college football has put him in position to win his sixth national title since taking over at Alabama — this time, with the best Crimson Tide offense we have seen to date. 
Anytime a team has four offensive players selected within the first 15 picks of the NFL draft and nine total players selected in the first three rounds, there is expected to be a significant dropoff in talent the following season — especially if those players are Heisman finalist Tua Tagovailoa and the elite receiver duo of Jerry Jeudy and Henry Ruggs III. Just look at defending national champion LSU, which had a similar draft experience and is now sitting at 3-5 as the fifth seed in the SEC West. 
Alabama, on the other hand, has taken the next step on the offensive end to put out a product that is dominating its SEC-only schedule like no other Crimson Tide offense has. The success starts with signal-caller Mac Jones, who has replaced Tagovailoa with ease and has perhaps elevated the position. 
Jones, a three-year vet for Alabama, has taken full advantage of his opportunities this season and is firmly entrenched as a top Heisman candidate. The redshirt junior's 95.3 grade slots him in as PFF's highest-graded quarterback in 2020 — it would be the highest mark PFF has ever given to a college quarterback. 
When comparing Alabama quarterbacks' single-season data through the first nine games since 2014, Jones has arguably been the most lethal. On throws 15-plus yards downfield, his 2020 season ranks first in PFF passing grade (97.5), touchdowns (19), big-time throws (26) and adjusted completion percentage (71.6%) among eligible Alabama quarterbacks. 
Using the same parameters, Jones' 2020 campaign ranks first in accurate pass percentage on throws between one and nine yards (74.6%), first on throws of 10-19 yards (57.8%) and second on 20-plus yard throws (46.3%). 
Every successful quarterback needs a No. 1 option, and Jones' is senior wide receiver Devonta Smith. That quarterback-wide receiver duo has emerged as the best in the country — and possibly in the PFF College era (since 2014). While Jones' current PFF grade would be the highest of any college quarterback in a season since 2014, the same can be said about Smith, whose 94.9 PFF grade in 2020, if it stands, would be the highest ever given to a wide receiver in PFF College's history.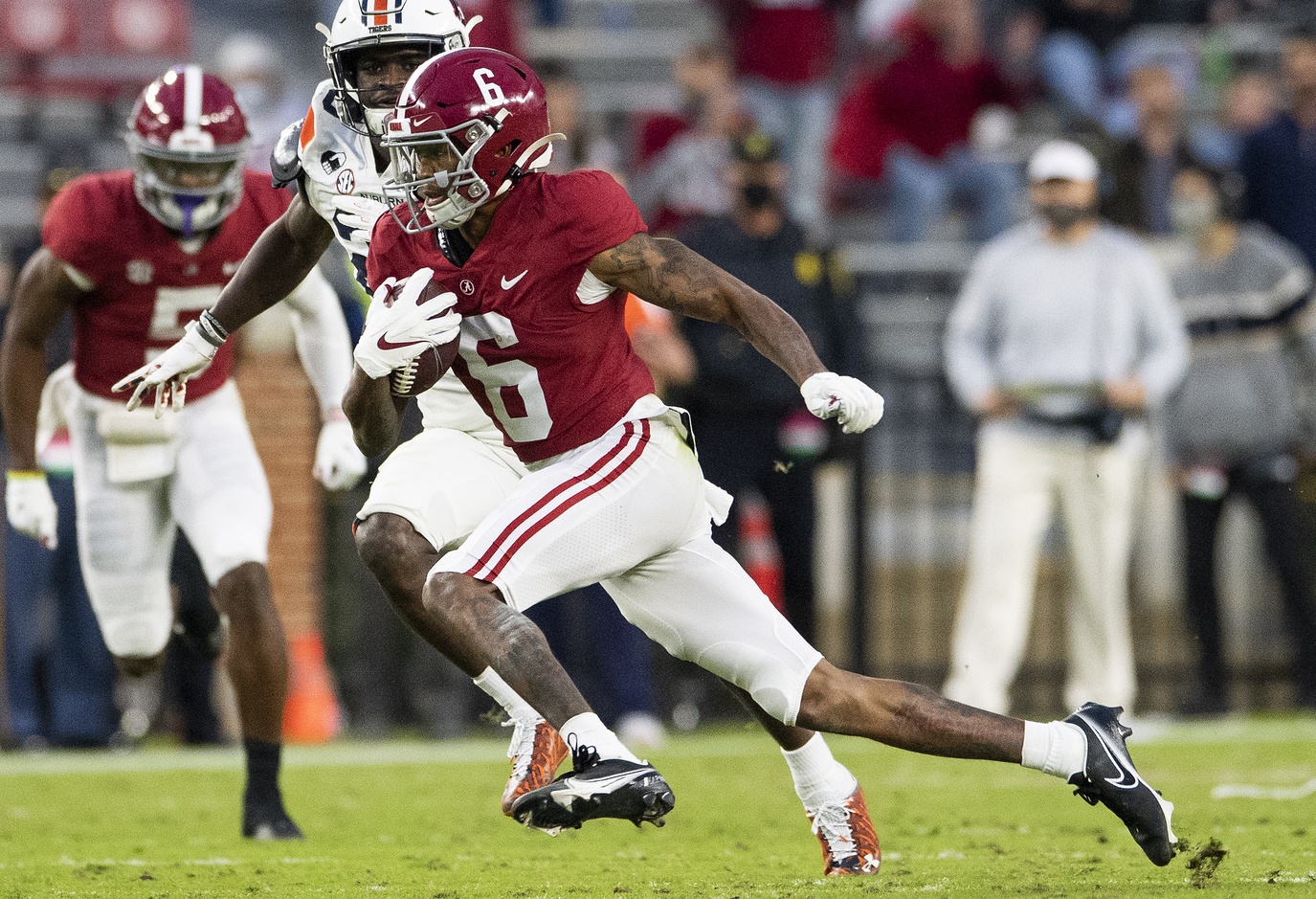 Smith's decision to come back for his senior season and be featured as the Jones' No. 1 option has benefited him immensely. He has emerged as a dark horse Heisman candidate and crushed the Alabama career receiving touchdown record in the process. Smith has either caught a touchdown or recorded 70-plus receiving yards in each of his nine games this season.
The senior wide receiver is one of the most explosive pass-catchers in all of college football, and even though the SEC didn't kick off until Week 4, he leads college football with 29 receptions gaining 15-plus yards — nine of which went for touchdowns, the second-most in the FBS. Of Smith's 80 receptions — second-most among all pass-catchers — 75% have gone for either a first down or touchdown. 
It would not be Alabama football if Saban was without an elite running back. Najee Harris has been just that and more for the Tide. He leads the nation with 20 touchdowns on the ground through just nine games and has 77 five-plus yard rushes, the second-most in college football. 
Among Alabama running backs through the team's first nine games in a season since 2014, Harris has been one of the best and efficient runners, forcing the most missed tackles on runs (49) and joining Derrick Henry with over 1,000 yards on the ground over that span. Harris is also dangerously close to becoming the all-time Alabama leading rusher, needing only 177 yards to pass Henry. 
Thanks to the trio of Jones, Smith and Harris, Alabama's offensive unit sits atop college football in total expected points added (EPA) per play, the percentage of plays that generate positive EPA and overall PFF grade. 
Alabama has churned out elite talent all over the field. Players such as Julio Jones, Calvin Ridley, Derrick Henry, Amari Cooper have dominated Sundays for years, and young stars such asTagovailoa, Jeudy and Ruggs look to have bright futures. But this year's unit led by Jones, Smith and Harris is still the best we have ever seen in the crimson and white.