Florida State Seminoles 31, Florida Gators 13
Here are the top-graded players and biggest takeaways from Florida State's 31-13 win over Florida in Week 13:
Florida State Seminoles
Quarterback grade: Deondre Francois, 58.8
It wasn't a great end to the regular season for Francois as a passer, with the signal-caller completing just one of the eight passes he attempted that traveled at least 10 yards downfield. Pressure played a big part, too, and he completed 40.0 percent of his passes under pressure, compared with 61.9 percent when he was kept clean. Despite one fumble, however, he did have some impressive moments as a runner, scoring the game's final touchdown to quell any hope of a Florida comeback.
Top offensive grades:
RB Dalvin Cook, 85.4
G Wilson Bell, 72.5
C Alec Eberle, 72.1
G Cole Minshew, 71.5
WR Travis Rudolph, 65.2
Cook finishes his regular season with a bang
If that was to be Dalvin Cook's final game at Doak Campbell Stadium, he made sure to leave his mark and finish his career at home in style. Carrying the ball 26 times, he rushed for 153 yards, forcing nine missed tackles. Averaging 3.7 yards after contact per carry, he pushed himself over the 1,000-yard mark after contact for the first time in his collegiate career. Cook absolutely deserves to be mentioned in the Heisman Trophy conversation, even if it seems inevitable that the honor will go to Louisville quarterback Lamar Jackson. With his impressive ability to cut away from defenders, we're going to be talking about Cook a lot this spring as a draft prospect.
Top defensive grades
CB Marquez White, 86.8
S Trey Marshall, 84.1
LB Ro'Derrick Hoskins, 82.6
DI Derrick Nnadi, 82.3
DI Demarcus Walker, 80.9
Strength up front for Florida State
Defensively Florida State did a great job against the Gators, but two performances up front really stood out on the defensive line. DeMarcus Walker totaled a sack and six hurries on 40 pass-rushing attempts, and came up with a fumble recovery late in the game, too. Derrick Nnadi rushed the passer 31 times, and registered two sacks and a hurry, including forcing the fumble that was recovered by Walker. While Cook was the big story in Tallahassee, the Seminoles put on a show up front, too.
Florida Gators 
Quarterback grade: Austin Appleby, 52.5
Appleby was hurt by seeing four of his passes dropped, but he didn't play well on his own, either, completing just one of the six passes he attempted traveling 10 yards or further downfield. 21 of his pass attempts came either behind the line of scrimmage, or within nine yards of it, with Appleby doing little to test Florida State downfield. Pressure didn't really affect his performance, and he actually completed a higher percentage of his throws when pressure got there than he did when he was kept clean: 55.6 percent to 53.8.
Top offensive grades
C T.J. McCoy, 79.2
RB Jordan Scarlett, 77.3
TE C'yontai Lewis, 64.3
RB Jordan Cronkrite, 64.2
WR Nyqwan Lewis, 63.6
Gators have a budding star in Scarlett
As disappointing a game as this was for the Gators, they can be encouraged by the play of running back Jordan Scarlett on limited work. Scarlett forced four missed tackles on 13 carries, with 41 of his 53 yards coming after contact. Scarlett has now forced 19 missed tackles on his past 55 carries, and is playing like one of the best running backs in the nation right now. If Florida is to have even a slim hope of pulling off the upset against Alabama in the SEC Championship game on Saturday, Scarlett needs to be featured early and often.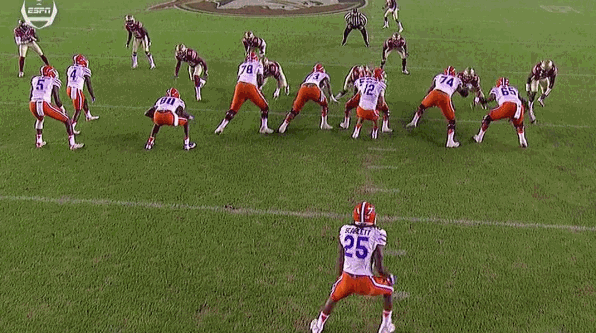 Top defensive grades:
CB Quincy Wilson, 91.4
CB Teez Tabor, 89.6
DI Caleb Brantley, 83.7
LB Kylan Johnson, 81.4
ED Jabari Zuniga, 71.1
Big night for Tabor and Wilson
It's been an impressive season for both Teez Tabor and Quincy Wilson at cornerback for the Gators, and they ended the regular season with another pair of stellar performances. Tabor allowed just three receptions from the seven passes thrown into his coverage, and recorded three pass breakups, while Wilson allowed just two receptions from the six times he was targeted, with two pass breakups of his own. That they managed to break up at many passes as they allowed is an impressive feat, and Tabor and Wilson finish the regular season having allowed an NFL passer rating of just 39.3 and 32.4, respectively, on throws into their coverage, something Alabama quarterback Jalen Hurts should be wary of this coming Saturday.