With much to do about the impending Game of the Century between Alabama and LSU, we at PFF hit the grade books to see what a possible super team between the Crimson Tide and Tigers we could create. Needless to say, the team is an astounding mix of elite-level players and for-sure next-level players who will dominate on Sundays soon enough.

The create-a-team between LSU and Alabama went as follows:
Quarterback
Joe Burrow vs Tua Tagovailoa

On paper at the beginning of this season, this one was all Tua. Flash forward 11 weeks into the season and Burrow wins by what feels like a country mile as he's not only the highest-graded passer on throws targeted at least 10 yards downfield, he's been coined as perhaps the biggest draft mover ever. Burrow is seeing the field with great ease and leads the country with 22 touchdowns on passes targeted 10 or more yards downfield.
The Verdict: Burrow. This race is closer than it appears in 2019 as Tagovailoa's two-year grade does surpass that of Burrow, but in Week 11 of 2019, give us Broadway Jeaux.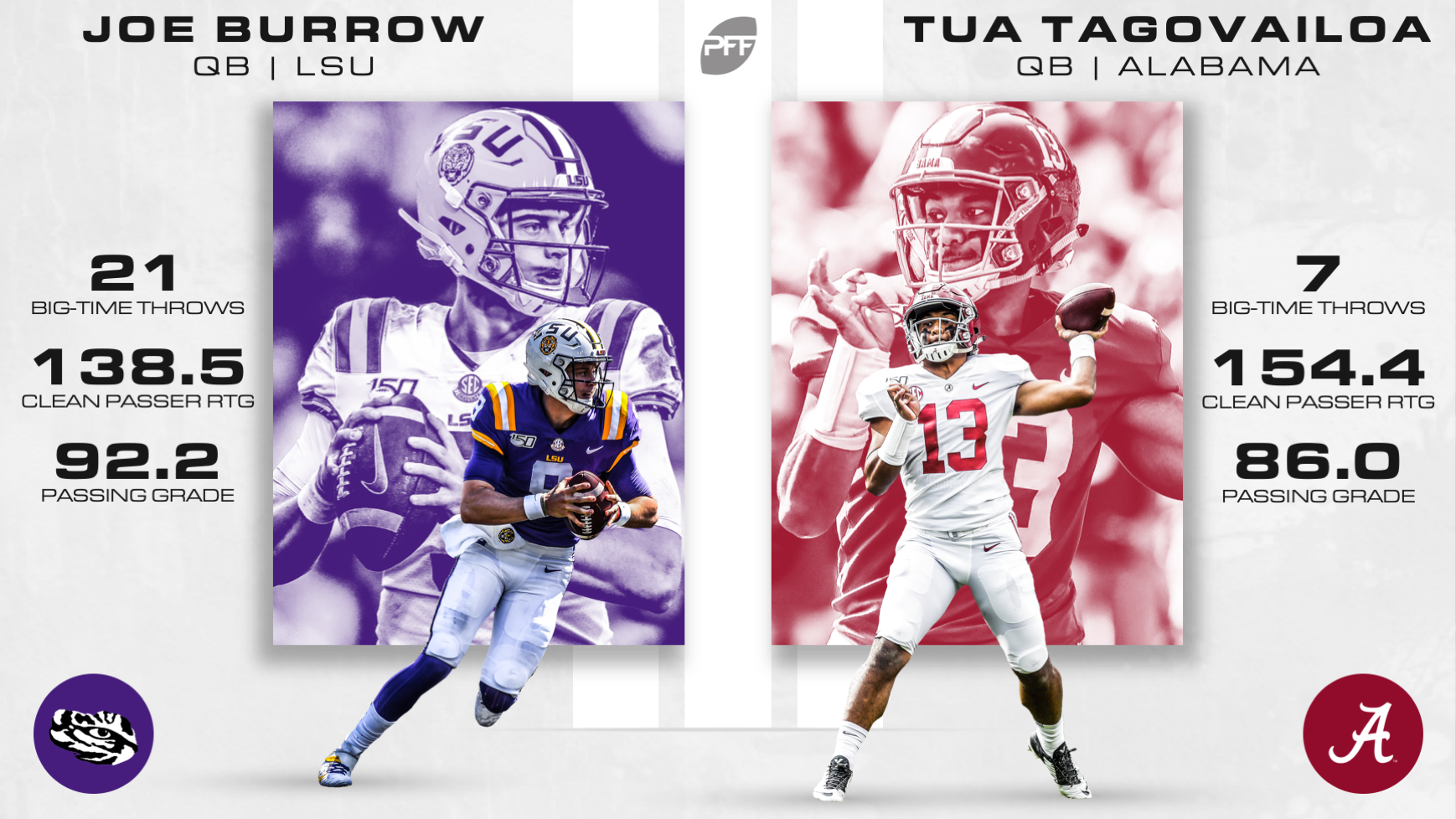 Running back
Clyde Edwards-Helaire vs Najee Harris

Edwards-Helaire has been great in 2019 but Harris has been that much better. On six fewer carries, Harris has more yards after contact, more rushing conversions (1D + TD) and has eight more runs of 10+ yards. Throw in Harris' effect in the passing game and you've got a clear-cut winner as Harris has one of the season's highlight-reel moments when he spun, trucked and hurdled defenders for a touchdown.
The Verdict: Harris. We'll take the grinder with high-end potential.
Wide Receivers
Ja'Marr Chase, Justin Jefferson, Terrace Marshall Jr. vs Jerry Jeudy, DeVonta Smith, Henry Ruggs, Jaylen Waddle
LSU has the best wide receiver trio in the country, hands down. The only problem is, Alabama has the best quartet of wide receivers in the country and that isn't even close. Smith (502), Jeudy (379), Ruggs (312) and Waddle (224) are all in the top third in terms of yards after the catch and three of those four (Smith, 12.0; Ruggs, 12.0; Waddle, 10.7) earn at least double-digit yards after the catch per reception. Those figures are unheard of to have such production from so many talented players in college football. Chase, Marshall and Jefferson are terrific in their own right but the Alabama receivers are too special.
The Verdict: Jeudy, Ruggs, Smith, Waddle. This WR quartet has proven that they're not only the best group of four receivers in 2019 but perhaps ever as this season has been as dominant a season by a group of receivers that we've seen in some time, maybe ever.
Offensive Tackles
Saahdiq Charles & Austin Deculus vs. Alex Leatherwood & Jedrick Wills Jr.
Wills is one of the nation's top-graded tackles while Leatherwood has an elite grade in pass protection. They've combined to allow just 15 total pressures this year on 546 total pass-blocking snaps. The combination of Charles and Deculus has been good, not great in 2019 and while Charles leads them in run-blocking grade, Deculus has already allowed more pressures than Wills and Leatherwood combined.
The Verdict: Leatherwood, Wills. The duo has been elite in each facet of offensive line play and surrendered just a single sack between the two of them.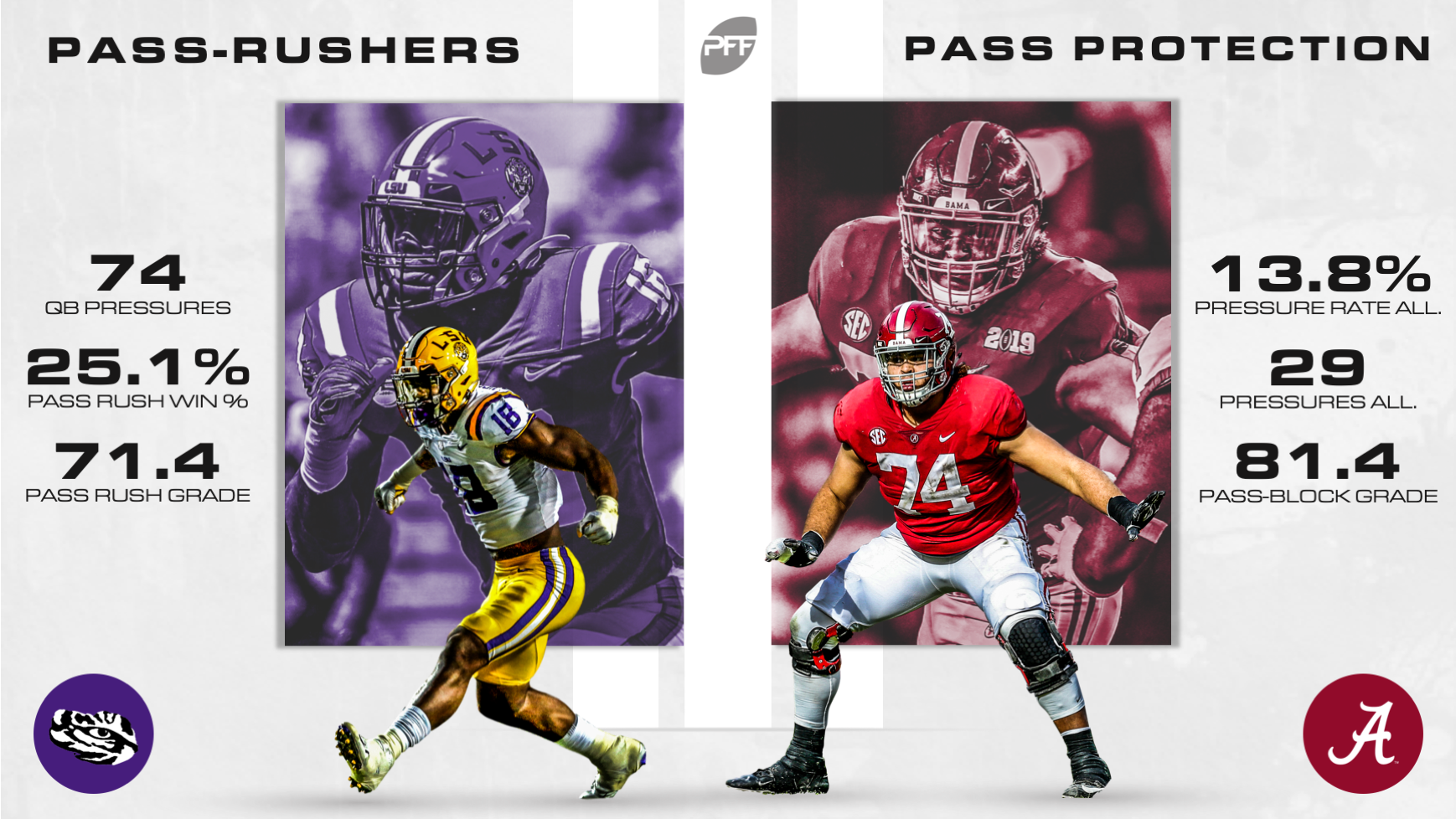 Interior offensive line
Adrian Magee, Lloyd Cushenberry, Damien Lewis vs Evan Neal, Landon Dickerson, Deonte Brown
Magee made waves earlier this season with a double-pancake block for the ages as he put his defenders on their backside quicker than we've seen all season long. Cushenberry and Lewis have each allowed three sacks this year but have limited those to just two in SEC play, as they seem to certainly play up to their competition. Brown, Dickerson and Neal have played just four games together this season and have surrendered just 15 total pressures among the trio. They have the edge in pass protection but have seen woes in the run game outside of Brown.
The Verdict: Magee, Cushenberry, Lewis. The good of the LSU trio on the inside is too good to look over as they seem to play at elite levels against elite competition.
Interior defensive line
Neil Farrell & Tyler Shelvin vs Raekwon Davis & DJ Dale
Davis wins this battle on his name alone as he's likely headed towards the NFL as a high draft pick. He leads the group in total pressures at 18 but the duo of Shelvin and Farrell has far exceeded expectations this year. Combined, they total Davis' production in terms of QB pressures but have elite run-defense grades and 32 total defensive stops. They're as stout as any other defensive interior duo in the conference and stymie any rushing attack up the middle.
The Verdict: Farrell, Shelvin. Davis is great but a duo is better when all hands on deck will be necessary to stop the Alabama rushing attack.
Edge Defenders
K'Lavon Chaisson, Andre Anthony vs Terrell Lewis, Anfernee Jennings
With the departure of Michael Divinity to personal reasons, this one is a relatively easy decision. Both Lewis and Jennings are in the elite-grade stratosphere this season and have been constant forces off the edge. They've tallied 36 and 29 pressures, respectively, and are more than double any other edge rusher in this contest.
The Verdict: Lewis, Jennings. This duo should be game-wreckers on the outside for the Crimson Tide and you can bet that the LSU offensive staff knows it and schemes against it.
Linebackers
Patrick Queen, Jacob Phillips vs Shane Lee, Christian Harris
Queen and Phillips have emerged this season as they've created quite the 1-2 combination at the second level for the Tigers. Queen hasn't allowed a reception longer than 19 yards into his coverage while Phillips has made 51 tackles with just a single miss this year. A sure tackler is always needed, especially against Alabama, and that's what he's developed into this year. Harris and Lee have been terrific, playing more snaps than they likely thought they would before Dylan Moses' injury but with three touchdowns allowed in coverage with no plays on the ball, Queen and Phillips impact are much greater.
The Verdict: Queen, Phillips. This duo can do it all and should showcase their coverage skills when they will be tasked with the Alabama receiving corps.
Cornerbacks
Derek Stingley Jr., Kristian Fulton, Kary Vincent Jr. vs Trevon Diggs, Patrick Surtain II, Shyheim Carter
Arguably the tightest matchup on the field in the Alabama-LSU matchup, the true freshman sensation in Stingley takes home top honors in this one as the nation's second-highest-graded cornerback. He's as good as any cornerback in the country in coverage and in run defense and he's made 14 plays on the ball while limiting receivers to just 20 receptions on 49 snaps as the primary coverage defender. Surtain and Diggs haven't allowed a touchdown in their coverage this season on 62 combined targets while limiting receivers to under 300 yards combined. Fulton is the ultimate deciding factor as he has come on strong as of late and is trending back towards the elite-level play we saw in 2018. He's had near-elite or elite games in coverage over his past three outings and has allowed all of 80 yards in those three games of lockdown coverage. The third cornerback from each of these teams are surefire starters anywhere else in the country while Carter does edge out Vincent in most categories.
The Verdict: Stingley, Fulton, Vincent. The true freshman is the ultimate decision-maker for this one as he's playing well beyond his age. Stingley hasn't allowed a reception longer than 36 yards and that's despite going up against the likes of Collin Johnson, Elijah Moore and Seth Williams, among others. This is the biggest test to date but you can bet the same goes for either receiver he lines up against in this one.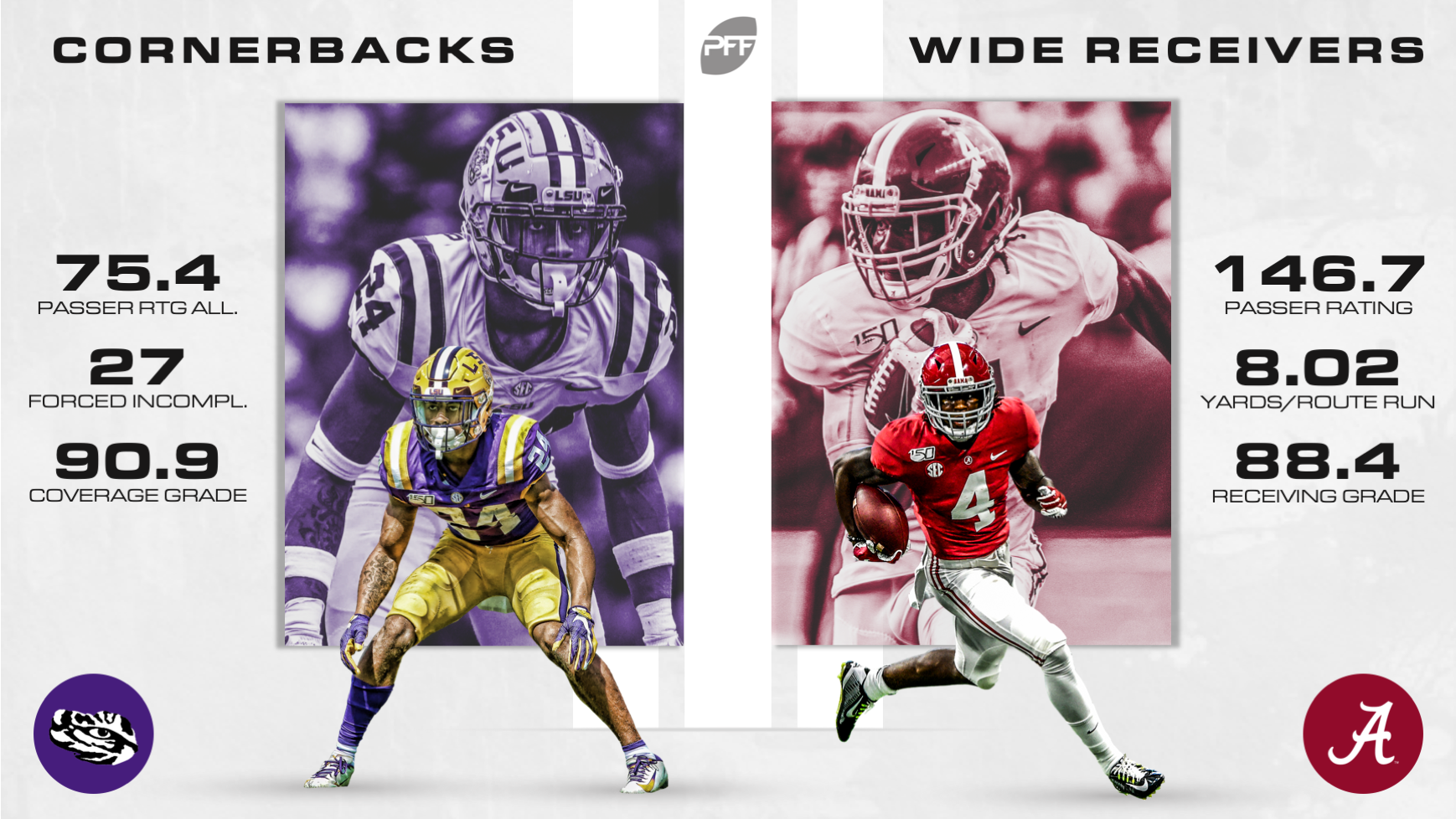 Safeties
Grant Delpit, Jacoby Stevens vs Xavier McKinney, Jared Mayden, Jordan Battle
The deciding factor in going a long way to stop either team's receiving corps will be the play of their do-it-all safeties. McKinney is up to his best season in terms of run-defense and tackling grades but he has given up more the only two touchdowns in his career in coverage. While Delpit may lack the tackling grades, he more than makes up for that with his general ball-hawking skills around all facets. He's recorded 16 career QB pressures, 57 career defensive stops and has more forced incompletions in coverage than he has allowed receptions to be caught this year in coverage. Mayden returns from injury and between him, McKinney and Battle, they've missed just six of their total 100 tackle attempts while Delpit has missed 13 of his 54 attempts alone.
The Verdict: McKinney, Mayden, Battle. Delpit's coverage prowess will go a long way in this one but his missed tackle woes should scare anyone against the best tackle-breaking receivers in the country.
While both of these teams are basically super teams, here's what our super-super team would look like:
QB: Joe Burrow
RB: Najee Harris
WR: Jerry Jeudy, Henry Ruggs III, DeVonta Smith, Jaylen Waddle
OT: Alex Leatherwood, Jedrick Wills Jr.
OG: Adrian Magee, Damien Lewis
C: Lloyd Cushenberry III
DI: Neil Farrell Jr., Tyler Shelvin
Edge: Anfernee Jennings, Terrell Lewis
LB: Patrick Queen, Jacob Phillips
CB: Derek Stingley Jr., Kristain Fulton
S: Xavier McKinney, Jordan Battle, Jared Mayden