Some typically stout units headline PFF's top offensive lines in college football, joined by a handful of lesser-known — but equally as potent — groups putting in the work up front. Here are the best units through five weeks of play.

Oregon Ducks
Oregon boasts one of the more tantalizing quarterbacks in the country in Justin Herbert, but it's their offensive line that merits more praise for keeping the offense churning. Headlined by the second-highest graded offensive tackle in the country, Penei Sewell (93.5), the Ducks have surrendered a quarterback pressure on just 16.0% of dropbacks this season, which ranks fifth among all Power-5 offensive lines.
While Oregon's running back corps has 122 total rushing attempts this season, it's the offensive line that paves the way for the committee of backs. No running back on Oregon's roster has forced more than five missed tackles, but the offensive line cleared lanes to aid in achieving 33 first downs on the ground. Keep an eye on this unit moving forward as they rank ninth in team run-blocking.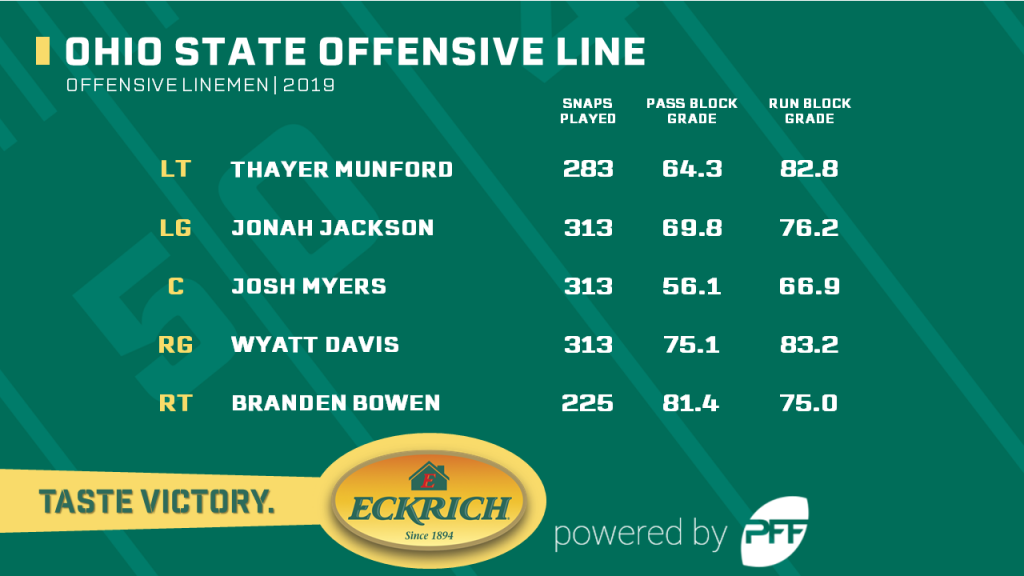 Ohio State Buckeyes
Ohio State is quickly rising the ranks of college playoff contenders, and their offensive line is the foundation of that ascent. In 2019, they own the third-highest team run-block grade in the country, but it was Week 5 where the unit particularly shined. The Buckeyes' O-line paved the way for running back J.K. Dobbins and company as they averaged 4.3 yards before contact per attempt — the sixth-highest mark in the country in Week 5. This mark sent Dobbins on his way to 177 yards on the ground and 11 first downs.
While their run-blocking work was remarkable, their pass-protection almost matched that effort in that only one player surrendered multiple quarterback pressures (offensive tackle Joshua Alabi — 3). The player lining up alongside Alabi, Jonah Jackson, was one of the highest-graded pass-blocking guards in Week 5 (86.7), surrendering zero pressures and earning a perfect 100.0 pass-blocking efficiency rating.  The Buckeyes' offensive line ran only 29 passing snaps, but their pocket protection paired with their run-blocking prowess easily earns them a spot on this list.
Iowa Hawkeyes
It can be easy to look past the Hawkeyes' 48-3 victory over Middle Tennessee in Week 5 considering they find themselves 4-0 heading into a big matchup with Michigan this week, but as Lee Corso would say, "Not so fast!" The backups blemished Iowa's pass-blocking record, but four of the five starters along this O-line surrendered zero quarterback pressures and earned 100.0 pass-block efficiency ratings. The group also paved the way for three Iowa running backs who had 10-plus carries each to move the chains a combined 13 times.
Iowa earned themselves a spot on this list last week as well, and if they can replicate their previous performances going forward, then we're in for something special.
Louisiana Ragin' Cajuns
The Ragin' Cajuns find themselves as the lone Group of 5 team on this list — but for a valid reason. Their offensive line is as legit as any in the country, and they have the statistics to show for it. In Week 5, the team allowed just three quarterback pressures, good enough for a 15.0% pressure rate, which is the lowest rate of any team on this list. Perhaps the more impressive metric is their individual PFF grades, as three of their five linemen earned 80.0-plus pass-blocking marks.
Louisiana has toppled their last four opponents, with their only loss coming in Week 1 in a 10-point deficit to Mississippi State. Even with a challenging Power-5 contest on their schedule, the team run-block grade ranks second in the nation. In Week 5, the spotlight falls on offensive tackle Robert Hunt, who earned an 80.3 offensive grade — impacting the game in both the pass and the run. This is undoubtedly a unit to watch moving forward.
Georgia Bulldogs
The Georgia offensive line is the only unit in the country to feature a 93.0-plus graded offensive tackle in Andrew Thomas, who has yet to be penalized or allow a quarterback hit this season. Although they also had a bye in Week 5, their unit remains as strong as any as they maintain the third-highest rushing yards before contact per attempt in the country (3.4 yards).
Georgia's O-line continues to pave the way for running back D'Andre Swift, who has earned a first down or touchdown on a staggering 37.0% of his runs. The Bulldogs will travel to Tennessee this Saturday — a game in which their offensive line should continue a reign of terror.