We're back at it with another week of scouting notes. With nearly half a season in the books, we're getting to the point where we're seeing some meaningful sample sizes that can weed out the outlier single-game performances. With that in mind, let's take a look.

Takeaways
Ohio State Defenders
It's no stretch to say that Ohio State's defense currently has the two best defenders in the country. There's little doubt that Chase Young sits atop said list after yet another unblockable performance against Nebraska. He racked up five more pressures on only 11 pass-rushing snaps for a 96.8 pass-rushing grade. The junior is approaching rarified air, as his 96.5 pass-rushing grade on the season would shatter the previous PFF college record of 94.4 set by Josh Allen last season. We're talking Myles Garrett-level physical tools with polish and production on another level from what we saw from Garrett at Texas A&M.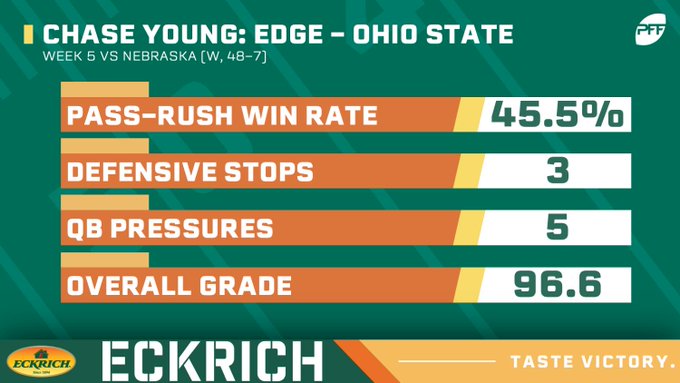 The lesser-known name on the Ohio State defense — although that's changing — is cornerback Jeffrey Okudah. He was the third-ranked defender on PFF's most recent draft board, barely edged out by Iowa's A.J. Epenesa. After his performance on Saturday, that might be changing soon. Okudah picked off two passes, including one lying flat on his back, and he didn't allow a catch on the day. He has all the traits to be a lockdown man-coverage corner at the next level.
It might be time to take Jalen Hurts Seriously
The traits needed to be a successful quarterback in the NFL have changed drastically over the past couple of decades, and evaluators need to recognize that. One doesn't have to be a quick-processing pocket passer with a laser arm to succeed in the NFL anymore. Offenses can be built to win with a skillset that Oklahoma's Jalen Hurts possesses. Not only are the numbers off the charts with a 15.2 yards per attempt average and 153.4 passer rating through four games, but Hurts' 91.8 passing grade backs it up. Outside of his running back-like rushing ability, the biggest thing that Hurts has going for him is his refusal to put the ball in harm's way. On 201 dropbacks over the past two seasons, he's committed only two turnover-worthy plays. He may never be the downfield passer the NFL covets — he has just five big-time throws so far this year — but his skillset can run a high-floor offense tailored to his rushing ability at the next level.
Small School Watch
QB Cole McDonald, Hawaii
If you haven't stayed up late and watched a Hawaii game this season, either put some red bull in your vodka to make it up that late, set your DVR, or I guess just wait until they play a road game. Either way, you won't regret it. This is an offense that has run every single snap with either four or five wide receivers, and their 367 such snaps are 53 more than any other team in college football. They take the spread-passing game to its extreme. At the helm is the 6-4, 220-pound redshirt junior who possesses a rocket attached to his right shoulder. That rocket, however, lacks any sort of homing feature as his decision making down the field has been shoddy so far this season, with 13 turnover-worthy plays compared to 10 big-time throws. Both of those figures rank in the top eight among quarterbacks nationally, which tells you almost all you need to know about McDonald's game. I say almost because McDonald doesn't wholly fit the stereotypical strong-arm QB mold — the dude is extremely accurate underneath. That was evident this past weekend where he went 25-30 with two drops against Nevada. His 90.2 adjusted completion percentage on throws 1-9 yards downfield is fourth-highest among quarterbacks in college football. While his decision making has to improve downfield, McDonald has all the tools.
Stock Report — Stock up
Edge Julian Okwara, Notre Dame
A week after facing his hardest test of the year, Okwara tore up the Virginia tackles for three sacks, a hit and four hurries on the day. His speed and bend off the edge was simply too much. We hadn't seen Okwara rush much yet in obvious passing situations this season the way he was able to against Virginia, and it's nice to see that dominance still intact for the number 17 overall player on our draft board.
WR Devonta Smith, Alabama
Another Alabama receiver you say? Yes, another Alabama receiver. Smith more than doubled his yardage total for the season against Ole Miss, going for 274 yards on 11-11 targets with five touchdowns. Smith's route running still left some to be desired, but what blew me away was the way he attacked the ball in the air. Even something as simple as a five-yard dig, Smith worked back toward the quarterback to shield the defender with his body. That's the type of receiver that can build a QB's trust early on at the next level.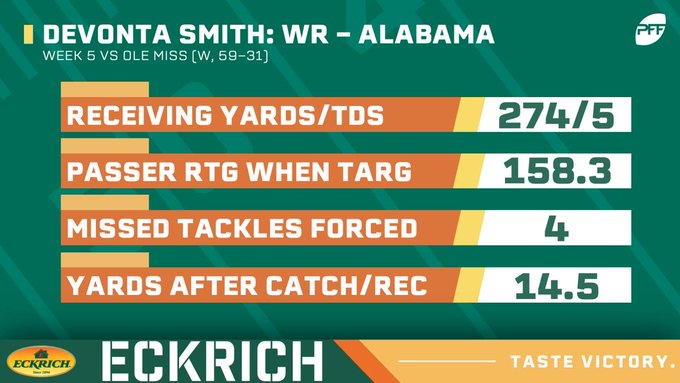 RB Chuba Hubbard, Oklahoma State
Hubbard keeps getting handoffs at a ridiculous rate, yet he keeps producing at an elite level. He saw the rock 26 more times this past week, racking up 301 yards and eight broken tackles in the process. While he's not going to blow anyone away physically, his decisiveness is elite for a college running back. His safety-dragging nine-yard score against Kansas State was a great example of that. With two unblocked defenders in the hole, Hubbard decided to stick his nose right into the chest of the one directly in his path instead of trying to juke anyone. The end result was him walking that same defender seven yards backward for the score.
Stock Report — Stock down
TE Jared Pinkney, Vanderbilt
Pinkney production, or lack thereof, is officially starting to get into concerning territory. He's hauled in 10-15 targets for 120 yards through four games. This past week against Northern Illinois he had one catch for one yard. Lack of targets isn't a death knell to future performance (see George Kittle), but it's head-scratching why he isn't being featured more.
WR Tre Walker, San Jose State
Walker doesn't have the same problem of being featured the way Pinkney does. The San Jose State wideout has seen 15 targets in each of the two games he's played so far this season. This past week he hauled in only six of them though as he dropped an absurd four passes on the day. With only three drops in his career prior, it might just be a tape you burn come draft time if those drop issues don't pop up again.
LB Paddy Fisher, Northwestern
If you're going to make a living as a thumper in the NFL at linebacker today, you better bring it against the run game in and game out to warrant rostering. Fisher is no modern linebacker from a coverage perspective but has a chance at an NFL future with how dominant he can be against the run with 90.0-plus grades as both a freshman and sophomore. This past weekend though against Wisconsin he was a complete no-show, earning a 53.2 run-defense grade. Facing a talented offensive line and a scheme that's coached the way he'll see in the NFL, that's concerning.