Clemson escaped the 2018 season unscathed after a dominant performance in the rubber match against Alabama, securing their second title in three seasons. But no team came closer to marring that perfect record than Texas A&M did way back on September 8th. The Aggies came up a two-point conversion shy of tying the game late in the fourth quarter, allowing Clemson to escape with a 28-26 win.

Kellen Mond put up borderline-elite numbers in the game: 23 completions for 428 yards, three touchdowns and no interceptions to pair with 46 rushing yards on seven attempts. It was certainly an impressive stat line and would seem to indicate that he had one of his better games of the season against Clemson, but his overall grade for the game of 59.8 was one of his worst single-game grades in 2018. 
What led to the disconnect between his overall grade and the numbers he put up? The five turnover-worthy throws that count against his grade but don't show up in the stats are a good place to start. Clemson didn't take advantage of the numerous opportunities that Mond gave them to flip possession, dropping several interceptions throughout the game; one of which turned into the potential game-tying touchdown.  
Mond did throw some nice tight-window deep passes in the game, including a dime of a touchdown in the back of the endzone. Ultimately though, Mond gave Clemson more opportunities at the ball in those tight windows than he did his own receivers. The Clemson defense simply didn't capitalize, making things a lot tighter than they needed to be down the stretch.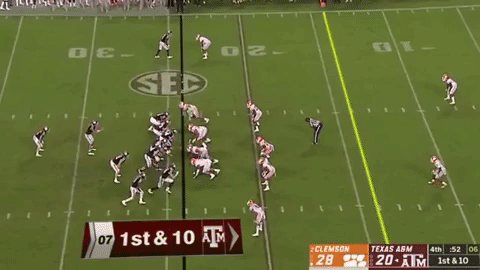 Which brings us to Texas A&M's upcoming showdown with Clemson this weekend. Nearly a year to the day after Mond and the Aggies fell just short in their potential upset; they'll get another crack at the Tigers, this time in Death Valley.   
An upset is dependent on whether Mond brings more of the boom or more of the bust because the Clemson game last year was not an aberration. Mond showcased both the good and the bad on a regular basis in 2018. He would throw a perfectly placed ball 40 yards downfield that makes you wonder where the draft hype is, and then, he would follow it up with a pass right into the chest of a defender. 
90 FBS quarterbacks attempted 300 or more passes last season, and Mond was one of 12 to have a big-time throw rate of five percent or higher coupled with a turnover-worthy throw rate of four percent or higher. His tape last year shows that he'll make the big play, but he'll also give the defense a few too many opportunities for big plays themselves. 
That same volatility shows up in PFF's accuracy charting data, as well. Out of the 14 SEC quarterbacks with 100 or more pass attempts last season, Mond ranked fourth in perfect-throw percentage — a category that includes accurate passes located away from the coverage — and second in uncatchable-pass percentage. Once again, he flashes on the high end, but his down-to-down consistency needs to improve in order for him to elevate his play.
One way that the Aggies can attempt to bring out that down-to-down consistency is to keep Mond clean and free from pressure. Last season, Mond was under pressure on 203 dropbacks, more than any other FBS quarterback. Clemson generated pressure on Mond on a massive 52.2% of his dropbacks in their shot at him. That rate was higher than any other defense was able to generate against the Texas A&M line over the course of the season. 
Clemson has lost a lot of talent on their defensive line — Clelin Ferrell, Christian Wilkins and Dexter Lawrence were all members of that unit and ended their college career with a first-round selection in the NFL Draft this spring — but there is plenty more talent coming through the pipes up front for the Tigers, and it's not just a talented unit but a deep one as well. In their opener against Georgia Tech, the Yellow Jackets dropped back to pass 27 times, and no Clemson defender rushed the passer more than 12 times. Eleven defenders rushed the passer at least five times, and 11 different defenders recorded a pressure. They have a deep group of pass-rushers that should cycle through and get their chance to force Mond into mistakes.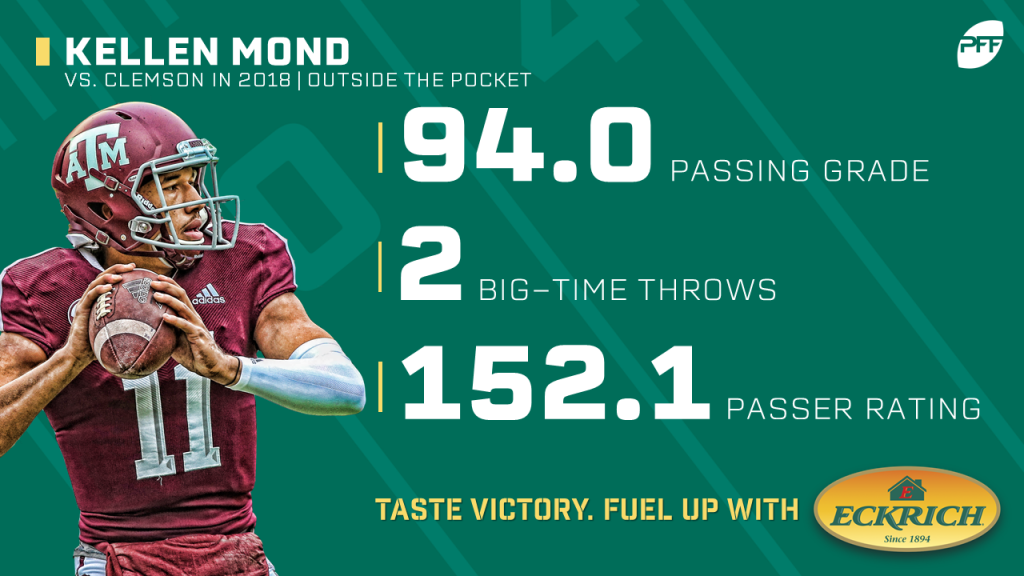 Clemson has to make sure that they finish the plays in which they generate pressure, however, because if they don't, Mond could be in for a big performance.  Among 73 FBS quarterbacks with 50 or more outside-the-pocket dropbacks, Mond ranked third in passing grade with a stat line of 42 completions on 78 attempts for 558 yards, four touchdowns and no interceptions. That strength was even more exaggerated in the game against Clemson, where Mond picked up a passing grade of 94.0 when he was outside the pocket. He went 7-for-10 for 165 yards and two touchdowns on those plays, and as the grade would suggest, Mond avoided the turnover-worthy throws that plagued him from inside the pocket. 
Clemson's defense struggled in that area all season, ranking just 49th among Power 5 schools in 2018 in expected points allowed per play when the quarterback got outside the pocket either via a designed rollout or scramble. It was one of the few weaknesses on what was otherwise a tremendous defense. 
How Clemson restricts Mond to the pocket and whether or not they can capitalize on the turnover opportunities that are bound to come their way will be two of the key factors in whether they are involved in an easy win or a nail-biter and potential upset. Regardless, a rematch of the exciting finish in College Station from a year ago will be one of the more intriguing storylines in college football this week.