Oklahoma State Cowboys 38, Colorado Buffaloes 8
Here are the top-graded players and biggest takeaways from Oklahoma State's 38-8 win over Colorado in the Alamo Bowl:
Oklahoma State Cowboys
Quarterback grade: Mason Rudolph, 89.9
Rudolph shreds one of the nation's top secondaries
Mason Rudolph dismantled the Buffaloes and their vaunted secondary by making big-time throws all over the field Thursday night in the Alamo Bowl. The offensive line did allow 8 pressures to Rudolph, but it didn't matter much if it was a clean pocket or not, as the junior quarterback was in a rhythm from the first snap. On plays under pressure he was 5-of-9 for 107 yards and a touchdown, and when presented with a clean pocket he was 17-of-23 for 207 yards and two touchdown passes. Rudolph did most of his damage throwing the ball at the intermediate and deep levels, completing 15-of-21 passes for 264 yards on throws that travelled 10 yards or more downfield. Cowboys' fans will be ecstatic to have their quarterback returning for a senior season as the offense may be even more explosive next year.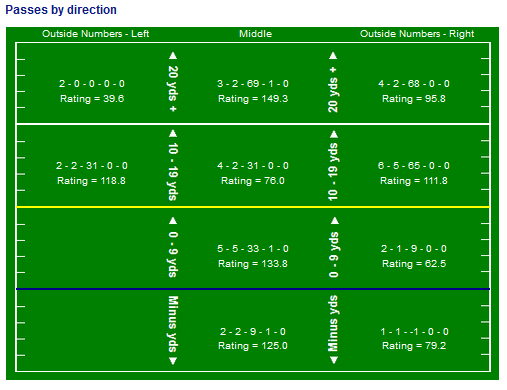 Top offensive grades:
QB Mason Rudolph, 89.9
WR James Washington, 80.8
T Victor Salako, 78.5
WR Jhajuan Seales, 76.1
WR Jalen McClesky, 74.9
Washington unstoppable before exiting with injury
Wide receiver James Washington could not be stopped outside of a dropped deep ball that would've given him two touchdowns and over 200 yards receiving. As it was, he was targeted 12 times, catching nine for 171 yards for an average of 19.1 yards per reception. He and Rudolph were clicking as Rudolph had a rating of 144.4 when throwing his way. Washington had to exit in the third quarter with a hand injury, but prior to that was having his way with Buffalo corners Chidobe Awuzie and Isaiah Oliver.
Top defensive grades:
ED Jarrell Owens, 81.6
DI Vincent Taylor, 79.5
S Jordan Sterns, 77.9
DI Motekiai Maile, 77.9
LB Devante Averette, 76.8
Owens, Taylor top-graded Cowboys on defense
Defensive linemen Jarrell Owens and Vincent Taylor caused problems for the Colorado offense all night long, as they disrupted the run game and combined for seven pressures. Owens was particularly effective against the run, grading at 87.9 while Taylor forced four pressures and recorded a sack on his way to a 82.4 pass-rush grade. Hard-hitting safety Jordan Sterns set the tone early with some big hits on running back Phillip Lindsay and played downhill most of the evening, recording four tackles and two stops for a grade of 84.3 against the run.
Colorado Buffaloes
Quarterback grade: Sefo Liufau, 60.8
Liufau under pressure throughout the evening
Colorado quarterback Sefo Liufau was under pressure on 19 of his 32 dropbacks but surprisingly graded better under pressure as opposed to when provided with time. He was 11-of-16 for 139 yards under pressure, compared to 7-of-13 for 56 yards for an average of 4.3 yards per attempt under no pressure. Liufau didn't take too many shots downfield — in part because of the lack of time — and finished 5-of-9 for 64 yards with a few overthrows, one of which was a dropped interception and others exposed his receivers to big hits.

Top offensive grades:
HB Phillip Lindsay, 75.5
WR Shay Fields, 71.9
WR Bryce Bobo, 68.3
WR Lee Walker, 66.0
TE Sean Irwin, 66.0
Colorado offense struggles
The Colorado offense failed to eclipse 300 yards Thursday night. Most of the credit for that goes to the Oklahoma State defense, but the Buffs offensive line didn't help matters as they gave up 18 pressures four hits, along with failing to open running lanes for the dynamic Phillip Lindsay. Lindsay made his presence felt in the passing game as he was targeted 7 times, catching all 7 for 104 yards and ended with a receiving grade of 86.5. The ground was less friendly to Lindsay as he carried 14 times for 60 yards with 39 of those coming after contact.
Top defensive grades:
DI Josh Tupou, 81.6
DI Samson Kafoualu, 80.0
ED Jimmie Gilbert, 77.9
LB Kenneth Olugbode, 76.8
S Ryan Moeller, 74.4
Interior of the defense holds up but Buffs secondary exposed by Cowboys offense
Interior defensive linemen Josh Tupou and Samson Kafoualu and combined for seven stops as they were a nuisance to the Cowboys run game, each grading above 80 in run defense. The Buffaloes had their problems on the back end, an area that had been a strength for them all season. Corners Chidobe Awuzie and Isaiah Oliver were targeted a combined 17 times, allowing 11 catches for 211 yards and two touchdowns, the majority going to James Washington. The Buffs failed to generate much pressure on Mason Rudolph outside of Josh Tupou who accounted for 4 of the 8 total pressures.